Looking for the best climbing walls for cats?
Or maybe you heard a friend talking about them and want to know exactly what they are?
Either way, I've got you covered!
Let's take a look at our top five favorite components for making your own!
Best Cat Climber Wall At A Glance
This post is a little different than our usual reviews and recommendations because you can use all of these climbing wall components together or separately!
In other words, you don't have to choose just one, so feel free to mix and match!
#1 Winner: Fukumaru Wall Mounted Cat Scratching Post
All cat climbing walls should have at least one really good scratching post, so let's start there with this one by Fukumaru.
While you can theoretically mount any scratching post on your wall with the right know-how and hardware, this one is ready to hang.
Features & benefits
It's easy to install as long as you know where your studs are located.
The multilevel design can adapt to pretty much any wall angle.
Made of high-quality materials like solid wood and natural jute.
Every piece of it can be replaced if need be.
All parts are fully tested to be safe for both you and your cat.
Cons
It's kind of heavy so you really need to place it on a stud that can handle the load.
The platforms are not big enough for large breed cats like Maine Coons and Savannahs.
While the post and platforms are fairly sturdy, the hammock is a bit weak. You may want to remove it if you have a heavier cat.
Recommendation
As far as mounted scratching posts for your climbing walls go, this is definitely my top pick.
While I don't love the hammock, that's one very small component and can easily be removed.
#2 Runner-Up: CatastrophiCreations Wall Mounted Lounge
I am a big fan of CatastrophiCreations because they offer such a wide range of wall-mounted cat furniture.
They're also a small business and everything is handmade!
While you can mix and match from their entire line, the lounge makes a great addition to your cat's climbing wall!
Features & benefits
The entire system is handcrafted and designed to be as stylish as it is functional.
The ladder combined with the sisal hole creates a fun wall-mounted haven for kitties.
Sturdy enough for multiple cats (fabric holds up to 60 lbs and wood parts up to 85 lbs).
Hammocks are made of thick canvas and platforms consist of real wood.
Cons
Designed for a fairly specific wall, as studs must be 16″ apart and you'll need four of them.
The wood is "rough" rather than smooth. Not sharp or dangerous but more of a natural wood than super-sanded, if that makes sense.
The "escape hole" is only about 7.5″ big so if you have a ginormous kitty it's not going to be big enough.
Recommendation
I love this particular component to your climbing walls because it's neutral and stylish, so it won't stand out like a sore thumb.
If the wall stud specifications don't work with your home, you can contact them and they may be able to change things around a bit for an extra fee.
#3 Editor's Choice: TINTON LIFE Cat Climber Set
If you want to really go all out and create the ultimate cat climbing wall, you'll definitely want to add in this set by Tinton!
Features & benefits
All of the shelves and the house is made from real solid pine wood.
Scratching post made with durable natural sisal.
Natural wood color looks stylish in your home (or you can stain it with a pet-safe stain to match your decor).
Includes two condos, making it a great choice for multiple-cat families.
Cons
Houses may be a snug fit for larger cats.
May be a bit tricky to hang since you need to locate studs for all components.
Unclear as to how much weight it holds (not in the description)
Recommendation
This set would look really cute among other "farmhouse" decor, but it may be a little too cutesy for a more modern decor style.
I do love that it includes two condos since my cats are forever fighting over the single condo in my cat tree!
#4 Alternative: Contempo Floating Cat Shelf
Now for something a little more modern that doesn't scream "this is cat furniture!"
One thing to keep in mind as we read through the reviews: the Contempo cat shelves come in sets of two
Features & benefits
Comes in 10 different non-toxic finishes and 4 hardware colors to match your decor.
You can also buy it totally unstained and either leave it natural or stain it yourself.
Straight lines, rounded corners, and the "floating" style create a very zen-like look.
Mix and match with other components from the line for the ultimate cat climbing wall.
Cons
At 9″ wide, not really deep enough for large breed cats.
At least one bracket needs to go into a stud.
Can get kind of pricey if you're using them to build an entire cat wall.
Recommendation
I love that these are handmade (they're actually on Amazon Handmade) and that buying them supports a small business.
They're very elegant and modern-looking so they'll fit in great with any decor.
However, they're just not wide enough for ginormous kitties, so keep that in mind.
#5 Best FOr Budget: TRIXIE Wall Mounted Cat Lounge
The Trixie Pet playground makes another great addition to your modern-style climbing walls!
It's rather unique and pairs well with either the CatastropiCreations or the Contempo sets.
Features & benefits
Inspired by the latest trends in modern minimalism decor.
Includes two sisal-wrapped perches, plush hammock and a plush-lined condo.
Sisal backing on the hammock and around the condo gives your cats even more scratching surfaces.
Plush backing on each component helps protect your walls.
Cons
Made with MDF wood (aka fiberboard or particle board).
Unclear as to the weight limit since it's not mentioned in the description.
Again, not really big enough for large cats.
Recommendation
Although there are no reviews on this particular set, Trixie Pet in general scores fairly well among customers, so don't let that freak you out.
While I don't love the fact that it's made with particle wood, I do love all the other little touches (like plush backings).
It's a super cute set that would work well for smaller cats. Each of these components would work well together or alone for your cat climbing walls.
Just remember, you need to know your walls and where to find your studs!
What Are Cat Climbing Walls?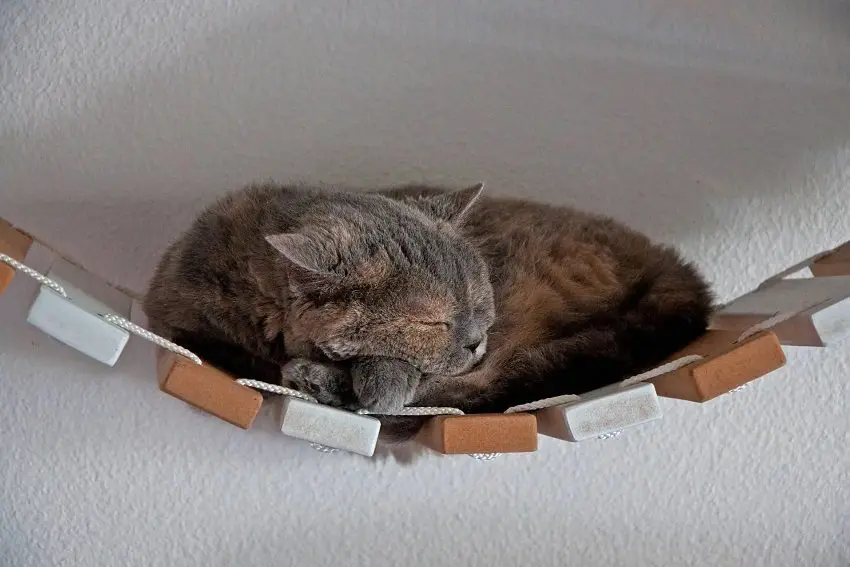 Cat climbing walls, also known as cat climbers or cat wall furniture, are specially designed structures that provide vertical spaces for cats to climb, perch, and explore.
These innovative creations offer a combination of shelving, platforms, scratching surfaces, and various other features that cater to a cat's natural instincts and behaviors.
Cat climbing walls typically consist of sturdy materials such as wood, carpet, or sisal rope, providing a durable and safe environment for cats to navigate and play.
They can be mounted on walls, allowing cats to utilize vertical space in homes, apartments, or even outdoor enclosures.
Benefits Of Cat Climber Wall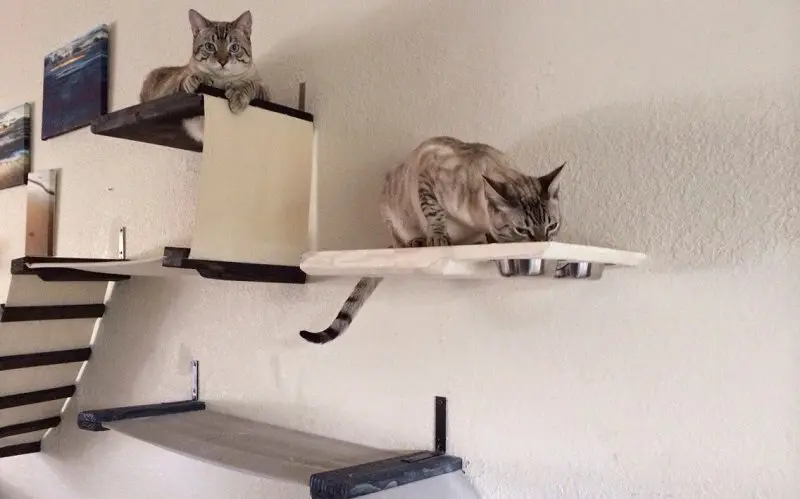 They provide exercise and mental stimulation by encouraging cats to engage in natural behaviors such as climbing, jumping, and scratching.
Cats are natural climbers, and vertical spaces allow them to fulfill their instinctual need for exploration and territory.
Cat climbers also help promote physical fitness and agility, contributing to a healthy lifestyle for cats of all ages.
By having access to different levels and perching spots, cats can indulge in their natural instinct to survey their surroundings from a higher vantage point.
Cat climbing walls can serve as a space-saving solution, particularly in smaller living spaces.
They utilize vertical wall space that might otherwise go unused, allowing cats to have their dedicated areas without taking up valuable floor space.
They can help redirect a cat's natural scratching behavior away from furniture and other household items.
By incorporating sisal rope or other suitable scratching surfaces into the design, cats can satisfy their urge to scratch in an appropriate and designated area.
Final Word
The introduction of cat climber walls has revolutionized the way we provide enrichment for our feline companions.
These vertical playgrounds offer a perfect blend of functionality and style, allowing cats to exercise their natural instincts while adding a unique touch to our homes.
By incorporating a cat climber wall, you not only provide your cat with an engaging and stimulating environment but also enhance your living space with a practical and visually appealing feature.
So why wait? Give your furry friend the ultimate climbing experience and elevate your home décor with a cat climber wall today. Your cat will thank you with hours of endless entertainment and purr-worthy contentment.
Do you have any other great ideas for cat climbing walls? Share below!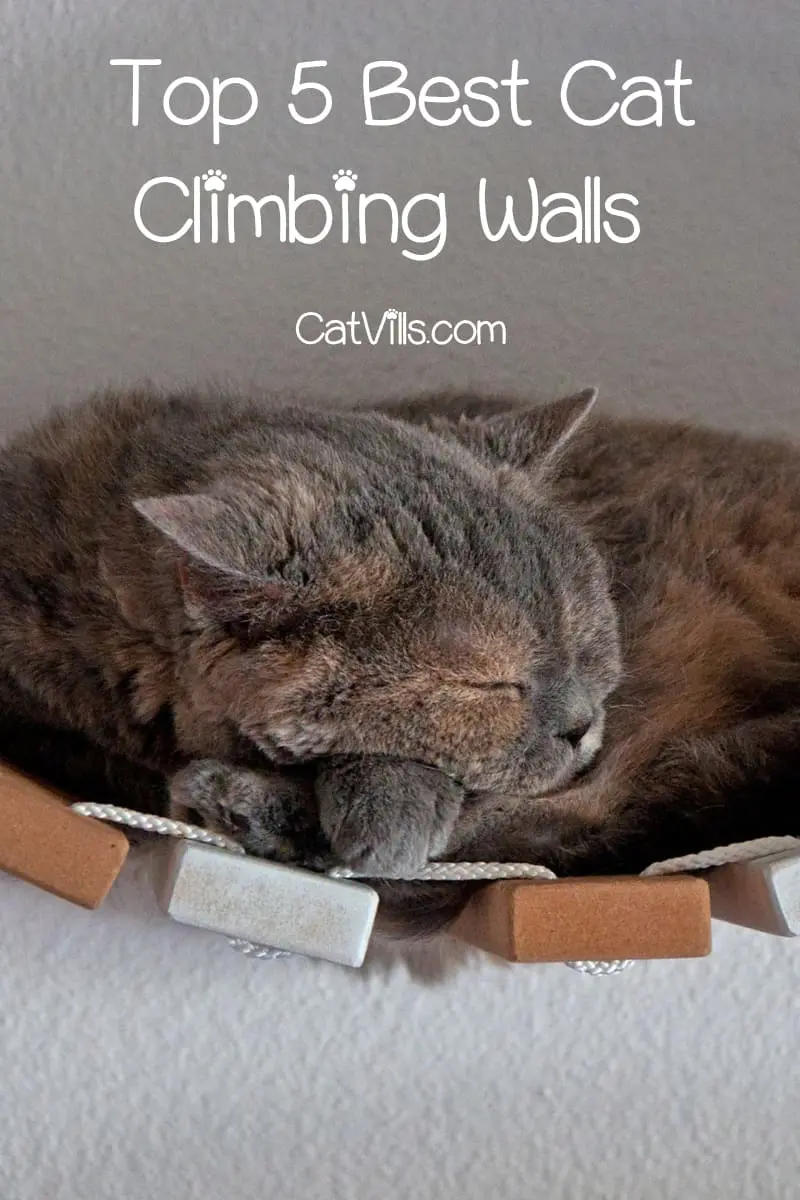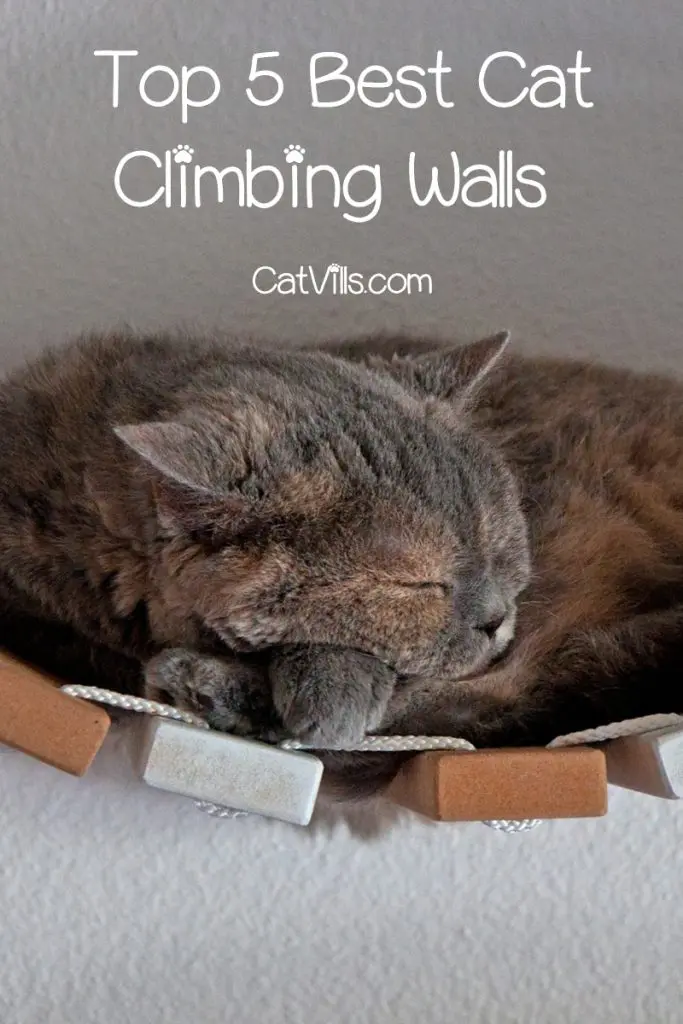 Last update on 2023-11-27 / Affiliate links / Images from Amazon Product Advertising API