Last updated on August 7th, 2023 at 06:43 am
Are you a proud owner of a long-haired feline friend?
In this article, we dive into the world of grooming and present you with the best brushes for long-haired cats.
From preventing tangles to keeping their fur lustrous, we explore top-quality brushes that are designed to maintain your cat's beautiful coat.
Discover the ideal grooming tools to ensure your long-haired cat looks and feels their best.
7 Best Brushes For Long-Haired Cat
1. Best Overall – Coastal Pet Safari Cat Brush
Sale
Coastal Pet Safari Cat Brush
Cat Fur Brush: Self-cleaning design effortlessly removes hair from...
For Clean Home: Use this deshedding brush to reduce shedding and keep...
High-Quality Material: Coated stainless steel brush pins ensure...
I adore this brush so much. While Clyde will let you sit and fuss and brush him for hours, you only have to let Bonnie catch a glimpse of one and she's out the door or starting a game of hide and seek.
And she's a really good hider. But in one of my sneak-assassin-ninja moves I did finally get to brush her coat with the Safari and never in a million years would I have anticipated what came next.
There she sat purring and squeaking away – she loved it! It seemed to be as comfortable for her as it did for me! The handle has great grip and honestly, you can barely even feel it in your hand.
You really don't have to put much effort into groom thanks to its amazing bristles.
And ah, it's bristles. They are a godsend. They are absolutely perfect for long-haired cats. The brush has these stainless steel bristles that are actually a decent size, which you don't tend to get all the time.
But these ones are long enough to really get into the coat, untangle those mats and remove any excess hair.
And don't worry, because regardless of them being stainless steel, they are still really soft and gentle and definitely won't hurt your cat or damage their coat as long as you aren't too rough or heavy handed.
Of course, you'll have to see how your cat takes to it. We all know how temperamental and individual each kitty cat is. But both of my babies love a good groom with this brush.
Pros
Effortless Cleaning – Brush does all the hard work for you.
Removes Fur Well – Bristles get deep in the coat to remove excess fur easily.
Comfy To Hold – It's the perfect size and weight and feels comfy in your hand.
Good Grip Handle – Handle has great grip which makes for easy grooming.
Gentle On Skin & Hair – Providing you don't push too hard it is gentle and kind to your pets skin and hair.
Cons
Can Be Painful – You do have to have a light touch to be gentle with this brush. If you are too heavy handed or push down too hard you can expect to hear a little yelp from your furry friend.
2. Best For Deshedding – Aumuca Cat Brush
Aumuca Cat Brush
【Professional Cat Hair Brush】Perfect gift for pet owners, vets,...
【Skin-friendly Massage Needles】The mental pins on the cat brush...
【Upgraded Cat Grooming Brush】The wire bristles of our long hair...
If you're sick of constantly vacuuming up pet hair from, well, everywhere.
Then your kitty could probably benefit from a good grooming. But there are so many brushes out there that are so bad that they really shouldn't even exist.
There's nothing more annoying than buying a brush where their bristles just don't penetrate far enough into the fur. They may be okay for a shorthair, but super-fluffball long hairs. They just won't cut it.
If all of that sounds all too familiar, then you definitely want to give Aumuca's brush a go. It has superstar bristles.
They are long enough to get through even the toughest tangles. It's like a knife through butter when brushing with this bad boy.
And they're also super durable. They won't bend and break when they come across a particularly stubborn mat and they scoop up so much extra hair.
Honestly, I didn't know how my cats weren't bald by the end of brushing from the amount it removed.
The bristles also have these little rubber bobbles on the ends of the bristles that ensure that it's gentle and painless.
And by the vibrating bellies I felt while grooming, it's safe to say it felt like a little trip to the spa for them. One even fell asleep while I was doing it so cute.
The loop on the end of the handle was a little feature that I adored too. As someone who would forget her head if it wasn't screwed on, misplacing items isn't an uncommon practice for me.
But thanks to this loop, I was able to pop it on a hook and give it its own safe spot to live.
I don't really have many criticisms for this wonderful brush other than the fact it's a little bit smaller than some other models available.
So it took a little bit longer than I would have hoped considering I have two to groom. I think for multiple cat owners or owners of big-big boys like the Maine Coon, will either want a larger brush.
That or accept you're having a baby bonding session that takes a bit longer than usual.
Pros
Durable – The thick bristles have the potential to last a lifetime.
Self-Cleaning – Be rid of hair, dirt and debris in a breeze.
Rubber Tips – The tips of the bristles are coated in rubber to make for a more comfortable grooming experience.
Loop – Easy storage
Cons
Small – May take some time to groom multiple or large cats with this small of a brush.
3. Best For Dematting – Pecute Cat Brush
Sale
Pecute Cat Brush
🐾【Dual-Sided Design】 The dual-sided 12-23 teeth undercoat rake...
🐾【No Scratch, No Pain】The extra-safe teeth of deshedding brush...
🐾【Comfortable to Use】 Designed to support comfort &...
I would love to stick a GoPro to my baby, Clyde, just to see what he gets up to while out on his wanders and to see just exactly how every stick, stone, leaf, and seed gets embedded deep within his fur.
I try as much as possible to remove them all before they get completely consumed in a large mat, but alas, I don't always succeed.
Enter the Pecute Dematting Brush. I've never seen anything tackle mats as well as this thing does. I couldn't be without it now. And it's basically two for the price of one considering it has two blade options.
The first option has significantly fewer teeth and is much better for getting those smaller knots and tangles.
But then when you come across a mat that doesn't look to be budging anytime soon, you can swap over to the option with more teeth. It chomps its way through those mats without a second thought.
And it's also really comfy. Keep in mind that I brush two long-hairs three times a week. So that's six brushes every seven days.
My hands and wrists never tire or ache thanks to the lightweight brush that feels so comfortable.
The brush is made of stainless steel but the edges of the teeth are all rounded to ensure that no harm comes to your baby.
The contraption looks a little intimidating at first glance, but fear not, for both my cats adored this grooming session so much they were moving around to ensure I got all those hard to reach areas.
They're so high-maintenance and very spoiled, but I can't help it. They rule my home and my heart.
Pros
Affordable – This brush is pretty cheap compared to other grooming tools
Dual Head – It's a two in one brush that reaches tangles and large mats
Long Curved Teeth – Reach the undercoat well while still being comfy for your furry friend
Cons
No Self-Cleaning Feature – You'll have to remove the hair you collect yourself.
4. Best Self Cleaning – Hertzko Cat Brush
Hertzko Cat Brush
#1 SMALL ANIMALS, CAT & DOG HAIR BRUSH - Our pet grooming brushes for...
EFFECTIVE SLICKER BRUSH - This Hertzko self cleaning slicker brush, a...
PAWS-ITIVELY VERSATILE - This dog brush for short haired dogs and dog...
For those of you with big-boy cats, I'm talking Maine Coons, Himalayan's, and Persian's etc, you want to get purchasing this brush as soon as possible.
My babies aren't small by any means, but they're not huge so it wasn't a brush I immediately rushed to get, but wow. It works well.
It was potentially a little too large for my cats, so if you have smaller kitties, you may want to opt for a smaller version that they do for sensitive cats.
But if you do have pretty large cats in your home, then it's going to be absolutely purrfect. Sorry, I couldn't help myself with that pun.
The bristles are long and hard, and are sure to reach the undercoat of even the fluffiest of cats. The best feature, though, of this brush is undoubtedly the self-cleaning feature.
When you're grooming a cat such as a Maine Coon, you're going to end up with a lot of excess hair, debris, and dirt that needs removing from the brush.
But don't worry about trying to pick it all out of the bristles yourself – it does it all for you! It literally takes seconds to do and is so simple you could teach your cat to do it for you.
The handle is also anti-slip so you won't lose your brush halfway through a groom.
Pros
Cleaning Feature – Has the best self-cleaning feature I've seen on a cat brush
Durable – Thick and durable bristles won't be breaking on you anytime soon.
Anti-Slip Feature – You won't slip or drop your handle while grooming. It's easy and comfortable to hold.
Rounded Bristles – comfortable for even sensitive cats
Different Sizes – A smaller sized brush is available for cats with sensitive skin
Cons
Not Great For Smaller Cats – Too big for smaller long-haired cats as it is a bit too big to reach hard-to-get areas.
5. Best Double-Sided Brush – BV Cat Brush
Sale
BV Cat Brush
For all breeds and coat types. Your pet will be cleaner and shinier...
The pin side helps to give your pet a great massage experience and...
Ergonomic handle features grooved grip for extra comfort and control
If you want more bang for your buck, then this double-sided brush is a great option for any long-haired cutie.
One side is covered in bristles for surface grooming and the other side has these pins which penetrate deep into your pet's coat.
The bristly side has nice soft bristles that are intended to disperse the natural oils in your cat's fur to keep it nice and shiny along with ridding them of any excess overcoat hair.
And the pin side has rubber tips to keep your cat's skin safe and ensure that the grooming process is pain free.
The pins do a fantastic job of reaching deep into the undercoat and getting rid of those annoying tangles and knots.
I love the versatility of this brush because not only is it a 2-for-1, but it'll work for pretty much anyone.
It works amazingly well for my two little trouble makers, but it would also work really well for medium and short-haired cats. And even my daft golden retriever, Harvey, can make good use out of this brush.
It's lightweight and fits comfortably in your hand and even has these little grooves so that you don't strain your wrist while holding it. The only issue that I came across was that the pins weren't amazingly sturdy.
One night I noticed that Clyde had a pretty stubborn knot close to his tail and as I was brushing away one or two of the pins snapped. So you'll need to master your light-as-a-feather touch when grooming.
Pros
Two-For-One – Get two different types of brushes for the price of one
Versatile – Works well for pretty much any cat or dog
Comfortable – Comfy to hold and has an ergonomic handle
Rubber Tips – Pins have rubber tips to ensure a comfortable and pain free experience for your pet.
Cons
Not Massively Durable – Found that pins could buckle under too much pressure
6. Best Professional Brush – GoPets Cat Brush
Sale
GoPets Cat Brush
Professional Grooming in Minutes: Elevate your pet grooming routine...
Versatile Double-Sided Design: Tackle various grooming challenges...
One Comb, Many Uses: Enjoy the convenience of a multi-functional...
If, like me, you like to go a little overboard, and tend to spend more on your babies than you do yourself, then this could be a worthwhile investment.
And it really is an investment, because it really will stand the test of time.
Now, as I say, this is a splurge purchase. Mine got this for Christmas. Yes, they get a stocking and Christmas presents from Santa.
And it's one of the best gifts to be received in the history of ever. At least that's what I interpreted their meows to mean.
This product is pretty much everything rolled into one. You definitely wouldn't need to purchase any additional tools.
The one side has considerably less teeth, and its purpose is to get rid of any of those mats stuck in your kitties fur.
The other side has much denser teeth that will get right into their undercoat and eliminate tangles and knots that are forming.
My two little ones purr so deeply when getting groomed with this tool that you'd think the whole house was shaking.
And they look so handsome and pretty with their freshly brushed coats. It really makes their hair look silky smooth.
It;s a very comfortable brush too which I must say I was initially dubious about. But just as the cats could sit and get groomed for an age, I could quite as happily oblige.
The ergonomic handle is coated in non-slip silicone so it sits well in your hand and I didn't get wrist ache once – even after an hour-long brush. They were enjoying it too much for me to stop.
It might cost you a little more than your standard brush but it's much more durable and multifunctional.
The edges are also rounded and it is specifically designed to ensure that it doesn't hurt or harm your little furball.
Pros
Dual-Sided – Two for the price of one with this brush design.
Comfortable Handle – Non-slip, lightweight, and super comfy.
Effective – Works tremendously to eradicate mats, knots, and tangles.
Rounded Edges – Kind to your kitties skin and fur.
Cons
Expensive – Costs more than similar products
7. Best Budget – Garstor Cat Brush
Garstor Cat Brush
⭐【Friendly Design to Protect Pets Skin】The tip of our comb brush...
⭐【Efficiently remove dead hair】The teeth of the stainless steel...
⭐【One Touch Design, Easy to Clean】The blue button on the handle...
For those on a tighter budget, don't despair, because high prices don't always mean higher quality.
And this brush is the perfect example of that. It's pretty inexpensive but it still does the job perfectly.
The brush comes with these slightly curved bristles that have rubber stoppers on the end to ensure it is a pleasant experience for your cat.
It won't damage their skin or their fur and it actually acts much like a massager for your little ones. So you can give your pets a little pamper.
But other than this massage being purr-inducing it also has several advantages too.
It'll help boost blood flow, and evenly disperses the natural oils in your cat's coat to give them that silky and shiny look. So, even though it doesn't cost a lot, you're still getting a great product.
I must admit, I expected this brush to be far flimsier than it actually turned out to be. It was also lightweight and generally comfortable to hold.
The self-cleaning feature works really well, and you can expect a clean and pristine brush at just the push of a button.
The only main issue I had with this brush is that while it is great for excess hair and grooming, it wasn't the best at tackling larger knots or stubborn mats.
Pros
Curved Bristles With Rubber Tips – Gives your cat a massaging effect and is gentle on their skin and fur.
Shiny Coat – If you want the most handsome or pretty cat in all the land, this brush will give them a sparklingly shiny coat.
Self-Cleaning Feature – Have a clean brush at the push of a button
Extremely Affordable – Much cheaper than many other options on the market
Cons
Won't Tackle Matting – The brush isn't really designed to remove stubborn matted hair or large knots.
Why You Need A Good Cat Brush?
As you would expect from any obsessive cat-mom, I'm going to take this opportunity to tell you all about my babies. Yes, I call my cats my babies. I have two stunning long-haired babas.
Clyde, a chunky ginger boy who loves guzzling down food almost as much as he enjoys hopping out my living room window to chase and pounce on anything he can get his hands on.
And Bonnie, a soft tortoise-shell soul who is very spoiled and enjoys a wander through the community garden that sits just behind our home.
Much like any other long-haired mother, I am no stranger to being covered in hair after a cuddle and having to vacuum my home about 500 times a day.
That might be a bit of an exaggeration, but it sure feels like it.
But I don't mind, really I don't, it is a small price to pay to receive the sometimes-conditional love that you get from those cute, quirky, and funny little bundles of joy.
But I did notice that after their exciting adventures each day, they'd sit and excessively groom themselves. No big deal, right?
All cats do that. The thing that started to concern me was that I was noticing that they still had tangles and mats in their hair.
Even after all that licking. So I decided to go on a mission to find the best brush option on the market that could withstand the wear I'd put it through with my two little mischiefs.
They're always getting seeds, and sticks, and anything and everything else in their hair.
I thought that I would share these amazing seven brushes with all my fellow pawrents so you two can say goodbye to unwanted matts, tangles, and shedding hair!
Best Kinds Of Brushes For Long Haired Cats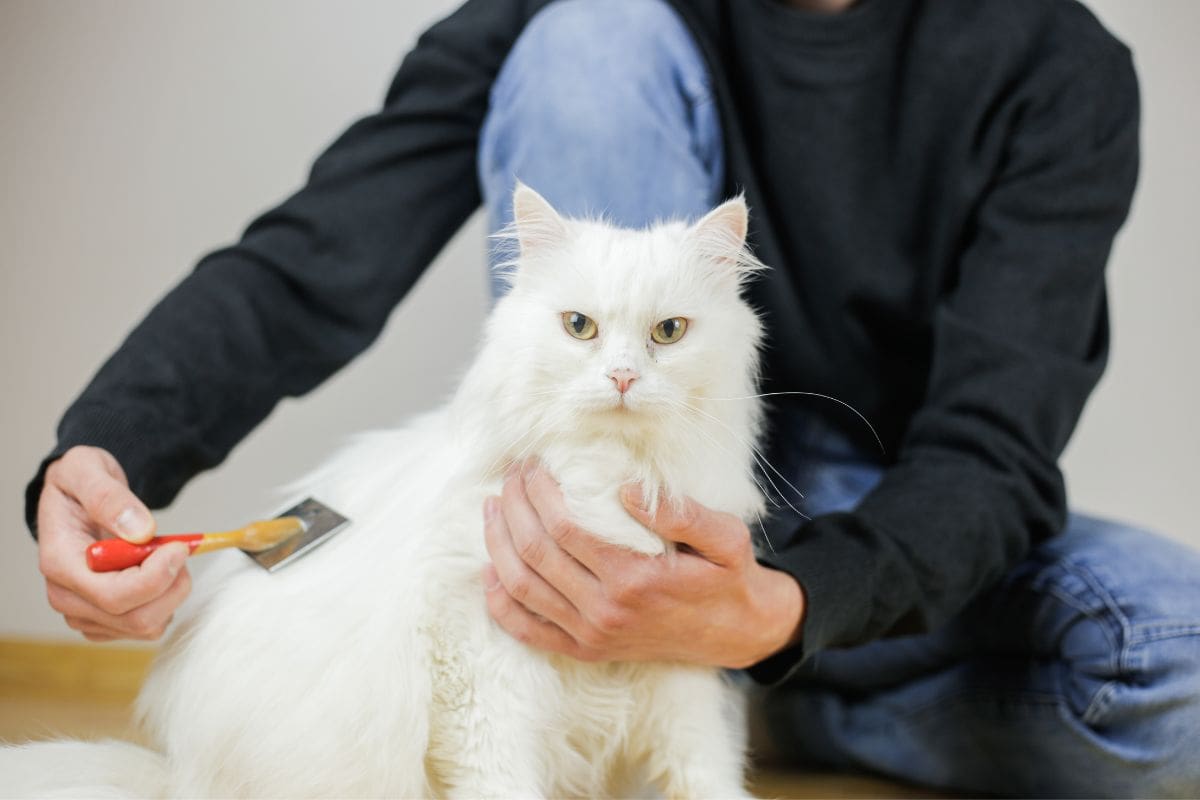 I'll go into more detail about a true buyer's guide to brushes a little later on in this article, but just before we begin, let's take a quick look at what makes a brush a good brush.
The main things that you're looking out for are as follows:
Comfy For You
You don't want a painful or achy hand or wrist while you're grooming your cat and so you'll want to make sure the brush is comfortable for you to hold.
You're looking for something that isn't too heavy and, a tip from me, try and find brushes with padded handles where you can.
If you're buying online and can't try it out for yourself, make sure to read up on the reviews to see how other pawrents have found it.
Good Grip
Let the brush slip out of your hand and accidentally clonk your furry friend on the head, and you'll never be allowed near them with it again.
You really don't want a brush that doesn't have good grip. Trust me here, it makes everything so much easier when you've got that decent grip on your handle.
Comfy For Them
We may be the parents, but cats rule the house. We all know it. And they just won't do things they don't want to do.
So you need to make sure that you have soft bristles that will feel comfy for them too, especially since they have such sensitive skin.
Long-Fur Suitable
For our long-furred friend, they need a brush with bristles long enough to penetrate deep into their undercoat and not just that topcoat layer.
Things To Consider
Can you believe that there is so much choice for just a cat brush? I remember when I first got my cats, we got them together because they had bonded so closely after birth.
Also can we talk about how incredibly cute kittens are for just a second. They stole my heart from that first picture.
Anyways, I digress, I remember thinking, this should be pretty easy right, just get a few bits and be done.
Oh, how naive I was. I walked wide-eyed into the pet store and saw all the different variations of products on offer and thought how am I meant to know which items are the ones I'm meant to buy.
So, I thought, at least for the brushes, I would create a little guide for you. Hopefully, from reading this article so far, you'll have a bit of a better understanding of what you're looking for.
But I'll go into crystal clear detail now, so you can walk into that pet shop, or surf through products on Amazon, like a total pro.
Types Of Brushes
So when it comes to brushes for a long-haired cat there are a few different kinds of brushes that are available to choose from.
Each type will tackle a specific issue that you might face with a very fluffy cat, and usually you'll want a combination of brushes to tackle these problems.
Below, you'll find a list of the different types that you can opt for.
Molting Combs
So, if you already have a long-hair you'll probably already know that they can moult like crazy.
If you don't have one yet, it's an unavoidable battle that you'll soon learn to live with. Like, my two cats moult more than my golden retriever does. So a moulting comb is a pretty essential piece of equipment.
It's specially designed for long and thick fur and has different length pins, long ones to penetrate deep into their undercoat and shorter ones to help collect excess hair from their top coat.
Brushing with one of these will help minimise the amount of hair you'll find all over your home and will somewhat save your vacuum a job.
Bristle Brushes
This is your most common and more typically universal brush for all fur lengths.
It probably won't do the trick for a long-haired cat all on its own though, so you'd want to use the aforementioned brush first before moving onto this one.
This brush will help collect any dead fur and is great for getting to those spots your cat might not be able to reach on their own.
They do a really good job of making sure that their fur is soft and shiny once you've finished brushing.
Pin Brushes
If you have cats like mine that love to get into all sorts of mischief outdoors and are constantly getting their hair tangled or matted, then a pin brush is a great investment for you.
These bristles are specifically designed to tackle these problematic mats and knots and get through them with ease.
Glove Brushes
These are as the name suggests, a brush that you wear as a glove. I find they are a great option for my cat that sprints at the sight of most brushes.
They tend to work better for short-haired cats but are good for the outer layer of fur for long-hairs.
Slicker Brushes
These brushes aren't really designed for penetrating into the thick coat of your long-haired baby, but rather focus on the surface layer of fur.
Again, they work better on short-haired kitties, but still work perfectly well for long-haired cats.
This type of brush is what I like to think of as a finishing touches brush. It'll leave that coat looking beautiful and will spread around their natural oils in their hair.
Flea Combs
Fleas. The singular most annoying creatures in the world. While consistent flea treatment will help keep them at bay, it's always good practice to have a flea comb.
These combs with super fine teeth help to remove them with ease but are also great for excess dead hair and dirt too.
Okay, so now that we know all of the different types of combs available, let's look a little closer at the features that you're looking for with these combs!
Handles – Comfort & Grip
For all of us long-haired pawrents, we can expect to be brushing our cats quite often.
I brush both of mine at least three times a week, and each session can last anywhere between 5-30 minutes depending on the state of their coats. And how much of a pamper they want.
So, it's safe to say that you'll be racking up the minutes in terms of brushing. And that's not going to be fun at all if you have a sore hand and aching wrists the whole time.
You want your grooming sessions to feel like bonding time, and you're not going to get that if all you can think about is how much your arm and hand hurts.
You're going to want to look for a brush that has a padded handle so it's easy to grip and feels comfortable in your hand. You also want to avoid a brush that is massively heavy.
Some brushes also have a non-slip surface which not only ensures more comfort for you, but ensures you don't clonk your kitty with a dropped brush.
This advice will save you from a swipe of your kitties claws, trust me.
If you're shopping online, you obviously can't get a feel for the brush itself, so be sure to do some research before you trigger happily adding it to your basket.
Others who have purchased the item will let you know if it's comfortable or not.
Single/Double-Sided Brushes
There's no real right or wrong answer here. A double-sided brush can come in handy since you tend to need more than one type of brush for long-haired kitty cats.
Some people don't always get on with these brushes though, and prefer a singular brush for each purpose.
A double-sided brush will tend to be more expensive but they can be more cost-efficient in the scheme of things because otherwise you'd have to buy multiple single brushes.
Personally, I prefer the double-sided brushes because you can get everything done in one go and it's less clutter for the house.
Or less brushes for me to lose. But, really it just comes down to personal preference and budget.
Self-Cleaning Brushes
Now, some brushes that aren't self-cleaning are still pretty easy to maintain and clean so this feature isn't exactly a deal-breaker. But with that being said, I much prefer brushes that do have this feature.
Essentially, a self-cleaning brush will have a little button you can press that will rid the brush of all the accumulated dirt, grime, and fur.
Since long-haired cats can shed astronomical amounts, this feature can really end up saving you some time.
Literally, sometimes a five minute brush can completely fill my brush just from one of my cats.
So, not having to then spend another 5-10 minutes picking out all the dirt is just super convenient, especially when I have multiple cats to groom.
So not essential, but certainly much more convenient. If you can find a self-cleaning option, I'd definitely recommend opting for it.
Bristle Type & Length
Simply put, there is no point getting a brush with short bristles for a long-haired cat.
Sorry if that sounds a little brash, but honestly, it's barely going to penetrate your cat's coat and you're just going to be scratching the surface.
With short bristles, you're just not going to get to the knots and tangles that you're trying to eradicate.
So it's long bristles all the way. The only downside to long bristles is that they can hurt. And nobody wants to hurt their furry feline friends.
If your cat has sensitive skin or hates being brushed, this is also an issue you need to pay even closer attention to.
You want to look for brushes that have gentle bristles, curved bristles, or rubber tips on the end of the pins. These are much comfier for your cats and they are much more gentle on their skin and fur.
Avoid sharp metal bristles at all costs as even with light pressure these can still be a bit painful for your pet. You can also get cushioned and padded brushes for particularly sensitive cats too.
The Benefits Of Brushing
Now that you're ready to shop for your furry friend like the absolute pro that you are, I wanted to take a minute to talk about why brushing your cats is so important. Especially if they are long-haired.
Initially, you might not think your cat needs grooming all that often, at least not like dogs do, for example. And I can totally understand why you'd think that.
Even I did at first. After all, cats seem to be grooming and licking themselves clean almost 24/7.
If my babies aren't scoffing their face or snoring away, more often than not they're giving themselves a little wash-down.
But even with all that grooming, they still need a helping hand for a variety of different reasons. So, what I'll do now, is just provide some information as to why we need to give them that extra pamper session.
Prevents Matted Fur
Because long-haired cats have, as their name suggests, such long fur it doesn't take much for a tangle or a knot to occur.
And these little knots if not sorted out pretty quickly can soon become a much worse problem. The tangle becomes a knot, and the knot can start to mat. And that's not very nice for your furbaby to say the least.
Regular brushing can work really well to prevent matting since you tackle those tangles before they become a real issue.
While your cat may groom a tangle, they won't always be able to get it out alone, which is why brushing at least once or twice a week is imperative.
Twice a week is really the minimum requirement too, if you can it's good to give your kitty a brush daily.
Of course, if your cat is not a fan of a brush this can be a lot easier said than done. So, really it's just best to do it as often as you can.
You'll want to try and brush them more frequently during the summer months because this is when they'll shed more often and tangles and knots are much more prevalent.
If your cat does get matted, you should always consult a groomer as trying to pull them out can be painful for your pet.
It's A Great Way To Bond
I'm a firm believer that people who think cats can't love their owner like other animals such as dogs have just never owned a cat themselves.
Cats won't bond with just anybody and it's a privilege rather than a right to be adored by your cat. And there's no better feeling in the world than being loved by your cat.
But you'll have to put the effort in on your part to receive that love. And though some cats won't love a brush, many adore it.
My boy loves nothing more than a good brush and will curl up in my lap and happily receive that massaging groom for hours if I'd let him.
My girl, on the other hand, likes to inspect, and attack, any new brushing tool before she's comfortable being groomed. Even though she hated it at first, with a little purrseverance, she loves it now.
Spending time together like this a couple times a week in such close proximity will only ever bring you closer together. And they get a shiny new coat and increased blood flow at the same time!
Identify Skin Conditions Early On
When you are regularly grooming and brushing your kitty, you'll notice any developing skin conditions much sooner than if you don't.
You'll have a much better knowledge of the 'usual' and it will make identifying anything out of the ordinary all the more obvious.
Cats can get parasites like fleas and ticks, which other than being very uncomfortable for them, can actually also lead to a pretty poorly cat. So consistent grooming can eliminate these risks.
If you notice bald spots, any redness, or skin irritation, you'll want to take your cat to the vet as soon as possible.
These issues could be something as simple as the wrong diet or an allergy, but it could also be the symptom of something more serious so it is vital that you get it checked out by a professional.
Reduces Hairballs
I don't know if you've ever seen a cat struggle with hairballs or furballs, but the first time I witnessed it with my baby I was petrified.
Honestly, it's so horrible watching your pet struggle to throw up a hairball and it can be a fairly precarious situation to be in.
Hairballs can also be signs of bigger issues as they can often lead to problems with digestion, intestinal blockages, loss of appetite, and vomiting, along with a whole host of other health issues.
Hairballs tend to happen when your cat can't ingest the sheer amount of fur they swallow.
Regular brushing helps to minimize the amount of hair that they'll groom themselves and so helps to reduce the risk of those terrifying hairballs.
Beautiful Babies
Doesn't your hair look much better after a brush? Well, it's the exact same thing for your little fluff balls.
Of course, all cats are gorgeous in their own right, but they just look so stunning once they've got that tangle-free and shiny coat.
You'll be surprised at just how much better your feline friend will look after a good brushing.
It also helps to improve the overall health of their coat too. Not only will you get rid of any pesky knots and tangles, but you'll also disperse their natural oils and cover their entire coat.
It's these oils that hydrate their coat and make it look super shiny. It's essentially a natural cat conditioner that you'll spread across their whole body. And they're so soft to cuddle afterwards, like real-life teddy bears.
Irregular brushing means unhydrated hair which can lead to dry skin, irritation, and sensitive skin. So not only will they not look their best, but they won't feel great either. And nobody wants that for their pet.
A Cleaner Home
Go a week or so without brushing a long-haired cat and besides all the many disadvantages and health concerns from doing so, you're also going to be drowning in malted hair.
Before these two, I never knew cats could shed hair so quickly.
Seriously, it gets everywhere. And if you're not brushing regularly, it's going to be even worse. You'll be needing to vacuum your whole home about 6 times a day if you want to keep it clean and hair-free.
Not that I'm sure totally 'hair-free' is a possibility with long-hairs. It's a notion that I gave up on long ago.
But you can definitely minimize the amount of hair you're sucking up by brushing them often. Think of it this way, all that hair that you collect on your brush will no longer be on your floor.
As I say, keeping your hair completely hair-free is a dream you should probably give up now, but consistent brushing will significantly improve matters.
Helps Immobile & Poorly Cats
If your cat has mobility issues, it is without a doubt, essential that you give your cat a frequent brush. Because they aren't able to groom as well as mobile cats, they'll miss a fair few areas of their body.
So you'll need to get those spots for them. It will massively aid the prevention of mats and skin irritations.
If you've got a poorly baby that's feeling sorry for themselves, quite rightly, they are much less likely to groom themselves.
So, it's best practice to help them out, and besides we all need a little TLC when we're not feeling great.
It's worth mentioning that our chunky boys that hold a little too much weight will also need help grooming their coats as they often can't reach all areas of their bodies.
How To Brush A Long-Haired Cat
You're really becoming quite the little expert in feline brushing care now, right? Well done.
So now that you know everything there is to know about cat brushes and why brushing is so important, let's talk about how to actually brush your long-haired friend.
So, you've got your brush but how do you go about using it? I won't sugarcoat it, while some cats adore a good grooming session some…do not. It can take a lot of practice and a whole lot of patience.
And as you probably already know, some cats have areas of their body you will not be welcome to touch. Not unless you want a slice of the skin with their claws.
So, you might need to stick to safe zones initially before they build up the trust to let you anywhere on their body.
Those of us who have kitties that love a good pamper have a pretty easy life.
But when it comes to more temperamental kitties, you can follow this guide that I found helped get my nervous girl more comfortable with a grooming session.
Creating A Cozy & Calming Environment
I don't know if you've ever played a game of chase with an unrelenting kitty, but they are master evaders. And they're smarter than they let on.
They'll know when you're ready for a groom and they'll have you searching for them for years as soon as they know it's time.
So you're going to want to create the most comfortable and calming environment and experience for them that is possible. I tend to find it's best to wait till they're a little sleepy and needy.
When they come for a cuddle, give them a nice gentle fuss for a few minutes and then very slowly introduce them to brushing.
My little girl is so apprehensive about absolutely anything and everything.
I tend to find you can eliminate some of the fear that comes from the unknown by letting them have a little sniff and touch of the brush first.
Cats are very inquisitive and after a good old inspection, and a bit of a playfight in Bonnie's case, they tend to be much more at ease.
A cat-treat reward for their courageous efforts can also go a long way too.
Soft & Strategic Manoeuvres
As I said above, it's always good practice to start off by just giving your cat a cuddle and a standard fuss so they are less suspicious.
Once they settle, and are purring away, you can very softly start to brush them occasionally.
Start by opting for areas where your kitty loves a pet. For Clyde, that's the top of his head. Bonnie much prefers the middle of her back. But over time you'll come to learn their sweet spots.
Thankfully, they tend to roar to life purring and vibrating when you target these areas, so you have a pretty obvious indicator.
Once they're content for you to brush these areas, you can venture into less certain territory. If you know they particularly dislike certain areas, avoid these for now.
Keep the movement gentle and soft, and never apply hard pressure. You don't want to pull their hair because this can be painful, and they definitely won't like a brush then.
Always make sure that you brush in the direction of their hair growth and if you notice a tangle or a knot approach it with caution. Brush it very gently ensuring that you don't tug too hard on their coat.
If they really don't like a brush, it might also be worth investing in some cat detangling spray.
Tackling The Problem Areas
The main area that you may find problematic is your kitties belly. Cats are very protective of this sensitive area.
In fact, if your cat often exposes her belly around you when stretching or chilling out on the sofa or bed, you should feel pretty honoured.
It's a massive sign of trust between you and your feline friend. But it is possible to brush their bellies.
But you need to do so very lightly and gently. And it may take a fair few attempts to get to this point. Starting again with your fingers before reintroducing the brush may be a good idea.
Now, when it comes to their holy areas, some cats are extremely protective. This isn't a battle to pick constantly.
Not if you value your hands, anyway. Cat claws are sharp things, and they can be sassy little creatures if you push them too far.
If they are clearly unimpressed by your attempt, leave it and move back to areas that they do enjoy.
If your cat starts trying to break free, it's usually time to throw in the towel for the day. There's always tomorrow, you can try again then.
Another note, you may have noticed that cats are creatures of habit. My cats will cry the house down if food is served even seconds after it's expected.
They like to stick to routine so if you make brushing part of their routine, as in sticking to brushing at particular times of the day, they will eventually become much more comfortable and even expectant of grooming time.
Rewards
A little bit of positive reinforcement never hurt anyone, right? And cats love their food. Mine would munch all day long if I let them.
So the promise of a tasty treat after their grooming session is a great way to ensure they'll endure the ordeal even if they don't really like it.
So once they've sat on your lap and let you give them that all important brush, be sure to give them a little reward for their good behavior.
You can also use toys instead of food if that works better for you. If your cat associates grooming with a play session afterwards then they'll put up with the brushing for the fun that comes afterwards.
Word to the wise, do not use catnip toys before grooming. I learned this the hard way and a very excited and crazy cat proves pretty difficult to groom.
Dealing With Matted Fur
For grooming-lovers and brushing-despisers alike, dealing with matted fur can be quite problematic.
When these big lumps of matted hair occur they can be quite dangerous for your pet if they're not dealt with quickly and correctly.
So, if you do come across one of these pesky clumps of hair, here's how to deal with them.
Check The Size
You'll want to take a look at the size of the mat before you make any decisions.
If it's relatively small and not too tangled, you can grab a wide-tooth comb and brush it carefully to see if it comes undone.
Use A Comb
As long as the matted fur isn't incredibly tight, you can attempt to get rid of it with a comb using soft and short strokes. This should loosen it up somewhat.
You'll want to hold onto the fur near your furry friend's skin so you don't pull, tug, or hurt them. Target the area furthest away from their skin and then make your way in slowly.
Use A Dematting Comb
A good dematting comb, like the one I mentioned earlier, can work well for mats that are much more stubborn.
Longer and wider mats can be eradicated sometimes with this type of brush because they can cut through the fur.
Speak To A Professional Groomer
If you can't detangle your kitties mat or trying to do so is causing obvious discomfort then you should always speak to a professional groomer.
They'll have access to more professional tools that can rid the mat, or they'll have clippers they can use to remove it entirely.
In some instances a trip to the vet may also be necessary to ensure that the skin is not irritated or infected.
Frequently Asked Questions
HOW OFTEN SHOULD I BRUSH MY LONG-HAIRED CAT?
Really, you should be brushing your long-haired cat at least 2-3 times a week. If possible, a quick brush everyday is better.
If your cat sheds quite a lot this is often a good indication that they need a few extra grooming sessions. 
DO ALL CATS NEED BRUSHING OR JUST LONG-HAIRED CATS?
Any type of cat needs a good brushing unless they are a hairless breed such as a Sphynx.
Providing that your cat does have hair, they'll need to be brushed to help keep their undercoats tangle-free.
However, it is true that long-hair cats require more coat maintenance than any other breed. 
SHOULD I WASH MY LONG-HAIRED CAT?
Cats naturally groom themselves, so they basically wash themselves.
Unless you've been told to specifically wash them by your vet, there's really no need as long as you're brushing them regularly. 
CAN I MAKE MY LONG-HAIRED CAT STOP SHEDDING?
Alas, this is not possible. You could brush a long-haired cat morning, noon, and night, and they would still shed hair.
It's a natural part of being a cat and while it may be slightly irritating for us pet owners, it's something we just have to live with.
A decent deshedding brush, such as the one I recommended, and a regular grooming regime will help to minimize the amount of shedding that occurs though. 
Final Fluffy Thoughts
And this is where I will bid you all adieu. We've come quite a long way together, haven't we? And hopefully now, you should be a cat-brushing-specialist.
I have imparted all of my wisdom, and shared all of my secrets to cat grooming, and you're definitely ready to tackle any adversaries that should stand in your way.
Our precious kitty cats do a pretty good job at keeping themselves clean and somewhat tangle-free.
But with all that hair, they do need a helping hand from their favorite humans. And now, you know all the best tools and all the best techniques to do so!
Remember that grooming your cat is so much more than just a chore to add to your list.
Not only does it keep them clean, pretty, and safe, it is also a perfect way for some bonding time and extra snuggles.
And even if they don't like it to begin with, they'll definitely thank you in the long run!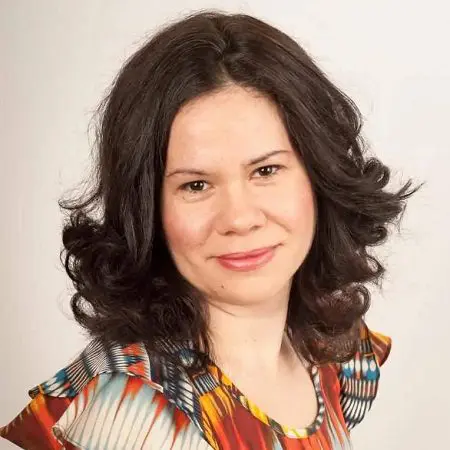 Olfa T
Olfa knows how to get things done and has a keen business sense that others admire. She's always on the go, coming up with new ideas! Her ability to anticipate the needs of her readers and deliver information that they want is what makes CatVills such a success. She loves cuddling her cat Picaciu. He is her inspiration.
Last update on 2023-11-27 / Affiliate links / Images from Amazon Product Advertising API