Looking to prevent your kitty from tracking litter all over the house?
Now that you've figured out where to hide your litter boxes and how to eliminate litter box odor, there's just one more little problem – how do you keep your cat from tracking litter from one end of the house to the other every time he goes to the bathroom?
Vacuuming works, of course, but – especially with multiple cats – some days it gets pretty frustrating trying to keep up with the mess, and it's always surprising to me how far they can manage to spread the stuff.
Also, I don't know about your cats, but every time I get the vacuum out, they act like I've sent some sort of demon after them (and I promise, no matter what they tell you, I don't actually chase them around the house with it).
Top 5 Cat Litter Mats At a Glance
To keep the trauma to your brave little wildcats to a minimum, it's probably easier to try to stop the litter before it gets ground into the carpet.
Your best bet is a cat litter mat, which sounds easy enough until you get to the litter aisle of your local pet superstore.
There are so many options, and so many completely different types – which one do you choose?
Below are five different cat litter mats with high customer satisfaction ratings across the board.
#1 Petfusion SmartGrip Cat Litter Mat
This large, soft, rubberized mat stops tracking with ease.
Cats love the texture of the mat, and the channels around the edges stop any liquid from spilling over should your cat "miss" the box.
The mat is huge – which means you can set the whole box on the mat so that litter escaping any edge of the box will be easily caught, and it can be picked up and folded to pour any excess litter into the garbage or back into the box if it's clean.
In addition, it can be swept or vacuumed, and a quick wipe with an antibacterial cloth or sponge will have it clean again.
The only issue with this one is that it has a slightly sticky texture (which is why it's so good at stopping tracking), it can take some persistence to get the litter off, and because cats love the texture, they may want to scratch it (but really – who wouldn't want to enjoy that texture under their feet?).
#2 Petlinks Purr-fect Paws Cat Litter Mat
The Purr-fect Paws mat has a simple, but effective design.
It has kind of a neat "space-age" appearance, with craters in the mat's surface designed to knock the litter off of your cat's paws as they walk across and trap it in the holes.
The mat doesn't lend itself well to sweeping, but it can be folded up and the excess litter poured off (it slides easily), or you can vacuum it off just as easily.
While some people aren't big fans of the appearance of this one, it does the job, and it does it well.
It is available in three sizes, and while it is a little more expensive than the PetFusion mat, it may well be worth the extra for ease of cleaning and durability.
#3 iPrimio Cat Litter Trapper
The iPrimio Cat Litter Trapper takes the concept of the Purr-fect Paws mat and expands on it, offering a two-piece design that traps the litter in a lower tray, so that the top layer can be peeled back and the bottom layer dumped easily and/or rinsed.
The real advantage to this one is that a puppy pad can be inserted between the layers if your cat tends to spray over the edge of the box or pee on the mat in front of it*.
This makes cleanup a snap, and keeps odours down in your home.
*If your cat is consistently going outside the box, please consult your veterinarian – this is often a sign that your cat is having bowel or bladder issues, which can be deadly serious and must be addressed immediately.
#4 Smiling Paws Cat Litter Mat
The Smiling Paws is a simple-looking mat with an image of an adorable kitten in the lower corner.
The technology it uses for catching and collecting litter, however, earns it the second-highest spot on this list.
Instead of a smooth rubberized material, the surface of the Smiling Paws is woven, knocking the litter off of your cat's paws from the first step and trapping it under several layers quickly.
Like the others, this mat can be vacuumed or shaken outside – and if it needs a really thorough cleaning, it's durable enough to take a power washer to.
It's a very soft-feeling surface, and best of all, the material doesn't have the toxic chemicals that many plastic and rubber products can have.
#5 Easyology Premium Cat Litter Mat
The Easyology mat is very similar in design to the Smiling Paws described above, but has a slight advantage due to its size.
This mat is approximately 3×4 feet, and is large enough to support an extra-large litter box with plenty of room to spare.
Often it's a struggle to find a mat that will support a large covered or round box, and this one has no trouble doing just that.
The same woven design that makes the Smiling Paws such a great mat is present in this one, but the Easyology also has a grid pattern to its design, which provides extra channels for trapping the litter.
Wrap-Up
Overall, there are many good litter mats available to keep your floors mess-free, and the best one for your needs may depend on space available, budget, and litter box size – as well as your cat's toileting habits.
My advice is to have a look at these five, and see if they will do the trick for you – I'm betting at least one of them will.
Have you found any other fantastic cat litter mats that keep your kitties from tracking a mess all over your house? Share below!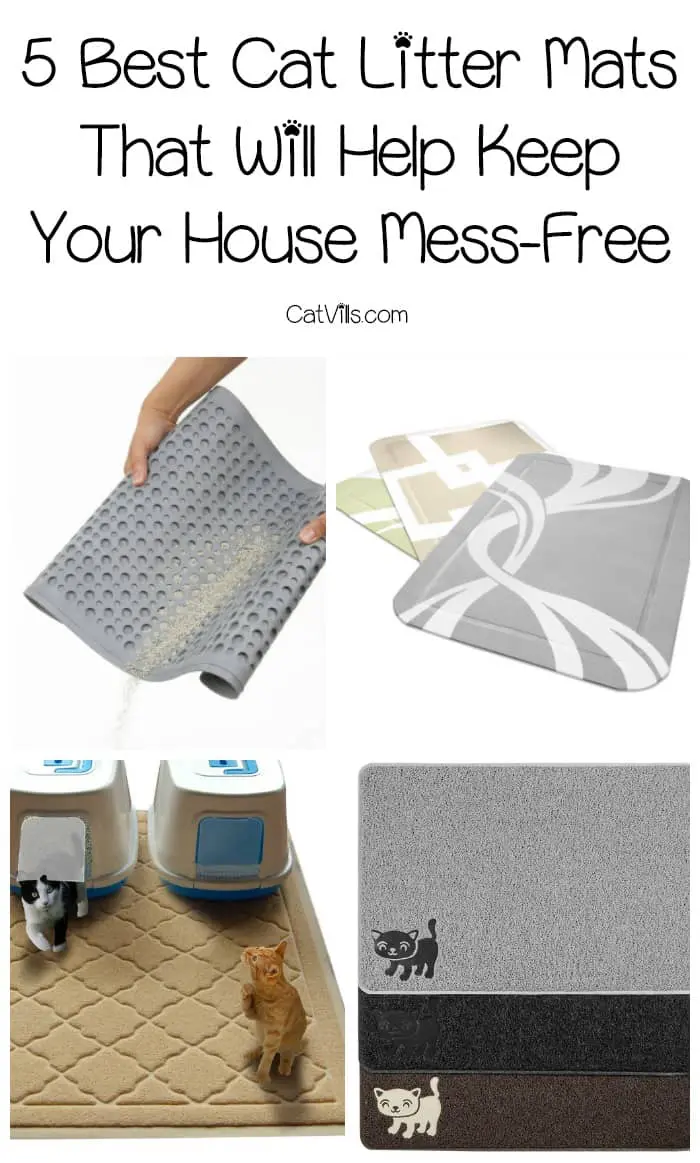 Last update on 2023-06-09 / Affiliate links / Images from Amazon Product Advertising API