Are you looking for the best designer cat collars that don't cost a small fortune?
It's no surprise that you're having a hard time picking up a luxurious collar for your kitty with so many brands and models on the market.
But we're here with our superb buying guide to narrow down your choice with 7 fancy cat collars reviews.
Let's start with a quick look at our top picks, then keep reading for all the glorious details.
Check: Best Escape Proof Cat Harness
Designer Cat Collars

Top Picks at a Glance
If you see the value in these products and choose to purchase via my referral links, I may earn a small commission at no extra cost to you.
Don't have time? Here is a quick comparison of our favorites!
Top Benefit
Handmade from high-quality materials
The leather is water-resistant
Very stylish and easy to maintain
Soft leather with suede lining
7 Best Designer Cat Collars (With Reviews)
Many owners think that cats don't need collars or consider them a choking hazard.
But studies say, "Fighting and road accidents are greater hazards to roaming cats than collars."
As such, a collar is more than a fashion item to make your kitty pretty, and it can be invaluable if your cat gets lost outside.
Moreover, cat collars with bells can reduce your feline's predatory behavior and save bird lives.
But which is the right one for you? Let's see our top 7 best picks.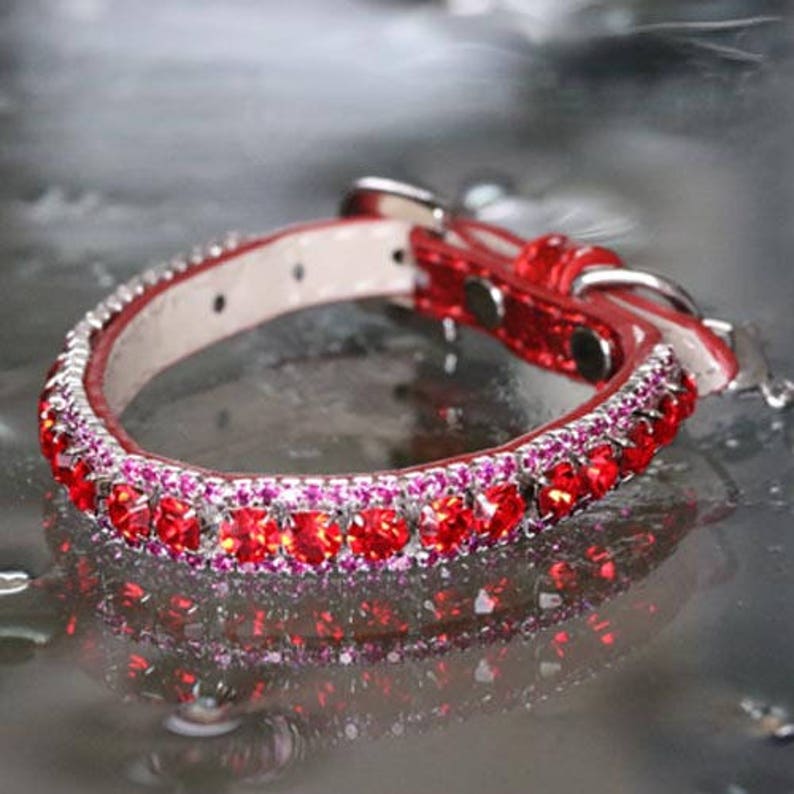 RockStarPetCollars have a great selection of pretty kitty collars made of high-quality materials, which are bound to appeal to any pet owner's taste.
Physical Attributes
Made from vegan leather

Buckle with metal tongue

Red and pink rhinestones

D-ring
Quantitative Measurements
Available in two sizes – XS and S, suitable for cats with a neck circumference up to 9-1/2 inches

Available with or without crystal charms
| Benefits | Drawbacks |
| --- | --- |
| Handmade from high-quality materials | Available in only two sizes |
| Since it's made of vegan leather, this fancy collar is durable enough to prevent your kitty from damaging the surface with its claws. It's also very snug, stylish, and easy to adjust. | Too fancy for an outdoor cat |
| Breakable so that you don't have to worry about your pet getting hurt if they get stuck. | Non-refundable |
| You can reach the seller to ask for customization. And you can replace the crystal charm with a pet tag or a bell to ensure people can contact you if your pet gets lost. | |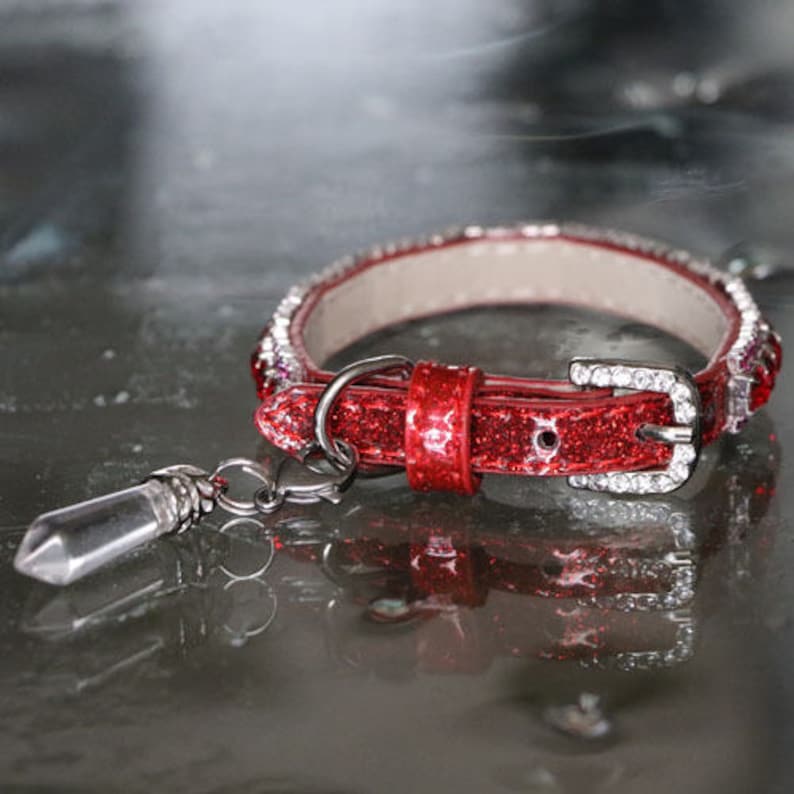 How it Compares to Others and Why
Stylish gemstone design

Fast shipping

According to the seller, it cleanses your pet's chakra and improves their overall well-being.
How the Product Evolved
RockStarPetCollars has several collar collections, including one with zodiac birthstones for cats. They've also got a model with cascading red ruby stones if you want something extra fancy.
Expert Tips
Make sure that you follow the seller's instructions on how to measure for the cat collar. They don't refund wrong size orders.

Check RockStarPetCollar's collection if you want the product in different colors or ask them for customization.
Check: Are Cat Nail Caps Safe?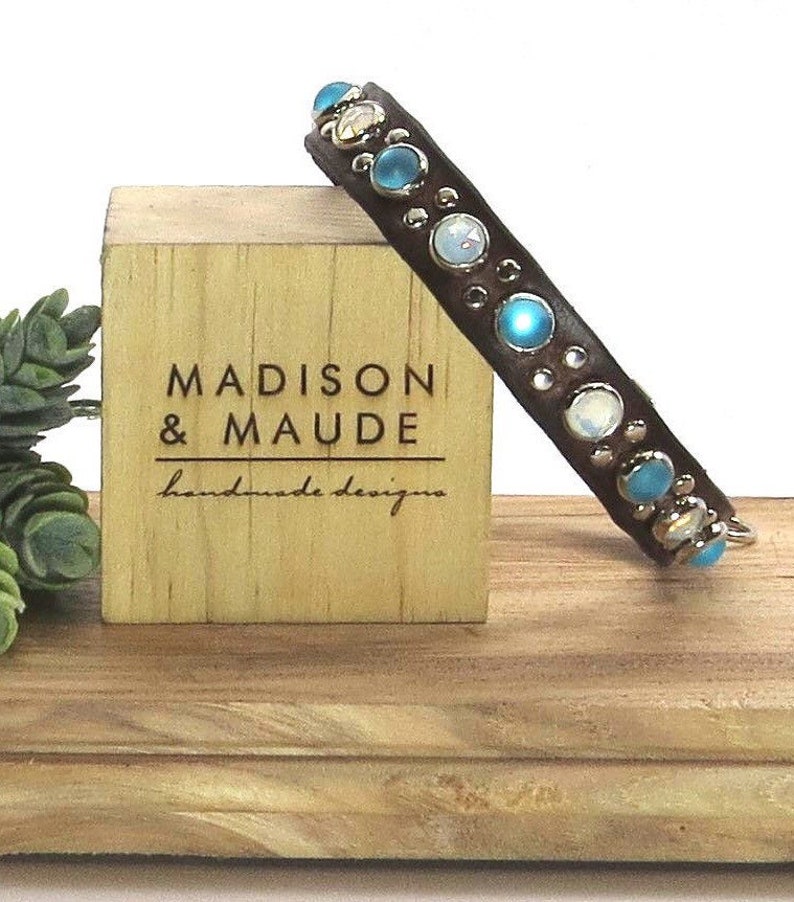 If you're looking for black leather designer collars for kittens and adult pets, you won't be disappointed by MadisonandMaud's products.
Physical Attributes
Made from leather
Swarovski crystals or gemstones
Silvered hardware
Breakaway buckle
Black or brown
Quantitative Measurements
Available in six sizes from XS to X-Large
Width of five inches
| Benefits | Drawbacks |
| --- | --- |
| Hand-crafted with attention to detail and boast a stylish design and durable construction with a breakaway safety feature. | Non-returnable |
| Products have beveled edges so that they won't irritate or damage your furry friend's neck. | One of the priciest options |
| The leather is water-resistant and burnished for extra durability. | |
| You can choose the color of gemstones/Swarovski crystals, and you've got a silver ring to attach a removable bell or a pet ID. | |
How It Compares to Others and Why
You can customize the crystals/gems' colors.
Ships in a beautiful box, so it's an excellent gift for cat lovers.
Water-resistant
How the Product Evolved
Available in three different models with pearls, crystals, or moonstones if you're looking for something luxurious
Expert Tips
Clean with a cloth or a gentle leather cleaner to avoid damaging the surface. Use a leather conditioner for maximum shiness and durability.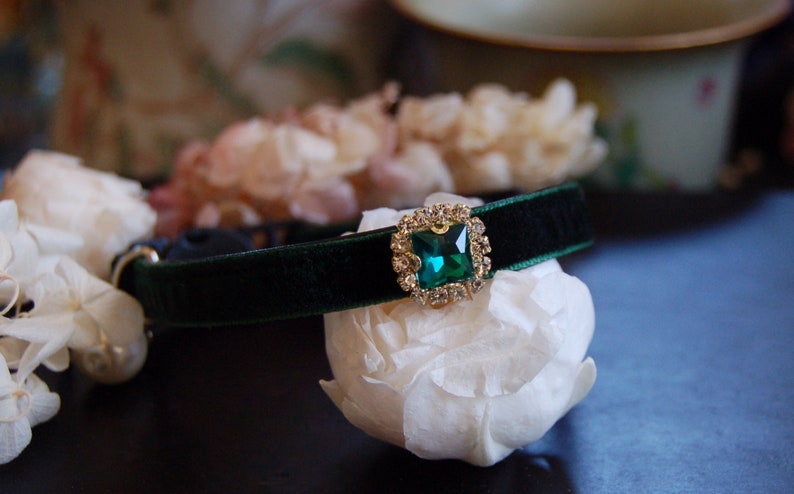 Susedesignshop has one of the best kitten collars and impresses with a stylish design and high-quality craftsmanship.
Physical Attributes
Made from panne velvet
Breakaway style for cats
Gemstone decoration
Quantitative Measurements
Available in several sizes from six inches to 13 inches
Width of 1 cm
| Benefits | Drawbacks |
| --- | --- |
| High-quality material, which can withstand vigorous kitten play | Non-refundable, non-returnable |
| Breakaway feature to prevent neck injuries in kittens and cats | Shipping costs extra |
| Soft and comfortable | |
| You can add a removable bell or a pear decoration | |
| Great customers reviews | |
How It Compares to Others and Why
Available in more sizes than other models
Faster shipping is available upon request
How the Product Evolved
Available in different colors and designs to suit a wide range of pet owners and cat breeds.
Expert Tips
Make sure that you choose the breakaway style for cats because non-breakaway ones can be dangerous.
Kittens tend to eat anything they get their paws into, so be careful with hanging decorations.
Pet owners who want to surprise their indoor kitties with something luxurious and well-made will appreciate this stunning pink pet collar.
Physical Attributes
Made from nylon webbing with velvet ribbon
High-quality crystal rhinestones
Metal bucket
D-ring for charms
Quantitative Measurements
The collar size is 5/8″
Suitable for cats with neck circumferences from 7-1/2 inches to 9 inches
| Benefits | Drawbacks |
| --- | --- |
| Made from durable materials to withstand cat scratching | Not suitable for outdoor cats |
| Soft without any sharp edges that could hurt a cat's neck | Too heavy, according to some cat owners |
| The shining rhinestones make for adorable cat social media pictures | |
| You can add a bell so that you know where your cat/kitten is all the time | |
How It Compares to Others and Why
Made from soft velvet and nylon webbing for optimum comfort
Slightly bulkier than other models
No breakaway safety feature
How the Product Evolved
These quality cat collars are available in smaller than the 5/8″, so you can get one for your kitten as well.
Expert Tips
Unlike other models we've reviewed, these beautiful cat collars aren't breakaway. As such, you should use it with caution.
Pink Velvet Princess Rhinestone Pet Dog Cat Collar Sz Small
5/8" Pink Velvet Ribbon sewn onto a Nylon Webbing
Genuine top quality crystal glass rhinestones
Fits 7-1/2" to 9" snug neck size. Please measure neck itself. We do have a 3/8" version in our store.
We have matching leashes available. Made in the USA!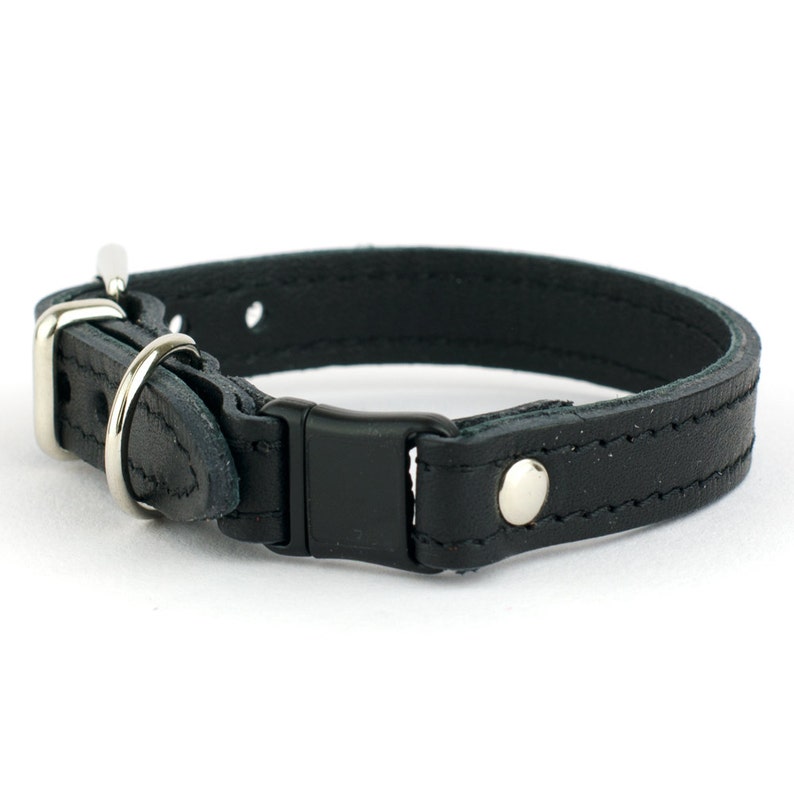 PetiquetteCollars has the best cat collar for people who want something simple, comfortable, and elegant.
Physical Attributes
Made from vegetable-tanned leather
Nappa leather lining
Breakaway clip
Quantitative Measurements
Measures1/2 inches in width
Suitable for cats with a weight of at least 5.5 pounds
| Benefits | Drawbacks |
| --- | --- |
| This black breakaway collar is made of high-quality leather with a comfortable lining for maximum comfort and durability. | Not suitable for small cat breeds under 5.5 pounds |
| Breakway clip ensures your cat's safety. | Shipping is expensive to residents outside the UK |
| Very stylish and easy to maintain | |
| You can return/exchange the cat collar if you get the wrong size. | |
| Well-stitched and very durable | |
How it Compares to Others and Why
This black cat collar isn't as fancy as other models, but it's elegant and stylish.
One of the best collars for indoor cats
High-quality release clip that won't get damaged by cat's claws
How the Product Evolved
PetiquetteCollars have the model available in lilac, yellow, grey, and tan so that you can choose a color to suit your cat's gender. Expert Tips
You may have to pay customs and taxes if you live outside the UK, and shipping will probably take a few weeks.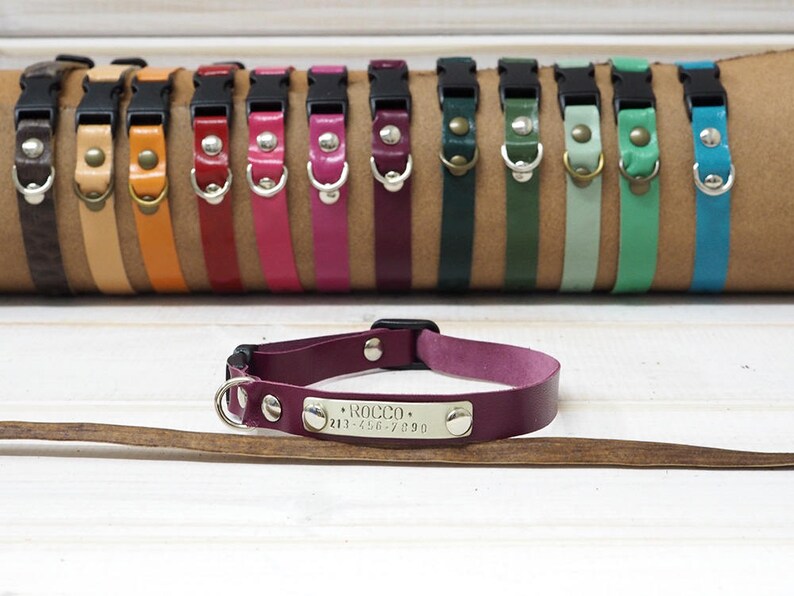 If you're looking for comfortable collars for a tight budget, you should consider VacForPet's products.
Physical Attributes
Made from leather and lambskin
A breakaway clip
Personalized nameplate
Brass or nickel hardware
Quantitative Measurements
Available in three sizes – small, medium, and large
3/8 inches of width
| Benefits | Drawbacks |
| --- | --- |
| You can have your cat's name and your phone number inscribed on the nameplate. As such, people can contact you if your pet gets lost. | The shop doesn't accept returns/exchanges for personalized orders unless they arrive damaged. |
| VacForPet's products are also well-made from soft leather for ultimate comfort and are well-designed to prevent collar losses. And you've got plenty of vibrant colors to choose from. | Ships from Greece so you have to pay extra for delivery. |
| | |
| | |
How It Compares to Others and Why
Vegetarian leather is an excellent choice for cats with sensitive skin
A nameplate for personalization
Bright colors
How the Product Evolved
VacForPets have a wide variety of cat and dog products, and they're constantly working on improving their designs.
Expert Tips
Check VacForPets' shop if you're interested in pet ID tags and leashes.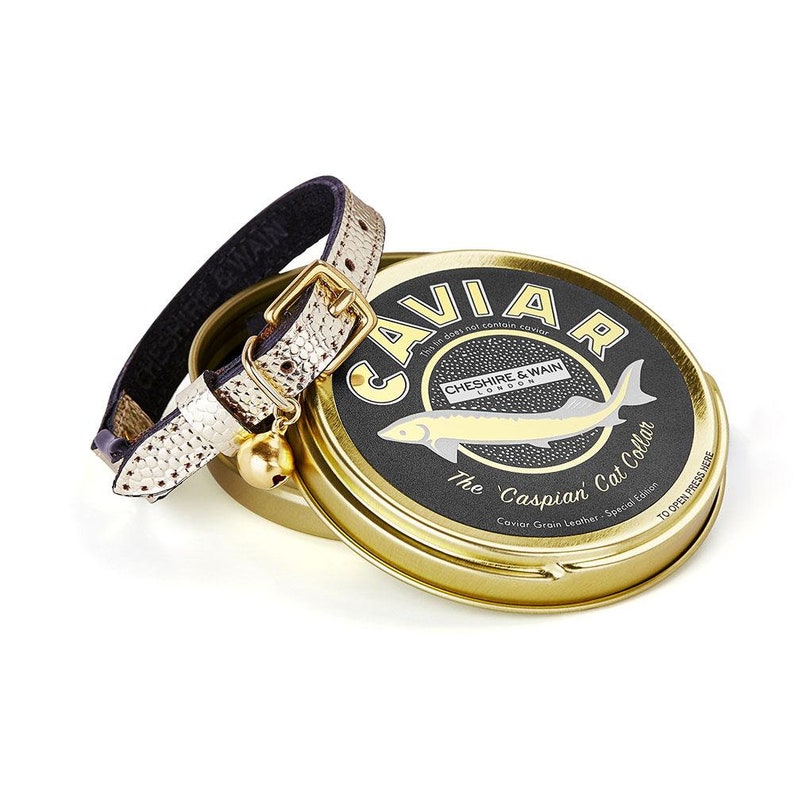 When it comes to expensive cat collars, you can rely on CheshireandWain to deliver a product of utmost quality and beauty.
Physical Attributes
Made from leather and suede
Brass hardware
Breakaway clip
Gold color
Quantitative Measurements
Available in two neck size options – petite (for small cat breeds) and standard (for average cats)
Not suitable for cats under 5.5 pounds
| Benefits | Drawbacks |
| --- | --- |
| A quality cat collar, very luxurious and hand-crafted with attention to detail | Not the best choice for kittens and adult cats under 5.5 pounds |
| Soft leather with suede lining to prevent skin irritation and ensure your cat's comfort | Can't be personalized |
| It comes in a unique Caspian Cavier tin, which you can use for storing catnip | |
| Discreet, high-quality breakaway clip | |
How It Compares to Others and Why
Free from color-setting chemicals
One of the most luxurious models you can find
How the Product Evolved
Besides gold, Cavier has models available in black, blue, yellow, burgundy, and orange. They also have less expensive models with inferior breakaway clips.
Expert Tips
Check CheshireandWain if you want luxurious pet ID tags, crystal charms, or personalized items.
4 Things To Consider When Choosing The Best Designer Cat Collars
Let's talk about what features you should consider when buying luxury cat collars for your feline friend. After all, you want the best for your kitty.
Safety
Since cats are curious and often get into tight spaces, it's vital to consider safety features. In general, breakaway buckle collars or quick-release ones are the best, especially for outdoor pets.
Size
The perfect collar size is essential for your cat's comfort and safety. A tight fit might damage your cat's neck, while a loose one increases the risk of
Always read the manufacturer's instructions on how to measure your cat's neck to ensure you get the right neck size.
Quality
Choose high-quality materials, such as leather or lightweight webbed nylon. The better the quality, the fewer the chances your cat will damage the material or swallow parts of it.
Decorations
Small hanging decorations, such as charms, crystals, make for stunning social media pictures. But they can irritate your pet's skin, or your cat might swallow them by accident.
FAQs
Is It Cruel to Have a Bell on a Cat Collar?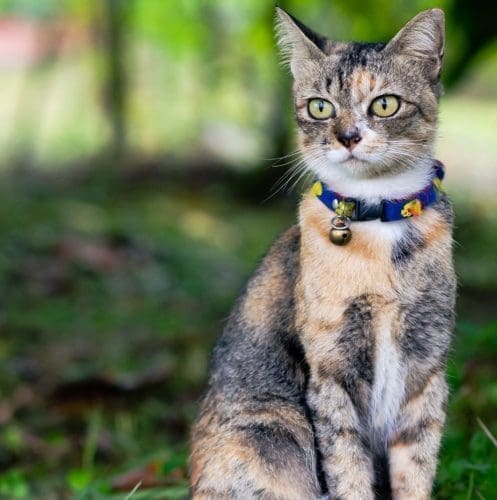 No, a cat bell isn't cruel. According to studies, a bell is not likely to damage your cat's hearing and can reduce your kitty impact on the bird population. But do cats like bell collars? Some timid and anxious cats might not like the bell's sound. But most cats learn to tune it out. 
Do Vets Recommend Collars for Cats?
Some do and some don't. Those that do advise purchasing a quick-release one.
There's no unanimous opinion on the matter, so you should talk to your vet about what's the right course of action for your pet.  
Are Cats Comfortable with Collars?
Most cats don't mind wearing something around their neck, as long as you ensure it's a good fit and doesn't pinch/irritate their fur.  But it depends a lot on your cat's temperament and how early you train them to wear one. 
Are Cat Collars a Good Idea?
Yes, it's a good idea to have your cat collared, especially if they have access to the outside world and are at risk of getting lost. 
Conclusion
A designer collar for cats is an excellent choice when you want to spoil your cat rotten or emphasize how gorgeous your cat is.
Just be careful to choose the right size and ensure that the fancy decorations aren't bothering your cat's skin.
And don't forget to snap a cute cat picture so that everyone can admire your kitty!
Final Recommendation
Among those 7 designer cat collars, there's one that stands among the others with its unique design.
We're talking about the Rockstart's Red Ruby Collar with lots of sparkling gems.
We highly recommend it because it's handmade from high-quality material with technology to keep the stone in place.
It's also safe for your cat with its breakaway buckle.
References
"Are Cat Collars Safe? Vets Urge Owners to Use Quick Release Collars Only." 2017. Vets Now. December 18, 2017. https://www.vets-now.com/2017/12/are-cat-collars-safe-use-quick-release-only/.
"Does Your Cat Wear a Collar? READ THIS." 2021. Pdsa.org.uk. 2021. https://www.pdsa.org.uk/taking-care-of-your-pet/looking-after-your-pet/kittens-cats/cat-collars.
M.C. Calver, G Adams, W Clark, and Kenneth H Pollock. 2013. "Assessing the Safety of Collars Used to Attach Predation Deterrent Devices and ID Tags to Pet Cats." ResearchGate. Universities Federation for Animal Welfare. February 2013. https://www.researchgate.net/publication/262862053_Assessing_the_safety_of_collars_used_to_attach_predation_deterrent_devices_and_ID_tags_to_pet_cats.
What do you think about these 7 designer cat collars? Which one is your favorite? Share your opinion with us in the comment section!
Grigorina S
I've grown up surrounded by animals – dogs, cats, cows, goats, sheep, and horses and that has shaped me into what I am today – a crazy cat lady who always has a place for one more cat (or a dog). I've got two female cats – Kitty and Roni, and two tomcats – Blacky and Shaggy, but I also feed my neighbors' cats when they come for a visit. I just can't say no to them.
I discovered that writing is my vocation early in my school years. Since then I've taken part in several literature contests – writing horror and fantasy short stories and novellas.
For the past three years, I've been an ELS teacher, pouring my heart into showing children and teenagers how important English is for their future and trying to educate them how to treat their pets with care.
Find her on Instagram. Read her latest articles..
Learn more about Grigorina here
Last update on 2022-10-01 / Affiliate links / Images from Amazon Product Advertising API