Are you wondering which are the best bags for Litter Robot?
Finding the best liners for a self-cleaning cat litter box can be harder than expected, especially when you are on a tight budget.
Fortunately, I'm here to help with the reviews of the best Litter Robot bags.
Just keep reading.
Top Picks of Bags for Litter-Robot at a Glance
7 Best Bags for Litter-Robot – Buying Guide
The Litter-Robot is one of the best automatic cat litter boxes with raving reviews because it's easy to use and is great at controlling foul smells and reducing tracking.
But you need suitable waste bags, or your cat waste will get all over the drawer during the cleaning cycle.
So, which are the best bags for Litter-Robot? The best bags are large enough to fit inside the waste drawer of your self-cleaning litter box and thick enough not to break apart when you remove them.
Let's take a look at my favorites.
#1 The Strongest and Best Fit: Whisker Litter Box Liner Bags
Whisker Litter Box Liner Bags
CUSTOM FIT FOR LITTER-ROBOT: Get rid of cat waste easily and quickly...
9-11 GALLONS OF CAPACITY: These durable cat litter liners are equipped...
EASY TO INSTALL: For the Litter-Robot 4, simply wrap the edges of the...
Whisker is the official manufacturer of Litter-Robot, so they offer the best bags for Litter-Robot, custom-fit to match the drawer.
The brand's waste drawer liners are the best option compared to alternatives as they are designed to fit the Litter-Robot perfectly.
They are also thicker than most other options, which means there is less risk of the bags ripping.
A great quality to have, as the last thing you want is for the bag to tear as your carry it through your house to dispose of it!
Benefits
The bags are compatible with all Litter-Robot self-cleaning litter boxes, so you don't have to look for alternatives if you have an older and discontinued unit.
Made from durable plastic with 9-11 gallons of usable capacity, so you won't have to replace the poop drawer liners very often.
Relatively good at containing the bad smell inside the waste drawer
Available in packs of 25, 50, or 100, so you can save some money if you buy in bulk
You can buy one or subscribe and have the liners delivered to your address every month, two months, or three months.
Easy to remove or install.
Drawbacks
Whisker's products are expensive compared to other toilet box liners and bags.
Non-biodegradable
No drawstrings for closure
Recommendation
They are my top pick because they are the strongest, and easiest to fit as they are a perfect size.
While expensive, these best Litter-Robot bags are heavy-duty and unlikely to tear when cleaning the waste drawer. As such, if you have a single cat, they're worth the extra bucks.
Changing the bag doesn't take you more than a minute or two.
One great feature of the brand bags is pointed out by happy cat mom, Karen, who says this – "The liners hold my urine, so I haven't had to worry about the liners leaking like another company I bought liners from."
#2 Drawstring Tie: Wellap Litter Box Liner Bags
Wellap Litter Box Liner Bags
✔️【Compatible with】:Perfectly well suited with your Litter...
✔️【Size & Quantity】:These Liners are a 75 Pack and can...
✔️【How to install】:Roll down the edges of the liner several...
Wellap has the perfect custom-fit waste liners for your Litter-Robot with features similar to the original. They're an excellent choice if you're looking for something durable and affordable.
In addition to being strong, one of the best features of Wellap litter box liners is that they have a drawstring. This makes it super easy to secure the bag of waste when cleaning out the drawer.
Benefits
Wellap's product comes in a pack of 75 bags for a lower price compared to the original liners.
The bags measure 23.5″ x 29," so they fit nicely inside the drawer and have a capacity of 9-11 gallons, enough to collect your cat poop for 1-2 weeks.
They're made from scratch-resistant plastic, so the bag won't fall apart while you're taking it to the trash.
Hassle-free to install – just roll the edges and place them inside the waste drawer's tabs.
The bags are easy to separate from the roll.
It is easy to separate the bags from the roll.
Drawbacks
The bags aren't biodegradable, so they're the best choice if you want something eco-friendly.
A bit expensive, especially if you have multiple cats.
Recommendation
Wellap liner bags are a great option for cat owners because they're durable, well-made, and easy to use.
They could also work well for a regular cat toilet box because the bags are thick enough to withstand your cat's claws when using the bathroom.
Cat parent, Debbie, agrees – "Awesome liners, scratch resistant like it says, will only buy these from now own"
#3 eco-friendly: Inwaysin Litter Box Liner Bags
Inwaysin Litter Box Liner Bags
【FIT SMALL TRASH CAN】It comes with 200 Bags: 5 rolls X 40 white...
【EXTRA THICK & STRONG】New upgraded small trash can liners are...
【BIODEGRADABLE MATERIAL】These small trash can liners are made of...
Are you worried about the impact plastic has on the environment? Then you probably want automatic litter box liners that won't contribute to the problem.
Then these biodegradable 13-gallon trash garbage bags will do an excellent job for Litter-Robot's waste drawer. They come in a pack of 75.
Benefits
The bags measure 24.8 x 31.5 inches, so they're close to the original size and will fit inside LR's waste drawer with no problem.
They're made from biodegradable material, completely harmless, and eco-friendly.
No added fragrances or scents, so the bags won't put your cat off using the automatic toilet box.
These garbage bags are 1.8 mm thick and are well-designed to prevent spillage.
Drawbacks
It's a bit expensive because they're made from compostable materials, but one pack of 75 should last you more than a year with a single cat.
Too easy to rip apart, according to some review
No drawstrings
Recommendation
Compostable garbage bags are an excellent alternative to traditional liners, even though they're a bit expensive.
And they're easy to use. As one Reddit user says, "Roll the top about 5 times and use the method of wrapping the back. Works great."
#4 MOST AFFORDABLE: Glad Litter Box Liner Bags
Glad Litter Box Liner Bags
13 gallon kitchen trash bags: add glads 13 gallon kitchen trash bags...
Odor protection: provides lasting freshness with OdorShield technology...
Leak protection: ForceFlex technology with Dual-layer leak protection...
If you're looking for something affordable to line the waste drawer, you can't go wrong with these kitchen trash bags.
They come in a pack of 120 and have a 13-gallon capacity, perfect for Litter-Robot and other automatic litter boxes.
Benefits
ForceFlex's kitchen bags trap and neutralize odors, perfect for smelly jobs, such as the litter box.
The dual-layer protection allows you to stretch the plastic to accommodate the waste drawer and create a tight fit.
Leak and rip protection, so you don't have to worry about the dirty clumping litter spilling all over the floor.
They work well to eliminate unpleasant cat toilet smells in combination with the waste drawer's carbon filter.
Very affordable. A pack of 120 should last you about two years if you change the bag every week.
Each bag has drawstrings, so you can dispose of them pretty quickly.
Drawbacks
Some customers note that the bags have a strong scent, even though they're marked as "unscented."
Not eco-friendly
Recommendation
A 13-gallon kitchen garbage bag is a great option when you want something cheap, durable, and easy to install.
And as this reviewer says, ForceFlex's bags are strong and stretchy, perfect for heavy garbage.
But as this Reddit user advised, "Make sure you push it down, so it's not going to trip the sensors."
#5 GREAT FOR ODORS: Nature's Miracle Cat Litter Box Liners
Nature's Miracle Litter Box Liner Bags
ODOR CONTROL LINERS: Inhibits odors on the litter pan liners.
FRESH SCENT: Helps control odors.
EASY CLEANUP: Convenient, easy-pull drawstrings for quick cleanup.
Nature's Miracle liners can work very well with Litter-Robot due to their odor-controlling properties and large-size design.
They come in a pack of 27 bags.
Benefits
Each bag is made from heavy-duty plastic so that it won't break or tear.
Easy-pull drawstrings allow you to close the bag without spilling the dirty litter.
Great waste capacity
Anti-bacterial surface prevents bacteria from accumulating on the bottom of the waste drawer.
Drawbacks
A bit large since Nature Miracle's liner measures 39″ x 22," so you'll have to roll down the edges more than five times to make the bag fit.
More expensive than other models.
Scented
Recommendation
Nature Miracle's liners are the way to go if your Litter-Robot's waste drawer is smelling bad or you need liners for a large traditional litter box.
Many cat parents like the odor-fighting capabilities, here is was one has to say – "These are GREAT liners and keep down cat box odors. I have two cats and these liners have eliminated cat box odors."
#6 Heavy-duty: Pettiny Litter Box Liner Bags
Sale
Pettiny Litter Box Liner Bags
20 EXTRA LARGE LITTER BOX LINERS — Pack of 20 individually folded XL...
EXTRA STRONG MATERIAL — Unlike other brands, Pettiny liners are made...
QUICK, EASY AND HYGIENIC — With easy to use drawstrings so you can...
Pettiny is among the best Litter-Robot bags due to its heavy-duty design and versatility. They come in a pack of 20, suitable for almost all types of litter boxes.
Benefits
Pettiny bags measure 38.2″ x 17," so you don't have to worry about stretching the bag to fit inside the waste drawer.
Heavy-duty material, leak, and rip-proof to ensure mess-free removal
These best cat litter box liners are made from recyclable materials, so they're eco-friendly.
Versatile design, suitable for traditional litter boxes or automatic ones
Hygienic and easy to use, thanks to the convenient drawstrings
Drawbacks
More expensive than kitchen trash bags
A little on the big side
Recommendation
If you want an alternative that is strong and reliable that is also more environmentally friendly, then these are a great option for you.
Andrea, who has tried all kinds of litter box liners, loves Pettiny liners – "I never thought I'd be one to get excited about cat litter liners but believe me these are the best I've ever used.
All the others I've used rip with my cats scratching when he's used the litter tray but these are brilliant!"
#7 biodegradable: EcoLeo Litter Box Liner Bags
EcoLeo Litter Box Liner Bags
✔ CUSTOM SIZED LINERS FIT AUTOMATIC ROBOT LITTER BOXES – EcoLeo...
✔ EASY TO USE WITH HANDLES – Replaces oversized, plastic bags to...
✔ ECO-FRIENDLY – Use your litter box guilt free! Made with our...
EcoLeo Liners are compatible with most automatic litter boxes and are made of quality materials, so they're an excellent choice for people with multiple cats.
Benefits
EcoLeo Liners are available in a pack of 50, enough to last you almost a year with a single cat.
The bags measure 22×16.5 inches, so they're a great fit for the waste drawer and don't have any added scent.
Hassle-free removal thanks to the handle ties
Eco-friendly, since they biodegrade without a year
Cheaper than the original Litter-Robot bags with similar measurements
Money-back guarantee if you're not satisfied with the product
Drawbacks
Not very thick, so the bags are easy to rip if you're not careful, according to customers' reviews
You need to use the bags without 9-12 months or they go bad
Recommendation
EcoLeo Liners are a great alternative if you want something heavy-duty but eco-friendly.
4 Litter-Robot Bag Alternatives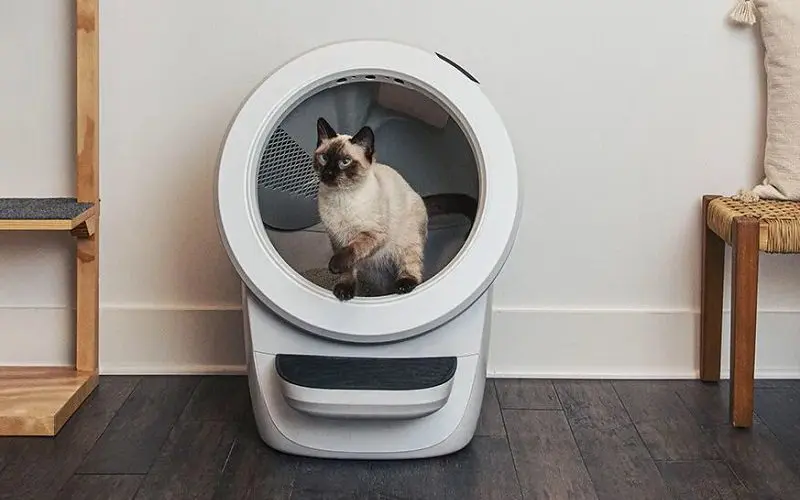 Not all cat owners are fans of plastic or biodegradable bags. Fortunately, I still got four Litter-Robot bag alternatives to help you keep your waste drawer as clean as possible.
#1 Disposable Aluminium Trays
Litter-Robot's waste drawer measures 11″ x 16″ x 6," so you can find plenty of disposable aluminum trays that fit inside.
Disposable trays are cheap, and you can find them easily online or in the nearest supermarket. The drawback is that some trays don't sit completely flat inside the drawer, so it gets messy.
Make sure the foil is molded a little bit, so it fits the shape of the waste drawer snugly. Otherwise, the tray can trigger the weight sensor.
#2 Large Plastic Bags
Cat parents probably have tons of old plastic bags around the house, so you can use the largest ones to line the waste drawer, as long as they don't have any holes.
Unfortunately, while cheap, plastic bags rip easily, so you can make a huge mess inside the house if you aren't careful. And it's not a very eco-friendly solution.
#3 Plastic Pans
If you're not opposed to scooping and cleaning a plastic pan, you can use one inside the waste drawer.
It just should be shallow enough not to trigger the weight sensor.
#4 Stainless Steel Lasagna/Cake Pan
A stainless steel pan is another Litter-Robot bag alternative. There are plenty of stainless steel pans that are a good fit for the drawer, so you can use them over and over again.
The main con is washing and scooping these pans to keep odors from accumulating, making it no different from a regular litter box.
Why Use Bags for Litter-Robot
Automatic cat litter boxes are great for people with disabilities or those that work long days, especially if they have a cat that prefers a fresh box for every use.
Using a liner bag in your Litter-Robot makes life even easier. But you need suitable waste bags, or your cat waste will get all over the drawer during the cleaning cycle.
FAQs
What size bag does the Litter-Robot use?
The Litter-Robot can use kitchen trash bags with 10-13 gallons of capacity. They're large enough to fit inside the waste drawer with enough usual capacity left. 
How Do You Use Bags in Litter-Robot?
To use bags in a Litter-Robot, roll the edges of the bag a couple of times and place them at the appropriate tabs at the back of the drawer. Stretch the bag tight and hook the other end to the front tabs. 
How Many Litter-Robot Bags Do You Need Per Month? 
In general, cat parents will need around 4-5 bags per month for a single cat.  You should empty the waste drawer every week or whenever the full sensor activates and put in fresh litter.
Conclusion
Litter Robot does all the hard work of scooping and removing your cat's waste and containing dirty litter. All you have to do is to pick the right bags to reduce the mess inside the waste drawer and contain odors.
The best bags for Litter-Robot are those that come from the manufacturer because they're the right size and are thick and heavy-duty to prevent odor leakage and spillage.
What do you think about these best Litter Robot bags? What bags do you use with your automatic cat toilet box? Share your user experience in the comments.  
Resources: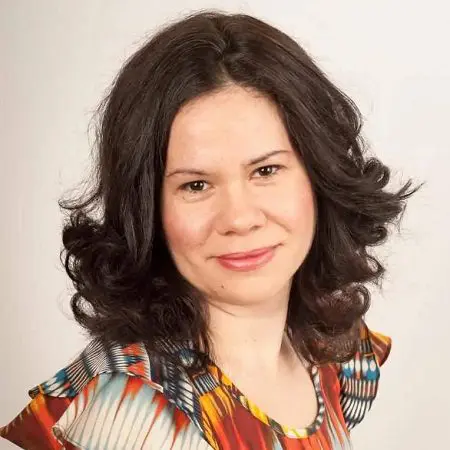 Olfa T
Olfa knows how to get things done and has a keen business sense that others admire. She's always on the go, coming up with new ideas! Her ability to anticipate the needs of her readers and deliver information that they want is what makes CatVills such a success. She loves cuddling her cat Picaciu. He is her inspiration.
Last update on 2023-09-27 / Affiliate links / Images from Amazon Product Advertising API