Updated in 2021
If you think kitty furniture has to be tacky and ugly, you need to see these top 20 best modern cat trees!
I've found you amazing structures that look more like modern art than cat furniture!
In other words, they'll look so fantastic in your house, you'll be proud to show them off.
Let's start with a quick look at our top picks, then keep reading for all the glorious details.
Modern Cat Trees Top Picks at a Glance
If you see the value in these products and choose to purchase via my referral links, I may earn a small commission at no extra cost to you.
Check this comparison table for a quick guide. Read the review for further details.
20 Best Modern Cat Trees (Review)
In my search for the best modern cat trees, I headed to four of my favorite sites: Amazon, Etsy, CatsPlayFurniture, and Wayfair. Take a peek at what I found!
The Milo Cat Tower from Tuft and Paw has a gorgeous modern design that fits in perfectly with your minimalist decor.
It includes four platforms, a slide-like ramp, and a climbing/scratching post, all covered in durable carpeting.
Measurements & Materials
The Milo stands at 62″ tall and takes up roughly 53″x15″ of floor space.
Birch plywood with UV coating.
Hammock is made of crystal
Some of the top benefits:
How it compares to others
Tuft and Paw cat furniture isn't cheap, but there's a reason for that. Each piece is designed to last.
Unlike many competitors, this one is made from REAL wood, not particle board.
Recommendation
The Milo is definitely the big winner when it comes to the best modern cat trees, especially if you want something with a Scandinavian minimalist.
Yes, it's very pricey, but as I said above, it's built to last with durable real wood.
In other words, it will last throughout your cat's entire life and beyond, so you won't need to replace it every six months!
With a minimalist design that packs everything you need into a relatively small package, this 49″ tower is anything but tacky.
Measurements & Materials
24" W x 24" D x 49" H
Solid ash, sisal, premium plywood, ash veneer
How it compares to others
Compared to other Tuft and Paw trees, this one is pretty basic. That's not necessarily a bad thing, as sometimes it's exactly what we want.
The other major difference between this and the first one, this is more of a modern corner cat tree than the other. So if you lack space, it's the better choice.
Recommendation
Tuft and Paw make amazing modern cat furniture, and this is no exception. Even though it's made from plywood, it's still built to last.
However, if you have a giant kitty, you're better off with another option.
While it'll work for small to average cats, it's a no-go for Maine Coons and other big breeds.
Is it a modern cat tree? Is it a large cat shelf? It's both! Or either! Totally up to you!
Seriously, this one is among my favorite modern space-saving cat trees because it's just so versatile. It really looks more like a piece of furniture.
Measurements & Materials
22″ length by 22″ width by 67″ height.
Wood and non-toxic paint
How it compares to others
Unlike many options on this list that serve as straight-up cat trees, this one can easily double as a shelf.
If you live in a small apartment (or even a house crammed with stuff like I do), that's pretty darn good news!
Recommendation
While it is kind of expensive for a cat tree, if you think of it as a combo item, it's a bit easier to digest.
Yes, the top shelves aren't really all that cat-friendly, but that's kind of the point- so you can use them for knick-knacks.
That said, one reviewer did say it's easy enough to modify so that the entire tower becomes kitty-friendly.
Need something you can hang on your wall for your feline friend? Check out this great find from CatissaCatTrees on Etsy!
Measurements & Materials
Made to order, so size depends on your specifications, but it's a spacious cat tree overall
Wood and non-toxic paint
How it compares to others
This is a totally modular wooden cat tree condo, so you can assemble it to fit your space, rather than trying to arrange your space to fit the tree!
It's also completely handmade to order, so you're not getting something that's been sitting around in a warehouse.
Recommendation
My biggest concern here is the paint. Like I said, I prefer to see the words "non-toxic" front and center when talking about paints and stains.
However, since the tree is made on-demand, you can always ask them to leave it natural.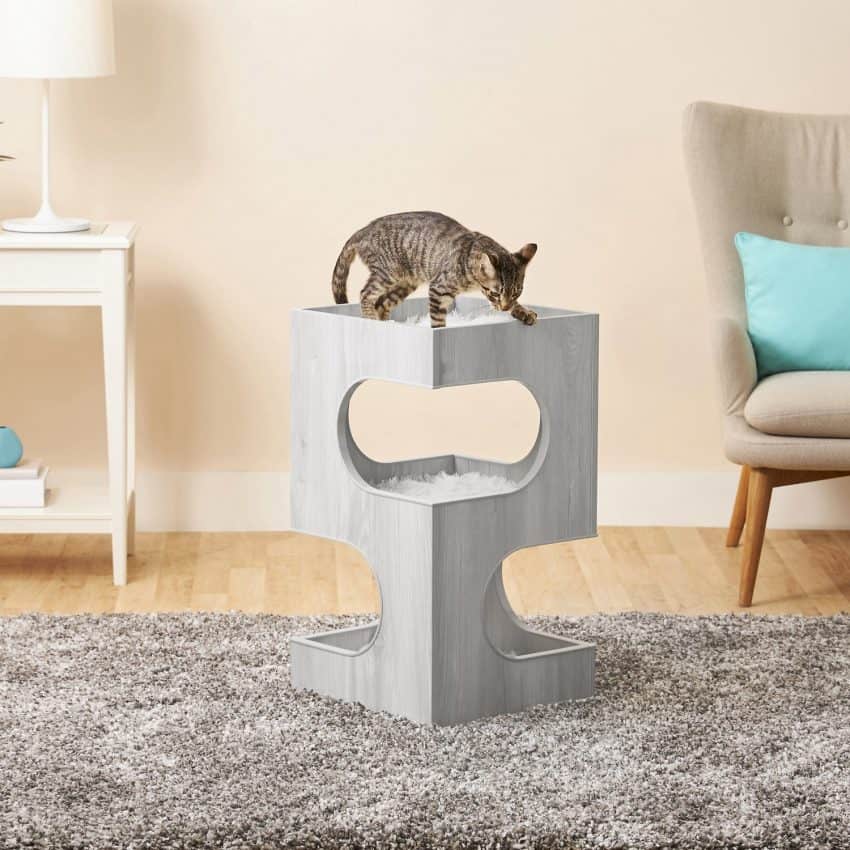 The Frisco Modern wood cat tree tower is definitely one of the more unique offerings from Chewy.
While it does have some carpeting, it's very tasteful (and removable).
Measurements & Materials
28 inches 15.3 inches 15.3 inches
Platforms measure 15.3″x 15.3″
Engineered Wood, Laminate,
How it compares to others
The Frisco cat tree has a relatively small footprint compared to many of the others on this list.
Thanks to that as well as the square design, it'll easily fit snugly into any corner of your house.
Plus, since it's made by Chewy, it's backed by their excellent customer service. If you hate it, return it. No hassle, no questions asked.
Recommendation
As long as you don't have ginormous or elderly furry friends, I really think this is a great buy!
I personally use it as a "bedroom tree," as my cat Zoe spends a lot of time in my room when she's hiding from her feline brother Alex.
We've seen this one many times before, as it's one of my favorite cat trees of all time! However, I usually show you the bright and colorful cat tree option.
For a sleeker and more modern look, though, I like the black blocks.
Measurements & Materials
Size varies by piece and configuration. Largest side is 32″, smallest is "8
Heavy-duty cardboard
How it compares to others
As mentioned above, it's 100% modular, meaning you can stack it any way you like.
In fact, if you have the budget and the space, you could buy a bunch of them and literally create an entire cat wall!
You could even use it to create a bookshelf/cat tree combo structure!
Recommendation
While the price feels a bit high for something made of cardboard, it is incredibly durable and versatile.
Plus, since you can arrange it any way you want, it's easy to create a space large enough for your big feline friends.
The Refined Feline modern cat climbing tree is one of the most popular options on this list, and it's easy to see why. It's positively gorgeous!
Measurements & Materials
20 x 20 x 69 inches
Wood, Sisal, Faux suede
How it compares to others
The overall style is among the greatest differences between the Lotus and others on this list.
While very modern, it's not quite as "minimalist" as some other options. In other words, you don't have to sacrifice fun for style.
Recommendation
This is definitely one of my favorite modern cat trees on Amazon!
If you read through the reviews, you'll see that it's built to last. Some users have had theirs for 6+ years!
When you're short on space but still want to give your cat the ultimate climbing structure, what do you do?
Why, you look up, of course! A floor-to-ceiling cat tree like this one is a brilliant way to make use of every spare inch of your home.
Measurements & Materials
23.62 x 23.62 x 88 inches
19″x19″ platforms
Engineered Wood
How it compares to others
As you can see, it's one of the only modern cat trees that spans from floor to ceiling, making it perfect for cats who REALLY love to climb.
Unlike many similar options, this one doesn't wobble. Customers call it one of the sturdiest trees they've ever owned.
Recommendation
If you have an average to slightly large kitty and want to make the most use of the space you have, this is a fabulous choice.
Although the perches and bed are large enough for most big cats, they may still be a bit too small for Maine Coons and other ginormous breeds, though.
Again, since it's a Chewy exclusive, you can shop with confidence. I've never, ever, ever had an issue returning something to Chewy.
If you need a good modern corner cat tree, the Sphere by Sauder is a fantastic pick.
While the space-saving tree isn't exactly as robust as some of the other options, it packs a lot of fun into a smaller package.
Measurements & Materials
21.65 x 19.88 x 43.7 inches
Wicker, metal hardware, sisal
How it compares to others
The design on this one is totally different from anything else on our list, and anything you'd find in a local pet shop.
If you don't have a lot of room to spare, the fact that it doubles as a cat bed is pretty awesome.
Recommendation
While I wouldn't recommend it for families with more than one cat, the Adrienne is a beautiful wicker-like cat tree for a single-kitty home.
It's relatively unassuming and blends well with pretty much any decor. The single piece of carpeting is stylish enough that it doesn't scream "cat furniture!"
10. zoovilla Modern: Best Folding Cat Tree Cat:
Some of us don't really have a lot of space and don't exactly want a giant cat tree standing out when company comes. That's where a folding tree comes in handy!
Measurements & Materials
40.16 x 16.85 x 60.24″
Engineered wood
How it compares to others
One of my favorite things about this cat tree compared to others is that I can use it as a shelf when my cat inevitably gets bored of it, thanks to the design.
I love cat furniture that does double duty like that!
Recommendation
Although I think it's a bit on the pricey side for what amounts to a wooden ladder with carpeting, it's definitely one of the more attractive folding cat trees.
It's also very well-rated among users, so I don't see how you can go wrong!
Related: Best Cactus Cat Tree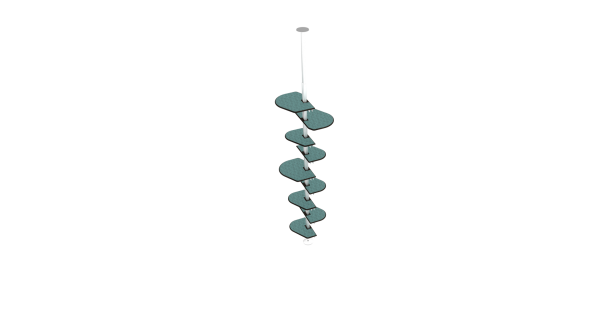 The Hollywood floor-to-ceiling cat tower may not look like much more than a few perches on a pole, but that's actually the appeal for me.
Sometimes you just want something super simple that won't stand out like a sore thumb or take up half of your floor.
Measurements & Materials
Pole height can be adjusted from 87″ all the way up to 137″
About 12″ wide
The platforms stick out anywhere from 10-12″, depending on the model you choose.
Made with wood and FLOR carpets (that's the name of the brand, not a typo)
How it compares to others
Aside from the obvious style differences, one thing I love about this cat tree versus other floor-to-ceiling options is the ability to completely customize your package.
For example, you can buy just the medium or large platforms, or a combo of both.
You can also choose to have them ship the pole with it (for an extra cost, of course), or order it yourself and maybe save some money if it's on sale.
Recommendation
As much as I adore this modern cat tree, it's really only a good fit if you have a small cat. The platforms are way too narrow for big kitties, especially breeds like the Maine Coon.
If you have the budget and the right-sized kitty, though, it's a really sleek option. I particularly love the stone grey wood stain combined with Fedora Lagoon blue carpeting.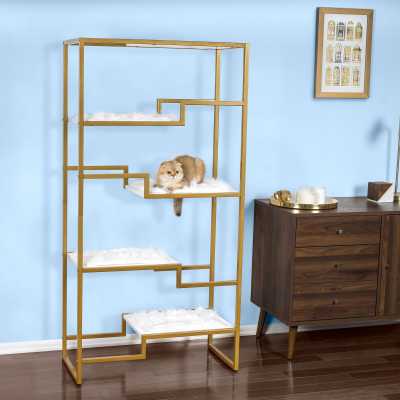 This bookcase cat tree is perfect for those who want a modern-yet-vintage design. While it has a very "Great Gatsby" feel to it, the angles and faux fur definitely fit my idea of what a modern cat tree should look like.
Measurements & Materials
13" x 18.5" platforms
Wood, Sisal, Faux fur
How it compares to others
Compared to other modern bookshelf cat trees on our list, this one is better for those who want a minimalist design.
While the gold and white is very Art Deco, it does come in some more modern and crisp colors, including all white or all black.
Recommendation
With 13" x 18.5" platforms, it's actually large enough for most breeds. While the overall dimensions aren't listed (it's a newer product, so I am assuming that's an oversight), it does sit flush against a wall.
Like other bookshelf cat trees, this one is perfect if you prefer something that you can use even after your cat tires of it.
Another great option for people short on space, this beautiful modern wall-mounted wooden cat tree comes with 8 different pieces, including four hexagon caves/perchs, three steps, and a really neat bubble-style drop shelf.
Measurements & Materials
Size varies by piece. See below.
Birch plywood, Acrylic glass, Birch wood,
The perches and caves in the honeycombs are just over 19″ deep, making them large enough for most cats. The bubble drop shelf is a whopping 25.6″ as well.
How it compares to others
The only other comparable tree on this list is the Catissa. Both are incredibly gorgeous handmade pieces, but this one is slightly more modern in my opinion.
However, it's not quite as modular as the Catissa. While you can control the spacing and some layout, you'll want to line up the hexagon sides just right. Otherwise, it can look awkward.
Recommendation
Yes, it's expensive, but it's absolutely worth every penny, especially for a handmade item. If you have the budget for it, you'll never have to buy another cat tree again.
Unfortunately, though, it's not ideal for renters, as you'll need to punch some decent-sized holes in the wall to hang it.
If the price tags on the trees above have you feeling a bit glum, you'll LOVE this one! Not only is it beautiful and elegant, but it's absolutely affordable.
Measurements & Materials
There are multiple different configurations, but the one pictured here measures roughly 43″ high and 16″x 16″ on the floor.
The perches are about 15.5″ round.
Wood, Sisal
How it compares to others
No other cat tree on this list comes with quite as many unique configuration options. When I say "7 different styles," I mean every single one is VASTLY different than the last.
Some include cute condos, others are higher with more perches. No two are alike at all.
Recommendation
While I actually like the styles with the cutesy cat condo the best for my own eclectic home, if you want something very modern, the option pictured here is definitely the way to go.
It's large enough for most cats. However, if you have a ginormous 25-lb kitty, it may be a bit of a tight squeeze.
With its sleek lines and muted neutral coloring, the Happy Stacks is another amazing modern tree for minimalists. With three separate tiers, each of your cats can have his own private hiding spot, too.
Measurements & Materials
The 3-unit stack measures 41" high, with the top coming in at 13" x 13" and the base at 23" x 23,"
Wood, Low-pile carpet
How it compares to others
The design is actually patented, so you won't find it in any other cat tree. The units all stand together as seen above or work separately as little condos.
Recommendation
If you want something simple and sleek and your cat weighs under 25 lbs, this is a fantastic option. I love that you can separate it into little condos if your cat ever gets bored of using it as a tree.
16. Ace Pet Pals
Ace Pet Pals makes a few different types of rattan-style trees, but this is the only one I'd really call "modern," mostly because of the black and white design.
Measurements & Materials
27″x19″x49″inches
Recylced paper rope
How it compares to others
While there are other eco-conscious options, Ace Pet Pals puts a strong focus on creating environmentally-friendly cat trees.
Recommendation
The materials are too light for cats like my Zoe who really go to town on scratching posts, but it's fine for my "I'll do the bare minimum to keep my nails ready for action, but that's about it" Fuzz cat.
Given the very lightweight nature and the dimensions, I really only recommend it for kittens and small adult cats, though.
I'm a bit on the fence about whether this one is really considered modern or not. On the one hand, rattan always feels more "farmhouse" than "hipster" to me. On the other, though, the overall design is pretty fresh.
Measurements & Materials
4.61 x 29.53 x 61.03 inches
Rattan, Sisal, Engineered Wood
How it compares to others
The closest similar tree on this list is the Pet Pals one above. Between the two, this one is a bit pricier, yes, but it's the better option in my opinion.
Where Pet Pals is ideal only for kittens and petite cats, this one is stable enough for all but the most ginormous of breeds.
Recommendation
Like I said earlier, it's a coin toss on whether one can consider rattan modern. It really depends on your personal definition of the word and, of course, your tastes.
If you DO want a modern rattan cat tree, though, definitely go with this one if your cat is any larger than kitten or munchkin-sized.
18. PawHut Cat Tree Activity Condo with Hamster-Wheel: Most Unique
The winner of the "weirdest and most unique modern cat tree" award goes to this intriguing option by Paw Hut, a brand known for its rather quirky designs.
Measurements & Materials
31.5 x 19.75 x 56.25 inches
Wood, Pine, Plastic, Sisal
How it compares to others
Pretty sure one look at it answers this question! It's the only cat tree on our list that includes an kitty wheel. It really is a total cat gym!
Recommendation
Unfortunately, because of the size of the wheel (which, let's be honest, is the main selling point), I can only recommend this to those with teensy-tiny kitties.
Also, some reviewers feel like the platforms are spaced in an odd manner that makes it hard for older cats to climb. So really it's only good for kittens and young petite cats.
Still, if your cats fall in that range, it really is a neat tree!
19. CatastrophiCreations Deluxe Cat Fort Wall Mounted Lounge
If you've read literally any of my other cat tree posts, you know I'm a big fan of CatastrophiCreations. While I find them a smidge on the pricey side, they really are worth the high price tag.
Measurements & Materials
Total Width: 38" Total Height: 60" Depth: 11"
Solid Wood, Heavy Canvas
How it compares to others
CatastrophiCreations is far from the only wall-mounted cat tree out there, but it's definitely among the unique. It also has a pretty dedicated fan base compared to other brands.
Recommendation
If you can swing the high cost, the ONLY time I wouldn't recommend these is if you're a renter who can't punch holes in the walls.
Other than that, they're pretty much the coolest cat trees around, and perfect for those with a major lack of space.
I am obsessed with Mau's cat furniture, but most of their stuff is more rustic than modern, with this being the only real exception. Aren't they gorgeous?
Measurements & Materials
Base: 23″ | Height: 32″ (although since they use natural wood, dimensions can vary slightly)
Ultra-comfy plush, treated real wood, rope
How it compares to others
Mau is unique for so many reasons, from the premium handmade materials to the expert craftsmanship to the beautiful designs.
However, for me, the one thing that really makes them stand out is that they donate 5% of profits to animal charities AND plant a real tree for every cat tree sold.
Recommendation
If you're willing to spend a smidge extra (although it's not the most expensive on this list by a long shot) on a designer cat tree that literally no one else in the world will have, you can't go wrong with Mau.
I love that this really does double as a piece of art, so even if your cats get bored with it you'll still have a reason to keep it around. It's right at home in a luxury apartment!
Final Recommendation
It's hard to choose a favorite modern cat tree because it really depends on the look you're going for.
Personally, I love the Tuft and Milo tree because it's built to last a lifetime.
However, if you want something a bit subtler, I also adore the Refined Feline modern cat tree.
Your turn! Tell me below, which of these modern cat trees is your favorite?
Last update on 2021-10-20 / Affiliate links / Images from Amazon Product Advertising API