Want to "wow" everyone with your cat adoption announcement ideas?
We've got you covered!
Everyone loves cats, right?
But…what's the best part about having a cat?
The fun ways that you can let the world in on your big news!
Have fun telling the world that you welcomed a furry little friend into your home and check out some of these silly ideas!
RELATED: Should I get a third cat?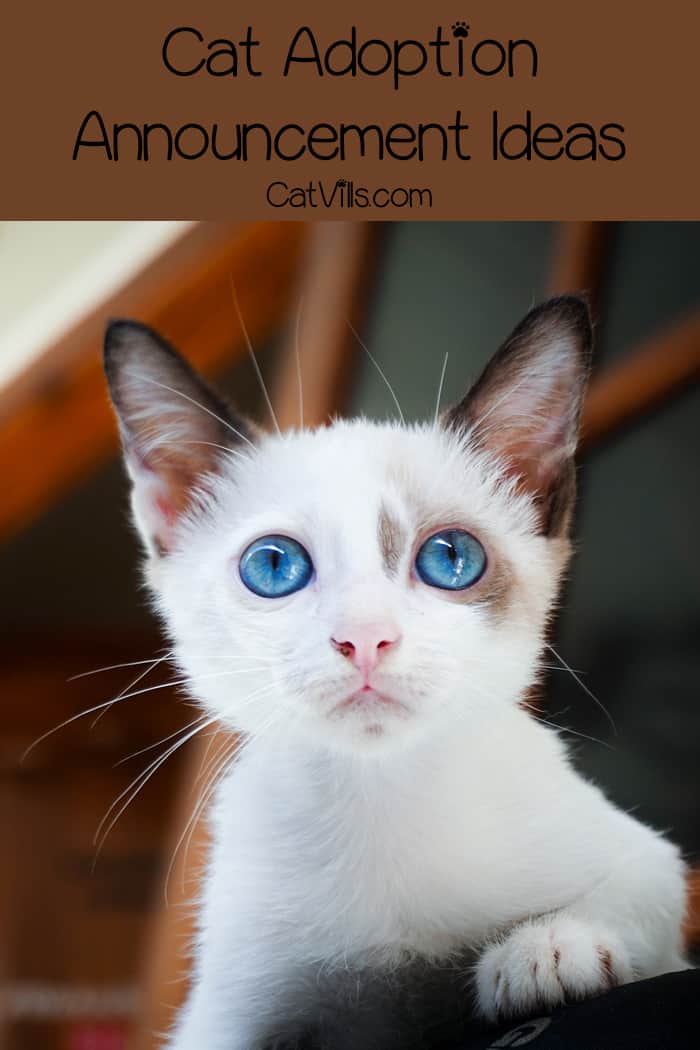 Cat Adoption Announcement Ideas
1. This Bed Ain't Big Enough for the Both of Us!
Guess what world, I've found my soul sister in loving to sleep in each and every morning.
2. Raise Your Hand if You Love Cats!
Raise your hands if you're as excited as I am about my latest cat adoption!
3. I Just Became a Crazy Cat Lady!
Show off your new kitty by showing the world how you've just become "that" person who dresses up her cat!
Believe it or not, these little guy is very happy to be in his newly adopted home.
4. Tell the world with a family portrait!
What's better than a funny 70s-style family portrait featuring you and your new kitty?
Words cannot describe how much I adore this!
5. I "mustache" you a question…do you like my new cat?
Why yes, George, I like you very much! Such a handsome boy!
6.  We're all smiles over our new kitty!
Adopting this fur baby has never felt so good!
7. We have a new reason to celebrate this season!
Cat adoption has really brightened the outlook of my holiday season!
8. Matching Socks…or matching socks?
Forget about wearing matching socks! Instead, match Socks your cat! How cute is this cat adoption announcement?
9. Look what Santa brought us!
Santa made my kitty adoption holiday wish come true.
I am madly in love with Loki the Sphynx, aren't you?
10. Meet by Best Friend's New BFF!
Is there anything sweeter than seeing two species with a rep for being enemies come together?
Share a photo like this with a message like "my bff has a new bff!"
11. Meet my new snuggle buddy for life. 
What a sweet way to show off your brand new kitten!
12. Meet our new patriotic pal!
I knew adopting this cat was the smart thing to do.
Have fun with your Cat Adoption Announcement Ideas
When it comes to announcing your new kitty or cat to the world, have fun with it!
There are so many funny and silly ways to make it happen that the sky is truly the limit!
Plan out a fun surprise where you announce it to the world via social media and wait for the reactions and comments to come pouring in.
It seems like everyone has a soft spot in their hearts for cats, so you'll be in awe of all the love and support that people show you!
And who knows, you may just find that adoption one kitty isn't enough!
The good news? There are always lots of cats and kittens that are waiting for their "furr"-ever home.
Maybe, just maybe…your cat adoption announcement will inspire others to move forward and adopt a cat of their own as well!
Have you seen any cute cat adoption announcement ideas? Share below!