Cat cafes continue to increase in popularity all over the United States.
What first started as a unique trend and a quirky experience for cat lovers, has quickly become a hugely popular attraction worldwide, not just in America.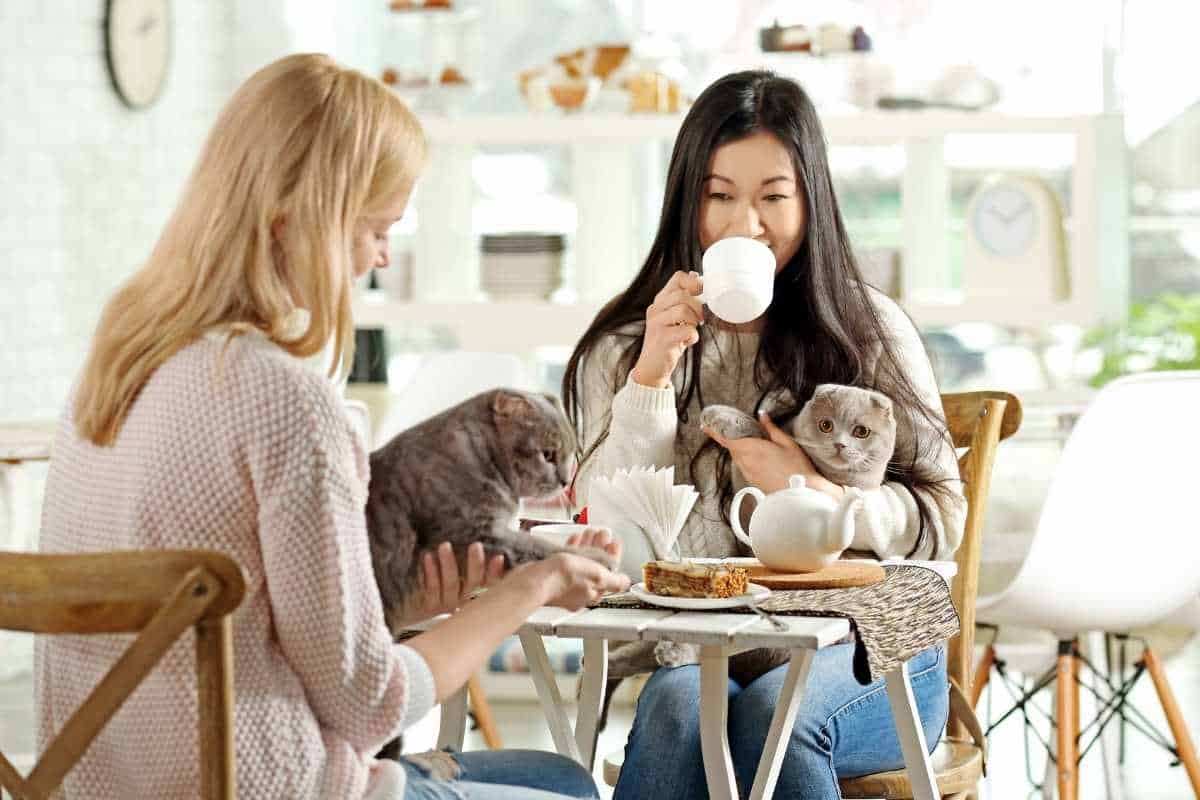 A lot more accessible than when the first cat cafe opened in Taiwan in 1998, millions of Americans now have the opportunity to visit various cat cafes as most states have plenty of options available.
One state that has an abundance of cat cafes is Pennsylvania.
Offering cat lovers and coffee drinkers the chance to enjoy a coffee in the company of multiple adorable cats, every cat cafe in Pennsylvania is pretty great.
In today's post, we want to show you exactly what the world of cat cafes has to offer in Pennsylvania.
To do so, we've listed the cat cafes the state has to offer. If you're looking for a cat cafe, you've come to the right place.
Let's get started!
Address: 159 E Otterman St, Greensburg, PA 15601
Contact Number: 878-214-8075
Website: Greensburgcatcafe.com
The first cat cafe on our list is Cattfeinated Cat Cafe. This cat cafe was the first cat cafe opened in Greensburg.
The cafe claims to be offering a new approach to the world of pet adoption.
In other words, you can stop by the cafe for a cup of coffee and a bite to eat while immersing yourself in a cat paradise.
Surrounded by multiple cats, you'll have the opportunity to pet, cuddle, and watch the cats as they wander around and play.
If there's a particular cat you fall in love with, there is a possibility that you'll be able to adopt it.
To offer adoption, the cafe has teamed up with a local rescue center called Wayward Whiskers.
That means all the cats in the cafe are essentially homeless and in need of a family.
To date, the cafe has done a brilliant job, with almost 300 cats being adopted so far.
Address: 2713 W Girard Ave, Philadelphia, PA 19130
Contact Number: 267-800-7877
Website: Lecatcafe.org
Found in the center of Brewerytown, Philadelphia, Le Cat Cafe is another excellent cat cafe.
In fact, it's up there with the very best cat cafes Pennsylvania has to offer.
Easily one of the greatest things about this cat cafe, aside from the cuteness overload the cats provide, is the size of the cafe.
Surprisingly spacious, this cat cafe has a large cat lounge area that lets you relax with the cats.
Like the Cattfeinated Cat Cafe, all the cats at Le Cat Cafe come from a local shelter.
This gives the cats a second chance and the love they need with thousands of visitors heading to the cafe every week.
Another great thing about this cafe is how many cats they have.
Currently, the cafe has 20 cats. This gives every visitor the chance to enjoy some time with a cat.
Having said that, we do recommend booking in advance so that you can secure a table.
We must also say, this cafe makes a killer coffee.
Address: 5134 Penn Av, Pittsburgh, PA 15224
Contact Number: 412-408-2218
Website: Blackcatmarketpgh.com
The next cat cafe on our list is The Black Cat Market. The Black Cat Market prides itself on three C's.
Those three C's are community, cats, and coffee.
To put it simply, this cat cafe does everything it can to support the local community and rescue cats by making a damn good coffee.
Best described as a part adoption center and part coffeehouse, you can drop in for a fresh hot coffee, play with a variety of cats and then take one of the rescue cats home.
Having said that, we must make it known that you won't be able to adopt a cat after one visit. Instead, you will have to visit the cafe on multiple occasions first.
Aside from offering a fun experience and a great coffee, The Black Cat Market also runs a range of awesome events.
This includes parties, meetings, and cat-themed coffee mornings. If you want to book somewhere different for your next event, give this cafe a call.
Address: 230 Market St #1, Lewisburg. PA 17838
Contact Number: 570-524-0240
Website: Lewisburgscratchingpost.org
Based in Lewisburg, The Scratching Post Cat Cafe is another awesome cat cafe that coffee drinkers and cat lovers will enjoy.
While they don't sell food on-site, they are more than happy for you to bring your own.
This lets you enjoy a bite to eat while playing with the gorgeous rescue cats the cafe saves.
A nonprofit organization, the cafe works tirelessly to rescue, rehabilitate, and finally rehome their cats as soon as possible.
We can play our part by giving the cats plenty of love and affection, and by even taking one home with us.
One thing that might interest you about this cafe is that it is a 100% volunteer initiative. This might interest you if you want to help out and give back to your local cat community.
Address: 18 W Winona Ave, Norwood, PA 19074
Contact Number: 484-540-9830
Website: Catnookcafe.com
Next up, we have the Cat Nook Cafe. You'll find this charming cafe in downtown Norwood.
Supported by the Animal Coalition of Delaware County, this wonderful cafe is run solely by volunteers.
Here, you can enjoy a fresh cup of coffee, tea, or cold beverage while spending time with the beautiful cats the cafe looks to rehome.
All of the profits made from the coffee you buy and donations you make go straight back into supporting the rescuing of other cats.
Like the other cat cafes on our list so far, Cat Nook Cafe also offers adoption possibilities, so if you're on the lookout for a cat, why not consider adopting one from this cafe?
This is another cafe that you should book a table for in advance. It can get very busy, so booking a table beforehand will help you avoid any disappointment.
Address: 1325 N River St Suite 102A, Plains, PA 18702
Contact Number: 570-606-9559
Website: Purrfectmugscatcafe.com
Purrfect Mugs Cat Cafe has one simple message. That message is "Cat Cuddles & Coffee".
Now, we don't know about you, but that sounds like every cat and coffee lover's dream scenario.
Well, that's exactly what this cafe offers.
Equipped with its very own cat den, this relaxing cafe serves you fresh coffee as you kick back and relax with the resident cats the cafe has.
The cat cafe aims to rehome rescue cats through adoption. Therefore, you could find your ideal rescue cat while enjoying your coffee.
You don't have to book the cafe if you want to visit the cafe area, but if you want to spend more personal time with a cat in the cat den you will have to book in advance.
Only 6 people are given access to the den at one time.
Address: 305 W State St, Kennett Square, PA 19348
Contact Number: 610-925-2908
Website: Treetopskittycafe.com
The Treetops Kitty Cafe offers cat adoption like the other cafes on our list, but they go about it in a different way.
Instead of taking in rescue cats from partnered shelters, they aim to take in cats from overpopulated shelters that don't have enough space.
They intercept the cats on their way to a packed shelter and give them somewhere spacious, loving, and relaxing to play and sleep.
For just a small donation to this noble cause, you can spend quality time with the cafe's cats, grab a bite to eat, and enjoy a fresh cup of coffee.
What's not to like?
The impact this cat cafe is making can be clearly seen in the astonishing numbers they have produced.
To date, the cafe has adopted more than 700 cats.
This just goes to show how big the difference this sort of community cafe can make.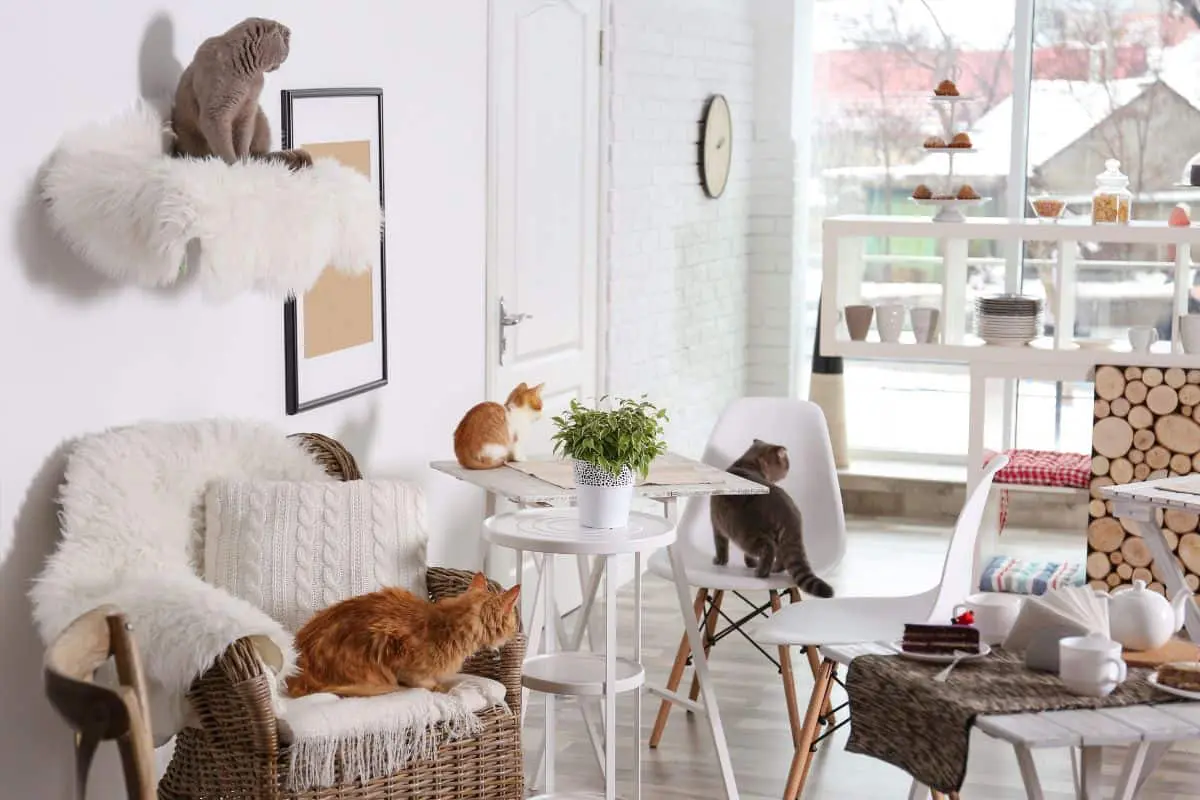 Address: 3617 Old Easton Rd, Doylestown, PA 18902
Contact Number: 267-247-5303
Website: Mewow.cafe
The penultimate cat cafe on our list of cat cafes found in Pennsylvania is MeWow Cat Cafe.
Relatively new to the cat cafe scene in Pennsylvania, MeWow Cat Cafe only opened in 2019.
However, that hasn't stopped the cafe from going on to become one of the best cat cafes the state has to offer.
This cafe has a wonderful interior, providing its cats with a completely free-to-roam, cage-free life.
The cats freely roam the barn-themed cafe and "kitty corral" until they are adopted and taken to their forever home.
When you visit this cafe, you can expect lots of cuddles, laughter, relaxation, and of course a cuteness overload.
Address: 30 W 8th St, Erie, PA 16501
Contact Number: 814-520-8494
Website: Purristacatcafe.com
The final cat cafe on this list is Purrista Cat Cafe.
One of, if not still the newest cat cafe in Pennsylvania, Purrista only opened its doors in February 2022.
The cafe's main aim is cat adoption.
However, they also aim to educate people on the importance of animal adoption, encouraging the local community to be active in the care of local animals.
The cafe creates a lovely, calm, stress-free environment for both its customers and cats.
You can visit the cafe for a fresh coffee before then playing and cuddling the cafe's furry friends.
Every donation you make goes back to the cats, ensuring every effort can be made to give the cats a new home.
You can even start the adoption process if you're looking for your own cat.
Final Thoughts
As you can see from our list, there are plenty of excellent cat cafes to visit in Pennsylvania.
While most cafes offer a similar experience and pride themselves on securing cats their forever home, every cafe on our list offers something slightly different.
Whether it be the way they go about adoption, the layout of their cafes, or simply the type of coffee and food they sell, each cafe offers you something a bit different.
Now you have the list of Pennsylvania cat cafes at your disposal, you should take some time to narrow down the list and decide which cat cafe you want to visit first.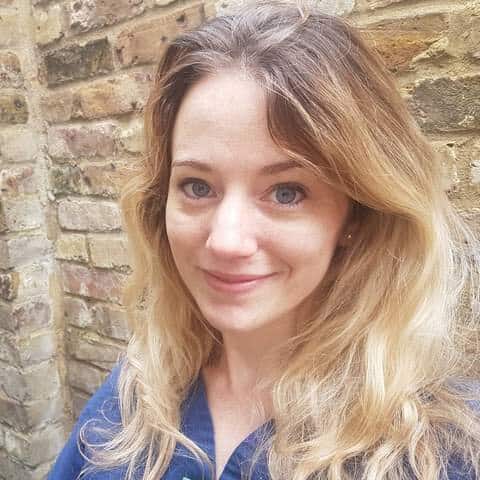 Linda
Dr. Linda Simon MVB MRCVS is a locum veterinary surgeon who has worked in London for the past 8 years. She graduated top of her class in small animal medicine from UCD, Dublin. She is currently a member of the Royal College of Veterinary Surgeons. Linda is the resident vet for Woman magazine and a frequent contributor to People's Friend Magazine, the Dogzone website, Vet Help Direct and Wag! Linda also writes content for the CVS veterinary group, Vetwriter and a number of other establishments.