A holiday hardly passes without someone asking me for cat safe Christmas tree alternatives.
The script is always the same: my cat ate my tree and my ornaments, or he climbed and toppled, and now he is nursing his wounds.
With the holidays right around the corner, now is definitely the best time to start working on those safer options!
Keep reading for 10 unique Christmas tree alternatives for cat owners that I've used over the years!
10 Cat Safe Christmas Tree Alternatives for a Non-Crafty Person
When I came along a Reddit post of a cat parent asking for ideas on setting gifts without a Christmas tree, I took it as a sign and decided to dedicate a whole blog post to answer the question.
I know not everybody is crafty, so I'll keep it simple. Let's dive in.
FYI, this post contains affiliate links. If you make a purchase through these links, we earn a small commission at no extra charge to you.
1. A Photo Collage Christmas Tree
One of the Reddit users suggested this idea, and it's my favorite on the list. It's easy and personal.
A photo collage tree doesn't have to be complex.
Some people go the extra mile to spell names with the photos, but you can simply create a pine shaped photo collage on your wall.
This way, it still feels like a Christmas tree.
You can take new photos or use photos you've taken between the other holidays and now for the project.
Be sure to include some of your cat's photos, or they'll be grumpy the whole holiday.
The video below will guide you through the process, you just need to adapt it for a tree-shaped collage.
2. A Book or a Page Tree
If you're an avid reader, your books will come in handy for this idea. And you won't even have to spend.
Use your hardcover books and arrange them in the shape of a Christmas tree. You can either arrange the books according to their colors or mix and match them.
What if your books are not enough to make a small tree? Then you can begin with something like wood and then cover it with the books. No one will even notice the wood.
Alternatively, you can use pages from a book (of course, you'll have to pluck them), so make sure it's a book you've read.
Stick the pages on your wall in the shape of a tree using removable adhesive.
You can also buy a drawing book and ask your toddlers to draw pictures and color them, and use the pages for your Christmas tree.
3. Embellish a Chandelier
This is another easy cat friendly Christmas tree alternative idea that anyone can manage.
Simply dangle a few ornaments from your chandelier's arm, or weave it with some greenery.
This sets up the festive mood, and your cat won't be able to destroy it or eat it.
4. The Wall Decal Tree
This is a great Christmas tree idea if you hate the hassle of a Christmas tree. It's cat-proof, and it's also unique and quirky, and it fits perfectly, even in a small apartment.
You only need to peel-and-stick the tree to the wall, so if you have a wall, you're all set.
5. A Plywood Christmas Tree
This is definitely one of my favorite cat safe Christmas tree alternatives!
For this idea, make a plywood cardholder and hang it on your wall. Add Christmas cards, some cool drawings, or photos, and you have yourself a Christmas tree.
This way, you don't have to worry about your cat as he won't find the cards as amusing as ornaments or twinkling lights.
It may be so cute; you might not even want to bring it down after the festive season.
Alternatively, you can buy plywood cardboard and draw your Christmas tree.
You don't need top artistic skills to do this because it doesn't need to be perfect. It's the memory of doing it that matters.
6. Tapestry Christmas Tree
If you're too paranoid with the peel and stick tree, you can go with a tapestry Christmas tree. It's perfect, and you don't have to deal with the aftermath of peeling it off the wall.
If you position it well and set your gifts correctly, it looks like a real Christmas tree. And I promise you'll love your holiday photos.
And the best part is that your cat will not be tempted to jump on it, so it's an excellent cat safe Christmas tree alternative.
7. Christmas Tree Wood Shelf
This is both cat-friendly, and it also works well with tiny spaces.
The best thing is you can still keep these stylish cat shelves and use them for family photos or books after Christmas.
The idea is to have a hanging shelf in the shape of a Christmas tree and display your décor.
You can have some ribbons, and even create space for the gifts.
Since your cat won't reach it, you can decorate it with some ornaments and some lights.
You can add some cat toys so that your kitty feels included.
8. A Guitar Tree
This is a fantastic idea for music lovers. And it's not crafty at all. You only need to find a few ornaments for your guitar and use it as your Christmas tree.
To make it cat-proof, hang it on the wall and set your gifts below it. I know it sounds vague, but I promise it's very cute once done.
9. Branched Metal Tree
The white metal works perfectly with every seasonal décor. It's tiny, so you can put it on top of your table and add a few ornaments.
It's simple, unique, saves space, and cat-proof.
[amazon box="B06X3WLQYX"
10. A Wall Tree Using Nails & Decorations
This idea was suggested by a Reddit user, and I found it pretty impressive. They said,
"I put up a few nails (that I keep in the wall year-round…you don't really notice them) in a triangle and then wrap some string lights around the nails, shaping a tree-like shape. I also string some lights horizontally. I then tie some light weight, nonglass ornaments up."
Final Thoughts
Cats are adorable and sweet, but they can also be very sneaky.
One of the greatest tasks as a pet parent is finding ways to make your home pet-friendly.
For example, your Christmas tree has to be thought through if you don't want nasty surprises.
I hope you've learned one or two cats safe Christmas tree alternatives for the coming holiday here!
If none of the options were viable, simply find something that your cat won't be tempted to use as a toy, or make sure your tree is beyond his reach.
What are your favorite cats safe Christmas tree alternatives? Share below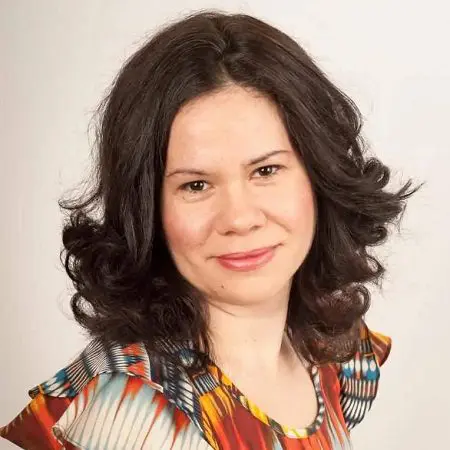 Olfa T
Olfa knows how to get things done and has a keen business sense that others admire. She's always on the go, coming up with new ideas! Her ability to anticipate the needs of her readers and deliver information that they want is what makes CatVills such a success. She loves cuddling her cat Picaciu. He is her inspiration.
Last update on 2023-09-28 / Affiliate links / Images from Amazon Product Advertising API