Last updated on October 9th, 2023 at 05:19 am
If you are a cat lover, you probably want to provide your feline friends with the best possible environment for them to thrive and enjoy.
One of the ways to do that is to get them a cat tree house indoors, which is a type of furniture that mimics the natural habitat of cats and offers them various benefits.
A cat tree house indoors can provide your cats with a place to scratch, climb, play, rest, and observe their surroundings.
It can also help them exercise their muscles, satisfy their instincts, reduce their stress, and prevent behavioral problems.
However, not all cat tree houses are created equal, and you need to consider several factors before buying one for your home.
Cat Tree House Indoors By Brand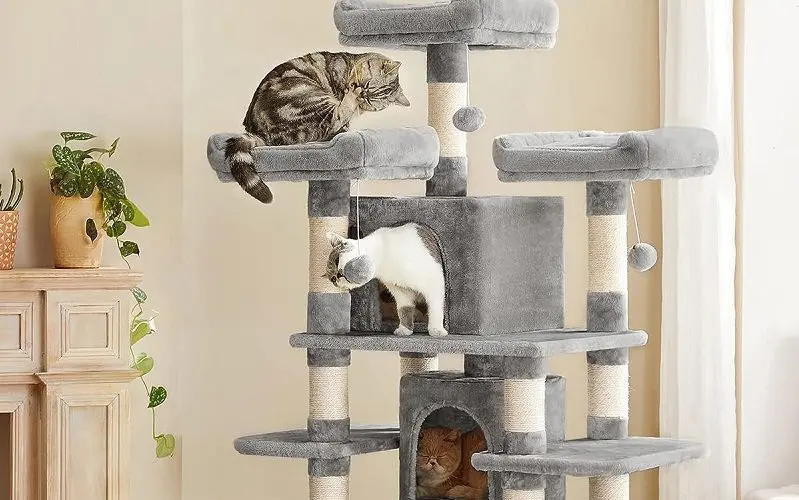 Let's compare and contrast some of the most reputable and reliable brands of cat tree houses.
Best FEANDREA Cat Tree House: FEANDREA Multi-Level Cat Tree
If you have plenty of space and live by the motto "go big or go home," this is the one you'll want!
It stands at 67 inches tall (which is almost half a foot taller than me!) and comes with all the best bells and whistles.
Check out the features, pros, and cons to see if it's the right fit for you.
Pros
6 levels, counting the three perches at the top.
Those perches have a raised edge, so Kitty can rest his pretty little head.
Two roomy condos for your cat's privacy
It comes in light or dark gray.
Cons
Bulky
Smaller condo, and some levels are not big enough for XL cats.
Verdict
For the most part, this is roomy enough for even larger Maine Coons and Savannah cats, but if your guy is XXL, it won't be a good fit.
Best PetPals Cat Tree House: PetPals Elevated Cat Tree
The perfect option for multiple cat homes is PetPals' Three-Level Elevated Cat Tree Condo.
This model features a large condo on the second story and various other sleeping areas.
It should help ensure your cats don't get too territorial about certain regions located on this cat tree.
Pros
Features: large cat condo
Easy to install
Can be used by three cats at once.
Made from non-toxic materials
Incredibly soft
Cons
Verdict
The obvious attraction of this model is its spacious cat condo.
Any cat will love sleeping inside there, as the cozy and comfortable material should be quite soothing.
But it also helps that this model is easy to install and made with non-toxic materials.
But again, this model has a reputation for suffering from packaging issues.
Best PAWMONA Cat Tree House: PAWMONA Multi-Level Cat Tree
The PAWMONA 60″ Cat Tree is probably our favorite.
It's fairly unique, especially compared to Feandrea's offerings.
Pros
European craftsmanship
2 high-quality natural sisal mats
Roomy condo (not big enough for XL cats, though)
2 plush perches with raised edges
Sisal-covered ramp
Reinforced posts
Hammock that's permanently attached (vs. just hanging by loops)
Stylish, contrasting colors
Cons
Somewhat pricey
Requires a lot of space.
Verdict
We really, really, really love that the hammock is completely attached to the bottom of the level above it.
The hammock hung by two loops, so it never stayed put. The contrasting colors are a nice touch, and the creamy whites really pop against the brown.
It is one of their pricier models, but you do get a lot of cat trees for that cash. It's definitely not a space-saving model, though!
Best Frisco Cat Tree House: Frisco Large Cat Tree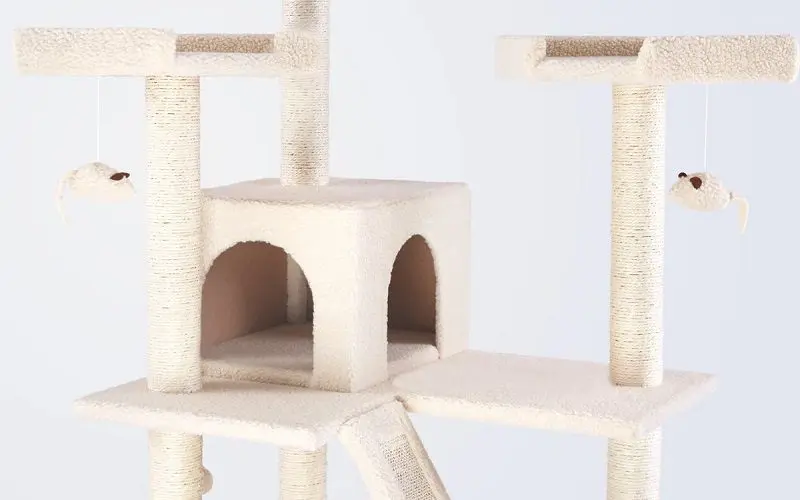 If you love large and roomy cat trees (not to mention sturdy ones), this is the one you want instead.
Pros
Three perches on the top level make it great for multiple kitty households.
A total of 10 fully wrapped sisal scratching posts
Two scratchboard ramps
It has the widest base out of all the Frisco cat trees, making it among the most stable.
There are plenty of cute toys to entice your kitty to use them.
Optional wall mount for even more stability
It comes in two colors: cream and brown.
Levels are fairly close together, making it great for older kitties.
Cons
The condos are too small for large cats (notice a trend?).
An extra-wide base means you need a lot more space for it, although it can go into a corner.
The toys don't come with catnip (that's true for all models, actually, and it would be a nice extra touch if they did).
Verdict
We love that this one has an extra-wide base for added stability, but it would be nice if such a large tree actually accommodated large kitties.
Unfortunately, it's not the right fit for the Maine Coon and other big cats. If you have a smaller kitty, though, this is a fantastic option.
Cat Tree House Indoors For Specific Cats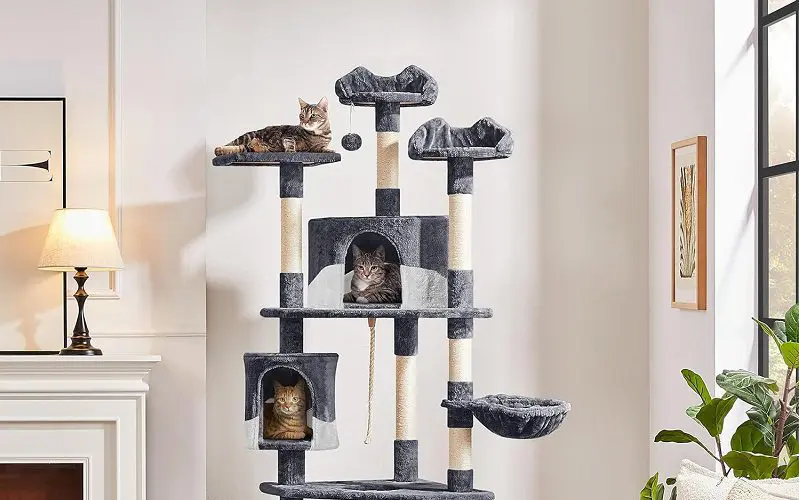 Not all cat tree houses are suited for all cat breeds. We'll explore some beautiful options that are great choices for breed-specific cats.
Best Cat Tree House For Bengals: BEWISHOME Multi-Level Cat Tree
We have one of their smaller trees for our three kitties, but for a Bengal, we would recommend the 72″ F2040-blue tree.
It's a pricier model, but super roomy!
Features
Overall Size: 50″W x 26″L x 72″H
Three perches on the top level
A total of 10 sisal-wrapped scratching posts
15 levels in all, most of which are plenty big enough for your Bengal.
Two very roomy cat caves
The only downside is that it has a very large "footprint," so you'll need plenty of space in your house. On the other hand, that footprint makes it a very stable cat tree.
Verdict
This is a great choice for Bengal cats, especially if you have more than one. It is a cozy and roomy solution that can fit multiple cats.
We'd definitely recommend this one for all the features it offers.
Best Cat Tree House For British Shorthair: Yaheetech Multi-Level Cat Tree
The Yaheetech 79-inch cat tree is surprisingly affordable, especially considering the size and all the bells and whistles.
I always call it the "Yahtzee tree" in my mind, and it's actually kind of fitting!
Pros
Offers five levels of fun, including the bottom.
Two cozy perches for your British Shorthair's napping enjoyment
Stands at just over 6'5 tall!
a combined total of nine scratching posts, plus a ramp wrapped in sisal.
Anti-toppling strap and large base for added stability.
Easy to assemble, it comes with all the necessary tools.
Cons
This is not great for older cats, as the distance between levels is a bit wide.
The bottom condo isn't roomy enough for larger kitties.
Sisal will come loose at some point (this goes for all cat trees, though).
Verdict
I really like how this one offers so much for such an affordable price (at least compared to similar models).
It also has some great stability features, which are vital in a tree this tall.
However, some parts of it aren't large enough for British Shorthairs who hit that high end of the weight range.
As long as your cat falls in the middle range size-wise, though, it should be fine.
Best Cat Tree House For Ragdools: BEAU JARDIN Cat Tree
Here's something a little more traditional.
The BEAU JARDIN is one of those extra-large cat trees made especially for larger kitties, so it's just the right size for your Ragdoll.
Pros
It's only 32 inches high, so it's relatively close to the ground.
Thicker boards and posts for added stability
Premium plush covers the entire structure.
Thickened scratching posts are fully wrapped in sisal.
A large base condo is plenty roomy enough for big cats.
Plush padding on the large top perch makes it perfect for nap time.
Cons
Condo squares are soft-sided, not reinforced or solid like the rest of the structure.
Not made in the USA.
Fabric isn't quite as durable as expected.
Verdict
This simple cat tree has everything your Ragdoll needs: roomy perches, a cozy condo, scratching posts, and a feeling of stability.
Best Cat Tree House For Muchkins: Go Pet Club Huge Cat Tree
You can't go wrong with Go Pet Club. They have beautiful, large cat trees that would suit most cats.
This floor-to-ceiling option provides much-needed comfort for your Muchkin cat. It is versatile, sturdy, and durable.
Pros
Floor-to-ceiling cat tree
Sisal-wrapped poles all over the structure
Plush, cozy carpeting
Includes 3 cat condos and 3 baskets for lounging.
Condos fit larger kitties, so no problem fitting your munchkin
Steps and alternating levels make it easy for munchkins to climb.
It fits ceilings up to 106 inches high.
Easy to assemble
Cons
Not quite high enough for a 9' ceiling
Baskets aren't sturdy enough for heavy munchkins (one customer said her 9-pound cat broke it).
Some of the colors are significantly more expensive than others.
Verdict
Aside from the really weird price discrepancy between colors, this is definitely one of my favorite cat trees in general.
For Munchkins, we love it because all of the levels are either close together or alternate in a way that makes jumping easy.
Additional Options For Cat Tree House Indoor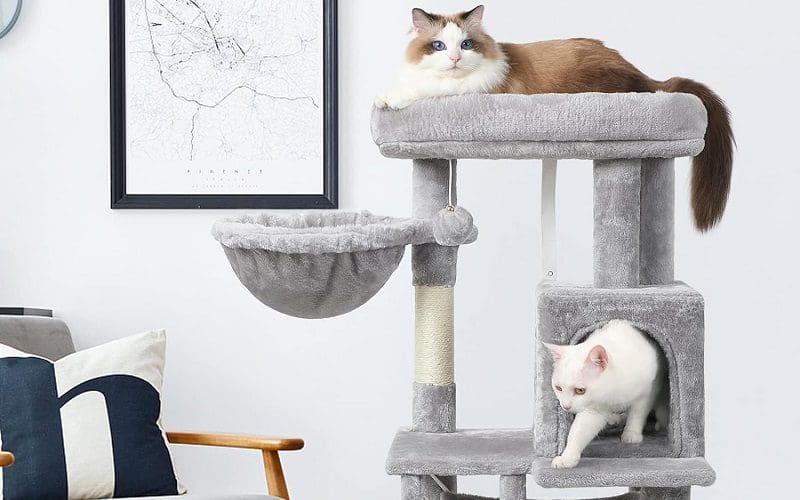 We explored some additional options that could benefit your cat and the environment. These are the best options if you want to keep your cat happy and safe.
Best Cat Tree House For Declawed Cats: rabbitgoo Cat Tree
If you have a declawed cat without any kitty siblings, Rabbitgoo's Cat Tower would be a solid choice.
Its smaller, three-level design makes for an excellent hangout spot for a single cat.
Honestly, you might never get them out of the second-level cat condo.
Pros
Heavy-duty construction made from P2 particle wood
Soft, comfortable faux fur surface material
Three-level design
Convenient entrance ladder
It contains a spacious cat condo.
Three color options
Cons
Difficult to assemble
Not ideal for the largest cat breeds, like Maine Coons.
Verdict
The heavy-duty construction and spacious cat condo alone should be appealing enough to declawed cat owners.
You then throw in the entrance ladder, cozy surface, material, and three color options, and it's a wrap.
However, buyers should know that a few customers did report issues with the assembly process.
But this slight hassle is more than worth it given these other top-tier qualities.
Best Eco-Friendly Cat Tree House: MAU Modern Cat Tree
Cats need plenty of suitable places to scratch their claws and a high place to nap where no one will bother them.
That's why Mau Life's luxurious cat condo is one of the best eco-friendly cat trees you can find.
This modern cat tree measures 24″ x 18″ x 46″. It features two baskets, two scratching posts, and a cozy cave.
Pros
A sustainable cat tree made from real branches
High-quality sisal rope to satisfy your cat's natural scratching urges is one of the best scratching materials for cats.
Two hanging balls to entice your cats to play
Every part of the tree is replaceable, so you won't have to throw it away if something breaks.
Multiple sleeping areas: two hand-woven baskets for perching and a luxurious private cave
Relatively easy to assemble
Easy to maintain since the cushions are machine washable
Available in three stunning colors: white, brown, and gray
The manufacturer plants one tree for every cat condo sold and gives 5% of the proceeds to environmental and animal welfare organizations.
Cons
Not the most affordable of options
Cats can chew through the baskets.
You may need to anchor it to the floor or wall to keep it stable if you have a heavier cat.
Verdict
We like Mau Life's products because they're made with quality materials and are built to last for years with minimum maintenance.
Moreover, as this reviewer says, Mau Lifestyle's cat tower is the perfect height and is an excellent choice for multiple felines.
Best Cat Tree House For Senior Cats: Go Pet Club Cat Tree
If you want the mother of all cat trees, the Go Pet Club F2040-blue tree is the way to go!
We have one of their smaller trees, but this is one of our "if we had the room" dream trees.
Pros
Multiple levels that alternate in height, filling that item on my "must list."
10 sisal-wrapped scratching posts
15 levels in all, most of which are roomy enough for less agile kitties to easily maneuver.
Two roomy cat caves
Ramps make it easy for older cats to get on and off different levels.
Perfect for multiple cat families. My younger kitties would still have plenty to do with it.
Cons
It's big! Overall dimensions are 50″W x 26″L x 72″H, which means you need plenty of room.
It's also tall, which was one of the things I didn't want. However, there is a very large "landing" right below the top wall for cats, so it's unlikely that my cat will fall all the way down.
Could use a little extra padding in the napping spots.
Verdict
We really wish we had space for a tree like this. As we said, we have one of their "smaller" trees (it's still over 5 inches tall), and we're very pleased with the brand.
As with the other options, we think it would add some more padding to the areas where my cat would sleep, though.
Wrap-Up
A cat tree house indoors is a great investment for any cat owner who wants to provide their feline friends with a comfortable, stimulating, and enriching environment.
A cat tree house indoors can offer your cats many benefits, such as physical exercise, mental stimulation, stress relief, and behavioral improvement.
However, you need to choose the best cat tree house indoors for your cats based on their needs, preferences, and personalities.
You also need to consider the brand, quality, size, design, and features of the cat tree house indoors, as well as your budget and home space.
We hope this article has helped you find the best cat tree house indoors for your cats.
Resources:
Last update on 2023-11-29 / Affiliate links / Images from Amazon Product Advertising API