Looking for some great outdoor DIY cat houses for winter either for your roaming feline or your feral friends?
We've got you covered! Below, we rounded up 10 different tutorials on how to create a fantastic shelter without spending a fortune.
Let's dive right in!
DIY Outdoor Cat Houses: A Must for Roaming or Feral Felines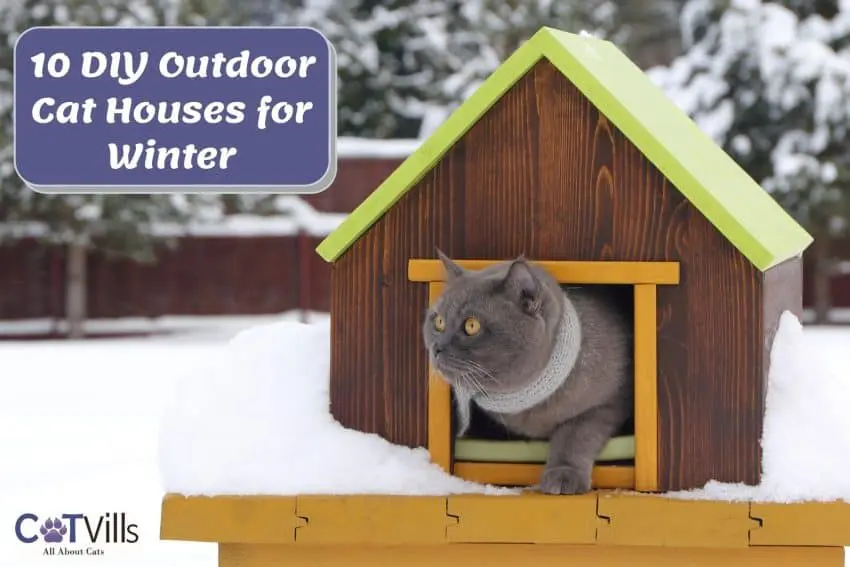 Cat owners who have furry friends who like to roam will know that they will keep their own hours.
This can become a problem if your cat is out and about when no one is home or late at night when the house is locked up.
In summer, one could still leave a window ajar. However, in the cold winter months, the heating bill alone demands that you insulate your home as much as possible.
One alternative is a pet entrance, a 'doggy door.' But, unfortunately, this kind of entrance also allows for unwelcome critters to find their way inside. An outdoor cat house might be a better solution.
There are some fantastic options on the market. Sure, you could just buy one, but they can be rather pricey. If you're crafty, it's actually pretty easy to make your own.
Let's jump right in and take a look at our top picks for the best DIY winter cat houses to keep your feline friends snug in cold weather:
#1
Tire DIY Outdoor Cat Shelter
This outdoor DIY cat house is perfect for winter. Using the insulating properties of the tires from which it is made, it is sure to keep your furry friends cozy on even the coldest December night.
The video tutorial tells you everything you need to know, including what materials and tools to use. The biggest challenge in doing this DIY project is in cutting the entrance gaps in the tires.
If you can find a tire that is not steel-belted, it's definitely going to make things a bit easier.
It is also a good idea to keep in mind that warm air rises. You will want to use this principle in deciding the entrances to the final cat house. It is generally advisable that entrances are on the lower levels.
#2
Cat House for Those Chilly Nights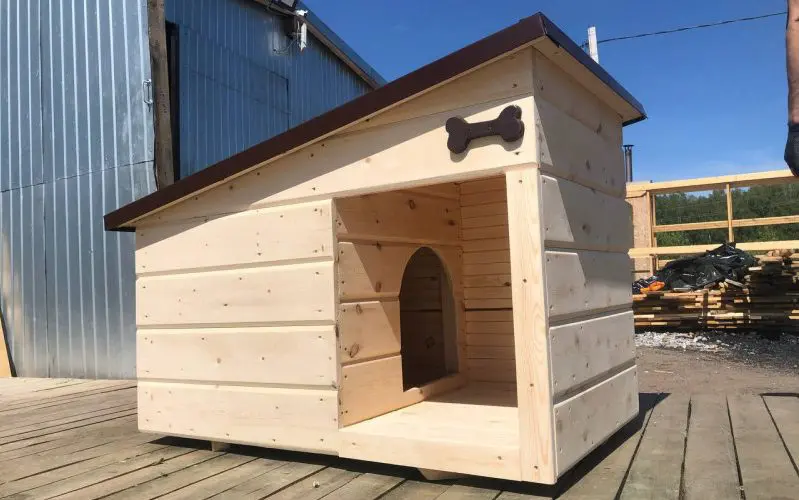 This is one of the nicest-looking outdoor cat shelter DIY projects on our list.
A neat and tidy rectangular construct that could easily blend in with your garden or patio decor. The little glass window is perhaps the highlight.
The house's roof can be lifted, so blankets or any insulation you choose can be changed easily. The snug and safe design make this a great option for a mommy cat to have and raise her kittens.
The Instructables tutorial lists everything that you will need. In addition, it includes comprehensive and easy-to-understand, step-by-step instructions.
#3
Easy Tote DIY shelter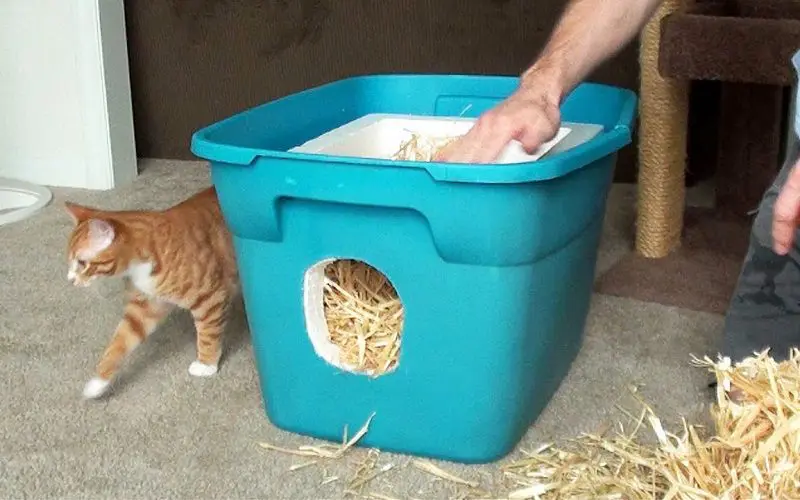 The Easy Tote Shelter is one of the easiest and most convenient DIY projects on our list.
The design is pretty straightforward, and it doesn't require anything you can't pick up at a good hardware store.
It is not the most aesthetically pleasing design, but it is practical. The sealed tote can keep heat in, and the tubed entrance creates an insulated air bubble without the risk of suffocation.
Because they are inexpensive and easy to make, we recommend this DIY design for those who need shelter for many cats or want to offer shelter to feral cats.
#4
Styrofoam Cat Shelter
The styrofoam cat shelter is perhaps the most surprising project on our list.
Not only is it ridiculously easy to make, but it also outperforms most designs in terms of insulation. It is waterproof, and the entrance hole can be cut with a simple box cutter.
The downside to this approach is that styrofoam weighs very little and can be swept away by a strong enough breeze.
To that end, you will need to glue it down to a wooden base or another substrate with enough weight to secure the foam cooler housing. You can still set it up off the cold ground using bricks or wood slats.
The design does have one or two other downsides. First, it won't keep your cats safe from predators. A larger predator, like an aggressive dog, could easily smash its way to a cat in hiding.
To solve this problem, you should consider mounting the house in a place that is easily accessible to cats but not to any dogs that might take an interest.
The second problem is that cats may start chewing or scratching up the corners of the entrance.
You can use duct tape or paint the styrofoam with non-toxic paint to discourage your cats from damaging their cozy styrofoam winter house.
The instructions include many more tips and tricks to help you make the best of the design.
#5
Plastic Container Shelter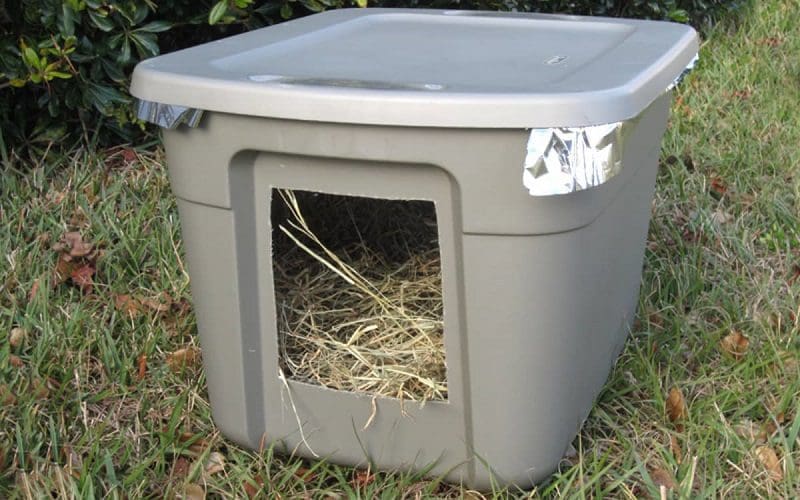 Here is another great design that is absolutely genius in its simplicity. Large plastic containers, a bit of tubing, and insulation are all the materials you really need.
In addition, the design offers your furry friend easy access. Finally, it allows you a simple way to clean up and replace the insulation.
A fun idea is to use this design as a basis for a modular, interconnected cat house using different lengths of tubing to link containers mounted at various elevations.
The larger the construct, the fewer entrances you need to add. That will help dramatically in keeping your kittie's winter playhouse warm and snug.
The instructions are easy to understand and can be adapted to make the winter cat house that best suits your outdoor kitty needs. It's also a great idea for feral cat winter shelters.
#6
Ice Cooler Heated Cat House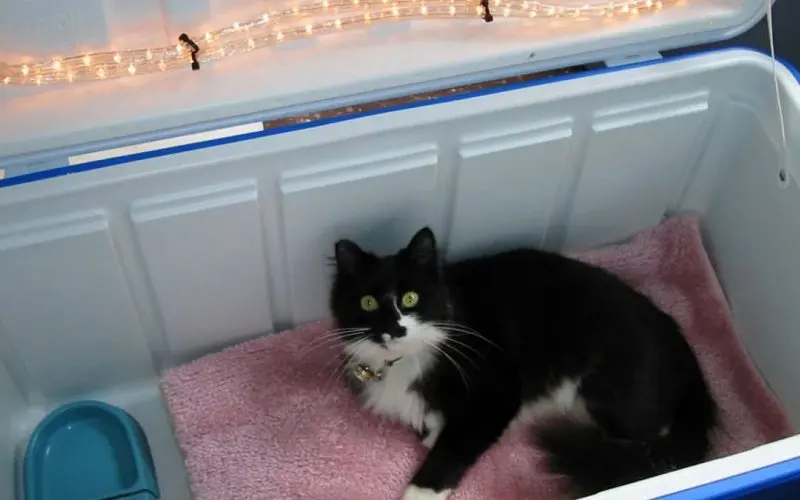 We'll admit this is one of the less attractive designs for an outdoor shelter on our list. However, what it lacks in aesthetic, it more than makes up for in practicality and insulation.
The hinged lid offers easy access for replacing your cat's food and water bowl. It also allows for easy cleaning. The entire cooler can be sprayed down with a garden hose when it needs a good cleaning.
As for the fantastic insulation, the design makes use of the intentional insulation used in cooler boxes. So, just as it can keep things cold by keeping out the heat, it can keep the heat in without letting in the cold.
You could further modify the design, using tubing as an entrance instead of a flush castaway. That will help keep things even more snug for those extra-cold winter nights.
But, of course, you can also let your imagination run wild when it comes to decorating your cat's ice cooler heated cat house.
#7
Bespoke Pallet DIY Cat Housing
Rather than focus on a specific design, we recommend looking at the thousands of custom cat house designs made from pallet wood.
The appeal of this concept is that they are easy and inexpensive to construct, don't require much by way of carpentry skill, and don't take long to complete.
That means that there is little reason not to take a stab at designing and building your own unique DIY cat house.
This approach lets you decide on the function, scale, and aesthetic design of your project.
#8
DIY Cat Village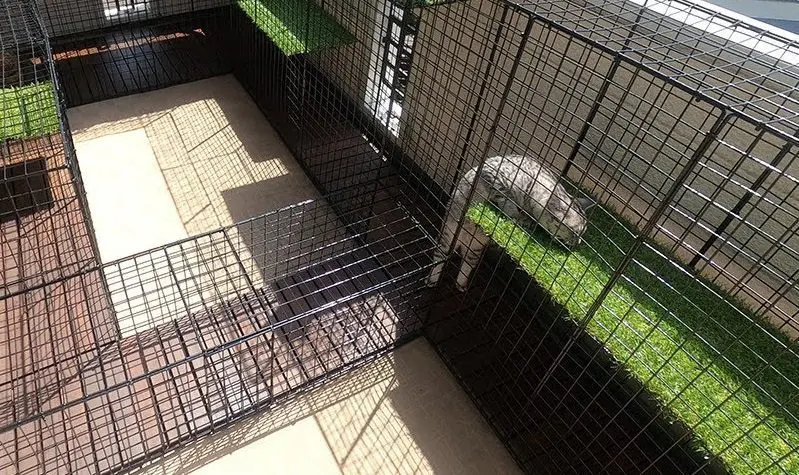 The DIY Cat Village is one of the most involved DIY cat house projects we have come across. It consists of various levels, features, enclosures, etc. all set up as a permanent shelter.
The most impressive thing about it is that it is completely modular, with each additional feature being optional. It is ideal for all seasons, accommodating everything from mild to extreme weather.
It boasts cozy enclosures opening to lovely kitty balconies and floating tunnel areas. The only limits to this project are space and your free time.
#9
Basic Insulated Cat House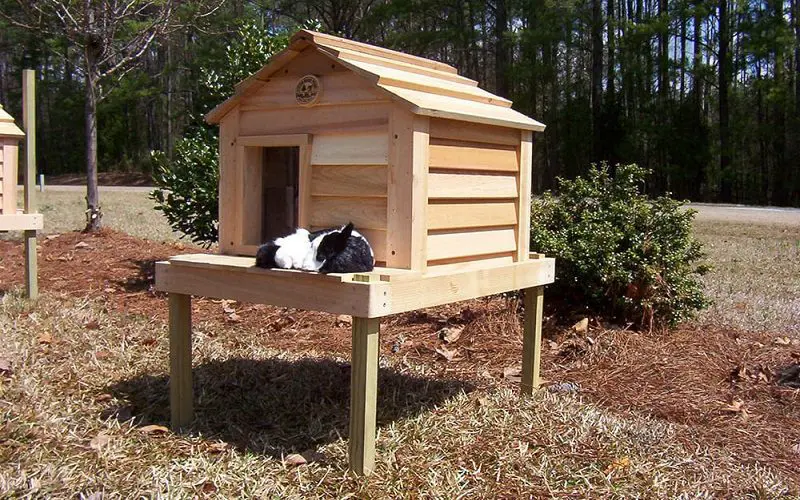 The basic cat house is perfect for anyone looking for a nice, clean design that is easy to build.
The build is also inexpensive, consisting of the main chamber and an entrance with a small separator to help keep in the heat.
This is not the best option for insulation, but it fairs fine in moderately cold climates.
#10
Cat House 'Doll House'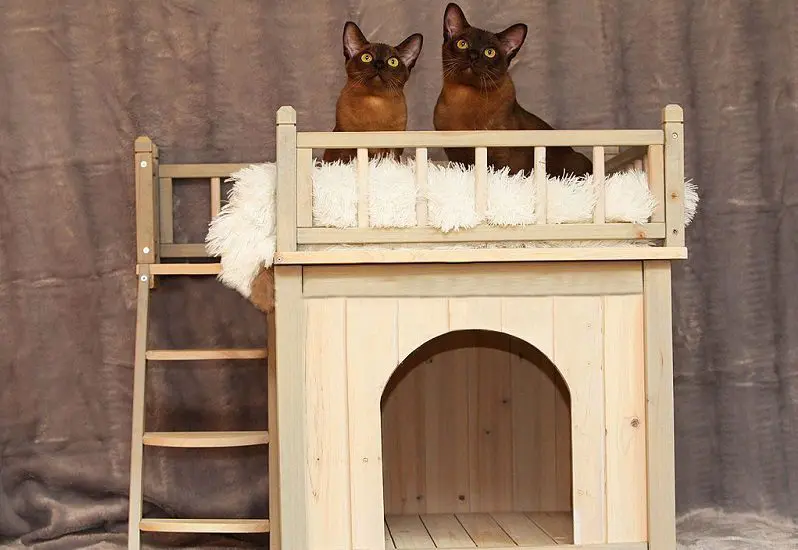 The final entry on our list is more of a spin on any number of the designs mentioned above.
The idea is to construct a closure that can fit numerous cat toys, a litter box, and a snuggly bed.
The tutorial video is a great example, but it is by no means your only option. You can design the cat house around the items you want to include.
Then, using the techniques described in your favorite DIY cat houses, you can create something really special that has a personal touch.
Have you tried making an outdoor cat house for winter? Let us know in the comments below!
Resources: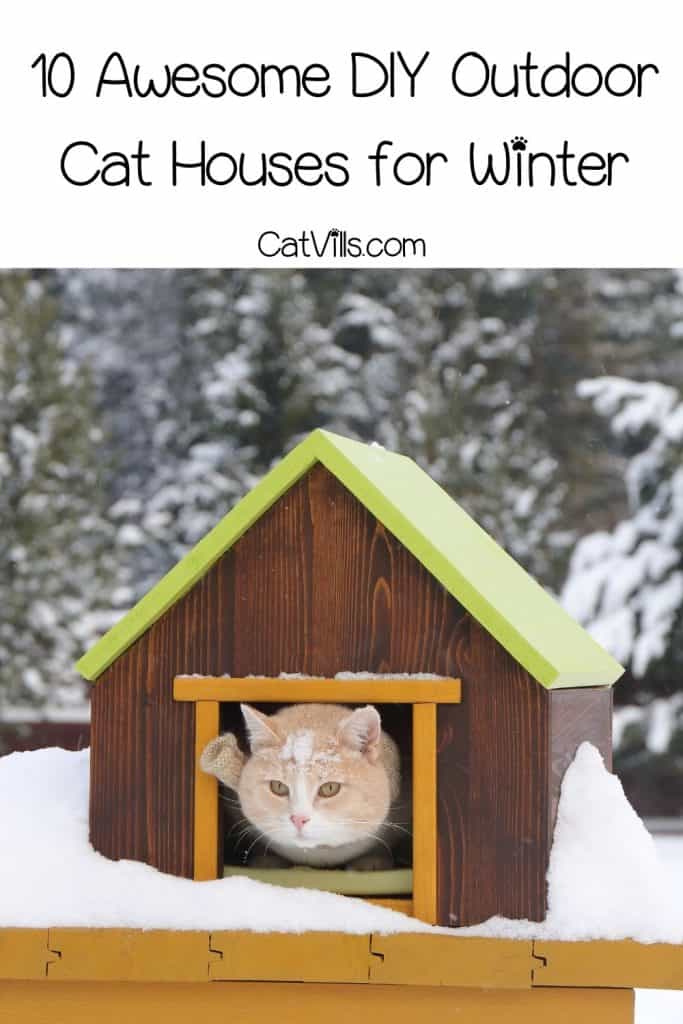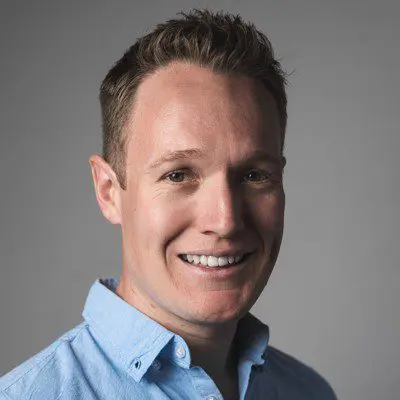 Barry Stingmore
Barry Stingmore is a British content creator living in Fuerteventura, Spain. An animal lover at heart, he shares his home with a dog and four rescue cats. Barry works with the island's animal charities to help manage and care for feral and abandoned animals. Alongside fieldwork, he works to support the charities with fundraising and raising awareness.