Microchip cat feeders have become a popular item for pet owners.
But how does a person pick the right one for their home?
I'm here to help with a selection of my favorite options and a detailed buying guide.
You'll soon have everything you need to choose the perfect microchip cat feeder.
Top Picks at a Glance
3 Best Microchip Cat Feeders
1. Winner: SureFeed Microchip Cat Feeder
SureFeed Microchip Cat Feeder
Connects to the Sure Petcare app (REQUIRES HUB, HUB SOLD SEPARATELY)
The Feeder connects to the Sure Petcare app via the hub (sold...
Accurately weigh your pet's food using the integrated scales. Notice...
SureFeed Microchip Pet Feeder Connect is one of the most advanced options available.
It comes with two activation methods (a RFID collar and a microchip) for selective feeding.
Each owner will be able to choose based on their own preferences and comfort.
Plus, it connects to an app for even more convenience and extra features.
Physical Attributes
Built with high-quality plastic
Holds 13.5 fl oz of food
Grey coloring
Two half bowls
One single bowl
Non-slip mat
Neoprene lip
RFID collar tag included
Measurements
12.2 x 12.6 x 8.46 inches
3.21 pounds
Benefits
Easy to use with a helpful instruction manual
Offers two activation methods (microchip or RFID collar tag)
Retains moisture to keep food fresh
Connects to a smartphone app
Aside from its microchip capabilities, this option is versatile. Owners can use it to feed wet and dry food without any issues.
Multiple buyers have also praised how easy the device is to use. You don't often see this outcome with these overly advanced cat feeders.
The food quality is much more high-quality than other choices, as well. Its neoprene lip retains moisture, allowing it to keep food fresh for longer.
Again, it's always nice to have a choice with the activation methods. Some owners might feel uncomfortable with the microchip, so they could use the collar instead.
The smartphone app is quite impressive, too, as users can control portion amounts. It also sends you a lot of information about your cat's eating habits.
Drawbacks
Requires an additional hub to connect to the app
Batteries not included
Buyers will have to purchase an additional hub to use the app, though. It's a rather pricey extra investment that could keep some from buying it.
The lack of included batteries was another slight flaw. But honestly, it shouldn't keep people from considering this option.
How it Compares to Others and Why
The smartphone app's capabilities and versatility give it a leg up on most options.
Of course, I didn't even mention the smart feeder's sturdy plastic construction, which has consistently received praise.
Expert Tips
Buy rechargeable batteries, as it eats through them quickly.
2. Best for Multi-Cat Homes: SureFeed Automatic Microchip Cat Feeder
Multi-pet households should take a look at SureFeed's Microchip Automatic Feeder.
Its ability to prevent food stealing will curb even the most unruly animal.
Your cat will finally eat their dinner in peace without fighting off your dog or other cats.
Physical Attributes
One RFID collar tag
Non-slip mat
One single bowl
Grey coloring
Large pet towel
One split bowl
Holds 400ml of food
Measurements
Benefits
Vet recommended
Suitable for wet food or dry food
Works with either RFID collar tag or microchip
Automatically close when the pet moves away
Stores 32 pet identities
3-year warranty
Drawbacks
More expensive option
Challenging to clean for wet food users
How it Compares to Others and Why
Its curbing of food stealing does provide an advantage over most feeders. You also can't overlook its ability to store 32 pet identities, which is very convenient.
But it does cost a pretty penny. So cat owners will have a tough decision to make regarding whether its features are worth the increased price.
Expert Tips
Cats might need a little encouragement to eat under the bar.
3. Best Bargain Buy Alternative: FFPOPU Automatic Microchip Cat Feeder
FFPOPU's Microchip Automatic Pet Feeder technically isn't a true microchip feeder.
But it deserves mention on this list as a worthy alternative.
After all, not everyone wants to spend $180 on a microchip pet feeder.
It'll provide many of the same benefits (slows eating, provides privacy, and keeps dogs out).
Physical Attributes
Made from BPA-free plastic
Removable top cover
Pink coloring
Six separated food cells
Dishwasher-safe
Requires 3 AA batteries
Measurements
12.5 x 12.5 x 3.2 inches
2 pounds
Benefits
Affordable price
Usable for dry food and wet food
Programmable food timer
Non-slip design
Easy to clean
Drawbacks
Instructions are the most helpful or easy to follow
Batteries aren't included
How it Compares to Others and Why
The product's affordable price and programmable timer are valuable traits. It should have no trouble matching the production provided by a proper microchip option.
I should also mention its removable top cover, which allows for easy cleaning. Plus, the six dishes are dishwasher-safe, offering even more convenience.
What To Look For In Choosing the Best Microchip Cat Feeders
Choosing the best microchip cat automatic feeders will require an understanding of certain factors. You can't simply select the first one that appears on Amazon or Chewy.
But there's no need to get overly concerned about picking the wrong one. The following discussions will ensure each buyer makes the right choice for their cat's needs.
How the Microchip Cat Feeder Works
As you can imagine, microchip-controlled cat feeders come in various sizes and shapes. But most of them offer two ways of providing your cat with food:
RFID-programmed (cat feeder with collar sensor): directed by a collar with a specialized RFID programmed into it.
Microchip Activated: activates by recognizing your cat's microchip implant.
Both methods have proven to be an effective tools for providing a cat with dinner or breakfast. Honestly, the only way to choose between them comes down to preferences or needs.
For instance, any owner with a clever kitty should rely on the microchip option. It's more advanced and keeps things more strict.
But an owner who doesn't want anything overly complex might prefer RFID programming. It's thinking about these details that'll go a long way in determining the correct type.
Size
One of the first things to think about would be a microchip-controlled cat feeder's size. In most cases, microchip bowls will be designed specifically for your furry friends.
But I'd still recommend measuring your cat beforehand to ensure comfort. Height and neck size will be vital when trying to find a comfortable microchip-activated cat feeder.
You can then use the info to match each product's measurements. It should help lessen the number of available options for an easier buying process.
Durability
Some cats aren't too keen on using these feeders or immediately learning how to operate them. These issues cause them to try different methods of accessing their food.
A typical mischievous attempt is squeezing the feeder's lid. Due to this, your chosen option needs to be durable and made from quality materials.
I even suggest looking for options made from heavy-duty components. These feeders shouldn't have any issues withstanding your cat's attacks.
Non-Slip
Some feeders will have slipping issues, making them difficult to use. It'll end up providing your cat with an uncomfortable eating experience and could scare them.
You're also more likely to have a massive mess created around the feeder. These concerns make buying an option with slippage issues not worth your time.
Instead, cat owners should look for microchip feeders with sturdy constructions. Their designs will have a lower rubber insert to keep the feeding bowl from moving.
Simple to Clean
Owners will need to clean the feeder regularly. It would make sense to choose an option that ensures this task remains effortless.
I'd suggest looking for dishwasher-safe feeders to keep things extremely simple. There's nothing easier than allowing your dishwasher to do all the work.
Another crucial piece would be the microchip feeder's ability to disassemble. These feeders have multiple components that require cleaning.
Given this information, an option with easy assembly and disassembly processes would be valuable. You should also look for options with a removable tray or bowl for extra convenience.
Other microchip cat feeder reviews can be a helpful resource, as well. They'll provide significant insight into whether the feeder offers unnecessary cleaning challenges.
Materials
It's essential to research the quality of each model's construction materials. They need to be safe and reliable, or some dangerous consequences can arise.
In most cases, cat owners can rely on ceramics and stainless steel bowls as they're considered "harmless to cats". Plastic components are acceptable, but they must be BPA-free.
You should find all this information in the product's description or packaging. The best brands will ensure they let you know whether products are safe and non-toxic.
Easy To Use
Don't get sucked into all the gadgets and features provided with these microchip feeders. These components don't mean squat if they aren't easy to learn and use.
In fact, these advanced features become worthless if you can't figure out how to use them. Rely on customer reviews and other resources to evaluate the product's using process.
Cost
Microchip feeders aren't going to come cheap. So you'll need to put aside some serious cash for this purchase.
However, it'd be wise to construct a budget based on your specific needs. It's the only way to keep it realistic and useful for the buying process.
A realistic budget can then limit your choices down to a more manageable number. The entire process becomes a lot easier when there aren't as many available options.
Tips for Using Microchip Cat Feeders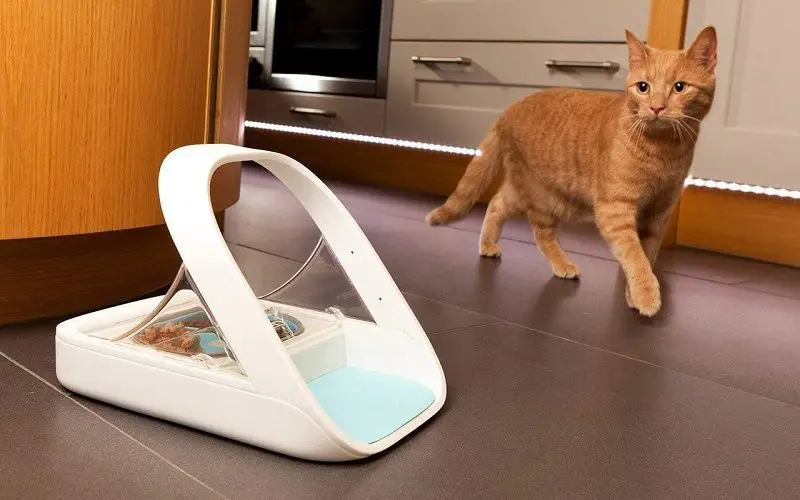 Some cat owners might not be too familiar with using microchip feeders. If you fall into this category, here's a list of a few tips that can help:
RFID automatic cat feeders require cats to wear a tag in their collars. Some cats won't like this idea too much, so it's best to test a collar before buying one. Find a comfortable one that your cat doesn't constantly try to kick off their necks.
Before buying your chosen chip-activated cat feeder, check the animals associated with it. Some options will only support cats or other pets of certain neck sizes and heights. You can find this info in the product description or manual.
Always save the feeder's user manual and installation directions. It'll be a valuable resource to help out if/when anything happens with the device. In particular, the FAQ section will usually be handy when these issues do occur.
Tags of automatic cat feeders tend to accidentally dangle below the sensor detection level when feeding your cat. If this happens, the access control lid will end up closing and restrict access to the food. Owners might have to improvise a little to minimize this issue and ideas for particular feeders in their customer reviews.
Automatic cat feeder tags aren't always waterproof. In fact, tags that come with replaceable batteries are only considered water-resistant. Wet food can represent an issue as the tag might become damp and stop working.
Clean the feeding bowls, lids, and panels regularly. Remove the batteries before cleaning the feeder, as water can cause damaging issues.
Keep the feeder away from other pets in your home. Some dogs can even find ways around those advanced intruder detection mechanisms within microchip feeders. It's best to avoid the issue entirely by restricting their access.
Check the tag and feeder's batteries regularly for issues. If you don't, the batteries could stop working and restrict food access.
Keep an eye on your cat's behavior and overall weight. If you start noticing weight loss, it's an indication the feeder isn't working correctly. You should troubleshoot the device and do some monitoring to identify the problem.
If you follow these tips, using an automatic cat feeder microchip device should be a breeze. More specific tips should be available in your feeder's user manual.
FAQs
How do microchip cat feeders work?
Microchip cat feeders work by recognizing a "Microchip ID or a lightweight RFID collar tag." From there, they open the food bowl's lid for your specific cat. 
How much is a microchip feeder?
The cost of a microchip automatic will vary significantly from product to product. But I would advise buyers to expect a price between $150 and $200.
Conclusion
I hope these discussions about microchip feeders or selective feeders solved all your concerns. If you have more questions, please let me know in our comment section.
As I mentioned earlier, my choice would have to be SureFeed Microchip Pet Feeder Connect. It has everything a pet owner could want in a microchip auto cat feeder.
What are your favorite microchip cat feeders? Please share with us below!
Resources: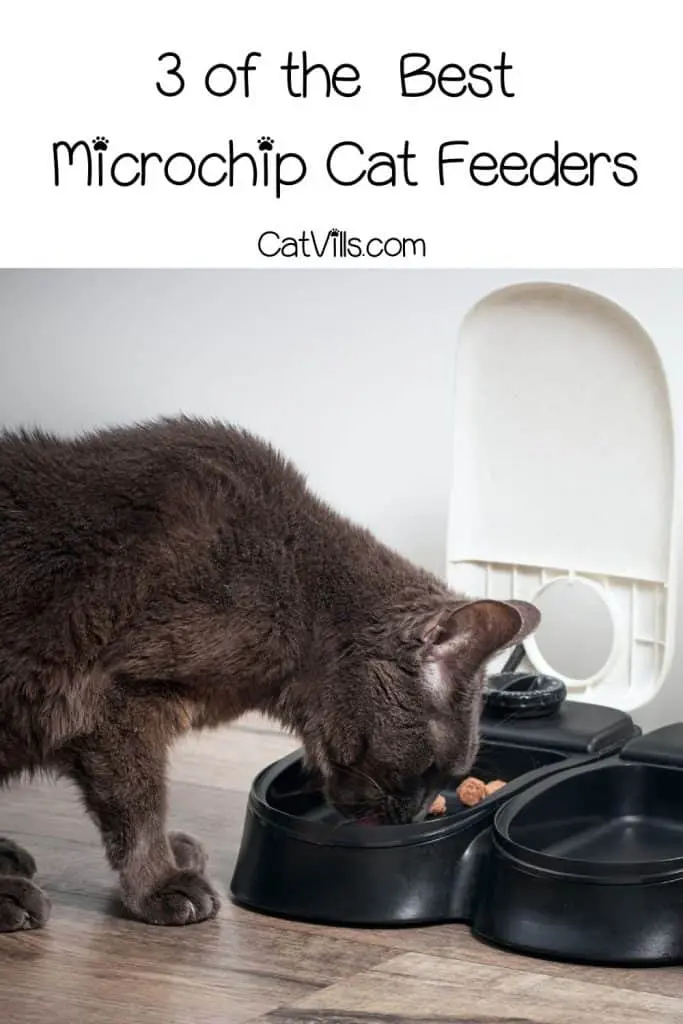 Last update on 2023-09-28 / Affiliate links / Images from Amazon Product Advertising API