If you've seen those cool outdoor cat containment or enclosure ideas on Pinterest and thought,"hey, I want that!" you're not alone.
I've been dreaming of creating some sort of enclosure for my kitties that lets them safely explore the outdoors.
Below, we'll look at some of my favorite options that I'm exploring, including ready-to-buy and DIY ideas.
Let's get started!
FYI, this post contains affiliate links. If you make a purchase through these links, we earn a small commission at no extra charge to you. 
Best Outdoor Cat Containment Ideas
Check this comparison table for a quick guide. Read the review for further details.
Best Outdoor Cat Containment Options to Buy
The best outdoor enclosures range from simple "cat walk" window extensions to coop-like houses to full cat containment fence systems.
Let's take a look at some of my favorites.
Let's start with a really neat option that works both as a freestanding structure or as something that you can attach to your home.
benefits
Made for multiple cats
Fully covered
6 large platforms
Large main door that's big enough for all breeds
Wall-mountable or freestanding
Removable back panels
One year warranty
Made with using natural, eco-friendly wood
Cons
Pricey at around $680
Unclear where it's made (likely not USA because Cats Play usually says when it is)
Shipping is expensive ($259)
Only one style and color
Recommendation
I'm kind of sad that this doesn't ship free considering how many things do on Cats Play Furniture.
That said, this is almost exactly what I envision when I think of an outdoor cat enclosure.
I like that it's made from natural materials, and it's large enough for big cat breeds.
It's pricey, yes, but no more so than other similar structures.

[embedpost postid="434″]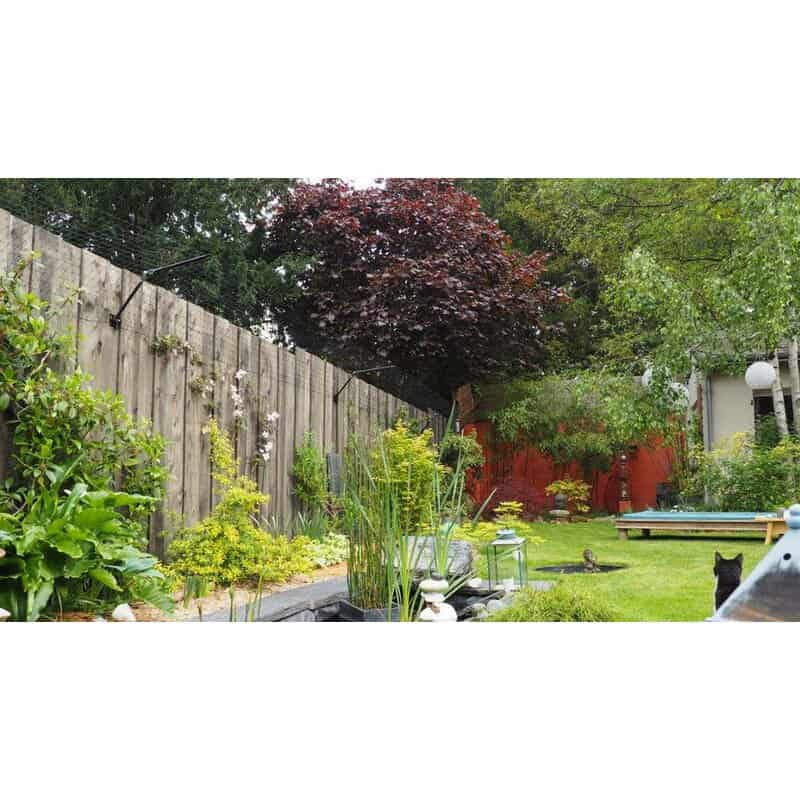 If you want a cat containment kit for existing fences, the Purrfect Fence system is a neat option.
benefits
Turns any existing fence into a cat containment system
Great customer service
Keeps cats in and other animals out
Works with wood, chain link, metal, vinyl/Pvc, brick or block fence.
Cons
Fairly pricey at $429-ish
If you have a lot of trees in your yard, cats can still find other ways out.
It's made from mesh
Recommendation
I had a really hard time finding Purrfect fence reviews on independent sites, but customer testimonials say a lot of great things about it.
However, I have somewhat mixed feelings.
On the one hand, this is a really simple way to use what you have to create an enclosure.
Reviewers say that it not only keeps their kitties in, but also keeps coyotes and other critters out.
However, it wouldn't work in my yard. I have a lot of trees. My Fuzz would simply climb them and leap out.
I think this is great for some yards, though! You have to decide if it's right for yours.

Here's a neat option for those who don't want a giant structure and don't have a fence to work with.
benefits
Super affordable compared to other options
Great for use on your deck, lawn, or even a balcony.
Let's your cat enjoy the outdoors while fully supervised.
Over 30 square feet of activity space
Breathable, mesh fabric
Can also be used indoors to isolate a new kitten or injured cat.
Lightweight and portable.
Comes with carrying bag.
Easy set-up
Cons
Not a permanent solution
You have to supervise your cat, he shouldn't be left unattended in it.
Some complaints that the mesh comes apart.
Recommendation
This is definitely not a "forever" outdoor cat containment system. It's not something that I could put up outside and let The Fuzz play in for hours unattended.
He would shred it and tear off over the fence in a heartbeat.
However, my Zoe just likes us to take her out on the deck sometimes. She doesn't dart off or get all spastic like Fuzz.
I could definitely see setting it up and letting her play in it while we were eating dinner on the deck.
It's not the most durable option by a long shot, but it is a fun enclosure.
Sale
Check: Top 5 Best Outdoor Cat Tree Houses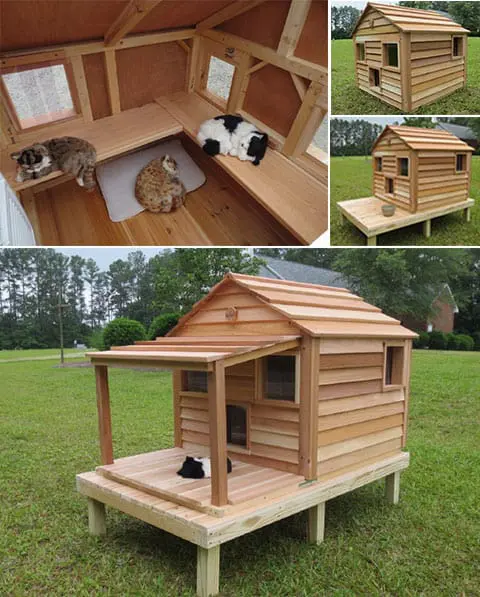 While we're mostly talking about outdoor cat enclosures for indoor cats, perhaps you arrived here looking for outdoor cat houses instead,
If that's the case, I really love this one from Cats Play Furniture. I won't lie, it's not cheap, but I think it's worth it!
benefits
Measures 36″ x 37 1/2″, so it's definitely roomy enough for multiple cats of all sizes
Two doors- a main one and an escape hatch
It's insulated with "made in the USA" and certified "green" materials.
Tons of options! Make it heated, add AC, raise the foundation, and more.
Made in the USA
Ships Free
Cons
Base price is almost $1K, plus add-ons are pricey.
You need a good chunk of space in your yard.
No way for indoor cats to access it from inside your home. (Can't attach it to your house, in other words).
Energy costs associate with the add-ons.
Recommendation
We have a family of feral cats that we care for, and I'd absolutely love something like this for them. Sadly, it's not in my budget.
I really do love it, though! If it's in your budget, it's definitely something to consider.
Just keep in mind that the add-ons add up fast! I did a test with all the features I'd want and it came out to almost $2500!
However, this isn't a temporary solution but rather something that will last a lifetime.
So, it may very well be worth it for you.

Check: 5 Best Outdoor Cat Tunnel Ideas to Keep Your Kitty Happy
DIY Outdoor Cat Enclosure Ideas
As much as I like some of the options above, they're not really what I envisioned when I set out to find the perfect outdoor cat enclosure.
See, I want something that my cats can access from inside, perhaps through a cat door or a window.
While the first one comes close, it's not really in my price range.
So, I'm seriously considering following one of these tutorials to make my own catio.
1. Catio through a cat door
How neat is this? It's bright, colorful and so fun for cats.
2. Window Catio
This one would be a great fit for my windows.
3. Ikea Shelf Converted to a Catio
One of my favorite tutorials, this one doesn't require quite so much "from scratch" building because it works with an existing shelf.
Final Recommendation
Sale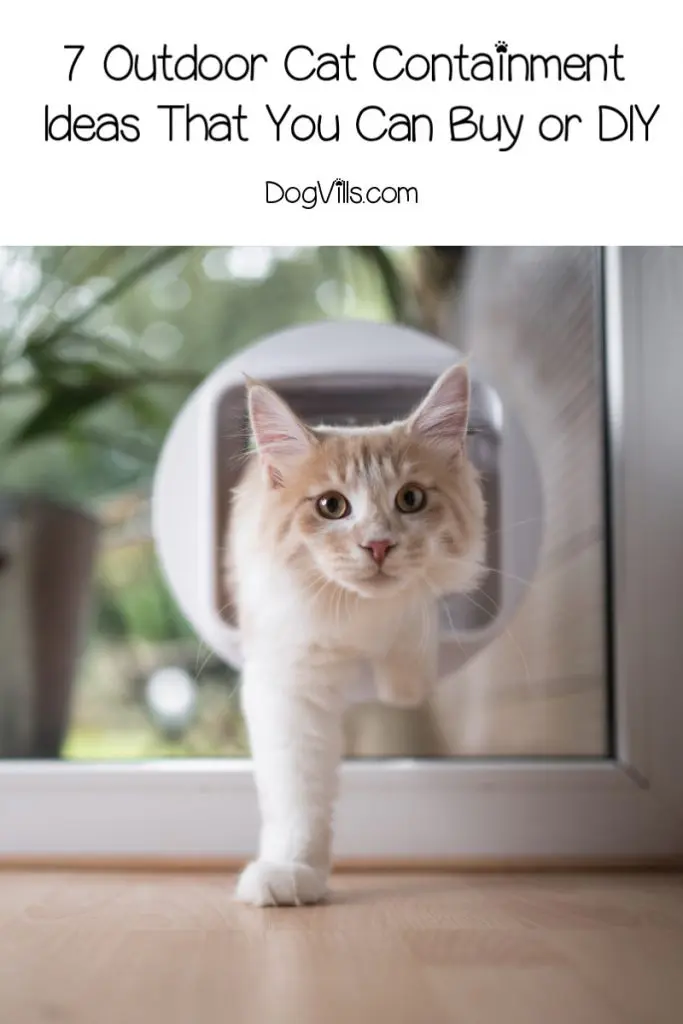 Which of these outdoor cat containment ideas fit your idea of the perfect kitty enclosure? Share below!
Last update on 2023-09-30 / Affiliate links / Images from Amazon Product Advertising API