Finding small litter boxes for small spaces isn't really a huge challenge.
However, finding fantastic ones for small spaces gets a bit trickier!
Today, we'll talk about how to choose the perfect box for your apartment.
Our Top Picks At A Glance
Best Small Litter Boxes for Small Spaces
Now, what's it you've been waiting for? Our top five recommendations for the best space-saving litter boxes for your teeny, tiny space.
As a bonus, I'll also give you my pick for the best cat litter for a small apartment!
1. Best Top-Entry Litter Box: Modkat Cat Litter Box
Modkat's makes both a top-entry and a front-entry space-saving litter box, but we prefer the top-entry box.
Not only is it super functional, but it's also fairly stylish for a litter box!
Benefits
The top-entry configuration makes it easy to slide into a tiny space since you don't need to leave much room in front of the box.
The seamless, full-height base prevents leaks and eliminates litter scatter, making it a good choice for a litter box in a closet.
Super easy to clean; just swivel the lid and scoop the box!
Includes a reusable liner that hooks into place, won't rip, and is easy to clean.
Cons
Let's talk about the elephant in the room first: the price. It's a bit high for a litter box, especially one that doesn't clean itself.
A lot of Modkat users also complained about the lines. While they're great in theory, many cats have managed to get urine under the liner.
It's not the best option for older cats who have a hard time jumping up.
Recommendation
If you have a younger cat and the money to spend, the Modkat litter box really is a fantastic option.
It's sleek, relatively stylish, and has a great design that makes it easy to fit just about anywhere.
However, if you have a senior cat, we know she wouldn't have been able to use it, so we don't recommend it for older kitties.
2. Best Litter Box Made In USA: Petmate Booda Dome Cat Litter Box
Petmate is one of the top pet brands in the world, so it makes sense that one of their litter boxes would appear on this list.
While they have a lot of great options, my money goes to the Booda Box.
We actually had one with steps years ago in my own small space, but for your tiny apartment, we recommend the plain Booda Dome sans steps.
Benefits
The dome is completely enclosed, which significantly cuts down on odor. Mine was located like three feet behind where I sat to watch TV, and I couldn't smell a thing!
That same design, along with the ridged entry way, also cuts back on litter tracking.
Includes a replaceable charcoal filter to further reduce odors.
It's perfect for cats who prefer a lot of privacy when they do their business.
Cons
It's not the most stylish litter box. While it does come in a couple different colors, they all definitely have that "plastic litter box" look to them.
Definitely not big enough for large kitties. My biggest cat wouldn't even make it through the door.
The top and bottom pieces do not lock together. The top just sits on the bottom. Snugly, mind you, but a determined cat could kick it free.
Recommendation
The Booda Dome is great as long as you have a smaller cat, and the price is very affordable. In fact, it costs less now than it did nearly a decade ago when we bought ours!
We loved ours and used it for a few years before it needed to be replaced. Our large cat is the only reason we didn't replace it with another one.
3. Best Corner Litter Box: So Phresh Corner Cat Litter Box
We're big fans of So Phresh products because they're usually affordable and highly rated. The same goes for their corner litter box.
It doesn't have a lot of bells and whistles, but if you need something that fits into a snug corner of your bathroom, it's a great choice.
Benefits
The triangular design makes it easy to fit just about anywhere in your apartment.
Includes a charcoal filter to cut down on odor.
Made of heavy-duty, durable plastic.
Even with its space-saving design, it's still big enough for larger cats.
Cons
Litter can get trapped between the top and bottom panels.
The back panel isn't flat, which makes cleaning it a bit of a challenge.
That same indentation makes the "usable space" a lot smaller than the actual dimensions.
Recommendation
Although it's not our favorite litter box overall, it is our top pick for a corner box because it's inexpensive and fits just about anywhere.
Plus, it's really inexpensive, making it the top choice for those on a super tight budget as well.
4. Best Self-Cleaning Litter Box: PetSafe ScoopFree Cat Litter Box
The PetSafe ScoopFree Ultra Self-Cleaning Litter Box is definitely the priciest option on this list of small litter boxes for small spaces, but the features definitely make up for the cost.
Benefits
Let's state the obvious pro first: it cleans itself! In fact, you can go weeks without ever touching it.
The crystal cat litter does a great job of absorbing urine to remove odors. It's also 99% dust-free.
No scooping is required! Just remove the tray, toss it, and put a new one in.
It's safe and hygienic for both you and your cat.
Cons
Aside from the initial price, the biggest con is the proprietary litter that you'll have to use. A 6-pack of replacement trays will cost you more than half the price of the system to begin with.
Multi-cat homes end up replacing the litter significantly more often than single-cat homes, which means you'll be paying even more money in the long run.
The rakes that move the litter tend to rust.
Recommendation
On first glance, it may seem like the cons outweigh the pros. Yes, it's expensive for a litter box, but remember, it cleans itself!
Plus, if you just have one cat, the litter ends up costing about as much as you'd spend on clumping litter.
That said, we'd recommend this for single-cat apartments. With multiple cats, the cons do end up outweighing the pros.
5. Best Litter Box For Budget: IRIS USA Top Entry Cat Litter Box
The IRIS top-entry box is one of the most highly rated small litter boxes for small spaces. Let's find out why.
Benefits
As with the Modkat, the top entry makes it easy to fit anywhere and eliminates tracking and leakage.
The box itself is definitely the most stylish on our list! In fact, it comes in eight color combinations.
The entryway is wide enough for most large cats.
The small holes on the lid have a purpose: they help remove litter from your cat's paws to keep it from tracking all over.
Cons
The top-entry system combined with the high height may be a challenge for senior cats to use.
While the entry is large enough for big cats, the lid is not sturdy enough for heavier kitties.
Some reviewers complained that their cat simply wouldn't use it. That's not a con against the brand, but the overall style.
Recommendation
Once again, we recommend this one only if you have a younger cat that can make the jump, preferably one that isn't a "fat cat."
We love it because it has all of the features you want in a space-saving litter box at a price that's incredibly affordable.
In fact, depending on which color you choose, this is the cheapest box on the list.
How to Choose the Right Small Litter Box for Your Small Space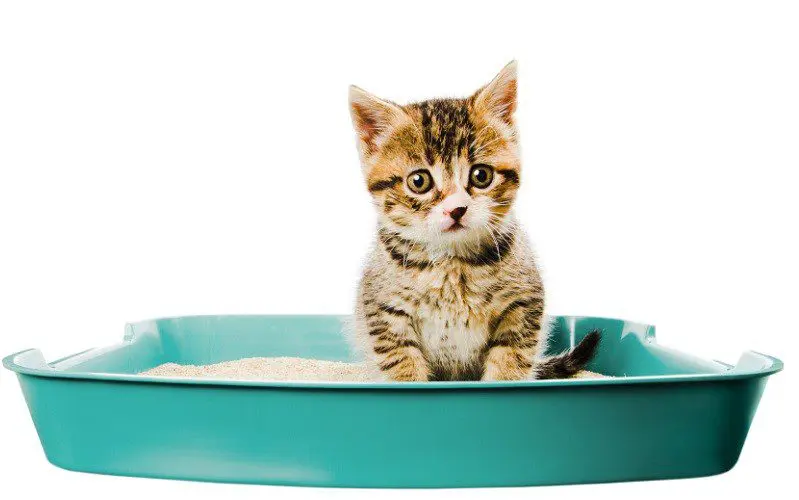 Like we said above, it's not all that hard to find small litter boxes that fit into tiny spaces. The problem is finding really outstanding boxes that won't stink up the place!
Read on for some things to consider as you shop for your cat's box so you know what went into choosing our top five picks.
You'll notice that, unlike choosing a large litter box for a Maine Coon cat, you only really need to think about three things when looking for a small box.
1. Superior odor control
Odor control is by far the most important thing to consider when buying a space-saving litter box for your apartment.
No one wants to smell their cat's waste, but when you're literally trapped within feet of the box at all times, it's a make-or-break factor.
Your best bet is always going to be a covered litter box, with one exception (we're not telling you what it is yet, you'll find out below!).
Why? The obvious reason is that litter boxes with lids do a better job of trapping odors inside the box.
2. Location, location, location
If you're wondering, ""Where should I keep my litter box in a small apartment?" The answer really shouldn't surprise you.
Ideally, you want to place it in your bathroom, since it's already the stinkiest room in the house! Hey, it's true, right?
Of course, if you have an itty-bitty bathroom, it's not such an easy answer. Don't worry, my picks include a narrow litter box for a small bathroom!
Your other option is to place the litter box in bedroom closet, but we would not do this if you also use the closet for your clothes or linens!
3. Your budget
You wouldn't think that budget concerns would be a huge issue when buying a litter box, but I've seen some insanely expensive options out there!
So yes, the third and final thing to consider is exactly how much money you can afford to spend on something that your cat only uses to deposit waste into.
While there are a couple of pricey options on our list, they're totally worth it. You'll see why.
4. Cat Litter Type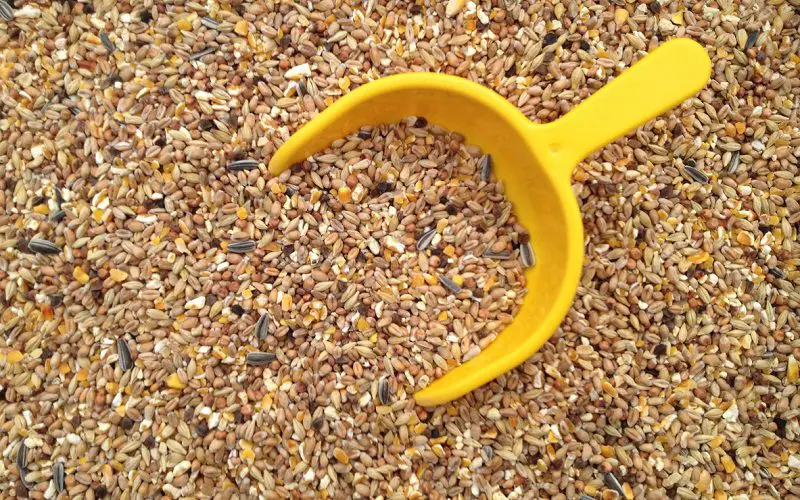 The right cat litter makes just as much of a difference as the right box when it comes to odor control in a small space.
Honestly, the best brand depends quite a bit on your preferences.
However, without a doubt, I would recommend sticking to some sort of clumping litter because it's easier to clean and tends to bind odors better than non-clumping.
Final Word
So, which of these small litter boxes for small spaces should you buy? Well, that depends on your preferences and budget, of course!
Each one has its stand-out benefits, but they all have their downsides as well. Personally, we would recommedn the IRIS as top-entry box solution.
While it has the least bells and whistles out of all the boxes on this list, it gets the job done at an affordable price.
Which of these small litter boxes for small spaces would you buy? Do you have any other recommendations? Share below!
Last update on 2023-09-30 / Affiliate links / Images from Amazon Product Advertising API