Are stainless steel litter boxes better? Wondering which metal cat litter box is the best?
Discover the purr-fect solution for maintaining a clean and odor-free environment with the stainless steel cat litter box.
Let's explore why the stainless steel cat litter box is the ultimate choice for modern pet parents.
Top Picks at a Glance
7 Best Stainless Steel Litter Boxes
If you're having a hard time deciding on the perfect stainless steel litter box and scoop for your cat, don't fret! We've done all the research for you!
#1 Winner: iPrimio Enclosed Sides Stainless Steel XL Cat Litter Box
iPrimio is the brand to choose when you're looking for the best stainless steel litter boxes for large cats or multiple households.
It's also great for odor control and reducing tracking around the house.
Benefits
iPrimio's stainless steel box is made from durable and long-lasting material that doesn't rust, corrode, or scratch, even if you have an enthusiastic digger at home.
The rounded edges ensure your cat won't get hurt when entering the box and the ergonomic design prevents clumps from getting stuck in the corners.
Stainless steel doesn't absorb odors, so you won't have to spend hours scrubbing the unpleasant ammonia smell from the bottom.
The box measures 23.5″ x 15.5″ x 6,″ (specs say 8″ – the product description says it's 6-inch deep) which is the perfect size for large cats or felines that like to dig or play in their toilet box.
The 6″ detachable enclosure provides an extra layer of protection against scattering, eliminating the need for a litter mat. And if your cat hates it, you can always remove it.
The surface has a non-stick coating so that you don't have to scrape clumps from the bottom.
The product arrives well-packed with corner protectors to ensure no damage during shipping.
Drawbacks
A few customers note that they're having problems fitting the lid on the pan and that urine leaks between the enclosure and the pan.
What Do Cat Owners Say?
Most cat owners are very happy with the iPrimio's design, durability, and height and share that cats quickly get used to the pan.
And as you can see from this video, the sides are high enough to prevent your cat from making a mess on the floor, no matter how much it digs.
But several reviewers don't like the holes for the customer scoop holder because they allow litter and urine to spill, especially for cats that pee high.
On the bright side, iPrimio has great customer service, so you can get a refund if you're not happy with the product.
#2 iPrimio Ultimate Stainless Steel XL Cat Litter Box
As I already said, the iPrimio Ultimate Stainless Steel Cat XL Litter box is one of the most popular options.
But if the enclosed version isn't up to your cat's liking, the basic pan one has all the pros you want from such a box.
Benefits
Ergonomic design with rounded edges and NO sharp spots.
Never absorbs odor. Like, never ever. It also never collects any residue and is 100% rust-free.
XL size is 23.5″ x 15.5″ x 6″, making it big enough for even large cats like the Maine Coon. The roominess of it also appeals to cats who are apprehensive about using it.
Rubber feet on the bottom to keep it from sliding all over the place
Easy to clean thanks to the stainless steel and the nonstick coating.
Drawbacks
The only downside (aside from no lid, which as we said is common to all stainless steel boxes): it only comes in one size.
What Do Cat Owners Say?
But as this YouTube reviewer says, she loves iPrimio stainless steel cat toilet box because it's more durable than plastic ones, and its size is perfect for controlling litter scattering.
The iPrimio litter box also comes with a guarantee. If you're not satisfied with it, they'll give you a refund. And as you can see from this video, it's very easy to use.
#3 Yangbaga Stainless Steel Litter Box
The Yangbaga stainless steel litter box comes in two sizes. The large is the same size as the iPrimio.
The "Standard" measures 19.68″×13.78"×6", making it a good choice for those with smaller breeds, like the Munchkin cat.
Benefits
Totally non-stick. Even the sticker label peels right off.
Extremely sturdy stainless steel that can hold up against active cats.
Completely odor-free
Environmentally friendly, compared to plastic
What Do Cat Owners Say?
As you can see, the features are pretty similar to the iPrimio. Honestly, you're not going to find many variations between the top three stainless steel litter boxes.
It is a couple of dollars cheaper than the iPrimio, making it a good choice for those on a tight budget.
And as this reviewer notes the box is of excellent quality and the metal isn't thin. Moreover, she likes the non-slip rubber feet on the bottom.
#4 MEEXPAWS Stainless Steel Cat Litter Box
Some cats love digging so much they fling litter all over the floor and track it over the whole house. In this situation, Meexpaws stainless steel toilet can make a huge difference.
Benefits
Meexpaws's box measures 17.72″ x 13.78″ x 3.94," so it's spacious enough for cats under 12 pounds and not very high, perfect for small cats and kittens.
The stainless steel box comes with a waterproof shield guard to protect your walls and floors from cat urines and clumps.
The shield is easy to assemble, install around the litter box, and maintain.
You get a waterproof cat litter mat to reduce tracking around the house and keep your floors mess-free.
The box comes with a metal scoop, which is more durable and efficient than plastic ones.
It's more affordable than other models because it comes with excellent extras, such as the splash guard and the metal scoop.
No need to worry about scooping – the smooth surface prevents clumps from sticking to the bottom and doesn't absorb odors at all.
The litter box is available in an extra-large size, suitable for big cats, such as Maine Coon or Siberian.
Drawbacks
The splash shield takes a lot of space, and some cats won't like the enclosed area.
The box sides are lower than other stainless steel boxes I've reviewed.
What Do Cat Owners Say?
Still, most cat owners are very happy with Meexpaw's stainless steel box and share that they don't have any problems with urine leakage or bad smells.
#5 VehiGo Extra Large Metal Cat Litter Box
If you're for a long-lasting stainless steel box for a large cat breed, you can't go wrong with VehiGo and their extra-large metal cat toilet box.
Benefits
The toilet box measures 22.3″ x 14.4″ x 5.9″, so it's slightly smaller than other stainless steel boxes I've reviewed, but it's spacious enough for cats of all sizes and ages.
It's a great choice for households with multiple cats, and the high sides ensure your cat won't be able to scatter granules or sand all over the floor.
It has a non-stick surface to prevent clumps and urine from sticking to the bottom.
The box weighs only four pounds, so it's not too heavy to lift when you have to clean it. But it's not light enough for cats to turn it over when jumping out of the box.
Depth is perfect for cats that like to dig, but some cats may be put off by the feel of metal on their claws.
The ergonomic shape with round edges ensures your cat won't get hurt on any sharp corners.
Excellent odor control
Drawbacks
Some cat owners note that the toilet box is made from thin metal, so it's easy to dent or deform it if you aren't careful.
This metal cat box isn't the best choice for small kittens since they won't be able to climb inside to do their business.
What Do Cat Owners Say?
Still, VehiGo is a great choice for adult cats and most felines get used to the stainless steel surface in a couple of days.
#6 Pet Smoochies Stainless Steel Cat Litter Box
Pet Smoochies' stainless steel cat toilet is perfect for owners who want something versatile, easy to use, and eco-friendly.
And it's relatively cheaper than other models I've reviewed.
Benefits
This stainless steel box measures 15.7″ x 11.8″ x 4″, making it perfect for tiny kittens learning to use a toilet.
The compact size is also an excellent choice for small cat breeds and owners with limited space in their apartments.
The box is small and light so you can carry it with you when you're traveling, and its size is perfect for animal shelters. 
The padded feet keep the box in place so that your cat won't be able to move it and protect your floors from scratches.
It's made from durable stainless steel, and it won't rust, corrode, or absorb unpleasant cat urine odors.
You won't spend hours scrubbing the bottom, thanks to the non-stick smooth surface.
The low-entry is perfect for cats with mobility issues and small pet animals like rabbits and guinea pigs.
The safe round edges ensure your cat won't get hurt when using the box.
Drawbacks
This stainless steel box has low sides, making it easy for cats to kick litter all over the floor. So, it can be a little bit messy, especially if you have a cat that likes to dig.
It's not the best choice for large cats like Mein Coon, Bengal, or Norwegians. Measure your cat well to ensure they have enough space to turn around.
What Do Cat Owners Say?
On the bright side, cat owners are very pleased with the box's sturdiness and durability and highly recommend it.
#7 Ohm Earth Stainless Steel Cat Litter Box
OhmBox by Ohmakers is the last of the stainless steel litter boxes. It doesn't differ much from the previous two, but let's talk features, anyway.
Benefits
The 23.5 x 15.5 x 6.1 inches sizes make it a smidge bigger than the iPrimio XL and the Yangbaga's larger size pan. Yes, only by .1″, but it's something.
Rounded edges make it easy to pick up and keep your cat safer.
Non-stick surface makes cleaning a breeze.
Deep sides help keep the litter in the pan and not all over your floor.
What Do Cat Owners Say?
One thing that sets OhmMakers apart from the others: they donate a portion of their profits to the MEOW Foundation, a cat-centric no-kill rescue charity.
Pros and Cons of Stainless Steel Cat Litter Boxes
When I first heard about stainless steel litter boxes for cats, I thought surely it was a typo Surely they meant "stainless steel litter scoop" instead!
It sounded outlandish! I've had cats for more than half of my life now, and for 99% of that time, I've always just used a plain old plastic box.
Sure, some had lids and some didn't. Some were semi self-cleaning and others were practically little robots. Still, they were all made of plastic.
So why would I want to switch to a stainless steel litter box? More importantly, why should you?
Pros
1. Stainless steel lasts longer than plastic
The most obvious reason to switch is durability. Stainless steel is stronger than plastic, plain and simple.
It will last you longer than the average plastic pan.
2. Not nearly as smelly
If you can't stand the odor of a litter box (and really, who can?), you'll love stainless steel. It doesn't absorb odors quite as much as plastic does.
Here's a story to illustrate this. My son loves milk, and he usually drinks it out of a travel mug of some sort so that he doesn't spill it on his keyboard when gaming.
He is a teenage boy, which means he often forgets to bring his cups downstairs. That means forgotten milk can sit in a cup for days.
We have both plastic and stainless steel travel mugs. I've thrown out countless plastic ones because once that rancid milk odor gets in there, it never comes out.
I've yet to throw out a stainless steel mug for the same reason!
3. Easier to clean
I know stainless steel appliances have a rep for being a pain to clean, but litter boxes don't quite have the same issue.
See, with appliances, the problem isn't so much that they are hard to maintain, but that little things like smudges and fingerprints show up a lot easier.
With a stainless steel litter box, you're not buying it for the show, so it's not such a huge deal. Aside from smudges, stainless steel is a lot easier to clean than plastic!
Cons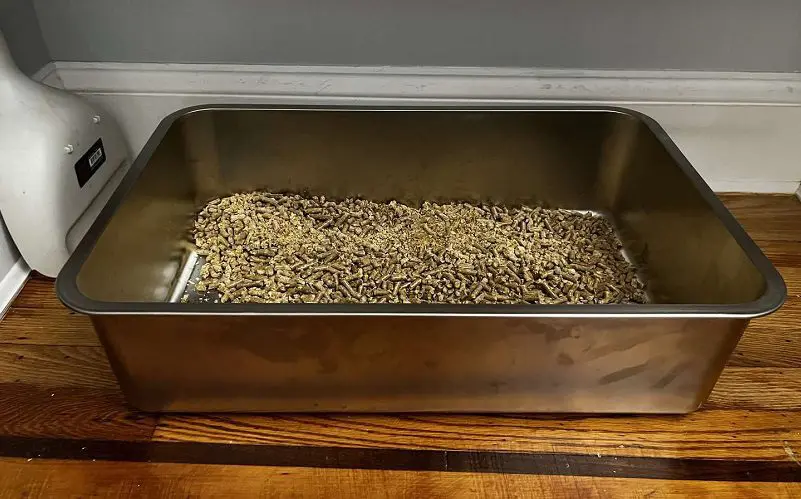 Of course, there are also drawbacks. Not many, but a couple. Let's see what they are.
1. Higher cost
Stainless steel will almost always cost more than plastic, and that's true with litter boxes made of the material.
While there are exceptions (I've seen some crazy expensive plastic boxes that weren't even self-cleaning), overall a steel box costs at least double the price as plastic.
Of course, it lasts longer, so you don't have to replace it as often. In the long run, it may actually save you money.
2. They don't usually come with lids
If you're looking for something that also has a stainless steel litter box cover, you'll be hard-pressed to find it.
None of the stainless steel boxes that I found have a lid.
3. Your cat might not use it
Cats are very fickle creatures, and there is a strong chance your kitty will simply refuse to go into the stainless steel box.
Of course, there's a chance they won't use a new plastic one, either, so there's that.
I had this self-cleaning one (not robotic, but you'd tip it and it would send the litter into a pan) that my cats wouldn't go near. It ended up getting recycled because I couldn't return it.
That's about it. There really aren't many cons to using a stainless steel litter box.
FAQs
Final Word
Usually, I'd say something here like "these are all great stainless steel litter boxes for cats, but I love the." Honestly, they're all pretty much the same, but there's one that stands among the rest.
Of course, I'm talking about iPrimio's stainless steel box with an enclosure.
It's one of your best choices because it's large, deep, and the enclosure keeps the mess inside the litter box, no matter how much your cat loves to digs.
Do you have a stainless steel litter box for your cat? Share your thoughts and experiences below.
Last update on 2023-09-27 / Affiliate links / Images from Amazon Product Advertising API