Are you wondering which the best litter for Litter-Robot is?
An automatic litter box is great when you're tired of daily scooping, but as you'll find out, the type of cat litter matters.
Fortunately, we're here with our top picks of the best cat litter for Litter-Robot.
Start with my absolute favorites, then read on for all of the details!
Litter Robot Cat Litter Top Picks at a Glance
Best Cat Litter For Litter Robot (With Reviews)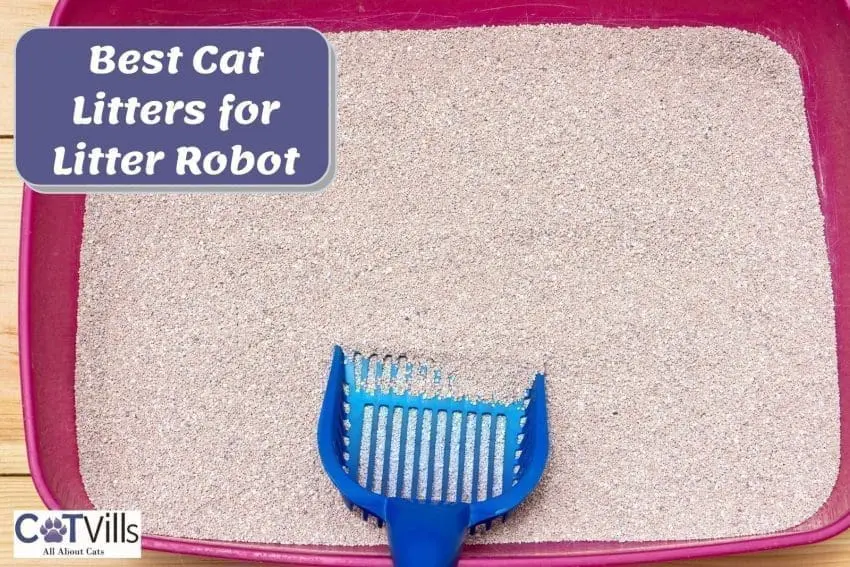 There's one thing that all cats hate with a passion, and that's a dirty toilet box.
So, it's no surprise that a study identifies a clean box as the key factor in promoting proper litter box use.
Unfortunately, keeping the toilet box up to your cat's standards is not always easy, especially when you have multiple pets and multiple boxes.
But self-cleaning litter boxes, such as Litter-Robot, can make all the difference and cut your work in half.
The question is to pick the right fresh litter to get the most benefits.
So, let's see our top 10 picks and what we like about them. 
#1 Winner: Boxiecat Premium Clumping Clay Cat Litter
Boxiecat is an excellent brand for single-cat households or multi-pets with its extra-strength clumping abilities. 
Physical Attributes
Boxiecat has one of the best litter for Litter-Robot Open Air due to its extra clumping power, low-dust formula, and low-tracking granules.
The litter boasts an advanced odor-control formula, which ranks high among veterinarians for its success in reducing cat urine smell.
It absorbs urine/feces well and forms hard clumps on the top so that the cleaning cycle can scoop the dirty litter from the box with ease.
Boxiecat also doesn't contain any unnatural ingredients or fragrances that could irritate your furry friend's sensitive system.
Owners also share positive personal experiences with this product and recommend it for all toilet box types.
Measurements
Available in a 16-pound or an 18-pound bag
Benefits
Premium clay
Natural probiotic
Advanced odor-control formula
Suitable for smelly cats, multiple households
You can get your money back if you're not satisfied.
It's soft on the paws, so cats like digging in it.
Drawbacks
Some owners say that the particles are too small
Not the cheapest option
It's not a no-tracking litter
How it Compares to Others
Compared to other Boxiecat products, the Extra Strength one features advanced probiotic-powered odor control.
Unscented, less dusty, and longer-lasting than similar brands
Boxie Cat also recently improved the formula for 99.9% dust reduction!
Tips
Boxiecat is a great choice for a traditional litter box as well as an automatic one.
You can reseal the bag to minimize odor around the house. 
#2 Runner-Up: Whisker's Premium Cat Litter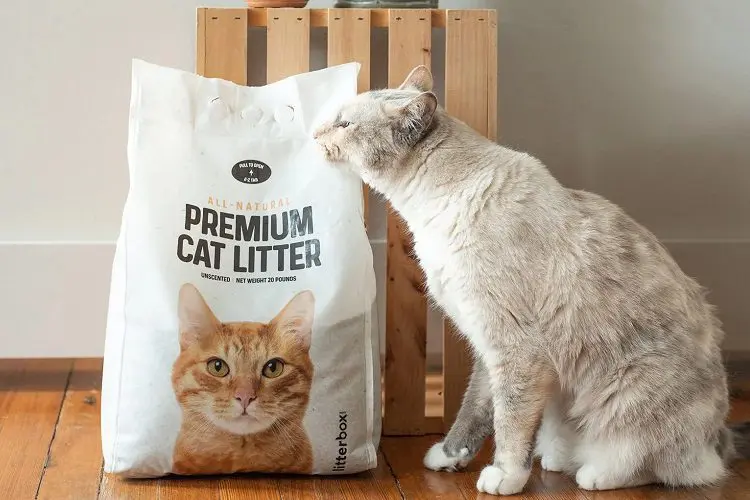 The best brand of cat litter to use with Litter-Robot comes from the manufacturer.
Physical Attribute
This premium brand from Whisker is made from a single ingredient – sun-dried clay for maximum dust reduction and low tracking.
It doesn't have any added fragrances, chemicals, or additives and has a soft texture to appeal to your cat's sensitive paws.
Measurements
The product arrives in a big bag of 20 pounds, enough to last a month for a single-cat household. You can purchase several bags, depending on how many cats you have.
Benefits
All-natural ingredients, perfect for sensitive cats and cat owners with allergies and asthma
Absorbs and locks moisture in and reduces unpleasant odors
You can subscribe and have it delivered to your doorstep every month, every two months, or every three months.
No extra shipping costs within the USA
Low-dust, low-track formulate to reduce the mess around the house
It has a fine, soft texture, so it won't hurt your cat's paws.
You can skip a month or cancel your subscription anytime.
The clay is harvested in the USA for the best possible quality.
Drawbacks
Not the cheapest option, and you don't get a discount for purchasing multiple bags.
No added baking soda or other odor-controlling agents (you can purchase an OdorTrap separately).
Not available for international cat owners.
How Does It Compare to the Others
This brand features sun-dried clay instead of flash-dried one for improved textured and better absorbent power.
Long-lasting and excellent absorbent power, when compared with other brands
Only available in 20-pound bags
Tips
Be careful if you're using this brand with kittens because it's dangerous if they ingest too much of the clay.
You can cancel your subscription up to five business days before your next shipment.
#3 Best Low-Dust: Fresh Step Clumping Cat Litter
If you're looking for the best litter for automatic litter boxes, you won't be disappointed by Fresh Step and its low-dust formula.
Physical Attributes
Fresh Step Advanced forms small, hard clumps for easy cleaning, so it won't stick to the bottom or sides. Fragrance-free and chemical-free, so it's a great choice for sensitive cats or animals/people with allergies.
Plus, it boasts activated charcoal to reduce the odors for 10 days AND it's 99.9% dust-free for a minimum mess around the house and reduced tracking
Measurements
Available in a box of 18.5 pounds and 37 pounds
Benefits
Virtually dust-free
ClumpLock technology
Activated charcoal for great odor control
Drawbacks
Pet owners report that the product has a subtle scent, so it's not completely unscented.
It sticks to the cat's paws. 
How It Compares to Others and Why
Premium scoopable clay with ClumpLock technology
Has activated charcoal for better odor control
Longer-lasting compared to the competition
How the Product Evolved
Improved Fresh Step unscented formula with no added dyes
Available in scented variant
Tips
If you've got multiple cats, go for Fresh Steps Multi-Cat's product.
#4 Best Budget-Friendly: Dr. Elsey's Premium Clumping Cat Litter
Dr. Elsey's has an excellent product for a pet owner on a tight budget or a multi-cat household.
Physical Attributes
Dr. Elsey's is made with safe, natural ingredients with no unpleasant odor, which are soft on the paws.
It's great for Litter-Robot 3 Connect and other automatic boxes because of the heavy non-tracking granules that form hard clumps
Plus, the medium-grain unscented clay traps moisture on the surface and doesn't get all sticky on the bottom!
Quantitative Measurements
A bag of 20 pounds or 40 pounds
Benefits
A dust-free formula for a clean house and clean floors
Clumps don't break, so it's easy for the clean cycle to scoop them 
Most customers have a pleasant experience with Dr. Elsey's  
Drawbacks
Cat owners complain of unpleasant ammonia smell
Might stick to the fur of long-hair cats
How It Compares to Others and Why
Hypo-allergenic and great for cats with allergies
Combines non-tracking classic granules with medium-grain clay for superb clumping power
Great for multiple cats
How the Product Evolved
Comes in a bag instead of a box
Expert Tips
#5 Best Biodegradable: SmartCat All Natural Clumping Cat Litter
Cats owners, who want something eco-friendly and biodegradable, won't be disappointed by SmartCat and its product.
Physical Attributes
SmartCat has quick-clumping action so that a clump forms almost immediately after your cat does its business. It doesn't contain any fragrances or perfumes to irritate your cat's respiratory system.
It's also a dust-free formula to avoid dust clouds, which is great for people with allergies
Quantitative Measurements
A bag of 5, 10, or 20 pounds
Benefits
Made from GMO-free green grass
Biodegradable and light
Pleasant texture, which is soft on the paws and doesn't stick
Available in a 5-pound bag, so you can try it without spending too much
Drawbacks
Too much tracking
Doesn't control odor very well
How It Compares to Others
Longer-lasting than most biodegradable brands
Better for the environment
Finer particles than other models, which explains the high tracking
How the Product Evolved
A new lightweight version is available
Tips
Some cats are attracted to SmartCat's product and may try to eat it. Observe your feline friends and prevent such accidents.
Customers report they've used SmartCat's product with Litter-Robot and other electric boxes with great results
#6 Best Low-Tracking: Frisco Multi-Cat Clumping Cat Litter
Frisco Multi-Cat's brand is one of the best non-tracking litter great for pet owners who are sick of paw prints all over the house.
Physical Attributes
Frisco is a Chewy exclusive that's made with all-natural clay. It contains no added fragrances or dyes, so it's a great choice for cats with allergies.
It absorbs well and forms firm clumps for easy cleaning, especially for automatic toilet boxes.
My favorite feature though is the superb deodorizing system for maximum odor reduction!
All-natural clay
Deodorizing system
Quantitative Measurements
Available in a bag of 20 or 40 pounds
Benefits
Great at neutralizing odors
Hypo-allergenic
Great for mechanical boxes, pans, and self-cleaning boxes
Most customers report a minimal amount of tracking
Fine particles, which are suitable for declawed cats
Drawbacks
Can be dusty, so it's not a great choice for people with allergies
The bag isn't resealable and can be heavy to carry around
How It Compares to Others
Special formula to neutralize odors
Suitable for multiple cats
Resembles dirt to appeal to a wide range of cats
How the Product Evolved
Available in a scented variant with an improved odor-defense technology
Tips
Since the bag isn't resealable, make sure you store it in another container to prevent moisture from getting inside.
I recommend putting it in a tub with handles because as I said, it is very heavy when the bag is full.
#7 Best Lightweight: Purina Tidy Cats Clumping Cat Litter
Purina Tidy Cats has an excellent product if you're sick of heavy boxes and litter scattering everywhere.
Physical Attributes
Purina Tidy Cats is a pretty well-known brand with a great reputation.
This particular litter clumps well and doesn't stick to the bottom, so Litter-Robot cat litter boxes won't have problems cleaning the mess.
It also locks in odors for 14 days when used as directed, thanks to its 4-in-1 strength formula
Quantitative Measurements
Available in a box of 17 pounds
Benefits
Natural clay and minerals
Easy-to-carry box with handle and waterproof bag inside for maximum moisture protection
A deodorizing system
Drawbacks
Customers report that the box is hard to open
Has a strong scent to block unpleasant odors, so it's not the best for people with allergies or pets with respiratory problems
How It Compares to Others
Easier to store than other brands thanks to the waterproofed bag inside
Recyclable box
As dusty as other brands
How the Product Evolved
Purina Tidy Cats has over 70 years of experience in the field, and they're constantly improving their formula and design for maximum client satisfaction.
Improved box design with handles for easy pouring
Tips
If you're not satisfied with Tidy Cat's products, you can reach the company, and they'll refund your money.
Keep in mind that you'll need to use more lightweight litter to reach the required amount for the weight sensor.
#8 Best for Multiple Cats: World's Best Cat Litter
World's Best Cat Litter is one of the leading brands on the market with its super-absorbent properties, so it's no surprise they're on our list.
Physical Attributes
This litter is made from whole-kernel corn, making it a unique option for those who want something more natural.
It's silica-free and unscented, with a fast-acting formula for ease of cleaning and less mess in the toilet box
Quantitative Measurements
Available in a box of 32 pounds
Benefits
Free of artificial ingredients, chemicals, and scents
Even picky cats like its texture
Low-tracking and low dust since it's silica-free
Flushable and easy to dispose of
Most customers have a positive experience with this brand and automatic toilet boxes
Drawbacks
Not the cheapest option
Some pet parents complain that it doesn't eliminate cat waste odors as well as expected.
How It Compares to Others
Biodegradable and better for the environment
Longer lasting than other brands
Less tracking and dust than clumping brands
How the Product Evolved
New box package for convenient pouring
Tips
While this brand is flushable, don't flush cat waste down the toilet.
#9 Best for Odor Control: Arm & Hammer Double Duty Cat Litter
No one likes it when the regular litter box or the automatic one stinks, so Arm & Hammer has you covered with their Double Duty sodium bentonite product.
Physical Attributes
Another popular brand, A&H's Double Duty clay litter with baking soda absorbs cat waste well and forms rock-solid clumps for quick cleaning.
It's designed to neutralize urine, feces, and bacteria, thanks to its special deodorizing system with baking soda and fresh fragrance
Quantitative Measurements
Available in a box of 14, 40, or 26.3 pounds
Benefits
Works great with traditional and self-cleaning toilet boxes
A moisture-lock formula to trap unpleasant odors from escaping the box
Suitable for cats of all life stages
Great customers reviews, praising its low-dust and low-tracking properties
Drawbacks
Pet parents point out that boxes are heavy to lift and that it's not easy to pour the granules into the toilet box.
This Arm&Hammer product has a light scent, which may put off some felines from using their toilet box.
How It Compares to Others
Advanced odor control formula with a light scent for ultimate odor reduction
Less dusty than other brands
Reasonably priced
How the Product Evolved
New package without top handles and pour spout
Tips
Check Arm&Hammer's store if you're looking for something without scent or suitable for multiple cats.
#10 Best Unscented: Scoop Away Clumping Cat Litter
No products found.
Scoop Away is another great brand for Litter-Robot self-cleaning boxes, especially if you want something effective without a strong fragrance.
Physical Attributes
While it's not my top pick for the Litter-Robot, Scoop Away is my go-to litter for traditional boxes. I love it because it works great AND is more affordable than most of the other leading brands.
This particular formula is made with clay and contains an ammonia shield to help prevent odors.
Quantitative Measurements
Available in a 25-pound box
Benefits
Ultra-strong clumping formulate for mess-free cat toilet box
Eliminates litter box odor for 7 days, thanks to its powerful antimicrobial agents
Unscented, so it's great for cats with sensitive noses, chronic respiratory problems, or allergies
Comes in a convenient box for storage and easy pouring
Drawbacks
Too dusty, according to customers' reviews
It does track a bit
How It Compares to Others
Not as long-lasting as other brands we've reviewed
Better odor control and less tracking than similar products
How The Product Evolved
Available in a scented variant, suitable for multiple cats
Tips
Your cat might need time to adjust to Scoop Away's texture, so start with a thin layer on top of your normal brand. Refill the entire box with Scoop Away after a couple of days.
#11 Best Extra Absorbent: Ever Clean Clumping Clay Cat Litter
Ever Clean is the brand to choose if you want a high-quality litter that won't mess up your cat's toilet box.
Physical Attributes
Ever Clean may not be the best-known option, but it's definitely one that should be on your radar.
The natural clays and minerals in the formula lock moisture and clump into hard particles as soon as it comes into contact with liquid while the activated carbon neutralizes odor.
Quantitative Measurements
Available in a box of 25 pounds or a pack of four 10.5-pound bags
Benefits
The low-dust formula for clean surfaces
Eliminates strong odors for up to 14 days
Great texture for digging and soft enough not to irritate your cat's paws
Drawbacks
Too dusty for some customers
Not the best choice for multiple cats
How It Compares to Others
Premium high-absorbent granules
Activated carbon for odor control instead of baking soda or fragrances
How the Product Evolved
Improved formula
Available in a box or a pack of 10.5-pound bags
Tips
If you have a kitten, make sure they don't eat this brand since clumping clay can cause digestive problems.
3 Things To Consider For Best Cat Litter For Litter-Robot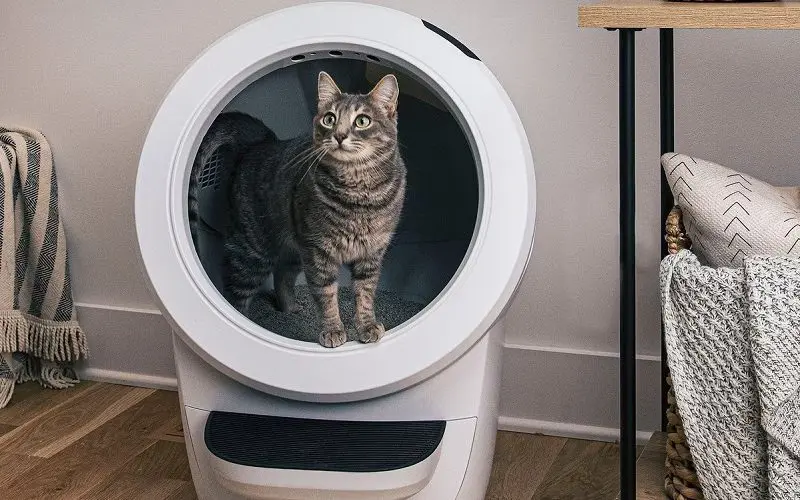 Let's talk a bit about the most important features to consider when shopping for Litter-Robot cat litter.
Type of Litter
Choose a high-quality, clumping brand. It doesn't have to be clay, but it should absorb well.
Otherwise, moisture will seep to the bottom and get everything sticky.
Low-Tracking and Low Dust
While most brands are advertised as low dust and low-tracking, some are better than others in this regard.
Check the customer reviews to see how much dust/tracking you'll have to deal with.
Scented/Unscented
Fragrances can mask the unpleasant odor of cat urine and feces, but they can also make the smell more pungent.
Some cats also avoid their toilet box because they hate certain smells.
Opt for an unscented brand whenever possible or choose a scented brand with a subtle aroma.
FAQs
Final Word
Self-cleaning litter boxes are a great way to keep your house odor-free, promote good bathroom habits, and reduce tracking.
But it takes time for cats to get used to such a toilet box since it's noisy. So don't be surprised if there are accidents.
The important thing is to pick a brand that your cat is comfortable with and one that clumps well. If possible, go for small bags until you find the one that works best for you. 
All the brands we've reviewed are a great choice for an automatic toilet box, but there's one that stands out among the others. We're talking about the Boxiecat cat litter.
We highly recommend it as Litter-Robot's best litter because it absorbs liquid well, clumps on the stop, and is less dusty than most brands. It also eliminates odors and has a pleasant texture.
For you, what is the best cat litter for Litter Robot? Let us know in the comments below!
References:
Last update on 2023-11-28 / Affiliate links / Images from Amazon Product Advertising API