Wood pellets for cat litter is slowly becoming popular these days as it is said to be more environmentally friendly, being made from biodegradable material, and efficient, compared to traditional cat litter.
It is becoming a popular option to traditional clay litter for many cat owners as a natural alternative since they absorb liquid and provide effective odor control compared to regular cat litter.
Just like other types of litter, they do have advantages and disadvantages too so it's smart to know about them before deciding to make that switch.
Let's start with a quick look at our top picks, then keep reading for all the glorious details.
Our Top Picks at a Glance
7 Best Wood Pellets Cat Litter (With Reviews)
These are some of the recommended wood pellets that you can check out if you plan to shift from using traditional clay cat litters.
#1 Winner: Feline Pine Cat Litter
One of the primary reasons why you would shift to using wood pellets as a natural pellet litter is your concern for the environment.
Of course, you also want something that's easy to find and use. That's where FelinePine really shines!
Benefit
It's made with natural pine
Includes baking soda to help mask odors
Not as dusty as other natural litters
Very absorbent
Drawbacks
Only comes in really large bags
Fairly pricey since you have to commit to a big bag
Features
Paired with an eco friendly litter box, this is probably the best option out there when it comes to all-natural cat litter wood pellets that can address your environmental concerns.
The usual downside of typical wood pellet litter is that it produces a lot of dust after it dries up from being soaked. With Feline Pine Cat Litter, the dust produced isn't as much as other types of wood pellets.
Since it makes use of natural pine trees and food-grade baking soda, it is free of any harsh chemicals or dyes. This makes it pretty safe for your feline pet to use.
When it comes to absorbency, Feline Pine tops them all too! It is able to absorb urine pretty fast. The use of baking soda and southern yellow pine tree is a perfect combination that provides outstanding odor control too!
The pine used provides a natural scent that easily masks unpleasant odors coming from ammonia in cat urine so your
It would have been great though if the manufacturer could come up with smaller packs of this cat litter, compared to the big bags that it sells.
The initial cost comes up pretty high, especially if you are a first-time user who plans to try out this brand of litter.
Otherwise, this is pretty much what you would look for in cat wood pellets, which justifies why it is on the top of the list.
#2 Sofest Pellets: ÖKOCAT Wood Clumping Cat Litter
ÖKOCAT Wood Clumping Cat Litter
Natural Cat Litter: Our next-generation, plant-based, premium...
Exceptional Odor Control: Wood fiber naturally prevents enzymes from...
Clumping Litter: Precision cut wood fiber absorbs liquid on contact,...
Benefits
Multiple sizes, so you can try out a smaller box before committing
No synthetic chemicals
7-Day Odor Control
Drawbacks
Tracks quite a bit compared to others
Features
One of the better features of this wood litter is that for a natural litter, it clumps up pretty well.
In fact, it is actually one of the best non-clumping wood pellet litter out there. This makes daily scooping easier to do. It also doesn't result in too much dust so it won't be a source of allergies in your home.
The litter comes in various sizes so you can choose one that your kitty can easily adapt to. Another one of its better features is its 7-day odor control to help you maintain that fresh and clean feeling in your home.
As for safety, this brand doesn't make use of synthetic chemicals that can harm your kitty, not like other forms of pellets.
The not-so-good thing about this brand though is that it can leave a bit of tracking litter every now and then. This probably will cause a bit of inconvenience on your part, especially if your cat uses a top entry cat litter box.
It would be good for you to check for tracking litter every now and then so you can immediately sweep up any that your cat may leave behind.
These are sold in different sizes so you can initially buy a small bag for you to try.
#3 Best For Multiple Cats: Kaytee Wood Pellets Cat Litter
If you're looking for a great wood pellet litter that you can use for multiple pets, you can't go wrong with this one!
Benefits
Very absorbent pellets
Can be used for cats as well as small pets
Affordable
Drawbacks
When wet, they turn into sawdust
Not the best odor control compared to others
Features
The advantage of this brand is that it can be used as wood pellets for other animals such as rabbits and guinea pigs, and not only as cat litter pellets.
It doesn't contain much dust and it comes in different sizes. Larger pellets may be ideal for your pet cat since it won't stick much to his paws, thus avoiding tracking.
Although these pellets turn out to be quite absorbent, one problem is that they turn into sawdust once they get wet with liquids and dry up. You will probably need to change to fresh pellets more often as a result of this.
Odor control isn't as good as the first two mentioned, so leaving them in the litter box for a long time may result in unpleasant odors.
#4 Most Absorbent Pine: Simply Pine Wood Non-Clumping Cat Litter Pellets
Simply Pine Wood Non-Clumping Cat Litter Pellets
Pine Pellet Cat Litter: Our sustainable, natural, wood pellets are...
Superior Natural Odor Control: Pine litter pellets naturally control...
Non-Clumping Litter: Pellet litter soaks up 3X more liquid than...
Wood pellet litter is pretty much earth-friendly. Simply Pine takes the environment even more seriously by making use of sustainably-resourced pine wood.
Benefits
Easy-to-use non-clumping litter
Low dust formula
Absorbs very well
Drawbacks
Pine scent
Not the best odor control
Features
These pellets are made from biodegradable material and are compostable so it is completely safe for the environment.
It is pretty absorbent. In fact, it is three times more absorbent than clay-based litter.
Despite Simply Pine being a non-clumping pellet litter, it still is quite easy to use. It also doesn't result in too much dust when used so you and your cat won't have to worry about allergies when using this litter.
This litter doesn't make use of chemical additives so it is pretty safe to use. It comes in big packaging so it is a pretty good choice for homes that have more than one pet cat.
It has a mild natural pine scent that is good enough to mask unwanted odors, but you may have to change dirty litter quite often since this doesn't fare well in terms of odor control.
#5 Best Low-Dust Option: Next Gen Cypress Fresh Cat Litter
This wood pellet cat litter is made from Japanese Hinoki, which is actually a type of Japanese cypress. It is a form of softwood that becomes pretty absorbent when turned into pellet form.
The green tea scent helps mask odors which makes it pretty efficient when it comes to odor control. The addition of green tea leaves helps decrease bacterial growth which may actually be harmful to your pet.
Benefits
Added green tea leaves to decrease bacteria
Completely sustainable
Low dust
Drawbacks
Some may not like the green tea scent
Features
If you are into saving the environment (which is such a good thing), you should really check out this natural litter. It makes use of recycled wood and natural wood fiber making it completely sustainable.
It is a low-dust type of litter so you and your cat won't have to worry about silica dust that may actually be bad for respiratory health.
These pellets come in smaller sizes compared to other types of cat wood pellets so your cat might find it easier to transition from traditional clay litter.
Overall, this is a good alternative to clay litters but clumping may still be an issue. Clumping clay litter still does better so the scooping process may still get a bit tedious when using these pellets.
#6 Unique Option: Cature Wood Clumping Cat Litter
No products found.
While, as the name implies, I am Tofu is NOT technically a WOOD pellet cat litter, it's still among the best options for a more eco-friendly and natural litter box.
Benefits
Made with tofu, so it's highly sustainable
100% Biodegradable
Flushable
Drawbacks
Expensive
Some complain that it doesn't dissolve fully
Features
The completely biodegrable litter is actually made from 99% dust-free and tracking-free tofu. Yep, tofu. It's one of the few pellet-style litters that you can actually flush down the toilet, too.
Of course, if you prefer to scoop your litter box, you'll be happy to know that this brand clumps fairly well.
This is definitely one of the more unique pellet options. As with all new formulas, it's not without its complaints. Some users said that it doesn't really dissolve, calling the "flusability" of it into question.
Others felt that it was too pricey for how long it lasts (roughly a week).
However, many customers absolutely loved it, giving it a solid 4-star rating. One user also pointed out that these pellets work in the Tidy Cat system, although using them for it may void your warranty.
#7 Weruva Clumping Wood Cat Litter
Weruva Cat Litter
It's a Tea Potty! All natural cat litter made with Hinoki Wood & Green...
One big bag usually lasts one cat 50 Days - Long lasting odor control...
Pelleted cat litter made with sustainably sourced hinoki wood and...
Last, but far from least, Weruva (the same company that makes some of my cat's favorite foods) has a terrific green tea option!
Benefits
Uses green tea for odor control
Biodegrable and environmentally friendly.
Drawbacks
Not the lowest-tracking option compared to others
You need to use a wide-slotted scoop
Features
Just like Next Gen Cypress Fresh Cat Litter, this also makes use of Hinoki wood with green tea so it is pretty good in masking nasty urine odors.
It doesn't make use of any add-on scent, but instead, relies on green tea for odor control. Unlike clay litter, this litter doesn't use harmful additives like sodium bentonite.
Additional additives like these may be harmful to your health, but most especially your cat's.
Cats sometimes tend to lick or may accidentally swallow litter pellets. Using litter without additives makes these types of wood litter pretty safe to have.
It, too, is biodegradable just like other types of wood pellets so it is pretty environment-friendly as well.
You may still have some bit of tracking when using Weruva Wood Cat Litter. It also may be better to use a wide-slotted scoop when using the litter for easier handling.
How To Choose The Best Wooden Pellets Cat Litter?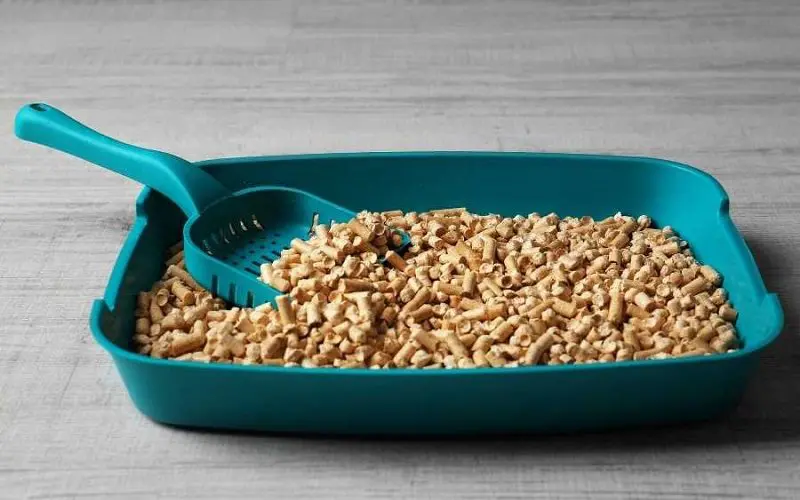 If you are new to using wooden pellets, it would be best to check for the following features:
Odor control in order for you to make sure that the surroundings always smell clean and fresh.
Free from harmful additives since additives in cat litter may be dangerous for your cat.
A low-dust or dust-free formula is better than high-dust litters since dust can make you and your cat more prone to respiratory problems and allergies.
Litter that makes use of a lightweight formula is definitely easier to carry around, especially when you have to change litter.
Litter made from sustainable sources and all-natural materials help greatly with the environment so it would be great to get litter made from these kinds of material.
FAQs
ARE WOOD PELLETS GOOD FOR CAT LITTER?
Wood pellet is generally safe to use for cats. Just make sure that they are free of harmful additives that may not be good for your cat.
Pine pellet litter is the safest to use. If you plan to use equine bedding or wood stove pellets, make sure that they are kiln-dried and free of additives as well.
WHAT TYPE OF WOOD PELLETS ARE BEST FOR CAT LITTER?
Pine poods are the best material to use for cat litter since they do not pose much of a health risk for your cat.
HOW OFTEN SHOULD YOU CHANGE WOOD PELLET CAT LITTER?
As a general rule, you will have to change the wood pellet cat litter twice a month for a single cat. That said, you will still have to consider certain factors like your cat's behavior. Other things to consider are the size of your litter box and your cat's age as well.
DO CATS LIKE PELLET LITTER?
It's not that cats don't like pellet litter. They just can be very picky with the litter that they use. They tend to pick litter that they have gotten used to from the time they were kittens and it might be difficult to have them shift to using something else.
They generally like clumping litters with fine to medium texture and they usually like litter that is scent-free. It would be best for you to have your cat try out different kinds of litter in order for you to know what works best for them.
Conclusion
The use of cat litter is something that you cannot get rid of when you have a cat in your home. It is essentially what your cat uses for his toilet needs.
Concerns about the environment have been sprouting lately making an environmentally responsible pet owner want to shift to more environmental-friendly materials — which regular clay litter isn't.
As a cat litter alternative, wood litter may be considered an expensive cat litter.
But since it makes use of wood fibers, it is considered a good way to meet your cat's needs while making sure that you don't add to environmental problems.
It is important to temper expectations when using hardwood pellet litter. Most of them are still considered as non-clumping litter, although some brands have exhibited pretty good clumping almost as well as regular litter.
There is a wide range of wood pellets to choose from. They are all-natural pet litter made from absorbent material that may even be much better than regular litter.
Many of them are even virtually dust-free. Wood pellets may not come at an affordable price so you have to make sure of what to look for.
Make sure that your cat agrees with your choice so that you can make use of healthier clean litter that will be a big advantage to your cat and the world we live in as well.
What are your favorite wood pellets for cat litter? Let us know in the comments below!
Resources: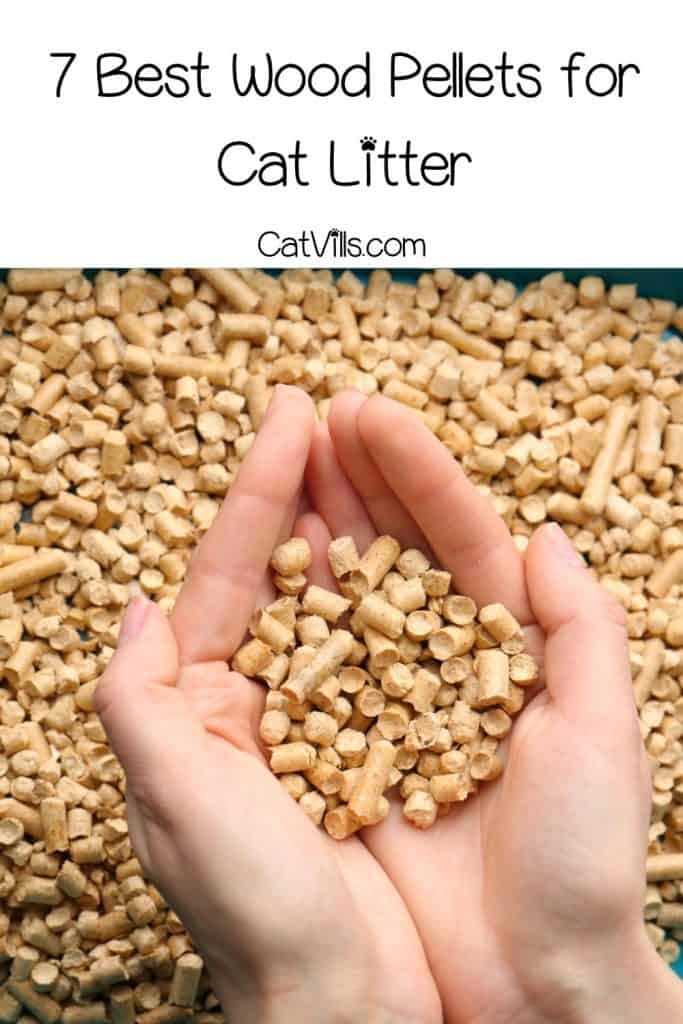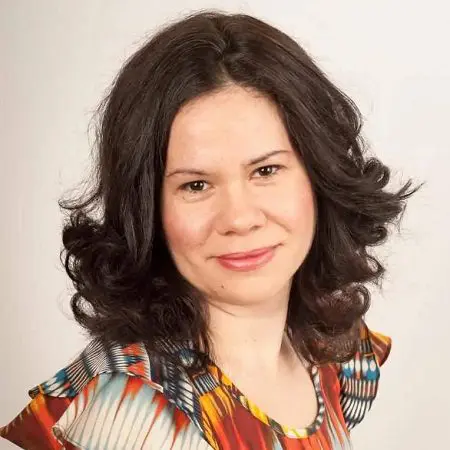 Olfa T
Olfa knows how to get things done and has a keen business sense that others admire. She's always on the go, coming up with new ideas! Her ability to anticipate the needs of her readers and deliver information that they want is what makes CatVills such a success. She loves cuddling her cat Picaciu. He is her inspiration.
Last update on 2023-09-30 / Affiliate links / Images from Amazon Product Advertising API