Are you looking for the best flushable cat litter and want to know more about natural litter alternatives?
While cats are low-maintenance, keeping the cat litter box clean isn't always easy. Forget to scoop it for a day, and the smell permeates the house.
It gets even worse if the old litter has to sit in your trash bin for a few days. Cats also hate dirty litter and are quick to show their dissatisfaction with the smelly litter box by leaving "presents" around the house.
Naturally, when you hear about flushable cat litter, you think it is the solution to all your problems.
But what is flushable litter, and is it as good as it sounds? Let's find out together!
7 Best Flushable Cat LitterS
When it comes to flushable kitty litter, there are several things that matter:
how well the litter clumps and absorbs moisture
is it no track cat litter and dust-free?
does the texture appeal to your cat?
how long-lasting the litter is
Based on these qualities, we've selected flushable litters that show promising results in odor control, absorb moisture well, and appeal to most cats.
#1 World's Best Cat Litter Original Cat Litter
World's Best Cat Litter Original Cat Litter
OUTSTANDING ODOR CONTROL — Keep your cat's litter box smelling...
QUICK CLUMPING & EASY SCOOPING — No more chiseling and scraping...
FLUSHABLE - SEPTIC SAFE — Skip the trip to the trash with a...
Made from whole-kernel corn, the World's Best Cat Litter makes our lists thanks to its superb quality, odor-reducing properties, and dust-free formula.
One of the best things about this litter is its fast clumping properties. Thanks to them, scooping the litter box and keeping it clean have never been easier.
You can say goodbye to scraping and chiseling the mess from the bottom!
Moreover, World's Best Cat Litter is long-lasting and has no artificial fragrance or chemicals that could be harmful to your family and pets.
It also uses a silica-free formula to eliminate dust by up to 99%. No more worrying about breathing dirty particles when you're scooping!
More importantly, World's Best Cat Litter is safe for your sewer and septic tank. It's also lightweight, so it won't weigh a ton if you decide to throw it in the garbage.
The World's Best Cat Litter is also a long-lasting product, which is a big advantage. One bag lasts more than two months and is ideal for homes with one or two cats.
Furthermore, World's Best absorbent litter is available in scented and unscented varieties and 28-pound/32-pound bags.
Pros
Safe for sewer and septic systems
No silica dust
Long-lasting
Traps odor
Available in scented variant
Cons
Owners report a lot of tracking around the house
Mold growth
Recommendation
Most cats also love the texture and like to dig in it.
However, mold growth might be a problem for corn-based litter if you don't clean the litter box.
The fine particles also tend to get stuck to your cat's paws and track around the house. Still, this is one of the best flushable clumping cat litters on the market.
#2 sWheat Scoop Natural Cat Litter
Sale
sWheat Scoop Natural Cat Litter
Multi Cat Litter: Super absorbent, all-natural wheat-based litter for...
Odor Control: Made entirely from flushable, biodegradable wheat, its...
All Natural: sWheat Scoop eliminates odors using natural wheat plant...
sWheat offers us a fast-clumping flushable cat litter with excellent odor control to keep your home free of urine and ammonia smells.
It uses wheat enzymes and starches to trap odor, enhance clumping action, and make the mess easy to scoop.
One of the advantages of sWheat Scoop products is that the manufacturer uses only biodegradable and renewable resources that they grow.
There are no added dyes, perfumes, or harmful chemicals that could put off your feline from using the litter.
More importantly, most cat owners report that their cats like the texture and that it's soft on the paws.
Pros
fast-clumping
odor elimination
biodegradable and renewable ingredients
easy to scoop
Cons
Owners report unpleasant smell and dust
Some cats are allergic to wheat
Recommendation
Since sWheat Scoop natural litter uses only biodegradable ingredients, it's safe to flush it down the toilet.
For best results, you should let the litter soak in the water before flushing to reduce clogging. I also like that sWheat Scoop litter is available for multiple cat households.
It has a formula with twice or three times the clumping power and odor elimination. The other good thing about sWheat's bags of litter is that they're long-lasting.
A 36-pound bag will be enough for a couple of months. However, cat owners have mentioned that this biodegradable litter has an unpleasant smell when wet and that it creates more dust than they expected.
Moreover, some cats might be allergic to wheat litter.
#3 Garfield Cat Litter Natural Cat Litter
Garfield Cat Litter Natural Cat Litter
Backed by vets - The properties of this efficient Cat litter make it...
dust free - Garfield Cat Litter is developed with cats and parents in...
odor control - The natural long-lasting odor elimination properties of...
If you're looking for flushable clumping litter, you might want to take a look at what Garfield Cat Litter has to offer.
They've got an all-natural product made from cassava and corn in the form of tiny white grains.
What's excellent about Garfield's products is that the granules' color allows you to detect changes in the cat's urine.
The small grains also make it harder for cats to track litter around the house.
More importantly, the all-natural ingredients have superb odor-trapping abilities and eliminate all unpleasant smells from the litter boxes.
It's also dust-free, making it safe and vet-approved for cats with feline allergic bronchitis and autoimmune skin disease.
Pros
fast-clumping
lost-lasting odor control
reduced dust
suitable for humans and cats with breathing problems
biodegradable and all-natural
Cons
Owners report tracking
It might be hard on the paws
Recommendation
The litter is perfect for multi-cat houses, and it comes in two sizes: small and tiny grains. Garfield's products also form super clumps to make scooping litter boxes a piece of cake.
While it tested safe for septic and sewer systems, you can't flush more than one or two clumps of this litter at a time.
The manufacturer also doesn't recommend flushing clumps older than 12 hours, which means you'll have to scoop the litter boxes several times a day.
Some cat owners also mention that the litter is a lot harder than expected and sticks to the cat's paws.
#4 Petnf Tofu Cat Litter
petnf Tofu Cat Litter
🐾[Flushable & Environmentally Friendly] Made from all natural pea...
🐾[Double Shot Deodorization-Activated Charcoal & Natural Pea...
🐾[Super Clumping & Easy Scooping] 1.5 seconds fast water absorption...
Have you heard about tofu cat litter? If you haven't, Petnf's product might convince you to give this type of litter a chance.
Unlike other brands made from a single biodegradable material, this tofu litter is made of pea fiber, corn starch, starch, and activated charcoal.
It degrades quickly in water, so it's eco-friendly and safe to flush. Moreover, charcoal and pea flavor remove all unpleasant odors from the litter box and deodorize the air without any chemical ingredients.
Petnf litter also features 2mm pellets for fast clumping, which reduces tracking outside the litter box and makes scooping easier.
It's also light and low in dust, so you don't have to worry about allergy triggers.
Pros
all-natural
double deodorization
biodegradable
low tracking
dust-free
Cons
Not all cat-like the texture
Owners report unpleasant smells
Recommendation
Since Petnf's litter is made of all-natural ingredients, it won't cause issues if your cat decides to try how the pellets taste.
However, some owners report that their cats didn't like the litter's texture since it consisted of pellets.
Some also complained that the litter has a terrible smell and doesn't reduce urine smell as much as they expected.
Fortunately, this flushable cat litter brand is available in small bags of 6 pounds and big ones of 10 pounds. You can give it a try without wondering what to do if the cat doesn't like it.
#5 Okocat Cat Litter
ökocat Natural Wood Cat Litter
Natural Cat Litter: Our next-generation, plant-based, premium clumping...
Exceptional Odor Control: Wood fiber naturally prevents enzymes from...
Clumping Litter: Precision cut wood fiber absorbs liquid on contact,...
Okocat is another exceptional flushable litter brand, thanks to its super clumping ability and lack of artificial ingredients that could harm your feline.
Made from natural wood fibers, Okocat's product clumps solid on contact for easy scooping and reduces the mess in the litter box.
The wood fibers also prevent enzymes from bonding with liquids, reducing the unpleasant smell of cat waste around the house.
Since Okocat knows how much you hate dusty clay litter, the wood fibers are dedusted so that you can enjoy dustless cat litter.
Another advantage of Okocat litter products is that they are available in different styles, such as super soft, less mess, original, and regular.
The super-soft litter has a texture similar to clay, and it's the best cat litter for kittens and cats with delicate paws. The less messy one is perfect for long-haired cats due to its minimal tracking formula.
Okocat also has a non-clumping paper cat litter for cats with respiratory problems and allergies. All their products are also flushable and septic safe.
Pros
biodegradable
available in different styles
lightweight
clumps solid
dust-free
Cons
Recommendation
I like Okocat because their small bag can last around two months for a single cat.
The litter is also available in three sizes-small, medium, and large so that you can test it and see how it performs.
However, some cat owners report that the litter is too big to sift and messy to clean the litter box. Some cats also didn't like the wood pellets.
#6 Next Gen Unscented Green Tea Leaves Clumping Wood Litter
Sale
Another wood-based litter that makes our list of the best flushable cat litters comes from Next Gen.
What's unique about this product is that it uses green tea leaves to control odor and bacteria.
Green tea leaves have astringent and anti-bacterial properties that suppress bacterial growth in the litter box and reduce bad odors.
Moreover, Next Gen litter products are all-natural, without any artificial ingredients or harmful chemicals.
It also doesn't have any silica dust, so it's suitable for people and animals with respiratory problems.
Another advantage of this unscented flushable litter is that the clumps are small and light, making them easy to flush. The remaining litter is also compostable, so you can dispose of it quickly.
Pros
excellent odor control
good clumping power
lightweight litter
all-natural
dust-free
Cons
Recommendation
While the Next Gen clumping wood litter is light, it clumps well and doesn't stick to the bottom.
The small pellet size allows you to scoop any mess with ease, but it also increases tracking since the particles get stuck on the cat's paws.
Fortunately, Next Gen absorbent litter doesn't attract bugs, unlike some corn-based litter brands.
One 5-6 pound bag will also last you for about a month for one cat.
#7 Pretty Litter
Sale
Pretty Litter Cat Litter
Changes color when it detects certain abnormalities in your cat's...
Obliterates odor, even before you have a chance to scoop.
There are two excellent reasons why the Pretty Litter product is on our list and deserves your attention as a suitable substitute for clay-based litter.
The first one is that it's made of silica gel, which absorbs cat urine without clumping. As such, you can flush Pretty Litter in small quantities without clogging your pipes.
Another Pretty Litter advantage is that it changes color based on your cat's urine pH level.
In this way, you can detect kidney or urinary tract problems on time and get your cat to the vet for treatment.
Moreover, Pretty Litter's silica gel has superb absorbent properties to eliminate all unpleasant odors wafting from the litter box.
It's also less dusty than conventional litter, so you don't have to worry about triggering allergic reactions.
I also like that you can have Pretty Litter's products delivered to your doorstep. So, no more hauling heavy bags of litter from the store to your home.
Pros
Natural minerals
Excellent adsorbent properties
Less dust
Detect urine's pH levels
Delivery to your doorstep
Cons
Non-clumping
You have to subscribe.
Recommendation
The bad news is that you have to subscribe to Pretty Litter. You can choose your number of cats and select your plan.
The good news is that one bag should last you for a month, and they offer free shipping. Moreover, you've got a 30-day money-back guarantee.
You can unsubscribe if the litter isn't up to standard or your cat doesn't like it and get a full refund. It's also possible to cancel at any time.
What Is A Flushable Litter?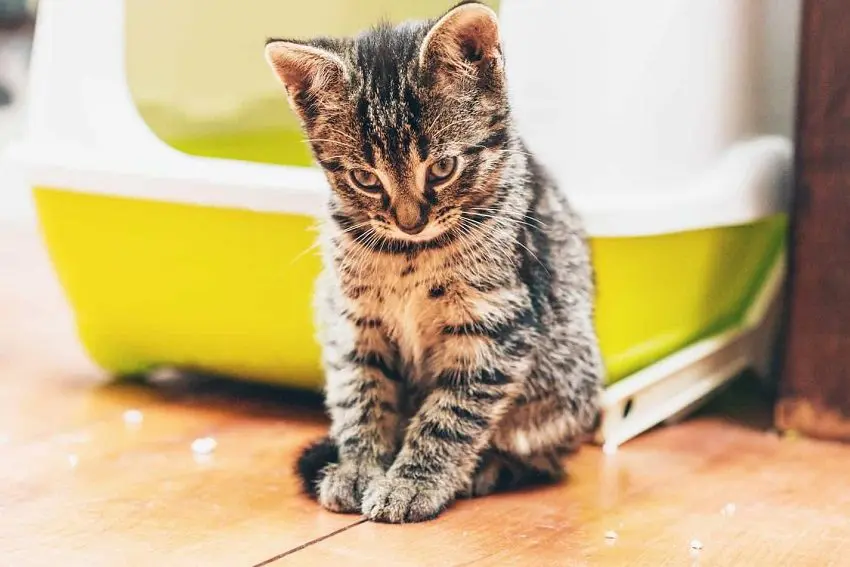 If you don't have access to outdoor garbage bins, flushing litter down the toilet starts to sound like an excellent idea.
What you probably don't know is that you can't flush most types of litter. Many litter brands contain sodium bentonite clay and silica.
The clay absorbs and traps moisture, which makes scooping the litter box easy and reduces the mess.
However, bentonite clay expands and hardens when it gets wet. As such, you can't flush it down the toilet because it might get stuck and clog your septic system.
Flushable cat litter is what it sounds like—tested cat litter that you can flush without worrying about damaging your pipes and septic system.
Instead of clay, flushable litter contains biodegradable materials that won't harden or expand when wet. I'm talking about recycled newspapers, pine, wheat, corn, or cedar.
Since flushable litter sounds so tempting, it has gained popularity, and there are many options on the market. You'd be right to wonder what the best biodegradable cat litter brands are.
Benefits of Using Flushable Cat Litter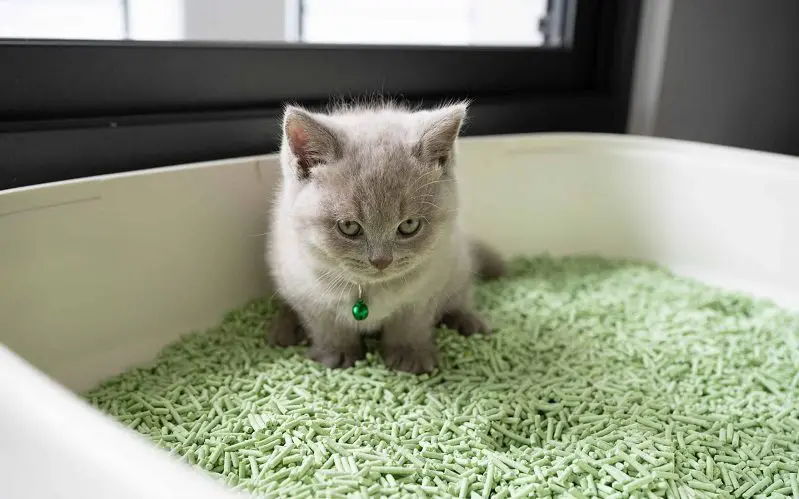 You're probably wondering if it's worth switching out traditional clay litter with a biodegradable one. So, let's talk about the main benefits of flushable litter.
#1 It's Eco-Friendly
Imagine how many indoor cats exist worldwide and how much litter gets thrown into landfills every day.
Clay litter isn't biodegradable, so the negative impact on the environment is vast, especially when you throw it out in plastic bags.
Moreover, to produce clay litter, manufacturers use a process called strip mining. It removes the top layer of the soil to reach the clay beneath.
As you can imagine, it's not good for the environment because you gather tons of clay that you can't recycle afterward.
On the other hand, flushable litter brands are made of natural, renewable sources.
They degrade quickly and don't harm the environment, especially if you dispose of them in biodegradable or paper bags.
#2 No Chemicals
Many litter brands use chemicals to mask the unpleasant odor of cat waste.
Unfortunately, such ingredients can be harmful to you and your cat's health, especially when you breathe in litter dust.
Flushable cat litter uses natural enzymes and ingredients for odor control. It reduces the chances of allergic reactions in humans and pets alike.
#3 Convenient
Last but not least, flushable cat litter is more convenient than ordinary cat litter.
You scoop the clumps and flush them down the toilet instead of wondering where to throw bags upon bags of litter.
Moreover, flushable litter is a lifesaver for people who don't have easy access to outdoor trash units.
Cons of Flushable Litter
Unfortunately, flushable litter has a few disadvantages. You have to keep them in mind before you decide to switch litters and go eco-friendly.
#1 Not All Cats Like It
Unfortunately, cats can be fussy about the type of litter they like to use, and flushable litter has a different texture than bentonite clay.
Depending on the type of biodegradable litter, it might be hard on your cat's paws or feel too strange.
If the cats don't like it, they might refuse to use their litter boxes.
#2 Doesn't Clump As Well
While many flushable litters have excellent clumping power, you shouldn't expect them to clump the same way bentonite does.
That's because the harder the litter, the more likely it is to clog your pipes.
Biodegradable materials are also supposed to degrade quickly when wet, making cleaning the litter box a bit messy.
They also tend to be more expensive than clay-based litter.
#3 Allergy Concerns
Some types of biodegradable litter contain wheat and corn.
These are common allergens and can cause a reaction when you handle the litter or breathe in the microscopic dust particles.
Cats can also be allergic to wheat products, and that might be a problem if your kitty decides to take a bite out of the litter.
Dogs are also attracted to certain types of flushable litter and might attempt to eat it.
Flushable Litter And Your Pipes
Most people have the wrong impression of flushable litter. They expect that you can pour a whole bag of it down the drain without worrying about clogged pipes.
While flushable litter dissolves in water, you have to flush it slowly, meaning one or two clumps at a time. Flushing too much at once is a bad idea, especially for old pipes and sewer systems.
Moreover, keep in mind that not all septic and sewer systems can handle the extra waste and may struggle to dissolve it.
In most cases, litter manufacturers recommend that you wait for the litter to dissolve in the toilet bowl before you flush it. Always follow the provided instructions for disposal to avoid pipe problems.
In general, flushable litter is better for the environment because it's made of biodegradable materials that won't sit for years in landfills.
It's a bonus that you can flush some of it without any issues. But you can't flush cat poop down the toilet.
That's because cats are natural hosts of Toxoplasma gondii, a parasite that infected cats shed in their feces.
It's not dangerous for healthy people, but pregnant women and people with weak immune systems are at risk. T gondii is also harmful to marine mammals and is responsible for seal and otter deaths.
You might contaminate the environment by flushing cat poop because wastewater treatment can't kill T gondii. It's better to play it safe and dispose of your cat's waste properly.
FAQ
IS FLUSHABLE CAT LITTER REALLY FLUSHABLE?
Yes, you can flush flushable litter as long as you follow the provided instructions on the package and have a well-maintained septic tank. Still, it's a good idea to check your local laws and regulations because some might prohibit flushing pet waste.
IS WORLD'S BEST LITTER FLUSHABLE?
According to lab tests and cat owners' experiences, the World's Best Litter is flushable and septic-safe. However, it's still possible to have problems, especially if you have old pipes or your septic system isn't well maintained. To avoid problems, flush one or two clumps at a time.
IS ALL BIODEGRADABLE LITTER FLUSHABLE?
Not all biodegradable litter is septic-safe. For example, Arm & Hammer has excellent natural clumping litter, but it's not recommended for flushing. Check the instructions for use on the package to dispose of the litter properly and reduce the likelihood of clogging.
Final Word
Flushable cat litter is an excellent choice if you're trying to reduce your environmental footprint and have an eco-friendly litter box.
It's also convenient because you don't have to keep the dirty litter in the bin and wait for the opportunity to dispose of it.
However, not all cats like flushable litter, and it might be hard to convince your kitty to try this new texture. You can mix the old litter with the new one to ease your cat into the new litter and see how it goes.
What do you think about these 7 best flushable cat litter brands? Tell us Below!
Resources: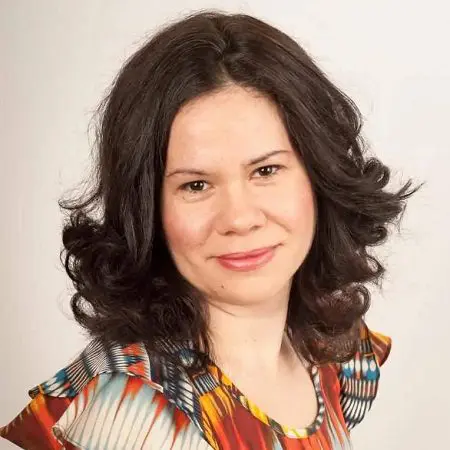 Olfa T
Olfa knows how to get things done and has a keen business sense that others admire. She's always on the go, coming up with new ideas! Her ability to anticipate the needs of her readers and deliver information that they want is what makes CatVills such a success. She loves cuddling her cat Picaciu. He is her inspiration.
Last update on 2023-09-28 / Affiliate links / Images from Amazon Product Advertising API