Are you looking for the best cat Halloween costumes for your feline friends?
Then you won't be disappointed because we've selected 38 of the most adorable costumes for cats to make your Halloween party special.
Just keep on reading.
Let's start with a quick look at our top picks, then keep reading for all the glorious details.
Cat Halloween Costumes Top Picks at a Glance
If you see the value in these products and choose to purchase via my referral links, I may earn a small commission at no extra cost to you.
Don't have time? Here is a quick comparison of our favorites!
38 Best Cat Halloween Costumes
Years ago, dressing your cat for Halloween would have been a crazy idea.
But nowadays, we can't resist taking pictures of our cats in cute pet costumes or spoil them with luxurious products and designer cat collars.
In fact, a 2017 study estimates, "$15.11 billion was spent on items, such as beds, collars, leashes, toys, travel items, clothing, food, and water bowls."
Fortunately, most cat Halloween costumes don't cost a small fortune. So, nothing is stopping you from taking tons of adorable cat pictures. 
Just one teensy note: I know that some of the pictures below show a dog. Don't worry, the costume comes in cat sizes, too!
Let your cat's inner lion come to the surface and scare intruders on Halloween with this fluffy lion mane. It's also so realistic it can give your friends a heart attack!
Spiders might be scary, but there's nothing terrifying about this spider kitty costume. Your cat will be so stunning they're bound to be the eye-catcher at your Halloween party.
Cats love to sit in the bread loaf position, so why not dress your feline as a cute piece of bread for Halloween?
This costume for cats is also one-size-fits-most, so it's an excellent choice for small and large breeds.
Let your pet jingle its way through the Halloween celebration with this amazing collar with bells. It's perfect for feisty felines who don't tolerate clothes or other accessories.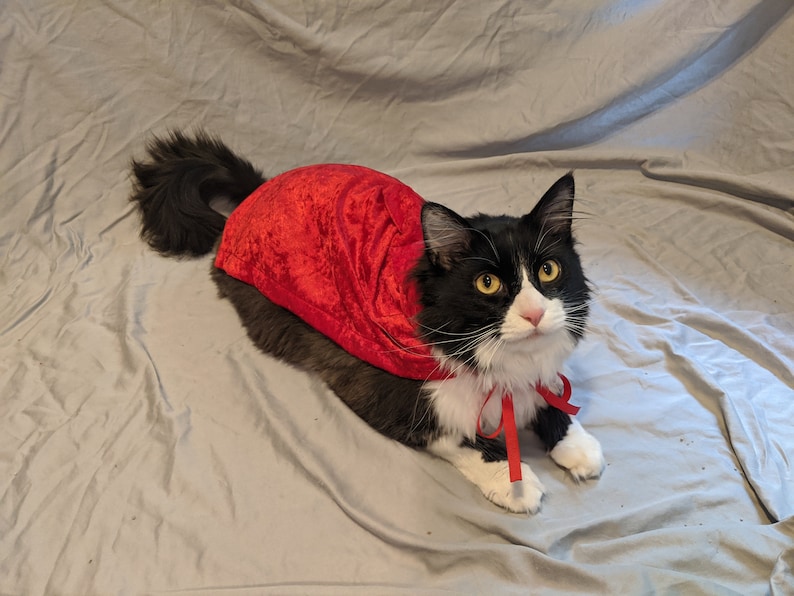 Dress your cat as a witch, Red Riding Hood, or Count Dracula with this luxurious cape with a hood, and let the party start!
You've got eight colors to choose from, so you can find the best one to match your kitty's fur and character.
If you're in the mood for a spooky cat costume, which you can put on your cat without a fight, this adorable witch hat is a perfect choice.
Put the hat on your cat's head, adjust the strap, and be ready to snap a picture before your cat runs away.
Have you ever thought that your cat is a dragon in disguise because they love hoarding so much? Then this dragon outfit is the perfect choice for Halloween.
But be careful because no one will risk your kitty's wrath and say "no" to their demands for treats in this cute costume.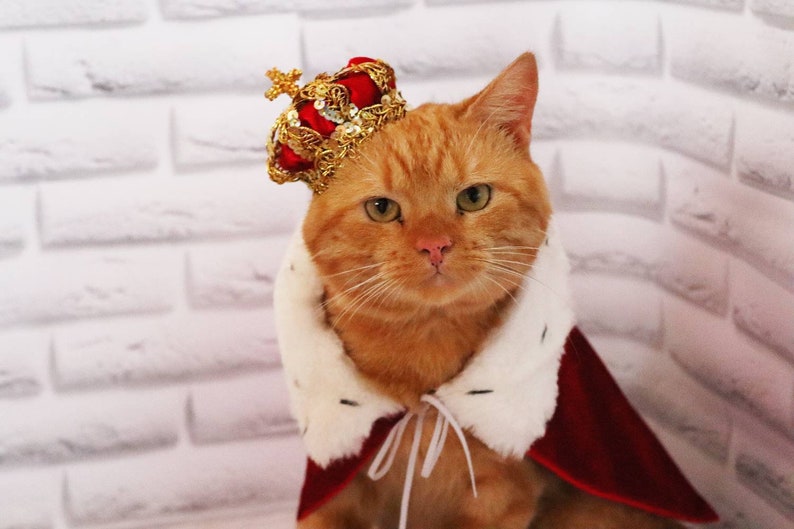 Bow to His/Her Royal Highness the Cat! And don't forget to bring a bowl of tasty treats to stay in their good favor.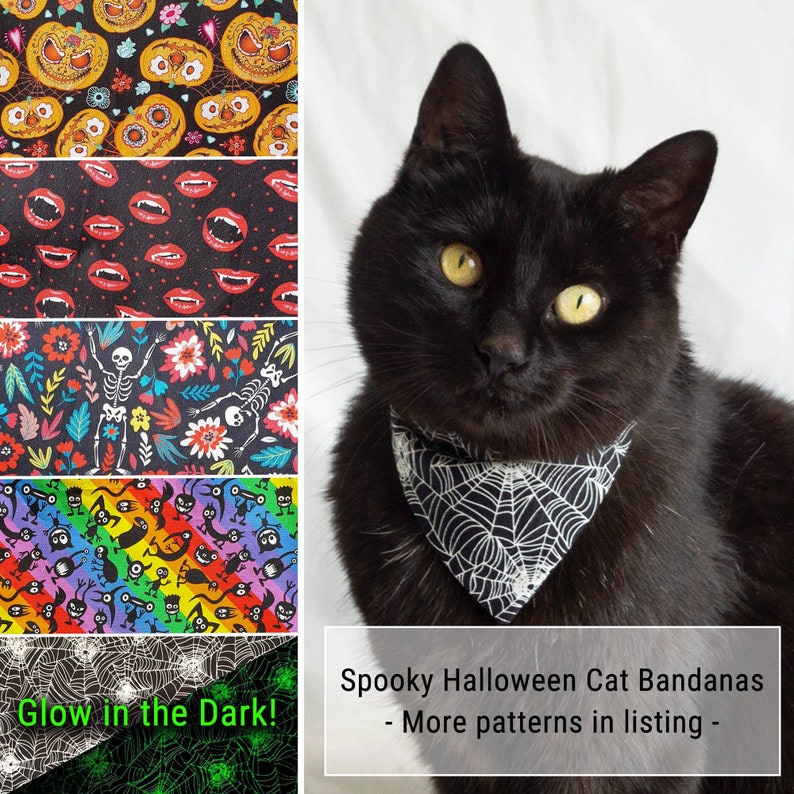 Let your cat be the most fashionable feline this Halloween season with this elegant pet bandana.
It's available in over 10 models, including grow-in-the-dark ones, perfect for the scariest night of the year. And it fits over the collar so it won't bother your cat at all!
Are you thinking about dressing your cat like another animal? Then nothing will be more adorable or hilarious than this incredible lobster outfit.
These "scary" wings are the most adorable outfit for black cats. Use them to dress your furry friend as Batman, a vampire, or a bat.
Look! It's the cutest cowcat in the world! Be quick and snap a picture before it hides under the sofa to plan your demise.
Arrr! Here comes the "scariest" pirate in the world, ready to pillage your treat cabinets and steal your Halloween candy.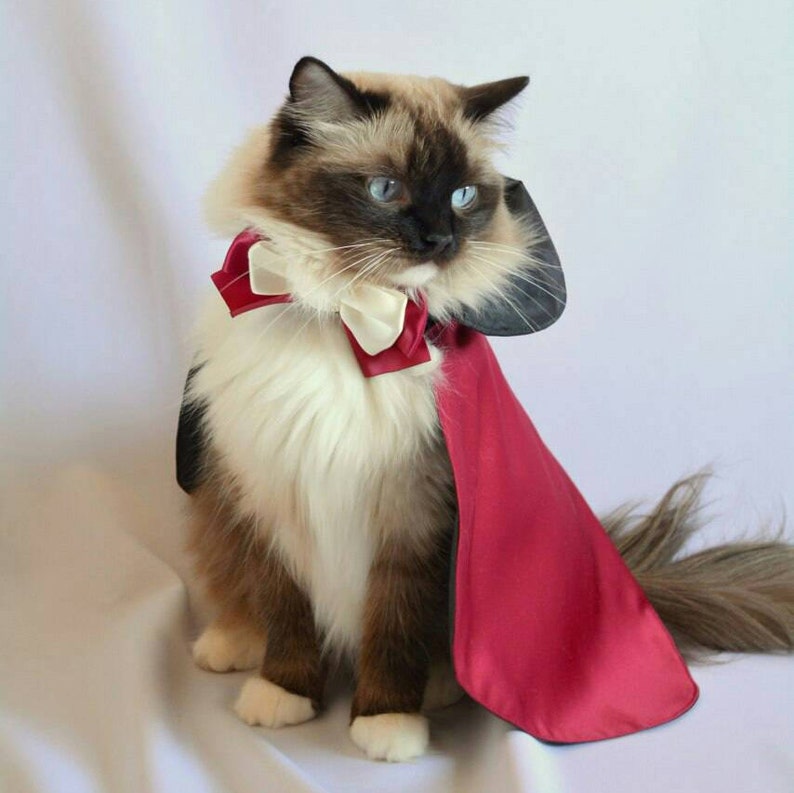 Fear me, for I'm the most adorable vampire feline in the world. Give me a bowl of the best wet food, and I'll allow you to worship me this Halloween.
Who's the most charming pumpkin this year? That's right. It's your cat, thanks to this classical Halloween pumpkin outfit.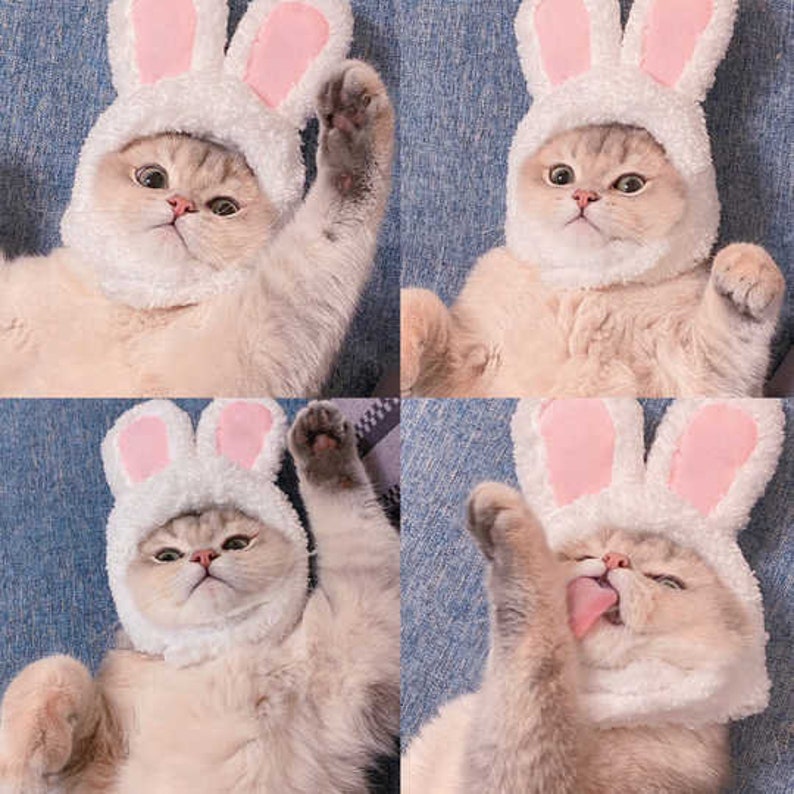 Is it a rabbit or a cat? We don't know, but we're fascinated by these fluffy ears, and we can't wait to scratch them, no matter the consequences.
It's a good thing that there's a doctor in the house because your Halloween guests might be overwhelmed by acute cuteness.
Who said only dogs are allowed to dress as hotdogs? Cats look so yummy in this captivating Halloween outfit that you're bound to crave hotdogs all night long.
This walking teddy bear outfit is so sweet and charming that it's hard to resist squishing your cat in your arms.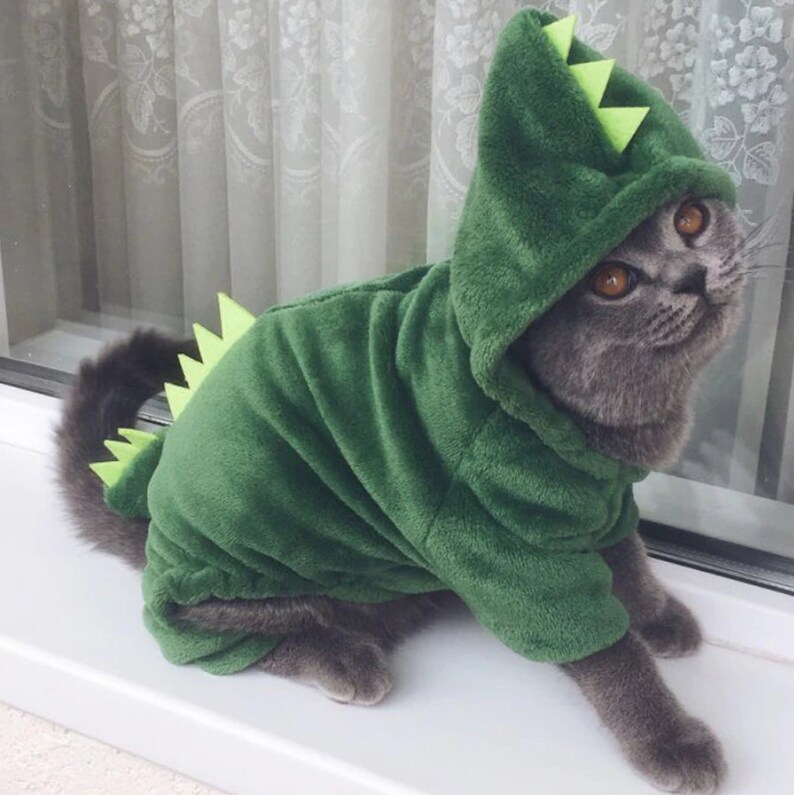 What's that monster running at full speed through the living room? It's Catzilla, getting ready to scare away your Halloween visitors unless they bring treats.
Your cat will be the talk of any costume party in this stunning devilish outfit! Must resist petting those "scary" devil horns.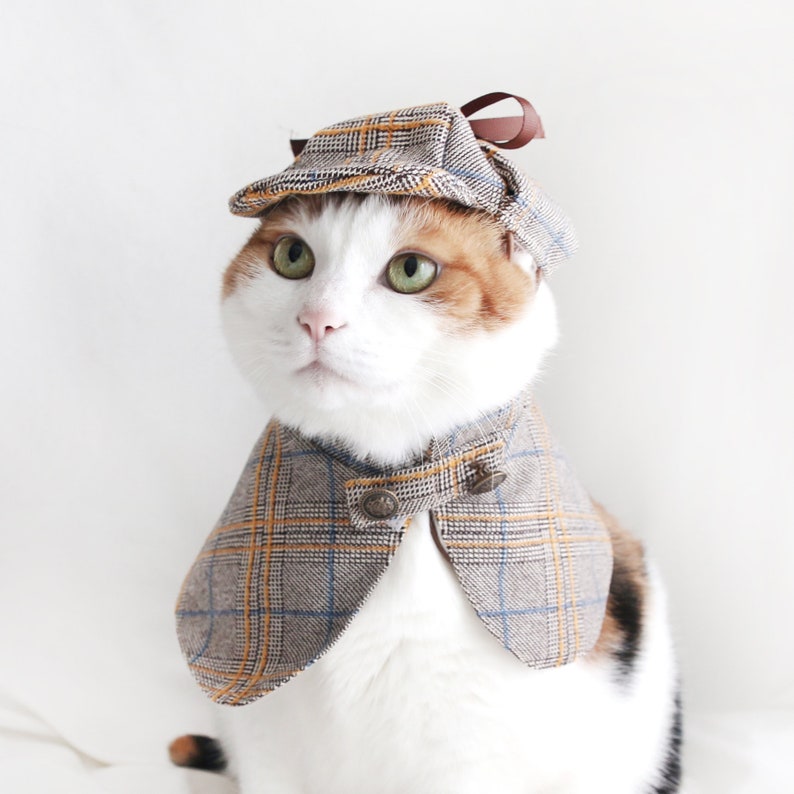 Look at this adorable Sherlock Homes outfit for cats! Isn't it one of the most adorable cat costumes you've ever seen?
Look at this "spine-chilling" octopus! It's about to engulf you with its fluffy tentacles and demand tuna for breakfast.
This sorcerer cape set is the perfect outfit for your familiar, especially if you're dressing up as a witch or sorcerer for Halloween.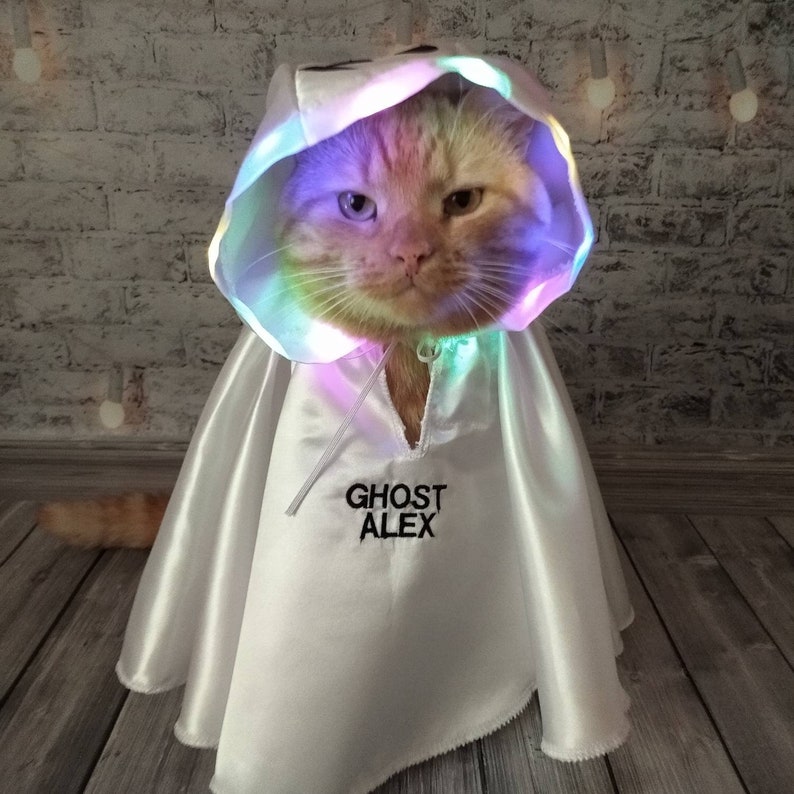 If you want to give friends, family, and visitors a good scare, this glowing cat ghost costume is the perfect Halloween costume for your pet.
Turn your cat into a terrifying, fire-breathing dragon with these cute green dragon wings. Your feline will be the hit of the Halloween season.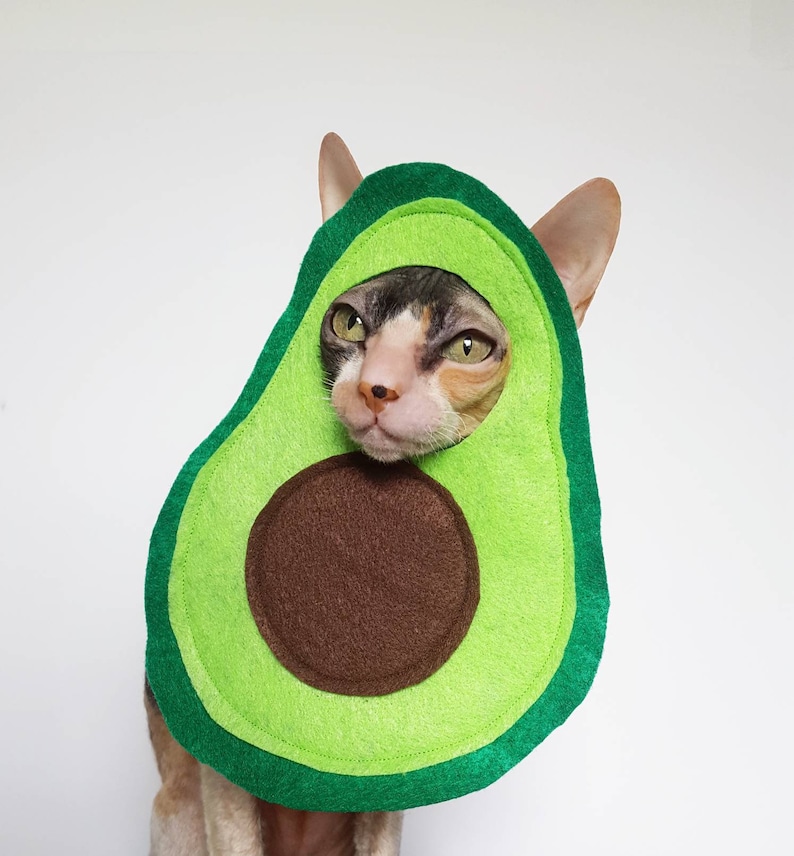 Who said avocados are boring or unappealing? Just look at this sweet Avocado cat and its charming murderous glare.
Add a touch of magic to your Halloween party by dressing your favorite feline in this charming wizard outfit. But be careful not to fall under its spell and leave the cat treats unattended.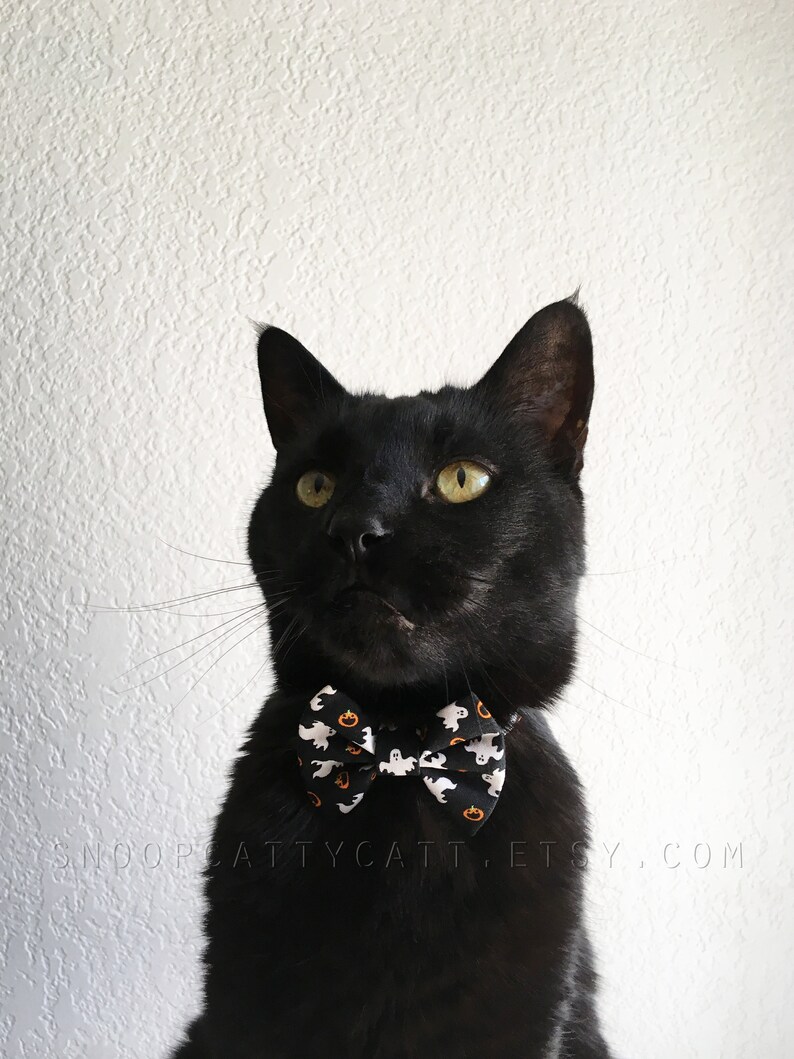 Bowties are the best Halloween accessories for cats because your furry friend can be anything – a ghost, a Jack o'lantern, or a scary witch's familiar.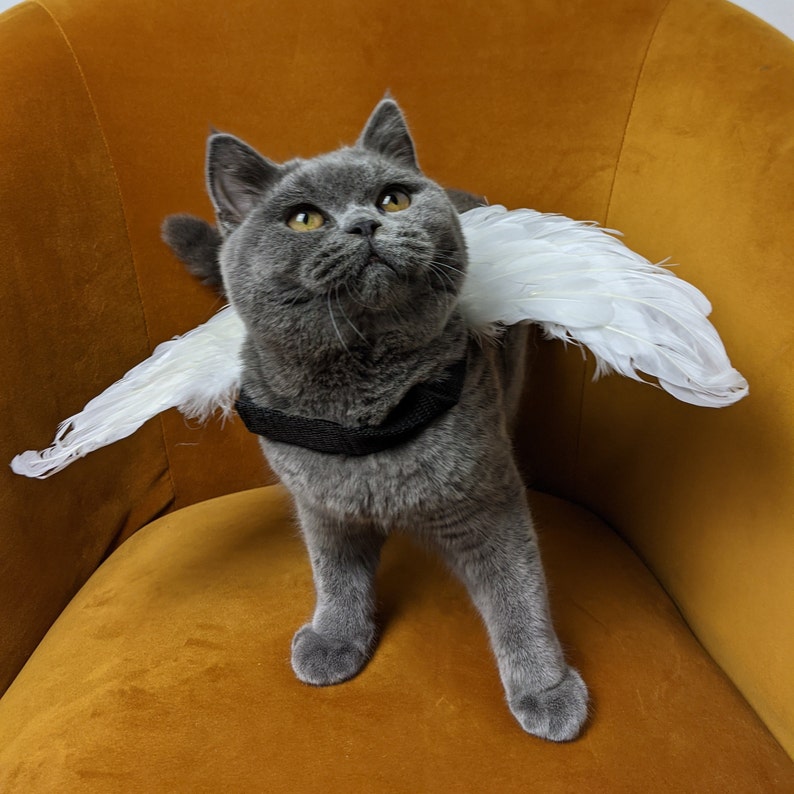 No matter their naught behaviors, we all know cats are purring angles in disguise. That's why we are so fascinated with this angle outfit so much.
Spoil your furry princess with this cute pink outfit for Halloween. It's also the perfect costume to celebrate your kitty's birthday.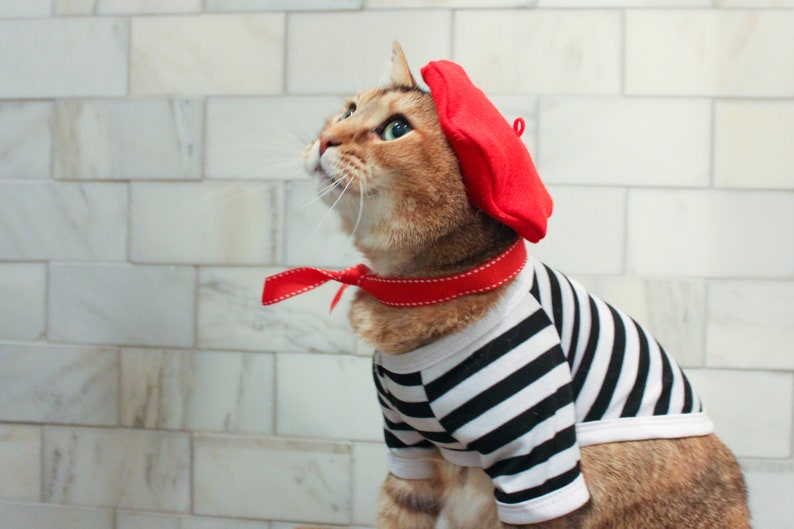 Be the most fashionable pet owner on Hallowing by dressing your kitty in this charming French outfit. Even people who don't like cats won't be able to resist it.
Meet the feline Harry Potter, who has come to make your Halloween truly magical! Isn't he/she the most adorable wizard in the whole muggle world?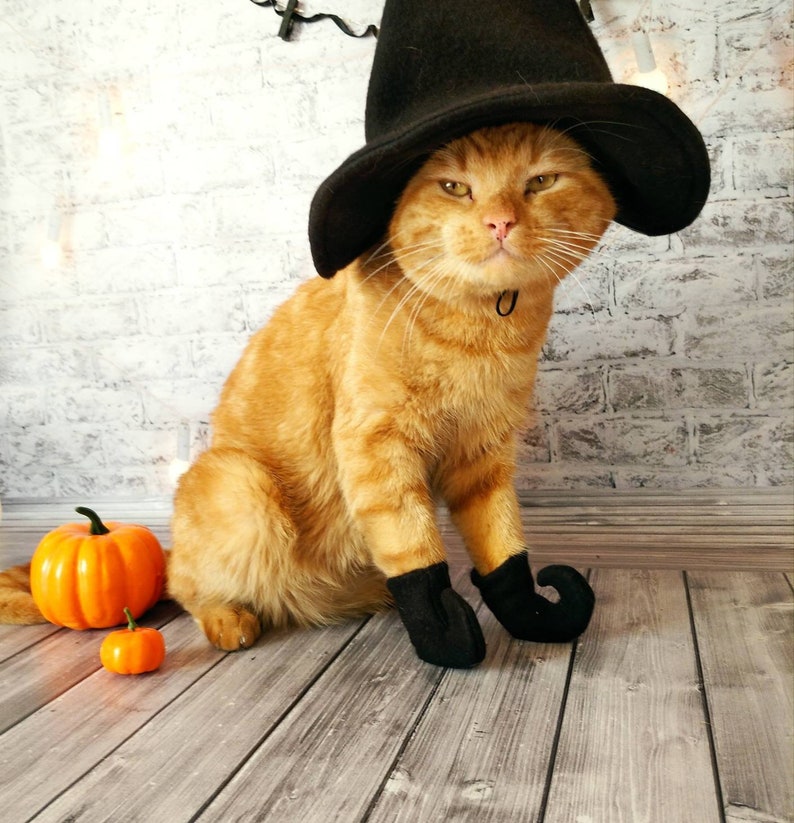 Aren't these witch socks one of the cutest costumes for cats you've ever seen? We certainly can't wait to try them on.
This granny outfit is so realistic you might find yourself wondering why an old lady is running around your living room.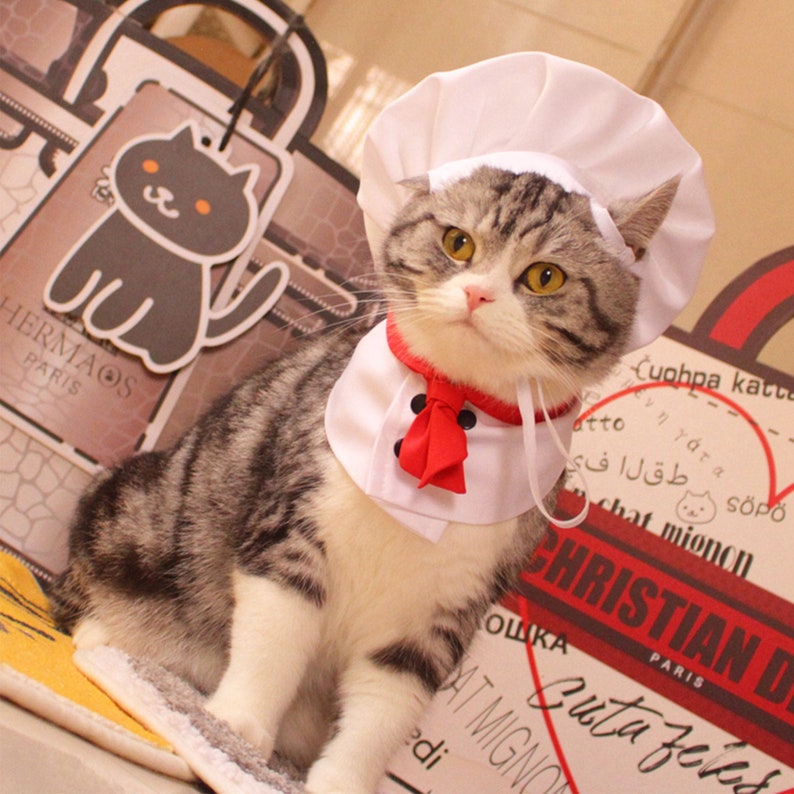 Cats are always ready to help in the kitchen, and now you can give them the credit they deserve, thanks to this amazing chef costume.
Who's ready to sail the seas and protect the ships from mice and pets? Your cat will look the part of the heroic sailor, thanks to this adorable marine outfit.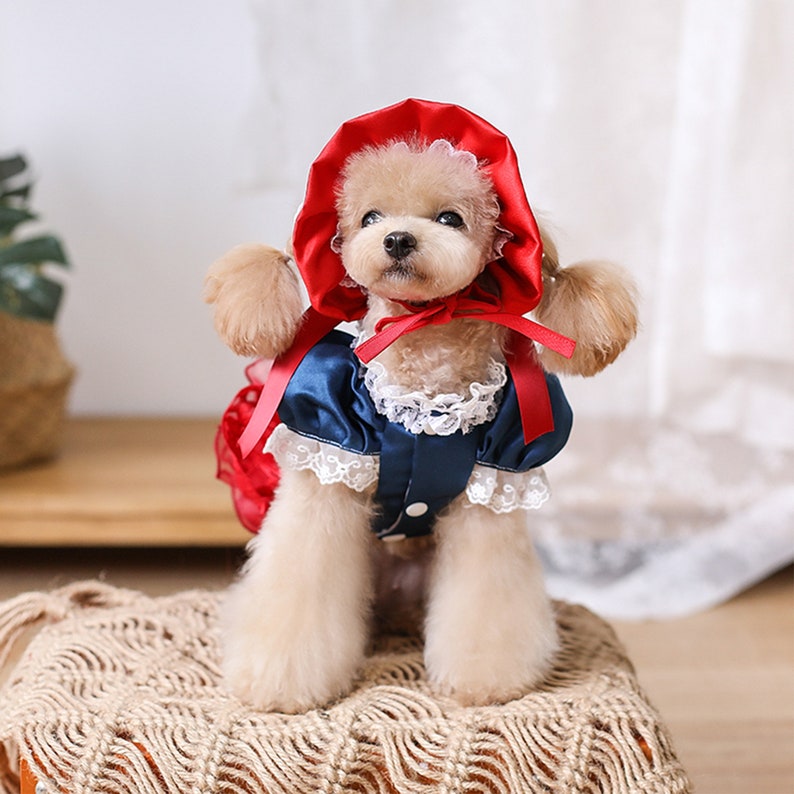 Your cat will be the star of any party with this irresistible Little Red Riding Hood outfit. But keep an eye for the Big Bad Wolf.
FAQs
Conclusion
Cat costumes are a great way to include your pet in the Halloween celebration and take tons of unforgettable social media pictures.
However, you should never leave your kitty unsupervised because they can get in trouble. And don't keep them dressed for very long because it can cause distress and anxiety.
References
American Pet Products Association. 2018. "Americans Spent $69.5 Billion on Their Pets Last Year: More than Ever Before." Prnewswire.com. March 22, 2018. https://www.prnewswire.com/news-releases/americans-spent-695-billion-on-their-pets-last-year-more-than-ever-before-300618209.html.
Boardman, Madeline. 2019. "Behold: The Best Halloween Costumes for Cats." Cosmopolitan. Cosmopolitan. August 15, 2019. https://www.cosmopolitan.com/lifestyle/g28688003/best-halloween-costumes-for-cats/.
Nowak, Claire, and Emma Taubenfeld. 2021. "The 36 Best Cat Costumes for Halloween." Reader's Digest. Reader's Digest. August 6, 2021. https://www.rd.com/list/cat-costumes-halloween/.
What do you think about these cat Halloween costumes? Which animal costumes are your favorite? Tell us your cat costume ideas in the comment section!
Last update on 2021-12-01 / Affiliate links / Images from Amazon Product Advertising API