Last updated on September 18th, 2023 at 01:47 am
Looking for some cat litter box alternatives for traveling, small spaces, and more?
Maybe you need a quick fix while you settle into a new home?
Perhaps you just really hate the idea of litter boxes and want to know if you absolutely need one.
Whatever the reason, you'll find the answer below in our complete guide, so let's get started.
Can you have a cat without a litter box?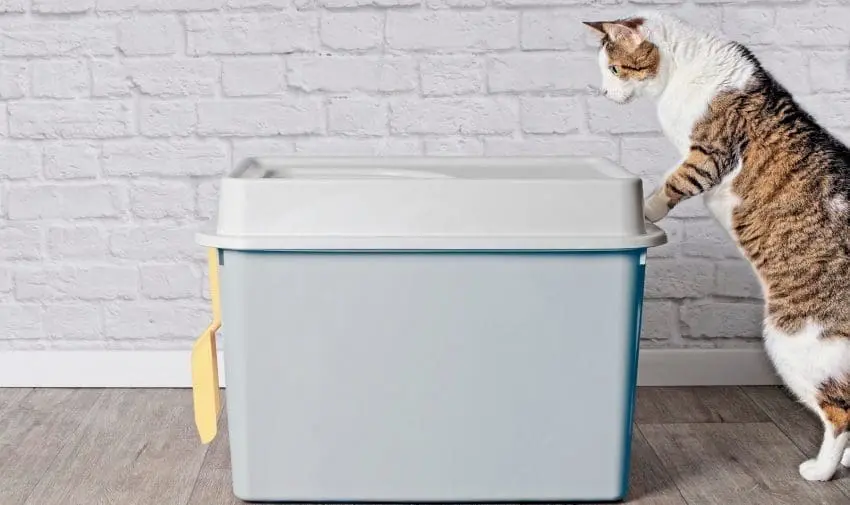 Our short answer is no. This is a preference, but it is also part of being a responsible cat owner.
For a time, when we first had Boo, we really wanted to teach him how to use the toilet.
We thought it would have been hilarious to teach him to flush like the cat in "Meet The Fockers."
We are glad to say, we have both grown up heaps since then.
There are so many reasons why the toilet isn't the best option:
Not being able to track their health through their poop.
The toilet seat could fall on your cat and hurt him.
If your cat is old, and cannot reach the seat by jumping anymore.
It goes against their basic bathroom instincts.
Why flushing cat waste is really not a good idea
You would think your waste system, if you are living in a developed country or area, should be able to handle all sorts of things.
But that's just not the case. Cats are the direct host of a parasite called Toxoplasma gondii and they are the only animals to pass it through their poop.
At some point, we were considering moving internationally outside of the United States, and bringing our cats along in the process.
And we found that even internationally, most waste systems do not filter out and eliminate these parasites.
In fact, experts recommend against flushing cat poop for a myriad of reasons.
So please, for the love of your fellow person- not to mention your septic system- consider something else.
You actually need more litter boxes than you think!
Not only do you need a litter box, period, but you also probably need more than one.
As veteran cat owners know, it is a generally good rule of thumb to have an extra cat litter box for every cat you have.
So in our apartment, we have three litter boxes. This is not always the case, but for most people with multiple cats, you may have one that has stronger boundaries than others.
Our cats are a perfect example. Yoshi is pretty friendly and unguarded, and he does not mind using the same litter box.
But he made the mistake of using Boo's litter box the first time we brought him home, and boy, was Boo not happy.
From then on, we have added one for each cat plus a spare, with Yoshi knowing he has multiple options, except going in Boo's special box.
That said, sometimes you can get away with fewer boxes.
As discussed in our guide to setting up a home for two or more cats, some feline families do just fine with one box. It really depends on your cats. 
What can I use if I don't have a litter box?
Now that we got a few basics out of the way, we want to go over some things we have seen and tried ourselves in the time we have had Yoshi and Boo that have worked for us arguably just as well as a litter box.
After all, you came here looking for other options, right?
We organized these cat litter box alternatives into traveling, renting, and home solutions, depending on how permanent you feel your living situation is and will be in the future.
Is it OK To Not Have a Litter Box?
Litter boxes are a necessity for cats that live indoors as well as outdoors, contrary to popular belief.
Outside of the fact that they offer a dedicated area for your cat to eliminate waste, it makes cleanup much easier for the pet owner.
It's also the more sanitary option for those who live within the home.
A suitable litter box is essential to the overall physical and mental well-being of a cat. Owners can avoid several health issues that can arise by following a few simple rules when selecting a litter box.
You can prevent harmful bacteria from causing infections, allow your cat to develop a routine they can rely on, and more.
Even cats that live outdoors would like to have a litter box. It's better for your yard and the neighbor's yard too.
Cats that don't have a litter box will regularly eliminate waste in someone's front yard or garden. That's why a litter box is always necessary for any cat.
What Is a Good Substitute for a Litter Box?
A good substitute for a litter box, which is a relatively new trend, are disposable litter boxes. These little boxes are biodegradable, meaning that they are great for the environment.
You can use these boxes and feel great about throwing them directly in the trash or putting them in a compost pile. The best part is that you don't have to worry about cleaning the litter box again.
Another solid alternative that you can use is any plastic container that you have lying around the house.
Often, these containers are in our attics, collecting dust with things we no longer need and just needlessly taking up space.
Take that container and customize it to make it easily accessible for your feline friend. And in just a few moments of prep, you've made yourself a very useful litter box that'll last for a long time.
Cat Litter Box Alternatives
My boyfriend and I are at a place where we have yet to settle concretely into one place, which makes furniture pretty much the bane of our existence.
During this transitional part of our lives, our two cats, Yoshi and Boo, have been with us through it all—multiple moves, two cities, and counting.
Because our lives have yet to settle and we have moved around fairly often, we have had to find some interesting and shoestring budget ways and cat litter box hacks to source alternatives.
Traveling Solutions
This is for you if you are constantly on the move and traveling.
Disposable alternatives are a very accessible option.
The benefit of disposable alternatives to litter boxes is that you do not have to deal with any smell (at least not for long), and once you throw it away, you do not have to think about it.
Generally, these last about four weeks. Having any of these lined with a garbage bag or plastic bag can also help them last longer.
Disposable alternatives include, but are not limited to:
Cardboard boxes
Mat pads (basically, pee pads for your cat)
Disposable cat litter boxes (pictured above)
Disposable paint trays
Renter/Just Moved-In Solutions
Okay, so you are not necessarily on vacation, but your situation is not really permanent, and you are not really completely situated either.
Here are some middle-of-the-road solutions we found to really work:
Storage Containers
We will go over two styles of litter boxes you can make out of a storage container.
You can literally turn any plastic tub, bin, or storage container into a litter box.
You have probably seen those large storage containers for moving cut out into a contained litter box for your cat.
During our first move, we did that with Boo, and it is so easy.
What you will need to make a contained litter box out of a storage container is:
The storage container, tall enough for your cat to stand up in, made of plastic that will not bow
A box cutter
Sanding paper
Sharpie and/or stencil to help cut hole
A hairdryer to warm the plastic
Don't Box Them In!
It may be tempting to use a lid if you are making a litter box out of a plastic bin to keep dust from getting everywhere.
But if you think about a cat's natural instincts, they will not really appreciate a cabinet that is too cramped for them.
That is because cats are hunters by nature, and do not want their vision and physical bodies impaired or stifled.
So as long as you get a box that is tall and roomy for your cat to spin around in, that should be fine.
Alternatively, it may be worth getting one that is clear from all sides.
Making a Sifting Tray out of Containers
If you are especially fancy, what you can do with any storage container (without the lid) is drill holes in it to make a sifting tray for your litter box.
You want these two to be the same so that they can be stacked on top of each other.
Consider also getting a type that has handles at the sides to help separate it out.
This is not always the rule, but usually the ones with handles also have some air space between the bottoms, which helps with clean-up.
Here are some things you will need to make your sifting cat litter box:
2 storage containers or basins (preferably one with handles)
Electric drill
Drill bit (something between ¼"and ⅜" should work fine)
Stainless Steel Steam Pans Or Trays
Okay, listen out to us before you knock on this. If you are looking for a budget alternative to a fancy litter box option, stainless steel pans are the way to go.
You know the ones you find at restaurant warehouse sales? Yes, those.
There are so many surprising benefits to a stainless steel versus plastic that we did not consider until we accidentally came across this option.
We were considering getting Yoshi and Boo a non-plastic litter box because while it is not difficult, plastic has had problems reacting to things like cat pee.
It also sometimes holds onto smell.
Like most cat owners, we just assumed that we had to get used to a weird smelling apartment with our cats. Not true.
Using stainless steel cleared up the smell, and on top of that, they were easier to clean.
For Non-DIYers
I just want to say that some things are not accessible to everybody (like power tools), and we hear you!
If you are on a really small budget, the least expensive thing you can do is really just get yourself a container (plastic, metal, cardboard even!) and line it with a garbage bag!
This will hold you over for a while, whether you are a renter or traveling. My boyfriend did this for a long time before he switched to a more permanent system.
Home Solutions
This solution is really for cat owners that are really past the phase of moving around and are getting situated in where they are living.
A really great cat litter box alternative is to craft one out of old furniture so that it is discrete.
Honestly anything box-like and a door can easily be remade into a litter box.
Here are some types of furniture that are best to repurpose if you want to make your own litter box:
Cabinet dressers
Night stands
Storage benches
Short bookshelves
Hutches
Closing Thoughts
There definitely are more involved and larger pieces of furniture out there.
But we included our most easy and simple to do for those who are just starting.
Having a cat litter box is important, but it is less so important what it looks like.
Do not be satisfied in just getting a plastic tub from the pet store if you can find better (and sometimes more durable options) elsewhere that work just as well that is marketed as something else.
We also get that sometimes, disposable is the way to go.
And for cat owners that are more settled, keeping a litter box out of sight becomes more important.
As cat owners, we wanted to break it down easily for you to consider which works best for your situation.
Resources:
Last update on 2023-11-27 / Affiliate links / Images from Amazon Product Advertising API