Last updated on September 20th, 2023 at 12:34 pm
Are you having a hard time finding cat trees that look like trees?
Don't worry, I scoured the whole wide world (at least the world wide web) for the best options just for you!
Alas, there aren't nearly as many as I'd hoped there would be, which made me super sad because I love a plethora of options.
Still, I rounded up a few that will look oh-so-adorable in your home! I also shared a few DIY ideas to make your own cat trees that look like trees!
Top Picks At a Glance
Best Cat Trees that Look Like Trees
Like I said above, there really aren't a ton of realistic-looking cat trees out there.
In fact, only the first one looks like an actual natural tree that you'd see out your front window. Check out our guide for the best window cat tree.
The others are sort of realistic looking to various degrees, but I included them because I like you to have options.
1. On2 Pets Cat Tree
The On2Pets makes the only cat trees that look like real trees you'd find in nature, so it's obviously my #1 choice!
Features & benefits
Designed for cats up to 32 pounds, making it big enough for a Maine Coon!
Several different sizes and base styles available, ranging from 1 level to a full 5-foot, 3-level tree.
Assembles in just minutes without any tools.
Made from high-quality pressed wood and faux leaves.
Levels are covered in carpet to encourage napping and scratching.
The base is actually covered in artificial turf to complete the look!
Cons
The base isn't weighted and the structure is a bit wobbly so it needs to be anchored to a wall.
Leaves tend to fall off, with some customers complaining that a handful of them came off during assembly.
The astroturf, while fantastic, may be a little too realistic! Some kitties might try to use it as a potty!
The style might actually deter some cats who aren't really used to real trees!
Recommendation
Honestly, if you want a totally realistic cat tree that you don't have to make yourself, this is your only real option.
Yes, the leaves can come off, but you'll find that with any fake tree or plant! It's just the way they're made. Heck, it happens with real trees!
I don't love that the base isn't weighted but I can work around that by anchoring it to a wall.
It's totally different than the typical cat tree, so just make sure your cat will actually use it.
2. CozyCatFurniture Cat Tree with Leaves
The CozyCatFurniture tree may not look quite as realistic as the On2Pet tree, but it's still a good option.
The coloring combined with the leaf garland definitely gives it a more natural look than, say, these blue cat trees!
Features & benefits
Overall style is similar to most other carpeted trees so you already know your cat will use it.
Stands super tall at 75″ so kitty can reach for the stars
Easy to clean with its soft plush covering
Sisal wrapping on all posts gives kitty plenty of claw-sharpening surfaces
Leaf garland completes the look and is easy to replace if it comes loose.
Cons
The leaf garland (which completes the "real tree" look) can easily come loose.
While the tree itself can hold larger cats, the condo and perches aren't roomy enough for big breeds.
Can't be placed against a wall due to the placement of the perches
Recommendation
If you're willing to give up a little realism and stretch your imagination a bit, I actually like this one better than the On2Pets tree above.
It's a bit more diverse, for starters. Plus, the garland is super easy to replace as needed with a simple craft store purchase.
Also, since the overall style is similar to most other cat trees, my cats would actually use it.
3. Go Pet Club Cat Tree Condo
Now we're heading into the loosest definition of "cat trees that look like real trees" territory but stick with me, okay?
If you've followed my other cat tree buying guides, you know that I absolutely adore Go Pet Club.
I have one of their trees and it's still standing after taking quite a beating!
While the Go Pet Club F2093 (the technical name & model) doesn't really scream "welcome to the jungle!" it still has a realistic appeal to it.
Features & benefits
Stands at just around 61″ high, so an inch shorter than me.
The posts are wrapped in sisal to encourage scratching.
Faux white fur gives it a lovely birch tree look.
The large condo on the bottom level gives it a kind of Keebler tree-house effect.
Again, the garland leaves are easily and cheaply replaced.
Cons
The garland can easily come off.
Condo is a smidge too small for robust kitties
Likewise, the three poles running up the tree create a tight fit for big cats.
Sisal rope does come lose after a while (even on my beloved tree, it's all but gone now).
Recommendation
I personally adore this model because of the "basement" condo and the birch tree look.
Speaking of birch, side note: if you lick the tree, it does NOT taste like birch beer! I had one in my yard as a kid and learned that the hard way.
Back to the tree: honestly, you can't go wrong with Go Pet Club. Like I said, my cat's tree has been through the wringer and still stands!
However, if you don't love it as much as I do, check out #5 on this list.
4. The Refined Feline Lotus Cat Tower
For this one, you have to let your imagination soar and really think artistically outside the box.
This tree makes the list because it reminds me of a sculptor's interpretation of a winter oak tree, after the leaves have fallen.
Hey, if an art critic can look at a blob of red paint and say that it's a beautiful representation of a boy first learning to ride a bike then I can say that this looks like a real cat tree!
Features & benefits
Real Brown Berber carpet that's attached with Velcro for easy removal and replacement if needed.
A sisal scratching pad versus wrapped poles for more aesthetic appeal
Soft faux-suede covers both the top and the insides of the cubby.
Total of 69″ tall and 20×20″ base
Cons
A bit of a challenge to put together
While Amazon will replace defective trees, it's a total pain to box back up and ship out!
Velcro wears out, so at some point you'll either have to replace it or go without carpeting.
Recommendation
If you want an artistic rendering of a realistic cat tree, this is a good option.
Plus, you can easily add your own leaf garland and other touches to make it more tree-like.
It's a bit pricey, yes, but it's very beloved by customers, so I feel confident in recommending it.
5. Go Pet Club Cat Tree Condo
Go Pet Club desperately needs catchier names for their trees! Here, I'll help. I call this one the Forest Tree House Cat Tree.
It reminds me of that old movie Swiss Family Robinson and the tree houses that they made when they were stranded on the island.
At least that's how I remember the movie. I was like 5 when I watched it. You get my driftwood, though!
Features & benefits
Stands at 71″ high and a total of 38″W x 19.25″L when you factor in the levels that stick out.
Natural brown and black coloring along with the leaf garland gives it a total "real tree" feel
The overall design is fairly sturdy since weight is evenly distributed across the poles.
Speaking of poles, they're all sisal-wrapped for kitty's claw-sharpening pleasure.
Cons
I'm not loving the hammock. It looks entirely too easy for kitty to get stuck in!
That condo & tunnel is too small for large-breed kitties.
Vines look pretty but won't last a long time if your cat decides to play with them.
Can be a bit tricky to assemble.
Recommendation
Like I've said a zillion times, I adore Go Pet Club.
While I think the tree in #3 is a little more realistic looking, this is a good alternative for multiple cats.
DIY Cat Trees That Look Like Real Trees
As you've seen above, finding cat trees that look like real trees is not nearly as easy as it sounds.
I searched high and low, and while I did find a few more options, none of the are currently available anywhere and don't mention when they'll be back in stock.
If you don't love the ones above, check out these DIY ideas!
1. Over-the-top real cat trees
Holy wow, are those cool or what? You can't get much more realistic than a cat tree that actually uses real tree branches!
If your crafting talents aren't quite at that level, keep reading for easier options.
2. Simple branch-based DIY cat tree
While this one also uses real tree branches, it's not quite as fancy or complex to build as those above.
In fact, you don't need much more than rope and some strong anchors to pull it off!
3. Modern cat tree tutorial
While the white fluff does scream "real cat tree," if you follow this tutorial and then swap out the white for green faux fur, you can achieve a sort of willow tree effect.
Final Recommendation
Cat trees that look like real trees offer a unique and natural way to enhance your cat's environment and provide them with a sense of adventure and security.
With their lifelike design and various features, these cat trees not only serve as functional furniture but also add an aesthetic appeal to your home.
Invest in a cat tree that mimics nature and watch your feline companion enjoy endless hours of climbing, perching, and exploring in their very own arboreal paradise.
What do you think? Would you buy any of these cat trees that look like real trees or just make your own?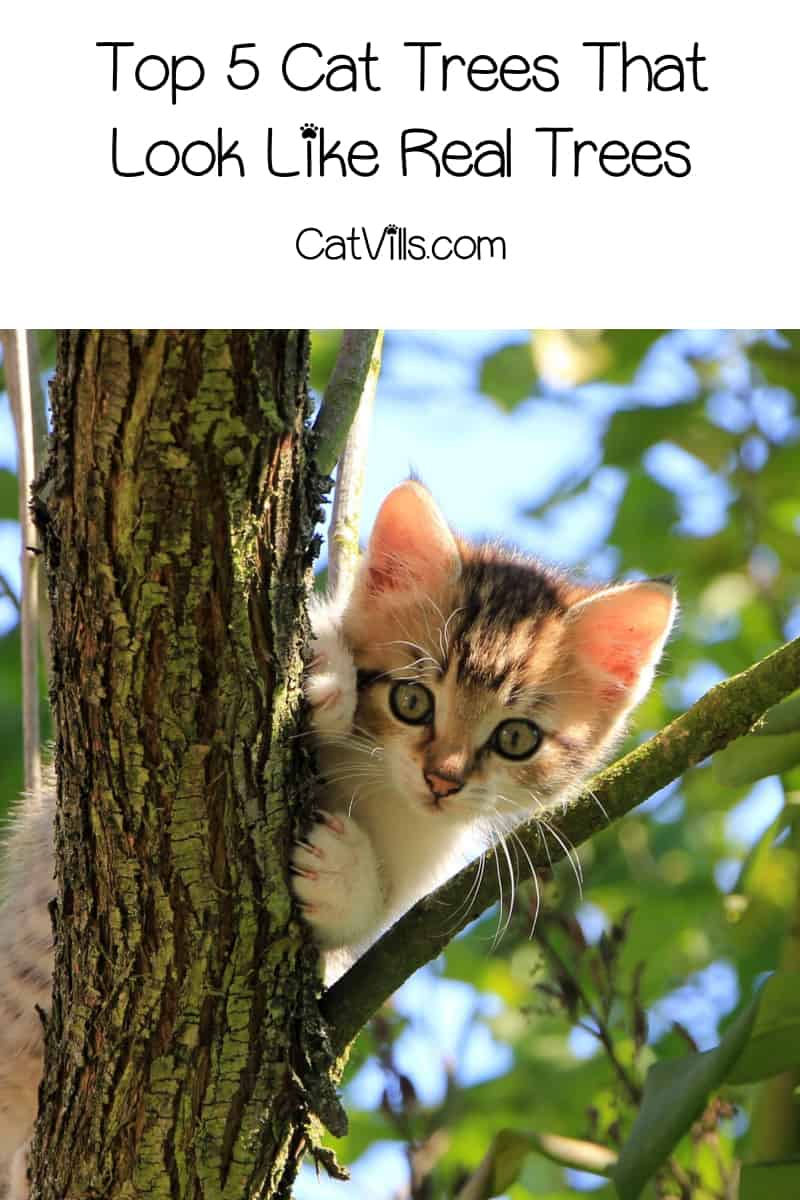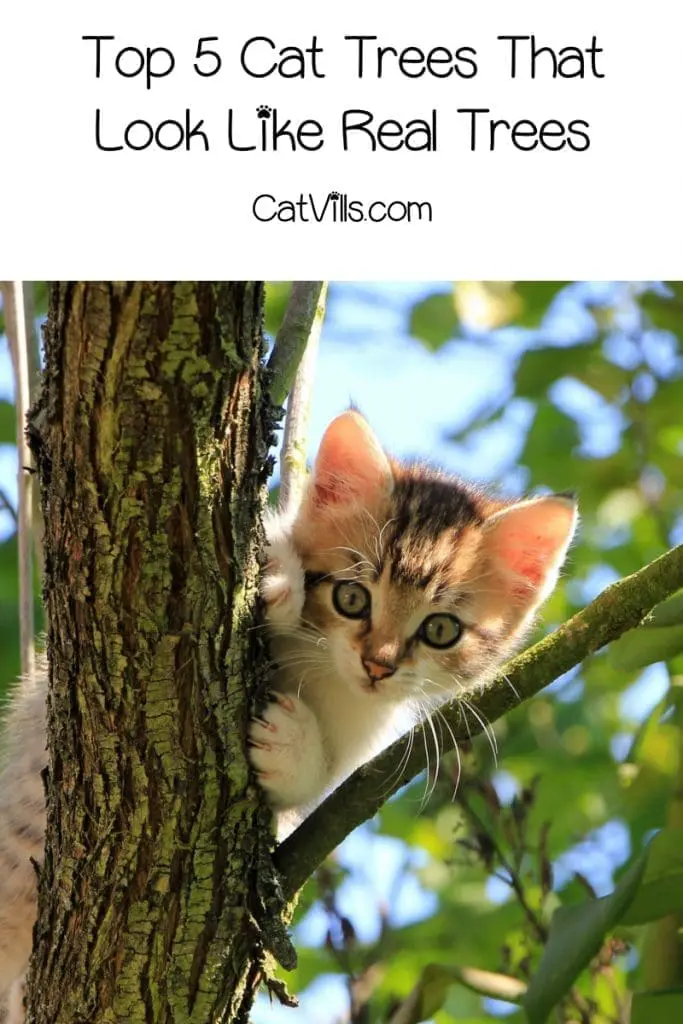 Last update on 2023-11-28 / Affiliate links / Images from Amazon Product Advertising API