If you are a cat lover, you probably want to provide your furry friends with the best environment possible.
One way to do that is to get them a cute cat tree. A cute cat tree is not only a piece of furniture for your cats, but also a way to express your love and care for them.
Let's explore the benefits of having a cute cat tree for your cat, how to choose one that matches your cat's needs and personality, and what to look for when buying one.
Cute Cat Trees For Your Feline Friend
Here we reviewed some of the best cute cat trees available on the market and how they can improve your cat's health and happiness.
1. Best Pink Cat Tree: Tofern Unicorn Cat Tree
The Tofern Unicorn Cat Tree Condo might offer our most extravagant design style. Its sparkly, unicorn construction will bring everyone's eyes over to it.
Honestly, you won't find another cat tree quite like it. The added-on design features aren't too shabby, either.
Its premium plush material creates an overly comfortable space for cats to relax. The unicorn's tail plays a multi-purpose role as a dangling toy for excellent mental and physical stimulation.
As most cat owners know, sufficient mental and physical stimulation is vital to providing cats with "a happy and healthy life." It's clear that this product will certainly help offer both in spades.
It even has dual support columns covered with sisal rope for scratching purposes. As a result, this unicorn offers a lot more than just its sparkly design.
Benefits
Sparkly, cute unicorn design
Made with heavy-duty wooden boards for stability
Equipped with a toy tail and center tunnel
Simple to install with the included diagram
Dual-support column scratching posts
Drawbacks
Not for larger breeds (only cats up to 13 pounds).
One customer complains that the "scratching portions are short."
Verdict
This unicorn cat tree will more than meet the expectations brought on by most cat owners.
It's tricked out with all sorts of incredible features to keep your kitty entertained and cozy. However, larger cats over 13 pounds won't be allowed in on the fun.
The product's description states these bigger felines can't safely navigate this unicorn cat tree.
However, it makes a brilliant cat tree for kittens and smaller adult felines. If your cat falls into either category, there's no reason it won't be a stellar fit.
2. Best Blue Cat Tree: Armarkat B6605 Cat Tree
Armakat makes some fabulous options in all shades of blue, but my favorite is their Sky Blue cat tree.
We think the color is just so bright, airy, and fun! It definitely helps lighten up my overly-brown house!
Features
This budget-friendly tree measures 38L x 24W x 66H inches, making it roomy enough for even the largest kitties.
Made of pressed wood and covered in soft faux fleece.
40-pound weight limit
Four levels of fun for kitties!
Sisal rope covers the posts, giving cats a great place to scratch.
Pros
With a 40-lb weight limit, all three of my cats can play on this tree without issue.
I love that it offers four different levels of excitement and includes adorable little dangling toys to catch my cats' eyes.
Easy assembly
It's the most budget-friendly option on this list.
The sisal rope encourages cats to scratch the tree and not your furniture!
Cons
The full warranty (which doesn't cover the included toys) is only good for 6 months. After that, you have to pay a fee and pay for shipping.
Some customers complain that it has an odor.
The house is a bit small for larger kitties.
It doesn't say where it was made. While I'm not as picky about furniture as I am about food, I still like to know where it comes from.
Verdict
If you're looking for a budget-friendly option in a fun color, Amarkat cat trees are a good choice. If you don't love the sky blue, they do come in a bunch of other colors.
We don't love the fact that the warranty is for such a short period of time, but since it's in my budget, we'd be willing to overlook that.
3. Best Black and White Cat Tree: PetPals Royal Cat Tree
If you're looking for something a little smaller, PetPals's Cat Tree & Cat Condo is an excellent choice.
This product packs a lot of comfort into its 49-inch tall design with its many exciting features.
We can't say enough about its comfortable, eco-friendly design material, spacious cat condo, and three perches.
The bottom-level cat condo alone should make this your cat's new favorite sleeping area.
Features
27″ x 19″ x 49″
Four levels
Three perches
Constructed from natural recycled paper rope
Dual scratching posts
Includes everything needed for assembly.
Benefits
Eco-friendly
Perfect for cats up to 15 pounds
Stable design
Comfortable bottom-level cat condo
Easy to assemble
Drawbacks
A bit pricey
Too small for XL cat breeds
Verdict
Aside from its high comfort level, owners should be thrilled by this cat tree's easy assembly.
It comes with every piece of hardware and tool needed for the process, making our lives much easier.
But it shouldn't be too surprising to learn that this option is among the most expensive on our list.
You'll have to decide whether its spacious cat condo and eco-friendly design are worth the extra money.
4. Best Leopard Print Cat Tree: Go Pet Club Cat Tree
Go Pet Club Leopard Print Cat Tree might seem a little too on the nose. A leopard print color scheme could be a bit too much in certain situations.
However, this product doesn't only bring forth a fierce vibe. It has several design aspects that will make your cat's life much more comfortable.
An excellent example would be its durable wood support base. This benefits your cat by keeping the product stable even when walking around on a higher level.
You also have to love its sisal rope-covered dual posts. Your cat will tear these posts up and keep its focus away from more valuable items like blinds or couches.
But the affordable price is what separates it from these other choices.
Benefits
Leopard print color scheme
Stable, durable wood support base
Quick, easy assembly
Equipped with two hanging toys
Sisal rope-covered posts for scratching
Affordable price
Drawbacks
Hanging toys don't last long.
Not ideal for larger cats
Verdict
Bargain buys aren't easy to find in the cat tree market. But this one certainly fits the bill, as you're getting a high-quality, slightly smaller option for half the price.
Although the hanging toys' durability is a concerning flaw, a few customers mentioned overly energetic cats ripping them off relatively quickly.
Thankfully, these toys are easily replaceable. You could even use the leftover money from this bargain on more durable dangling toys.
5. Best Cactus Cat Tree: TOPKITCH Cat Tree
We had some concerns about this first one from TOPKITCH because it's kind of pricey.
The photographs submitted by those reviewers show that it's definitely as advertised.
Features and Pros
Handmade with natural wood
Covered in organically dyed sisal rope to encourage scratching.
All adhesives are non-toxic and pet-friendly.
Just one step to assemble (put the cactus on the base).
Strong and stable
It comes with bonuses, including a bell and a cat activity ball.
Cons
Not overly stable
Has some design flaws
Verdict
We don't have much negative to say about this cute cat tree that looks like a cactus!
Based on the photos, it's definitely not a palm-sized tree. But it's actually bigger than it looks.
The price is a bit high for a scratching post, but far from overly expensive. Plus, it's worth it for a handmade item.
6. Best Door-Mounted Cat Tree: K&H Pet Products Cat Tree
Okay, so this one doesn't really fit the "doesn't look like a shoe rack" criteria, but don't let that scare you away.
It really is one of the best cat trees that hang on a door overall!
Features and Pros
It quickly and easily mounts on just about any door.
Includes seven fun little peep holes for your kitty.
Cats can access all levels from inside.
Made with strong waterproof fabric
Folds down and easily stores away in a closet when not in use.
Well-made and sturdy, according to customers
Two different sizes
Cons
It is kind of pricey for what it is.
It only comes in one color, and it's kind of blah.
While it folds up when not in use, it's too clunky to leave on your door.
A few complaints that it has a "chemical" odor
Verdict
As far as cat trees that hang on a door go, this one is definitely among the highest-rated among users.
K&H as a whole makes great pet products, so we feel confident recommending them. The price is a bit steep for what looks a lot like the thing we hang in closet to hold purses.
As some customers explain, you have to have just the right type of door in order to be able to fold it up and leave it hanging.
In other words, if your doors don't open at 90-degree angles, they'll be hard to open with this on them, even when folded up.
That said, it's still a great option for those who have that random closet door that sees no action and the budget to pay for it.
7. Best Wall-Mounted Cat Tree: PetFusion Ultimate Cat Tree
Single cat owners should love PetFusion's 76.8-inch wall-mounted cat tree.
It keeps things simple while still providing more than enough entertainment for one cat.
Your apartment or home won't be taken over by its presence, like with other options.
Features
Two-level design with perches
Zinc drywall anchors
Two scratching posts
Cushioned pads on the platforms
Wrapped with sisal rope
Measurement: 24 x 20.8 x 76.8 inches
Benefits
Promotes better claw health with scratching posts
It easily holds up to 60 pounds.
Free shipping
Space-saving design
Multiple, comfortable resting areas
Drawbacks
Directions are an issue.
Slightly costly for a two-level option
Verdict
If you have one or two cats, this model is a solid fit. Its two-level design provides more than enough room to keep them busy and entertained.
We also love how its design saves as much room as possible. It's not like these other models, which won't take up half a wall.
8. Best For Apartments: CatastrophiCreations Multi-Level Cat Tree
CatastrophiCreations makes some incredibly cool wall-mounted cat furniture, but this modular cat furniture is my favorite for a small apartment.
Features and Pros
The entire thing is handcrafted, so it's a truly unique piece.
Fabric is removable and washable.
Four planters for your cat-friendly plants. It even comes with the pots!
The entire thing is modular, so you can arrange it to fit your space.
Sisal-wrapped posts give your cat something to scratch.
Cons
You'll need to place it on a wall that gets a good amount of sun if you want to use the planters.
You really have to know your walls and where the studs are located.
Although it comes with planters, they're not entirely leak-proof, so you'll need to choose a plant that doesn't need a ton of water.
Verdict
We love everything about this wall-mounted cat tree. It's gorgeous and diverse enough to give cats a lot of options.
Alas, our house is like a dark cave, so we couldn't actually grow anything in the planters.
If you are in the same position, check out the other modular systems from CatastrophiCreations.
FYI, they sell almost all of the components separately, so you could build your own system that works better for your needs.
9. Best Space-Saving Cat Tree: FEANDREA Multi-Level Cat Tree
The Multi-Level Cat Tree with Feeder Bowl has a base that's as wide as their larger ones but saves a lot of space when it comes to height.
Basically, it won't block your view of the TV, your favorite picture, or other things higher up on the wall.
Features
3 levels total, including the ground floor
2 cat caves
1 cozy perch
3 sisal scratching posts
Detachable feeding bowl
Pros
It has a washable mat insert
Easy to assemble
Great overall balance
Durable and long-lasting
Cons
Toy balls are not attached well.
Covered with plush material (easy to rip and shred).
Verdict
We love that you get all the features of their larger trees (including a cave big enough for Bengals) without the towering height.
It is a great medium cat tree option that saves a lot of space in terms of height and provides great balance because of its sturdy build.
Most customers are thrilled with this cat tree and recommend it because of its durability.
10. Best Cat Tree For Kitten: ZENY Cat Tree
The ZENY 53″ cat tree is just the right height for kittens, yet roomy enough for adult cats to use as well.
Let's look at the pros and cons at a glance, and then we'll share our recommendation.
Features and Pros
Made with durable particleboard and built with solid construction and a strong base.
Holds up to 44 lbs.
Wrapped in super-soft flannelette material.
2 spacious houses for kittens to hide out in
Sisal-wrapped posts
Roomy enough for multiple kittens
Cons
Durable particleboard is still particleboard.
Not large enough for big breeds.
The fur ball toys don't break away, so they can pose a hazard.
Instructions are confusing, and pieces are poorly labeled.
Verdict
As I said, this is just the right size for kittens. It's fairly low to the ground at right around 4.5′, so kittens can climb all the way to the top with confidence.
While it is made of particleboard, you'll find that in most mass-produced cat trees. It appears to be a dense and high-quality particleboard, so I feel like it would hold up well.
The confusing instructions also seem to be an industry-wide standard! Budget-wise, this is right in the middle.
All in all, I feel like this is a solid option for kittens who will stay fairly small as adults. It's not a great choice as a cat tree for large breeds, though. A Maine coon would outgrow it in months.
How to Choose a Cute Cat Tree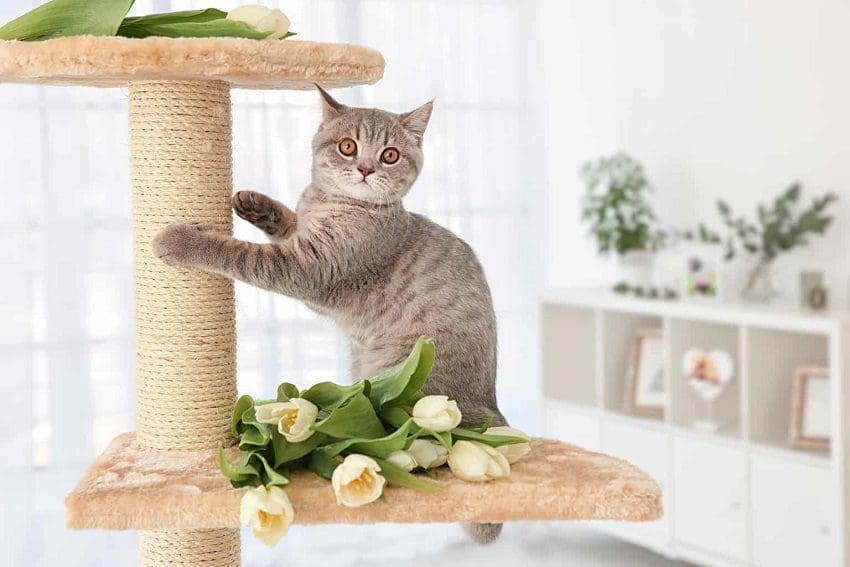 Choosing a suitable cute cat tree will come down to several essential factors.
We'll discuss them below to provide you with everything you might need to pick the perfect one.
Where to Put It
Break out the measuring tape and figure out how much space you really have.
Keep in mind that a 24″ base doesn't mean a tree will fit in a 2-foot spot.
A cat tree has a 2-foot base yet takes up more like 3 feet of overall space because some levels stick out more.
Once you've done a few measurements around your apartment, decide on the best place to put your cat tree.
Don't just think in terms of floor space! Look up, down, and all around!
Cat trees don't have to take up floor space, so consider your walls and even the back of a door, too.
Size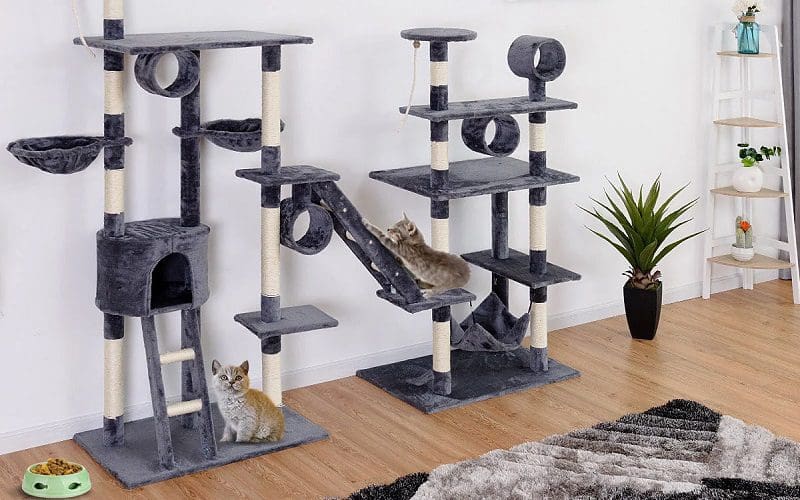 As you might imagine, cat trees will come in various sizes and shapes.
It's crucial to pick an option capable of fitting into its assigned space inside your home.
We'd advise choosing and measuring this location before picking a cat tree. It'll allow you to get an option that's not too big or too small for your home.
As a result, owners should check the tree's base and height measurements before putting any money down.
You shouldn't forget to account for your cat's height as well. They should have no trouble standing on the top perch without hitting the ceiling.
Your cat's overall size and weight will also play a factor in this purchase. You don't want to pick a cat tree incapable of holding up your cat or allow them to get stuck.
So, please make sure your chosen one has cubby holes and platforms that your cat can fit in or on.
Number of Cats
Multiple cat owners will need a cat tree that lets all their cats use it at once.
In most cases, cats won't share time on the tree, but it's not uncommon to see them having a group meeting on it.
You'll need to plan for these situations by purchasing a cat tree with at least as many perches as cats in your home.
It's the only way to ensure those same cats don't end up fighting over places on the tree (it might happen anyway).
Appearance
We know you're already thinking about appearance, given there are so many color scheme.
However, you still need to think about the cat tree's style and design, as there are millions of different options.
Owners will want a cat tree that doesn't become an eyesore in their homes.
It should have a nice, solid build with an adaptable construction that meshes well into your home's interior.
Stability
Cute cat trees should offer an impressive amount of stability.
These options will be able to handle a highly energetic cat without ever tipping over.
Most of these options provide this stability with a broader base construction than usual.
Owners would be doing themselves a favor by selecting cat trees with this particular feature.
Additional Features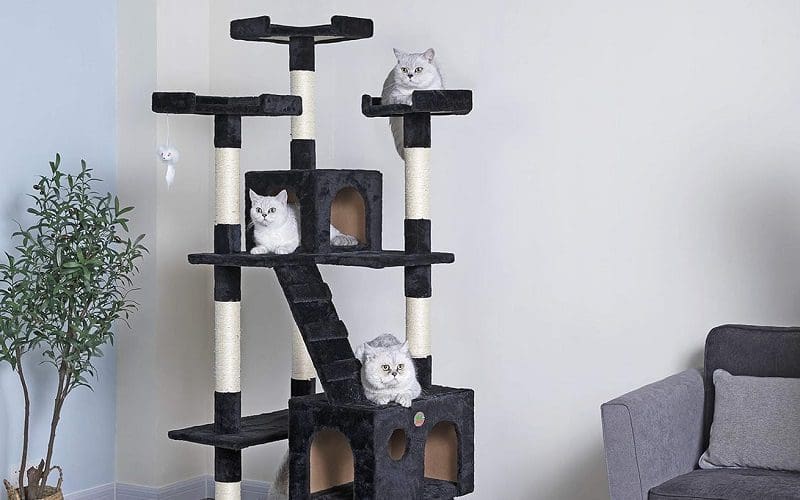 Cat tree manufacturers love placing several additional features on these products.
You'll come across cat trees with hammocks, scratching posts, hanging ropes, condos, puffballs, and much more.
Each buyer will have to decide what additional features suit their cat.
For instance, some cats loves playing with ropes and using scratching posts, making them essential aspects of any worthwhile cat tree.
Wrap-Up
Cute cat trees are more than just furniture for your feline friends. They are also a way to express your love and care for them.
By getting them a cute cat tree, you can provide them with a comfortable and stimulating environment that can improve their health and happiness.
You can also choose a cute cat tree that matches your cat's needs and personality, as well as your decor and budget.
There are many cute cat trees available on the market, so you can find the perfect one for your kitty. Thank you for reading and happy shopping!
Resources:
Last update on 2023-11-28 / Affiliate links / Images from Amazon Product Advertising API