If you're looking for the most affordable cat trees that give you the biggest bang for your buck, I've got you covered!
Today, we'll talk about the top 10 trees that offer the best all-around value!
We'll also quickly discuss what qualifies as "affordable," because it's not just about the price.
Grab your coffee and let's get started!
Cheap Cat Trees Top Picks at a Glance
If you see the value in these products and choose to purchase via my referral links, I may earn a small commission at no extra cost to you.
Most Affordable Cat Trees
#1 Winner: Go Pet Club Cat Tree
Go Pet is one of the most popular pet furniture brands, and you really can't go wrong with any of their trees.
As far as affordability goes, though, most cat owners love their 62″ tree. It's hard to disagree with them, considering the various resting areas. 
Your cats will be in heaven with its roomy condo, tunnel, perch basket, and other perches.
Features
Four levels
Made from compressed wood and wrapped with faux fur finish
Sisal wrapping on nearly every post
Climbing ladder
Roomy condo
Cylinder tunnel
Five color options
Perch basket
Fitted with a rope toy
27 x 38 x 62 inches
Benefits
Durable construction materials and faux fur
Large number of sleeping areas for cats
Meshable color options for every home decor
Easy to assemble with its included tools
Sturdy enough to hold multiple cats
This product's durability is second to none among cat trees. After all, its compressed wood base and faux fur finish should hold up against even the most active cats.
It shouldn't have a single issue working with multiple cats, either. It has way too many sleeping areas for a single kitty as various kitties should enjoy it.
Owners will love this option's meshable color options, as well. I often hard to find cat trees that don't become eyesores within homes, but this one will only add to a home's decor.
Its reputation for being extremely sturdy is another massive advantage. It's nice not having to worry about it tipping over or wobbling, even with multiple cats on it.
Lastly, the easy assembly process shouldn't cause anyone stress. I found this attribute was praised significantly within the customer reviews.
Drawbacks
The cat condo is fairly tiny, making it ideal only for petite kitties
The hammock doesn't stay put and is kind of useless.
But this cat tree isn't perfect as the condo is relatively small for larger breeds. I don't think there's any way a Maine Coon is getting inside it.
Furthermore, the hammock isn't the most durable aspect for cat trees. It has issues staying put and comes off easily.
How it Compares to Others
Honestly, this affordable option covers a lot more ground than these other choices. It has everything any cat owner could want from a cat tree.
Expert Tips
Take off the hammock to avoid that particular issue.
#2 Best for Multiple Cat Owners: FEANDREA Cat Tree
Feandrea 68.5″ cat tree is a versatile tree that offers a big bang for your buck.
It has more than enough perches for multiple cats while providing solid durability.
Buyers also get a choice between two color options for this cat tree. It's hard to see how a cat owner wouldn't come away loving this option.
Features
Five levels
Detachable cat bowl
Large condo
Sisal wrapped scratching posts
Cozy hammock
Soft resting basket
Strengthened with battens at the bottom and anti-toppling fittings
Two color options
21.7 x 19.7 x 63.8 inches
Benefits
Excellent customer service
Multiple comfortable resting stops
Sturdy and durable design
Suitable for multiple cats
Promotes better nail health and exercise
Drawbacks
The condo sides are fabric rather than solid material so that cats can put holes in them.
Top perch can wiggle a bit with a larger cat.
How it Compares to Others 
Its larger size combined with various resting spots gives it a leg up on most options. Multiple cat owners would be doing themselves a disservice not considering this excellent choice.
Expert Tips
"Attach this product to the wall using the anti-toppling devices supplied."
"Do not use the cat tree in a humid environment."
#3 Best for Larger Cats: YAHEETECH Cat Tree
The Yaheetech 79″ cat tree doesn't just provide a whole lot of value for the price; it's also quite stylish!
I really like this one because it's low-priced for the amount of value that it offers.
But where it excels is with larger cat owners, such as Maine Coons. You won't find another affordable choice more suitable for those larger cats.
Features
Five levels
Large baseboard and attachment strap
Nine sisal-wrapped scratching posts
Dangling rope toy
Sisal ramp
Four color options
23 x 23 x 79 inches
Benefits
Easy to assemble and includes all parts and tools
Offers extra stability (strap and large baseboard)
Simple to clean and maintain
Made with durable materials
Avoids tipping or wobbling
Perfect for larger cats
Drawbacks
The distance between the levels presents a challenge to senior kitties or munchkin breeds.
The first condo is a bit small
How it Compares to Others 
The extra stability provided by its strap attachment and baseboard is hard to overlook. Both these aspects make this choice a godsend for large cat owners.
Expert Tips
Follow the included "illustrated manual to help you set up this cat tree quickly and without much effort."
#4 Easiest to Maintain and Clean: Vesper Cat Tree
Looking for something a little different than the traditional carpet-covered cat tree? Check out the Vesper!
I think this is a rather beautiful cat tree and definitely something your cats would adore.
The condo is large enough for bigger kitties, and the memory foam cushions are lovely. If you're just not that into carpet-covered trees, this is a fantastic affordable option! 
Features
Four levels
Made with high-quality MDF
Soft memory bed cushions
Three color options
Seaweed cat scratching posts
Four style choices
Sisal scratching mats
Cozy den with two entrances
22.1 x 47.9 x 22.1 inches 
Benefits
Easy to clean
Replaceable parts
Doesn't attract cat hair
Offers high-quality comfort
Elegant, appealing design
Durable construction with proven longevity
Drawbacks
Challenging assembly
Doesn't have extra stability features
How it Compares to Others
The cat tree's ability to remain clean even after regular usage is essential. After all, it doesn't attract cat hair and offers a simple cleaning process.
I also have to put some focus on its highly comfortable surface material. Any cat will love taking a nap or two on this affordable cat tree.
#5 Most Affordable: Amazon Basics Cat Tree
Amazon's own brand, Amazon Basics, makes just about everything under the sun these days, so it's no surprise that they have a cat tree.
However, it's a fairly basic tree without a lot of bells and whistles. But it's a very low-priced option with several valuable benefits.
Honestly, finding a better bargain buy option would be a difficult process.
Features
Five levels including the base.
Every pole is wrapped from top to bottom in natural jute fibers.
Tiered platforms
Eight style choices
Sturdy chipboard
Three color options 
23.62 x 56.3 x 19.29 inches
Benefits
Solidly built and sturdy
Easy to assemble
Promotes better nail health
Multiple buying options for convenience
Extremely affordable
Drawbacks
The little dangling balls screw in rather than break away so it could potentially be a hazard if your cat's tail or paw gets caught in it.
Spacing between levels is a bit awkward.
Condo isn't really large enough for giant breed kitties 
How it Compares to Others
Is it the best tree on this list? No. However, it's the most affordable in terms of the "inexpensive" definition of the word.
I've bought a lot of AmazonBasics products and never had an issue with any of them. The price is right compared to what you get.
Expert Tips
I would cut that toy ball right off before my cats ever saw it. I only saw two complaints about it, but they were enough to scare me!
#6 Best for Lazy Cats: Cat's Choice Cat Tree
Lazy cats need a way to get exercise without curbing their natural personality.
Cat's Choice Cat Tree can provide it with its two-level design. 
It should have no issues getting them out of their shells without being too overwhelming.
Honestly, it's almost like you're tricking them into exercising.
Attributes
Handmade
Five color options
Two levels
Crafted with solid wood and plush carpet
One unoiled sisal rope scratching post
One wooden scratching post
Assembled in the USA
17" W x 17" L x 24" H
Benefits
High-quality construction quality
No assembly required
Multiple buying options
Ideal for lazy cats
Two scratching mechanisms
Drawbacks
Bland color options (appealing ones cost an extra $15)
Not a fit for active cats
How it Compares to Others
The handmade craftsmanship isn't a common attribute within this marketplace. It provides the cat tree with a bit more durability than you initially expect.
I find it hard to envision this cat tree breaking down anytime soon. Therefore, its longevity ends up making its slightly higher price tag more cost-effective.
#7 Best for Scratching: PETMAKER Cat Tree
Most cats have a habit of scratching apart their owner's furniture if there isn't an alternative.
PETMAKER's 3-Tier Cat Tower could be an excellent option to stop this behavior.
Its two-level sisal rope scratching post is ideally suited to handle your cat's needs.
Your couch and recliners will thank you.
Features
Three levels
Brown and tan color scheme
Constructed from durable particle board and plush carpet
Two carpeted perches
Barrel-shaped cat condo
Wide base
Two-level scratching sisal rope post
21 x 13.5 x 37 inches
Benefits
Several comfy resting areas
Perfect for scratching with two-level post
Suitable for all ages and breeds
Appealing design
Easy assembly
Drawbacks
Condo won't fit larger cats
Included ball toy isn't very durable
Could benefit from being sturdier
How it Compares to Others
The high-quality scratching post is a cat's dream. It'll help promote better nail health while saving furniture from a cat's wrath.
Expert Tips
Weighing it down with a "sandbag" could help the sturdiness issue.
#8 Best for Senior Cats: Go Pet Club Cat Tree Scratcher
Go Pet Club's 23-in Faux Fur Cat Tree represents an easy way to get senior cats moving.
After all, it has a three-level, compact design that allows for effortless climbing.
Cats with arthritis or other joint issues won't even have a hard time with it. 
Features
Three levels
Made with compressed wood
Covered with faux fur material
Natural sisal rope scratching posts
Two perches
Assembly hardware included
Two color choices
19.25 x 19.25 x 23 inches
16 pounds
Benefits
Visually appealing color choices
Lightweight
Simple assembly
Durable, straightforward construction
Effortless climbing from level to level
Drawbacks
Carpet has a habit of shredding easy
The comfort level isn't the best (no cushions on the beds)
How it Compares to Others
The product's ability to appeal to senior cats is outstanding. You need a way to get those older kitties moving, and no other affordable cat tree gets it done like this one.
Expert Tips
"Use a bit of catnip on the cat tree to get [them] interested in it,"
#9 Best Design Options: Frisco Cat Tree
The Frisco 72-in Faux Fur Cat Tree & Condo offers some style with its many appealing features. 
Each buyer will have a choice between six intriguing color options.
There's even a cheetah style that'll make guests who come to your house jealous.
More importantly, your cat will adore its scratching features and levels.
Attributes
Eight levels
Constructed from engineered wood and faux fur
Ten sisal rope scratching posts
Two scratch board ramps
Several dangling toys
Two cat ladders
six color options
Anchoring kit
27 x 39 x 72 inches
63.1 pounds
Benefits
A wide array of design options
Easy to anchor onto walls
Ideal for scratching
Sturdy and durable
Endless number of features
Drawbacks
Heavier than other options
Some customers complained about assembly holes not lining up
How it Compares to Others
An affordable cat tree is often nothing worth writing home about concerning their designs.
But this one offers five design choices that are all visually appealing. Honestly, I'd have a hard time choosing between them. 
#10 Best for Kittens: Microdermabrasion Cat Tree
Our last option has become a favorite among kitten owners for various reasons.
For instance, its eight-level design has no issues keeping them entertaining. 
Each floor has multiple ways of entering those active little furballs.
Plus, the strengthened base stops any wobbling from occurring during their kitten adventures.
Features
Eight levels
Made from particle board and plush covering
Strengthened base with bottom battens
Two roomy cat condos
Various scratching posts lined with natural sisal rope
Three top window perches
Five color options
53 inches tall
Benefits
Easy assembly with included hardware and instructions
Multiple entertaining attributes for kittens
Top-level sturdiness
Promotes health cat scratching behavior
Cozy surface material
Drawbacks
Not ideal for heavier adult cats
Packaging concerns (infrequent complaints, but notable)
How it Compares to Others
Everything about this cat tree lends itself to useful for kitten owners.
It's sturdy enough to deal with their rambunctiousness while offering various attention-grabbing features. What more could a kitten want?
Expert Tips
Set aside time for assembly as it's an easy but lengthy process.
Things to Consider when Buying Cheap Cat Trees
This section will discuss what buyers should consider when buying a cat tree.
It'll ensure they don't choose a dangerous or unsafe option that could endanger their kitty. 
Size
As you can imagine, cat trees aren't all the same. Each one will have its specific size and shape meant to intrigue a kitty. 
In some cases, the cat tree will be relatively straightforward. However, other options will be much larger, fitted with multiple perches and functions.
I'd need to consider how much space is necessary. This tree doesn't only need to fit into the desired location within my house.
But it also needs to be appropriate for my cat's size as there are cat trees meant for smaller and larger breeds.
I'd recommend starting with ensuring the platform is high enough for your cat to climb. Meanwhile, any included condo or perch needs to be big enough for sleeping sessions.
So please, it's essential to check the specific dimensions for each included piece. You'll need to know how big each level, perch, condo, and other aspects are to ensure its suitability.
Cat's Personality 
A cat's personality will impact what option can suit their needs, as well. For instance, my cat who's known for being active and playful will require a large, multi-functional option.
But lazy and peaceful cats should do fine with a simple cat tree. So these owners find themselves doing fine with a cat tree with one or two levels and an included resting place.
Another simple aspect to consider is the number of cats. If I had multiple cats, it wouldn't make much sense to choose a simple option.
Instead, I'd need a large cat tree with multiple condos and perches. It's the only way to avoid felines from fighting over specific spots on the tower.
Appearance
The size of cat trees significantly impacts their appearance. For instance, smaller options will be less advanced, usually only coming with one platform and a scratching post.
But larger cat trees will be much more elaborate with various resting areas and features. It'll almost look like giving a cat its own castle featuring multiple rooms.
It's also essential to note taller cat trees are better than wider options. After all, these options will help you save space within your home or apartment.
Most cat owners put a lot of focus on the cat tree's style and color, as well. I'd suggest choosing one capable of matching your home's decor.
If I don't, the cat tree could soon become an awful eyesore within my home. Most of these products are available in various colors to help prevent this issue.
Construction Materials
I've come across cat trees made from many materials. The most common materials used are particle boards, fabric, rope, carpet, and solid wood.
Solid wood is more durable than what you can expect from particle boards. But particle boards still offer decent performance and a lower price tag.
As for the surface materials, cat trees often use faux fabric, carpet, or cloth. Carpet is a favorite among cats because it's incredibly soft and comfortable. 
Some cats will also enjoy scratching on the carpet. Others are more fond of rope or faux fabric, so it's essential to know your cat's preference before choosing a cat tree.
Stability and Durability
Every buyer will have to consider each cat tree's durability and stability. It's the only way to ensure the chosen product is safe for a cat's usage.
One of the first things to research is the base's stability. It needs to have a reputation for avoiding tipping and wobbling when cats are sleeping on them.
The cat tree should also have no issues staying upright when your cat's scratching the post or climbing levels. Otherwise, there's no point in buying it.
A cat tower's durability expresses itself with how long it's capable of lasting. These products shouldn't be a single-use item but a staple in a cat's life for a long time.
One easy way to research a cat tree's durability is by looking at its load-bearing capacity. This information will show you whether it's capable of holding your particular kitties.
Customer reviews will provide insight into this area, as well. Cat owners tend to get angry when they shell out money on a cat tree that doesn't last as long as expected.
Assembly
Cat trees are a product that will likely require assembling. It's not often I encounter one that has come pre-assembled, as shipping one would be difficult.
As a result, each buyer should look into the assembly process of every cat tree. It should be something that doesn't make you want to pull out all your hair.
Most brands make it easy by placing the instructions right in their product descriptions. From there, it's simple to determine whether I feel comfortable assembling it.
What qualifies as an affordable cat tree?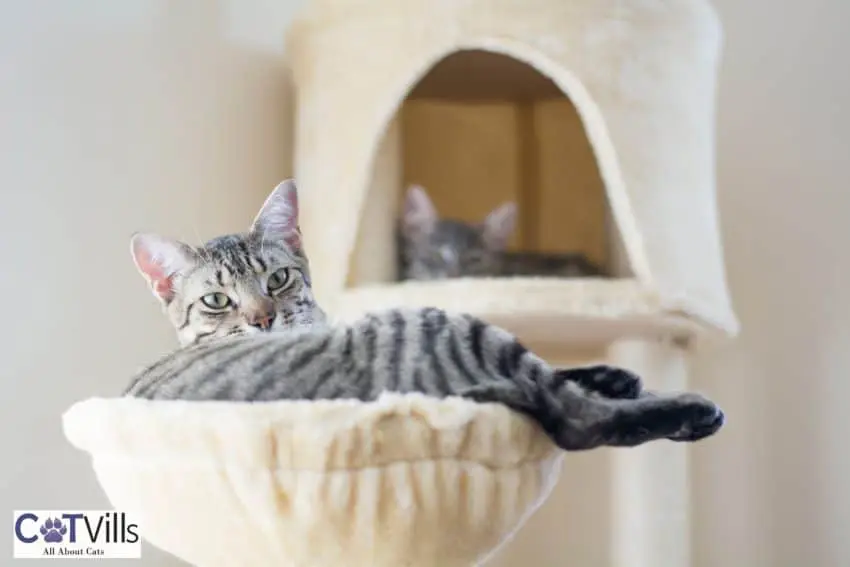 Before we talk about the most affordable cat trees, I think it's a good idea to take a look at my criteria for choosing my favorites.
Price vs. Value
Obviously, price plays a major role in deciding if something is affordable, but not in the way you might think.
See, while affordable is synonymous with "inexpensive," it's also defined as "reasonably priced."
When I look at affordable cat trees, I have the second definition in mind. I compare the price to the value to determine if it's reasonable.
In other words, is the price fair for the value that my cat will get out of this tree?
Make sense? Good! Let's move on!
Price vs. Durability
Durability factors into overall value but it's worth calling out on its own.
Basically, I look at how long something will last compared to what I pay for it.
A $25 cat tree that only lasts a month is NOT affordable, since theoretically, I'd have to pay $300 a year to keep replacing it.
So, if you see a tree that seems expensive for a post about affordable cat trees, know that there's a good reason (which I'll explain in the review).
Price vs. Versatility
Last, but far from least, I look at the price vs. versatility in determining affordability. To me, that means two things:
Multi-tasking capabilities
Does this cat tree offer my cat more than just a place to climb? Does it replace other cat furniture, like a bed or a scratching post?
If a $100+ cat tree replaces the need to buy these other items, then it's more affordable than buying them separately.
Versatility within my home
Is it designed to be placed anywhere in my home? Perhaps it's a modular cat tree that I can put together however I want?
In a home that's severely short on space, that versatility definitely adds value!
Now that you know what I looked at in determining if a cat tree is affordable, let's take a look at my favorites.
Final Word
While these all fit my definition of the best affordable cat trees in one way or another, my money (literally) is on the Go Pet Club tree.
I've had a great experience with them in the past and although the sisal rope is almost off my tree, the rest of it is holding up great.
In fact, it was thrown across the room once (don't ask, and no, it wasn't in a fit of violence or anything so dramatic) and it's STILL holding up fine.
On the other hand, if you want something a little different, I really do love the Vesper!
How about you? What are your picks for the best affordable cat trees? Share below!
Resources:
Last update on 2023-11-28 / Affiliate links / Images from Amazon Product Advertising API