If you're looking for some fun and unique ways to spoil your cat, these DIY cat tunnels are purrfect.
Get ready to get creative and handy and try making these yourself.
Your kitten and cat will love being able to run around and check out all the new nooks and crannies.
Go ahead and spoil your cat with these fun homemade tunnel and compartment ideas.
7 DIY Cat Tunnel Ideas
Not only are these cat tunnels a great way to use your creativity and imagination, but they're also a perfect way to let your cat explore areas that they may not have explored before.
These can be used inside the house or outside the house as well. It all depends on your preferences and space.
Just be certain to make them sturdy so that they're safe for your furry friends. Here are some really cute and fun semi-outdoor and outdoor DIY cat tunnels.
#1 Outdoor Wire Tunnel for Cats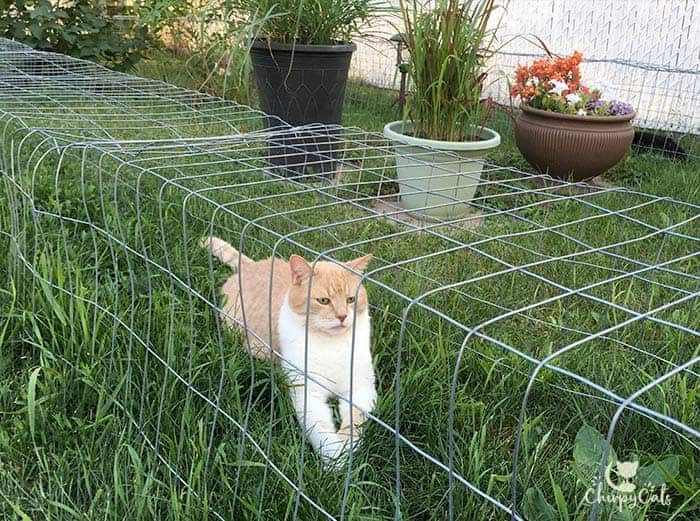 Enhance your cat's outdoor adventures with a DIY wire tunnel!
Craft a secure and stimulating passageway that lets your cat explore nature while staying safe.
Learn how to create an outdoor tunnel that invites curiosity and active play, giving your cat an exciting and protected environment.
This tunnel is a great way to build a sturdy tunnel for the cats to roam around outside.
They'll love being able to be in the grass and still feel the cool breeze, too.
Get the plans for how to make it here.
#2 DIY Cat Tree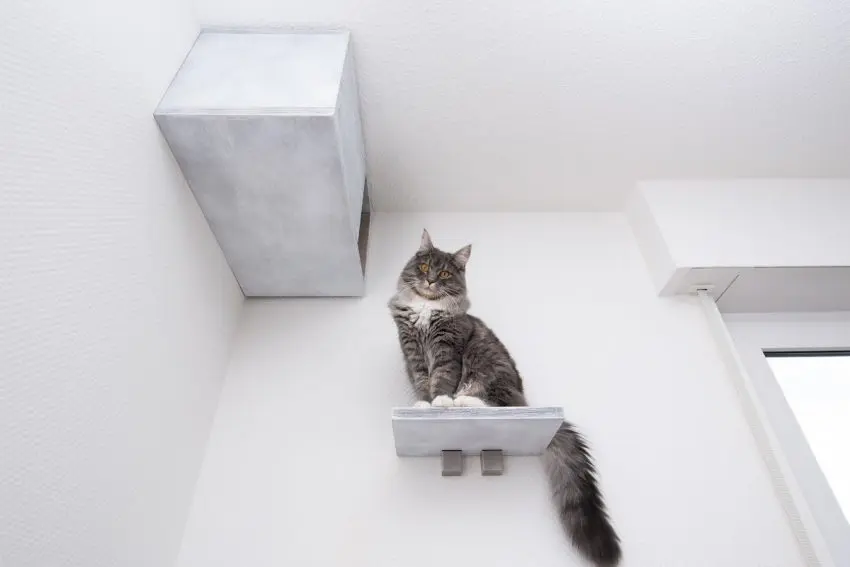 Unleash your imagination and create a DIY cat tree that delights your feline companion!
Construct a unique vertical playground that satisfies your cat's climbing instincts.
From cozy nooks to scratching posts, customize a cat tree that becomes your pet's favorite hangout.
You're going to love the look of this blue cat tower! It creates a fun area for them to climb around and climb through, too.
If you have an outdoor patio or deck area, this could be a great place for your cat to catch some sun.
#3 DIY Outdoor Cat Patio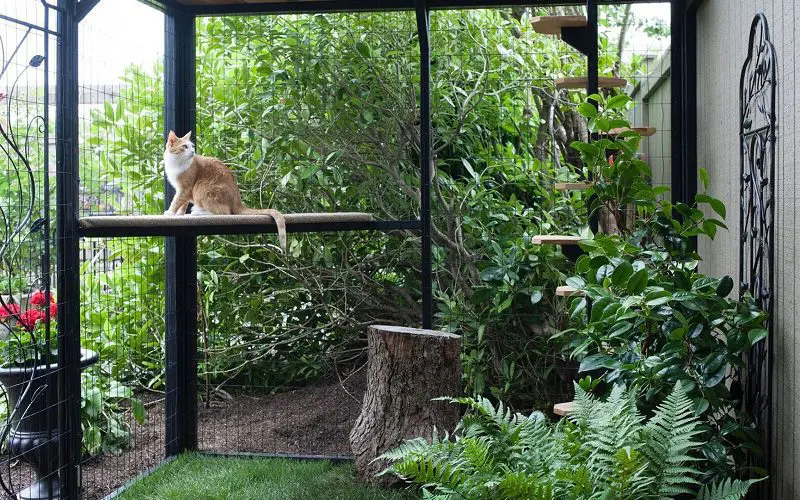 Craft an enchanting retreat for your cat with a DIY outdoor cat patio!
Design a safe and comfortable haven that blends nature and play.
With easy-to-follow steps, you can create an outdoor paradise where your cat can relax, climb, and enjoy the fresh air.
Your cat is going to love this cat balcony. It's the perfect way to get them outdoors while being safe as well.
See how to make it here.
#4 Fun Catio Bridge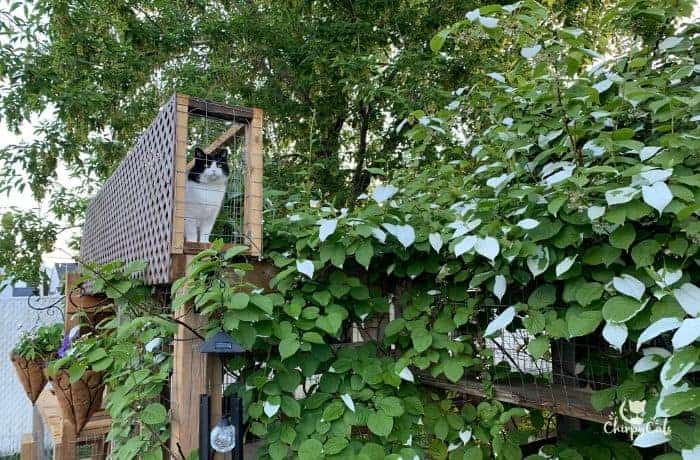 Elevate your cat's outdoor experience with a fun DIY catio bridge!
Construct a sturdy and playful pathway that connects different spaces, allowing your cat to explore and roam freely.
From lounging to adventure, build a catio bridge that adds excitement to your furry friend's outdoor world.
Building a cat bridge is a great way to give them height and even connect other cat tunnels for more space.
Perfect for getting the cats outside and exploring. See the bridge here.
#5 Easy Window Box for Cats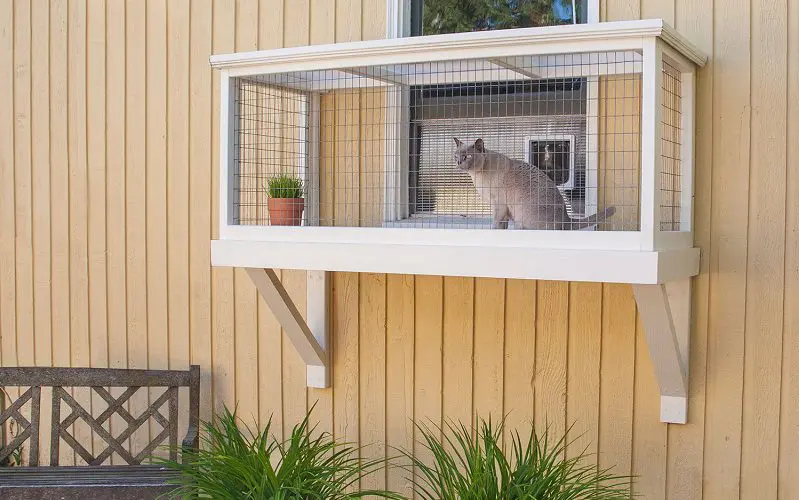 Transform your window into a purr-worthy paradise with an easy DIY window box for cats!
Craft a safe and cozy perch that lets your feline enjoy the view and bask in the sunlight.
Create a soothing oasis by following simple steps, making your windowsill a favorite spot your cat will love.
This window box is a fun idea to let the cats cuddle up to the outdoors while still keeping them safe.
This homemade seat gives them the perfect view to spy on the birds and squirrels. See the look here.
#6 DIY Refillable Paper Cat Tunnel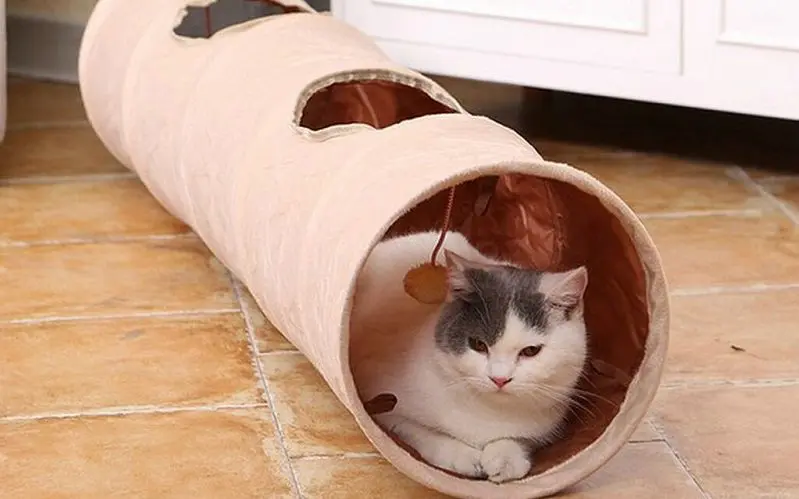 Unleash your inner crafter with a DIY refillable paper cat tunnel! This creative project combines eco-friendly fun and feline entertainment.
Craft your tunnel using recyclable materials, adding refillable paper inserts that keep your cat engaged for hours.
From pouncing to peeking, your furry friend will love exploring this customizable play space.
Have some extra papers lying around the house?
This easy cat tunnel is so fast and simple to make! Check out how to make it here.
#7 Crochet Sack Tunnel for Cats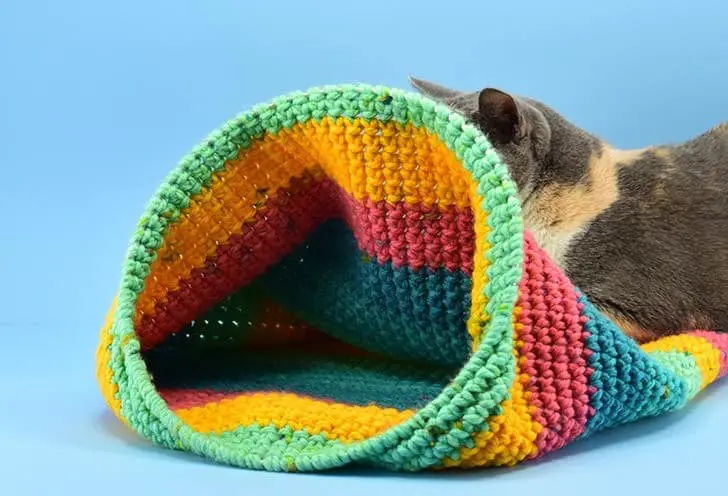 Indulge in crochet creativity with a handmade sack tunnel for cats! This delightful DIY project combines cozy comfort and playful exploration.
Craft a soft and inviting tunnel using crochet techniques, providing your feline friend with a snug hideaway for rest and play.
From lounging to playtime antics, your cat will adore this unique creation that brings comfort and joy to their daily routine.
If you have a cat that loves to hide and play, why not crochet them a cute tunnel that they can easily play in.
Check out how to create one here.
Conclusion
All of these DIY cat tunnels and cat containers can easily be made at home. You just need a few simple supplies to get started, and your cat is going to love life.
So much so that you may not even see them around the house as much anymore because they're going to spend all their time playing in their new areas that were created just for them.
What are your favorite DIY cat tunnel ideas? Share below!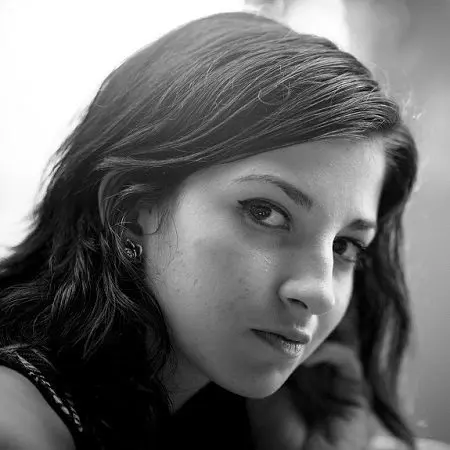 Andreea Juganaru
Andreea is a very passionate content creator and her purpose is to provide you with the most interesting articles, while constantly discovering new facts. She's been freelance writing for the past five years and has created numerous articles and educational materials while managing her own business.