Wondering if there are any good outdoor cat tree houses? You may be surprised to know that there are!
You'll be even more shocked to hear that they're not nearly as expensive as you'd think an outside tree house would be.
Read on to discover our top five favorite picks that are a great value for the money.
Top Picks at a Glance
5 Best Outdoor Cat Tree Houses
1. Petsfit Outdoor Wooden Cat House
In our opinion, Petsfit Outdoor shelter is the best outdoor wood cat tree house.
It looks like a little beach-side condo, doesn't it?
Benefits
Made of super sturdy solid wood that's strong enough to hold up to 5 cats.
Top opens up so it's a breeze to clean.
Weatherproof roof makes it ideal for feral cats who live outside.
Petsfit will replace it free if any damage occurs within 1 year.
Very stylish, so it won't kill your curb appeal
Drawbacks
Assembly can be a challenge. Many customers mention that the pieces aren't labeled and there are a TON of screws.
Not ideal for very large cats (like the Maine Coon)
Recommendation
I think the pros definitely outweigh the cons. Honestly, just about any outside cat tree house will be a pain to assemble.
There's no way around it unless you buy one that's already put together (and pay massive shipping amounts to have it delivered that way!).
It's a super cute and stylish house with plenty of room for small to medium-sized cats.
Some reviewers did say it's big enough for their large kitties, but I wouldn't recommend it for a Maine Coon or Savannah.
2. Catsplay Outdoor Cedar Cat Gym
If you want something very simple yet super sturdy, try this outdoor cat jungle gym.
Benefits
Super-sized outside cat tree is 5 feet high and offers may different levels to encourage climbing.
Design makes it challenging for cats who love to jump yet let's older kitties enjoy the fun thanks to the stairs and ramp.
Total of 7 perches including: 2 small jumping perches, three 3 large side perches, and topped with 2 full perches.
Made with bug and weather-resistant cedar sanding down to a smooth surface.
Surprisingly easy to assemble.
Drawbacks
It's more "tree" than "house" and doesn't have a sheltered spot for outdoor kitties.
The cost is a bit high for smaller budgets. It's the most expensive one on this list.
Recommendation
If you have a flat backyard and nary a tree in sight, your outdoor kitties will get some much-needed exercise with this jungle gym.
I love that it ships unfinished, so you can either keep it natural or stain it to match your outdoor decor.
3. Catsplay PVC Frame Outdoor Cat Tree
If you want something simple yet strong, this PVC-frame tree is a good option. I know it doesn't look like much, but bear with me and you'll see why I like it.
Benefits
The inside plastic is super sturdy, while the outside shell gives it a nice finish.
Made with patented poly resin frames using two different types of plastic that are fused together.
Nine levels in all, including a weighted base to prevent tipping.
All parts and fabrics are replaceable, so you can just fix what's broken and not pay for a whole new tree. Plus, it comes with 1 year warranty
The fabric is a "patented, guaranteed chewproof design"
Drawbacks
It's not the prettiest outdoor cat tree on this list. That said, you can customize the color of the fabric (although only one frame style works for outdoors).
No enclosed levels mean no shelter for outdoor kitties.
Recommendation
If you have multiple cats (including larger ones like Coons) and you value functionality over style, this is a great choice.
While I'm not a huge fan of the style with the green fabric, it comes in a nice burgundy or royal blue that's actually quite nice.
4. Petsfit 2 Story Outdoor Cat House
Another one from Petsfit, this one is a bit cheaper (price-wise) than the first tree, yet still absolutely darling.
benefits
Super cute design with a shelter and an upper "deck" to encourage climbing.
The asphalt roof keeps the elements at bay.
Shelter also includes an overhang roof to prevent rain from leaking in.
The little house includes an "escape hatch," so cats aren't stuck with just one way in and out.
Drawbacks
At 19″x19″x11″, the shelter isn't big enough for larger cats.
While it's "weatherproof" to some degree, some customers say that it's not ideal for extreme weather conditions. They recommend sealing it.
Recommendation
If you have a petite cat or want a shelter just for kittens, this is a great (and relatively inexpensive) buy.
It's super cute, so it definitely adds to your curb appeal!
5. Scurrty Outdoor Wooden Cat House
The Scurrty Wooden House is very similar to the Petsfit right above but with a different style.
benefits
Made with high-quality firm wood that will last for years.
Environmentally friendly water-based paint is non-toxic and odorless.
Asphalt waterproof roof adapts to different environments.
Full 90-Day Money Back Guarantee.
Drawbacks
Although it looks bigger than the Petsfit house above, the shelter is about the same size, meaning (you guessed it) it's not ideal for large cats.
Assembly can be a bit tricky. Not horrific, but not exactly a cinch, either. Most customers say it takes about an hour to put together.
Recommendation
While there isn't a whole lot of difference between the Petsfit and this one, I do love that this one uses nontoxic paint.
Again, it's ideal for petite kitties.
Final Word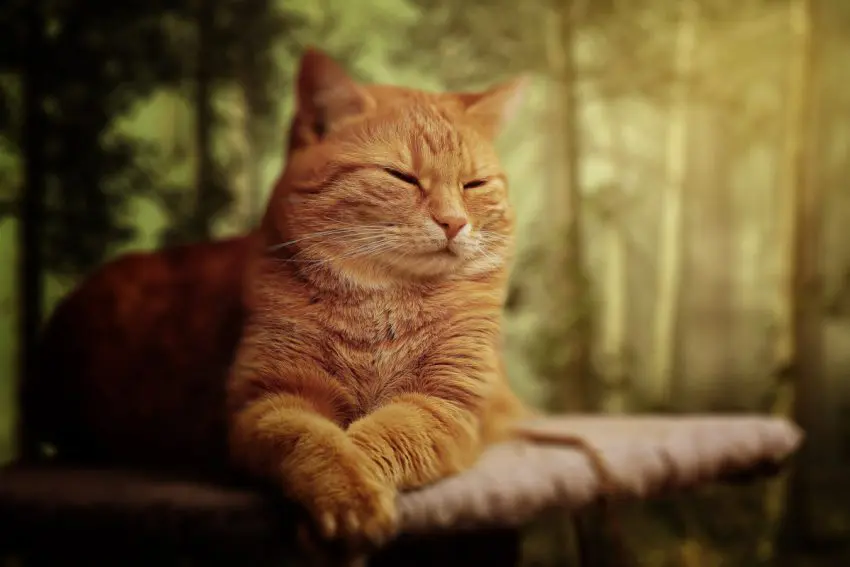 If I could buy just one, I would have to go with the very first Petsfit on this list.
I love the overall style. Plus, it's the closest thing to an attractive cat tree/house combo that I could find.
However, if you don't really need the shelter and just want something they can climb on, the Cedar Jungle Gym is pretty cool!
Do you have any other outside cat tree houses to add to this list? Which would you buy for your kitty? Share below!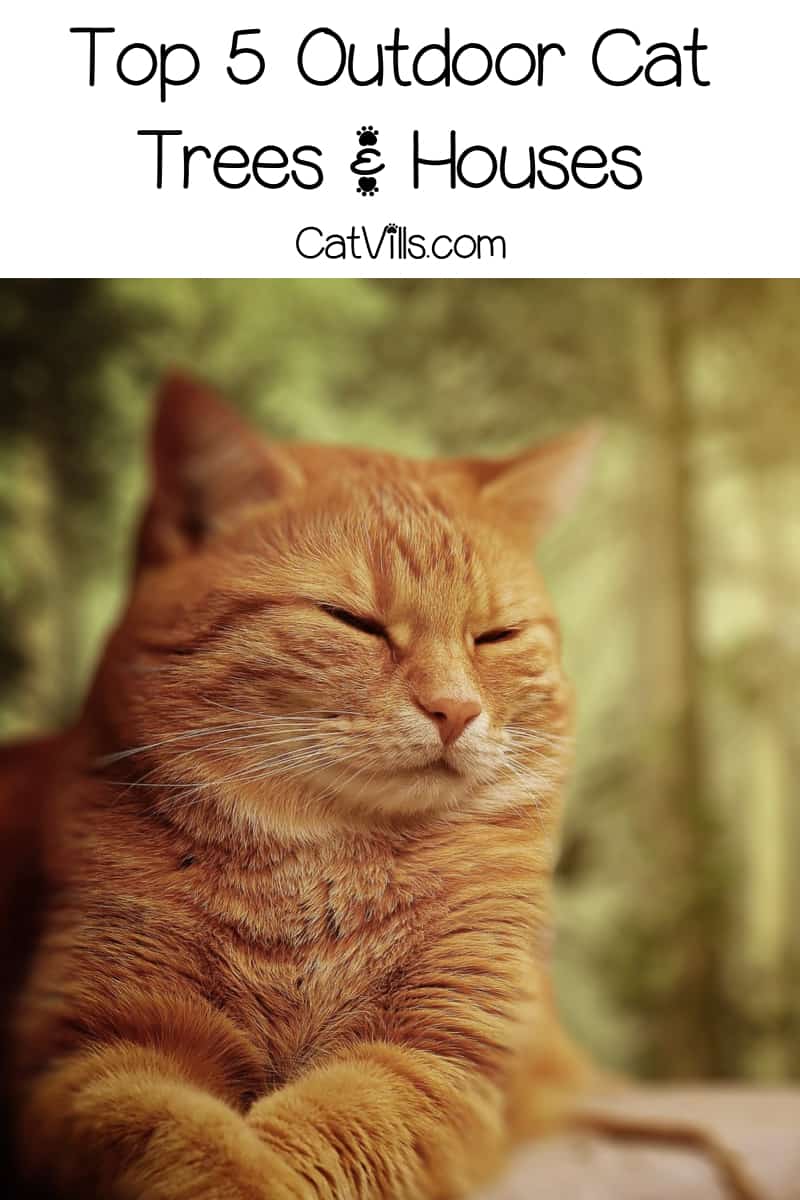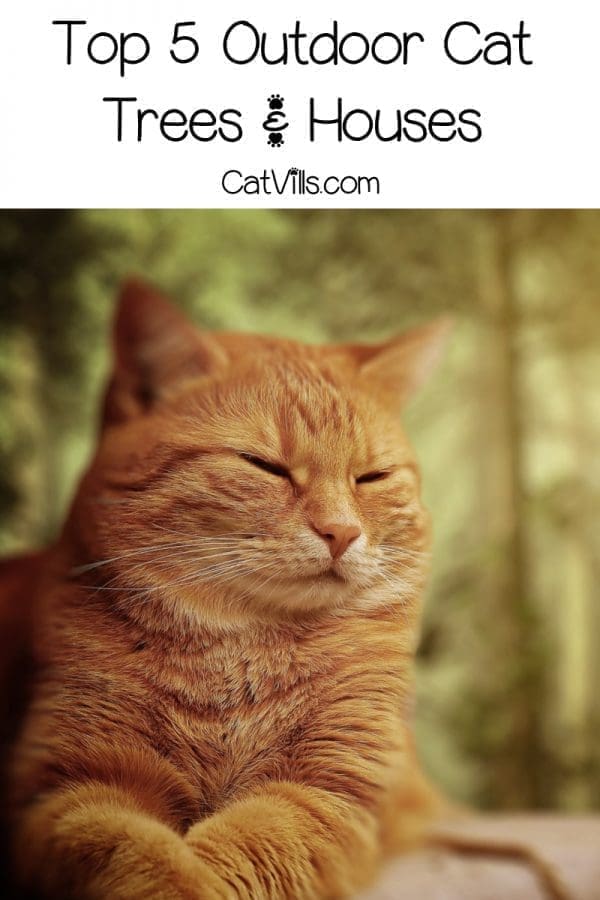 Last update on 2023-09-21 / Affiliate links / Images from Amazon Product Advertising API