Wondering if there are any good outdoor cat tree houses?
You may be surprised to know that there are!
You'll be even more shocked to hear that they're not nearly as expensive as you'd think an outside tree house would be.
Read on to discover my top five favorite picks that are a great value for the money.
Top 5 Outdoor Cat Houses at a Glance
This post contains affiliate links. We earn a commission if you make a purchase, at no extra cost to you.
Check out the table below for a quick view of these outside cat tree houses, then read on for more details!
Top Benefit
Weatherproof roof, stylish
Includes escape hatch, weather-resistant
High-quality fir wood construction
Related: Cat tree that looks like a tree
Top 5 Best Outside Cat Trees Houses
In our opinion, Petsfit Outdoor shelter is the best outdoor cat tree house.
It looks like a little beach-side condo, doesn't it?
Benefits
Made of super sturdy solid wood that's strong enough to hold up to 5 cats.
Top opens up so it's a breeze to clean.
Weatherproof roof makes it ideal for feral cats who live outside.
Petsfit will replace it free if any damage occurs within 1 year.
Very stylish, so it won't kill your curb appeal
cons
Assembly can be a challenge. Many customers mention that the pieces aren't labeled and there are a TON of screws.
Not ideal for very large cats (like the Maine Coon)
Recommendation
I think the pros definitely outweigh the cons. Honestly, just about any outside cat tree house will be a pain to assemble.
There's no way around it unless you buy one that's already put together (and pay massive shipping amounts to have it delivered that way!).
It's a super cute and stylish house with plenty of room for small to medium-sized cats.
Some reviewers did say it's big enough for their large kitties, but I wouldn't recommend it for a Maine Coon or Savannah.
Petsfit Indoor Cat House/Small Dog House/Small Animal Hideout 28" LX21 WX25 H
Made from kiln dried ceder and treated with WATER-BASED paint. Easy climb with stairs.
Inner dimension:18"Lx18"Wx14"H,more details please refer to the PICTURE.
Easily assemble with pre-drilled hole, latching door can prevent pets from escaping.
Ideal condo with rooftop for cat or small dog. Also ideal for storing small things.
Removable bottom panels for easy cleaning.
If you want something very simple yet super sturdy, try this outdoor cat jungle gym.
Benefits
Super-sized outside cat tree is 5 feet high and offers may different levels to encourage climbing.
Design makes it challenging for cats who love to jump yet let's older kitties enjoy the fun thanks to the stairs and ramp.
Total of 7 perches including: 2 small jumping perches, three 3 large side perches, and topped with 2 full perches.
Made with bug and weather-resistant cedar sanding down to a smooth surface.
Surprisingly easy to assemble.
cons
It's more "tree" than "house" and doesn't have a sheltered spot for outdoor kitties.
The cost is a bit high for smaller budgets. It's the most expensive one on this list.
Recommendation
If you have a flat backyard and nary a tree in sight, your outdoor kitties will get some much-needed exercise with this jungle gym.
I love that it ships unfinished, so you can either keep it natural or stain it to match your outdoor decor.
Buy it Now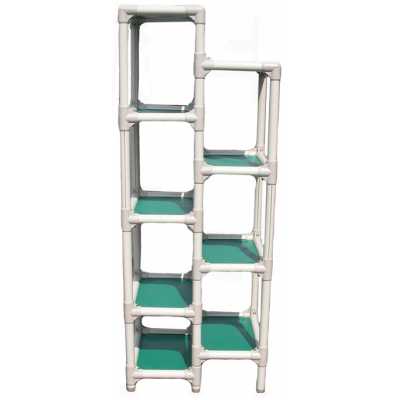 If you want something simple yet strong, this PVC-frame tree is a good option. I know it doesn't look like much, but bear with me and you'll see why I like it.
Benefits
Made with patented poly resin frames using two different types of plastic that are fused together.
The inside plastic is super sturdy, while the outside shell gives it a nice finish.
Nine levels in all, including a weighted base to prevent tipping.
The fabric is a "patented, guaranteed chewproof design"
All parts and fabrics are replaceable, so you can just fix what's broken and not pay for a whole new tree. Plus, it comes with 1 year warranty.
cons
It's not the prettiest outdoor cat tree on this list. That said, you can customize the color of the fabric (although only one frame style works for outdoors).
No enclosed levels mean no shelter for outdoor kitties.
Recommendation
If you have multiple cats (including larger ones like Coons) and you value functionality over style, this is a great choice.
While I'm not a huge fan of the style with the green fabric, it comes in a nice burgundy or royal blue that's actually quite nice.
Another one from Petsfit, this one is a bit cheaper (price-wise) than the first tree, yet still absolutely darling.
benefits
Super cute design with a shelter and an upper "deck" to encourage climbing.
The asphalt roof keeps the elements at bay.
Shelter also includes an overhang roof to prevent rain from leaking in.
The little house includes an "escape hatch," so cats aren't stuck with just one way in and out.
cons
At 19″x19″x11″, the shelter isn't big enough for larger cats.
While it's "weatherproof" to some degree, some customers say that it's not ideal for extreme weather conditions. They recommend sealing it.
Recommendation
If you have a petite cat or want a shelter just for kittens, this is a great (and relatively inexpensive) buy. It's super cute, so it definitely adds to your curb appeal!
Petsfit Outdoor Cat House, 2 Story Outside Cat Shelter Condo Enclosure with Escape Door for Stray Feral Cats Weatherproof
Spacious Space: Outer dimension: 20"Lx20"Wx32"H, inner dimension: 18"L x 18"W x 27"H, 2nd-floor door: 6"W X 10"H, escape door: 5.5"W X 10"H. Roomy enough for 2 adult cats & 3-4 kittens. Please verify measurements prior to booking!
Sturdy to Use: Covered by hinged asphalt roof, constructed by 12mm Finnish spruce panels, thicker than others to provide best sturdiness to hold up in the elements. The raised floor protects against decay from rain & snow.
Protection for Cats: This cat shelter offers an extra escape door to prevent cats from being trapped. The 2-story design allows cats to eat and rest inside safely & warmly.
Thoughtful Details: Hinged roof can be opened to reach both removable layers for cleaning with ease. Come with 2 jump pads on each floor outside for up and down. Assemble with ease by pre-drilled holes.
Tip of Use: Cat nip or a warm blanket/heating pad would help invite cats to come in. Placed in a protected area would make the house used for more years, like garage, carport, under a covered patio, or similar location. Face the upper front door towards your house/wall to protect from wind and rain better.
The Scurrty Wooden House is very similar to the Petsfit right above but with a different style.
benefits
Made with high-quality fir wood that will last for years.
Environmentally friendly water-based paint is non-toxic and odorless.
Asphalt waterproof roof adapts to different environments.
Full 90-Day Money Back Guarantee.
cons
Although it looks bigger than the Petsfit house above, the shelter is about the same size, meaning (you guessed it) it's not ideal for large cats.
Assembly can be a bit tricky. Not horrific, but not exactly a cinch, either. Most customers say it takes about an hour to put together.
Recommendation
While there isn't a whole lot of difference between the Petsfit in #4 and this one, I do love that this one uses nontoxic paint. Again, it's ideal for petite kitties.
Scurrty Wooden Cat House 2 Story Outdoor Indoor Cat Condo with Raised Waterprrof Roof and Balcony Cat Condo House Small Animal Cage (Cat House)
❤【Durable Material】Made by high quality texture, solid and durable wood frame for long term use. SBS modified asphalt water resistant material on top. It can adapt to different weathers, provides long lasting durability.
❤【Use】The inner shelter for your lovely pets to protect them from ground chill and wet condition. An Easy Access house will give cats a warm and insulated shelter to play outside.
❤【Specification】Overall Dimension: 27.6" x 15.1" x 28.7", inner dimension of the main house: 18.1"x 13.6"x 10.2", size of the Door: 6.7" x 8.3".
❤【Multi-tier Design】The Scurrty Cat house is an indoor/outdoor structure specially designed for cats, small dogs and small animal in your home or yard. Includes indoor lounge, climbable stairs and a rooftop balcony with railing.
❤【Convenient and Guarantee】Full Satisfaction 90 Day Money Back Guarantee. Easy to install/unstall and easy to clean( Included installation instructions ). All parts can be disassembled optional.
My Final Recommendations
If I could buy just one, I would have to go with the very first Petsfit on this list.
I love the overall style. Plus, it's the closest thing to a cat tree/house combo that I could find.
However, if you don't really need the shelter and just want something they can climb on, the Cedar Jungle Gym is pretty cool!
Petsfit Indoor Cat House/Small Dog House/Small Animal Hideout 28" LX21 WX25 H
Made from kiln dried ceder and treated with WATER-BASED paint. Easy climb with stairs.
Inner dimension:18"Lx18"Wx14"H,more details please refer to the PICTURE.
Easily assemble with pre-drilled hole, latching door can prevent pets from escaping.
Ideal condo with rooftop for cat or small dog. Also ideal for storing small things.
Removable bottom panels for easy cleaning.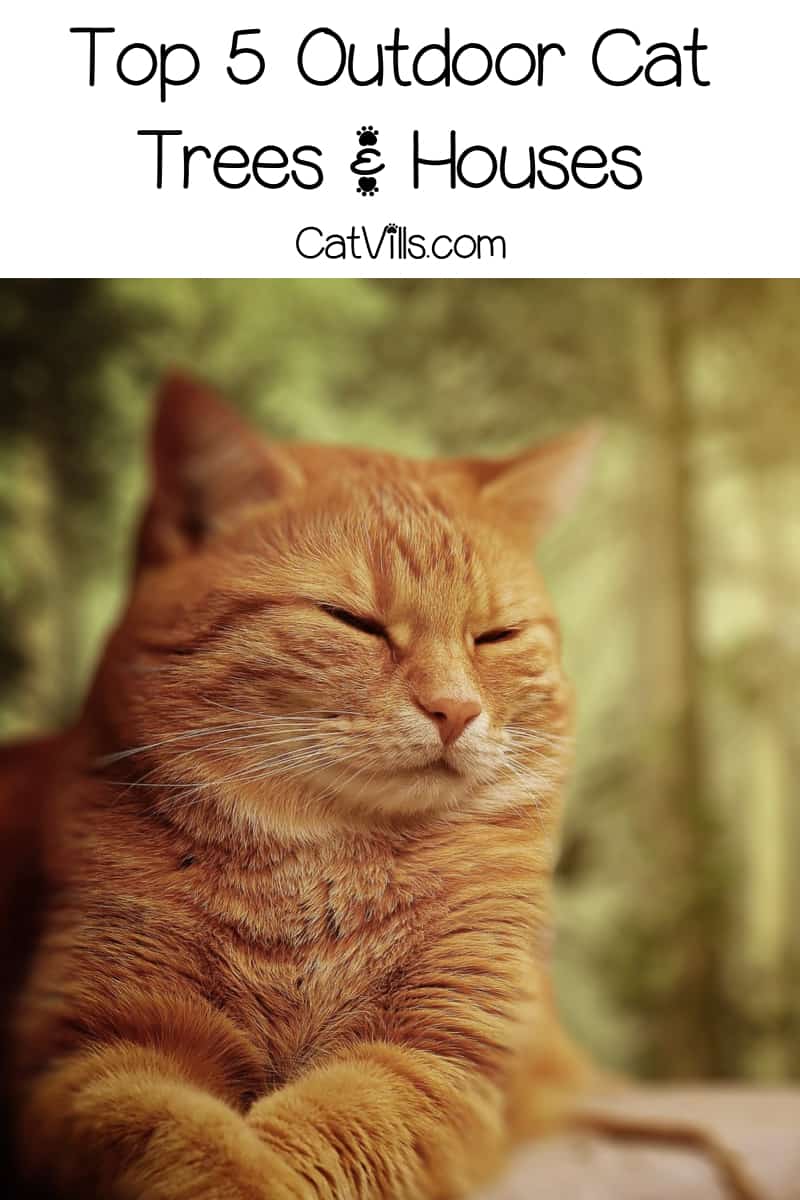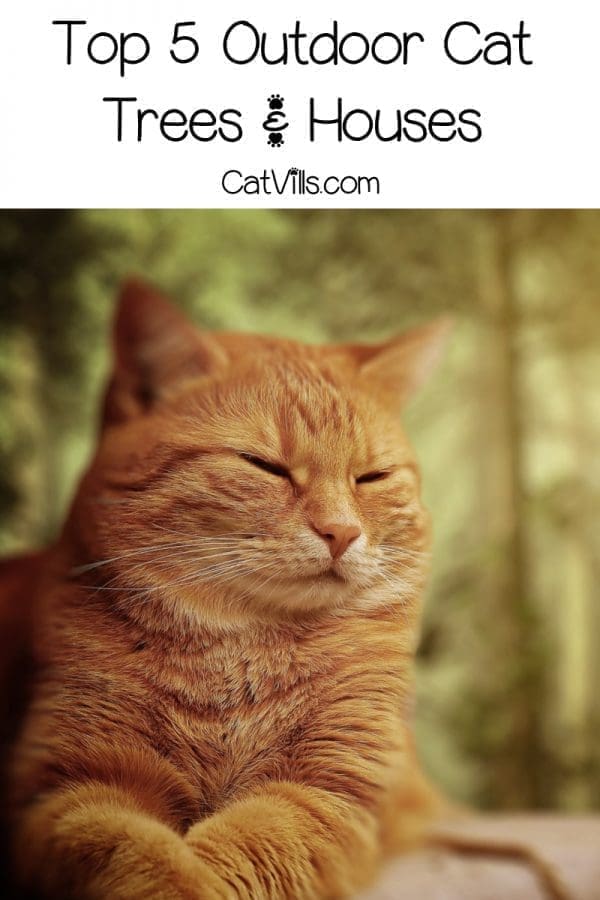 Related: 7 Rustic Cat Trees That Will Fit With Your Decor
Do you have any other outside cat tree houses to add to this list? Which would you buy for your kitty? Share below!
Nicole Etolen
Nicole is the Editor-in-Chief and one of the writers here on CatVills. She's been a cat lover most of her life and-at one point- counted five felines as part of her family. Today, she's proud cat mom to two indoor kitties and caregiver for a slew of ferals.
Last update on 2021-06-14 / Affiliate links / Images from Amazon Product Advertising API