Looking to find the best slow feeder cats bowls?
I'll take you through some stellar options and a detailed buying guide.
You'll soon have no trouble slowing down your cat's eating habits.
Let's start with a quick look at our top picks, then keep reading for all the glorious details.
Top Slow Feeder Cat Bowls at a Glance
#1 Winner: Lorde Slow Feeder Cat Bowls
Lorde Slow Feeder Cat Bowls
▶MATERIAL-- Slow feeder bowl made of high-quality Ceramic, Non-toxic...
▶HEALTHY EATING-- Interactive slow feed bowl promote healthy eating,...
▶FUNY TOY-- Maze shape bow allows your pet to enjoy catching food in...
Lorde's Slow Feed Cat Bowls incorporates fun into slow eating.
Your cat will be eating their dinner from a surface filled with fish shapes.
But it'll be in a healthy way with the numerous ridges and smooth eating surface.
Features
Maze-shape fish design
Made with high-quality ceramic
Dishwasher-safe and microwave-safe
Embedded with ridges
Smooth surface
8.7 x 8.7 x 1.6 inches
1.8 pounds
Benefits
The adorable, fish-shaped design does provide fun into your cat's dinnertime. Plus, it offers a challenge and mental stimulation.
Meanwhile, your cat will need to take their time through this challenge. No longer will they gobble up all the food in seconds and proceed to vomit.
It's also worth noting that owners can use this bowl for dry or wet food. Its raised ridges provide more than enough space to work effectively.
People can even get all their money back if they feel the product doesn't meet their needs. So it's a nice additional touch that Lorde didn't need to offer.
Lastly, the ceramic design material makes the bowl hard to move. Your cat won't be shuffling this bowl all over the floor as you see with other options.
Drawbacks
The only downside with this bowl would be its cleaning process. Some customers have mentioned it was a bit difficult to hand wash given the ridges.
However, this issue is easily solved by using a dishwasher. You can then do a little hand washing to see whether there are any left behind food particles.
Ceramic is also breakable. But if you keep it on the ground, this won't be an issue.
How it Compare to Others
The fish-shaped design and stable construction give it a leg-up on most other options. Unfortunately, pet owners don't often find a food bowl that can provide both fun and stability.
You can't overlook the bowl's versatility, either. It ensures you can meet the dietary needs for whatever cat requires a solid slow feeder.
Expert Tips
Fill the channels evenly and not too packed with dry food.
#2 Best Color Variation: Super Design Slow Feeder Cat Bowls
Super Design Slow Feeder Cat Bowls
[ SLOW FEEDER FOR IMPROVING DIGESTION ] - Dog cat bowls perfect for...
[ SAFETY MATERIAL ] - Unlike ordinary plastic bowls, our slow feeder...
[ HEAVY AND NO SKID ] - Melamine Slow Bowl is more heavy for the size...
Super Design's Anti-Gulping Slow Feeder Cat Bowl provides buyers with various color choices.
It comes with eleven options to mesh with your cat's personality.
This slow feeder cat bowl's performance is also very effective.
Its three-raised column design offers quite a brain teaser for your feline.
Features
Made from food-grade melamine material
Eleven color options
Features a rubber rim
Equipped with a handle
Dishwasher-safe
Three raised columns without sharp edges
Four sizing choices (0.5 cup, 1.5 cup, 2.5 cup, and 4.0 cup)
Benefits
Durable rust-resistant construction
Resistant to scratches
Easy to clean
Suitable for wet food and dry food
Extremely portable
Drawbacks
The rubberized bottom isn't skid-proof
Can't put it in the microwave to warm up food due to the melamine
How it Compare to Others
Aside from a large number of colors, the three raised columns are intriguing. They've proven time after time to slow a cat's eating habits.
The durable construction is another crucial feature. It should ensure this slow-release cat feeder provides long-term, practical performance.
#3 BEST DRY FOOD ONLY CHOICE: CILKUS Slow Feeder Cat Bowls
Sale
Cilkus Slow Feeder Cat Bowls
🐾Healthy Eating - Fun Interactive Feeder Bloat Stop Cat Bowl...
🐾Fun Toy - Fish pool design attract your pet to enjoy eating...
🐾Easy to Clean - Can be easily cleaned by handwash and...
The Clikus Slow Feed Bowl for Cats keeps your cat's dinnertime interesting.
Its fish pond design contains ridges that promote slow and non-vomit eating.
You can even provide a little style with the four available color choices.
Features
Fish pond design
Made from high-quality, food-grade melamine
Fitted with anti-slip rubber feet
Dishwasher-safe
Smooth surface
Available in four colors
Three size options (Small, Large, Large X2)
Benefits
Easy to clean with a cute design
Strong, durable construction
Prevents the bowl from tipping
Scratch-resistant
Ridges slow down food consumption
Drawbacks
Only suitable for dry food
Made with Melamine, so it can't be microwaved
How it Compare to Others
Dry-food-only options don't often come with a cute design and anti-tipping capabilities. But this option's robust and stable design ensures a comfortable, issue-free meal.
Plus, the scratch resistance should keep the bowl in good shape. Your cat will be eating their meals from a cute, fish-pond bowl for a long time.
Expert Tips
It could require support to stop it from bouncing when your cat's eating.
#4 Best Budget-Friendly Option: SLSON Store Slow Feeder Cat Bowls
Sale
SLSON Store Slow Feeder Cat Bowls
PROMOTE HEALTHY DIET FOR CATS: The ceramic slow feeder bowl is...
CERAMIC CAT SLOW FEEDER: this slow feeder bowl made of high quality...
HEAVY & SHALLOW FEEDING BOWLS: this white ceramic cat slow feeder dish...
Some slow-feeder bowls can cost a lot more than their worth.
But SLSON's Cat Slow Feeder Bowl does an excellent job balancing effectiveness with cost.
Its shallow, circle design encourages a slow, patient eating experience.
Your cats will even love it as its shallow ridges don't bother their whiskers.
Features
Made from high-quality ceramic
Shallow, circle design
White coloring
Dishwasher-safe and microwave-safe
Heavy-duty build
Holds 2.7 oz of food
5.8" opening x 1.1" height
Benefits
Durable, heavy construction
Affordable price
Suitable for wet and dry food
Low-noise level
Simple to clean
Drawback
No rubber bottom to prevent skidding
Breakable
How it Compare to Others
The best part of this product would be its shallow ridges. Cats ignore most slow feeders bowls because the ridges mess with their whiskers.
But this brand did a good job accounting for this issue and allowing a comfortable experience. It also doesn't hurt that the entire bowl is made from heavy-duty, durable ceramic.
However, that means it's breakable, so it's not ideal for cats that eat high up.
Expert Tips
Get a mat to help with the skidding issues.
#5 Best for Older Cats: RoyalCare Slow Feeder Cat Bowls
Sale
RoyalCare Slow Feeder Cat Bowls
Slow Feeder: the raised cat bowl put a cat's mouth at a better...
Tilt Angle Design: the tilted shape keeps food piled nicely or falls...
Reduce Neck Burden: the cat bowls have the right height, allowing the...
Royal's Elevated Slow Feeder has become a favorite among old cat owners.
Its elevated design allows these older cats to eat from a more comfortable position.
As a result, it reduces the burden on their necks to stop any pain issues.
It also does a wonderful job of slowing them down without any spills or messes.
Features
Tilted, raised design
Pawprints on its exterior surface
Two bowls
Made with high-quality melamine
Waterproof, silicone mat included
Stable, wide base
9.02 x 7.48 x 6.69 inches
2.8 Pounds
Benefits
Comfortable eating position
Prevents neck strain
Stops any tipping issues
Rust-proof and corrosion-proof
No slipping or messes
Drawbacks
It isn't ideal for splashers
Pricier than other options
How it Compare to Others
The raised, tilted design and melamine construction aren't to overlook. It makes these bowls a durable, stable, and comfortable place for a cat to eat or drink.
You shouldn't overlook the paw print exterior design, either. It never hurts to add a little style or personality into your cat's life.
#6 Most Unique Design: Lickimat Store Slow Feeder Cat Bowls
Lickimat Store Slow Feeder Cat Bowls
REDUCES ANXIETY, BOREDOM AND DESTRUCTIVE BEHAVIOR – LickiMat allows...
LICK MAT ENRICH FEEDING TIME - Casper is all about mimicking feeding,...
DENTAL HEALTH - LickiMat textured surfaces promote pleasurable licking...
Our final choice, Lickimat Fish-shape Cat Slow Feeders, is perfect for wet food.
It's embedded with ridges and ribs that trap wet food into them.
Your cat will have to work and lick the ridges if they want their meal.
Plus, each owner will have various patterns and color choices to select.
Features
Fish-shaped, low-profile design
Embedded with ridges and ribs
Soft, smooth surface
Two patterns (Casper or Felix)
Dishwasher-safe
Three color options (Green, Orange, and Turquoise)
8.66 x 0.28 x 6.3 inches
Benefits
Affordable
Whisker-friendly
Ideal for picky eaters
Promotes excellent dental health
Easy to clean
Drawbacks
Only really ideal for wet food
Aggressive eaters can break pieces off of it
How it Compare to Others
Aside from their unique design, these slow feeders seem to be highly cat-friendly. Numerous customers have reported even their pickiest cats ended up loving them.
Their health will benefit, too, with these mats' usage. It has proven to help with dental health and reduces issues like boredom or anxiety.
Expert Tips
Soak them for a few minutes, then scrub with a dish brush.
#7 Best Interactive Toy Option:TRIXIE Activity Slow Feeder Cat Toy
The TRIXIE's Activity Slow Feeder Cat Toy is a fun way to improve a cat's eating habits.
It provides them with mental stimulation by sending their food through its tunnels.
Your cat will then need to use their natural instincts to access the food.
It ends up being a bundle of fun for both the owner and their cats.
Features
Made with BPA-free plastic
Tunnel design
Non-slip rubber feet
Dishwasher-safe
Red and white coloring
0.5 cups of food
5.5 x 11 x 11 inches
3.0 pounds
Benefits
Offers mental stimulation and fun during feeding
Easy using process
Simple to clean
Remains in place and stops any skids
Promotes better digestion and nutrient absorption
Drawbacks
A more expensive option
Dry food only
How it Compare to Others
Its ability to offer a fun way of promoting better digestion is a notable trait. Cats seem to love hunting through the tunnels to find their kibble.
But this option is a bit more expensive than most other choices. You'll need to decide whether the fun is more the increased cost.
5 Things You Should Know About Slow Feeder Cat Bowls
It's essential to have background info about these slow feeder bowls before making a decision.
I will discuss five topics that should provide a good idea about what these products offer.
What Are Slow Feeder Cat Bowls & How Do They Work?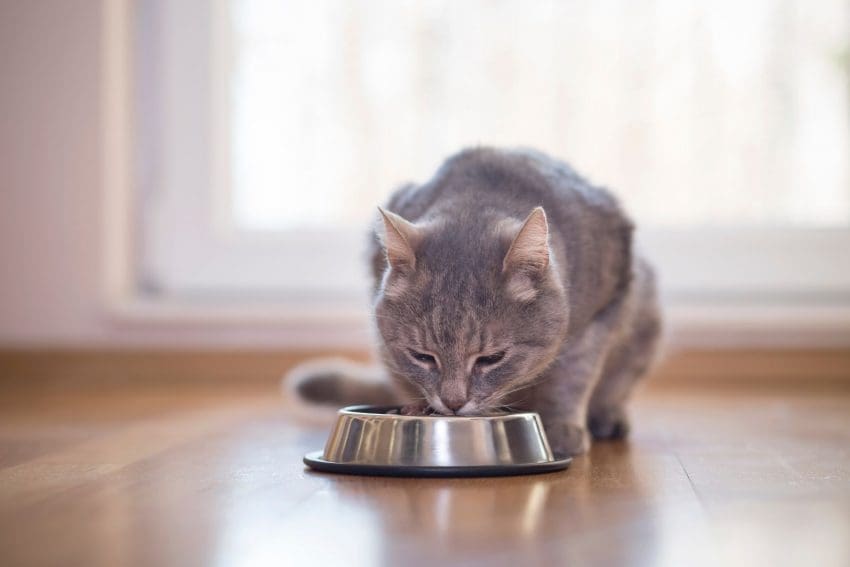 A slow feed cat bowl will prolong the eating time for certain pets. In most cases, pet owners use them for dogs or cats who eat their food a little too fast.
Many slow-feeding bowls will offer these benefits or other elevations in their design. These components will break up the bowl's surface and provide smaller food portions.
As a result, it'll prevent your excited cat from ingesting their food like a hungry hippo. It slows down their food intake to much safer and healthier standards.
Your cat will also have to work their mouth and paws to procure the food. It's an easy way to stimulate their natural hunting instincts and offer mental stimulation.
Why Do You Need a Slow Feed Cat Bowl?
Cats who require slow feeding bowls have one of the following problems. Most of them will typically even have two or more:
Overweight
He eats too fast and vomits
Gulps the food and causes choking
Eats their wet cat food too fasts
Suffered from food bloat (a very dangerous situation)
Any cat owner who has a feline with one of these problems needs slow feeding bowls. Otherwise, there's a high likelihood of the behavior continuing.
Types of Slow Feeder Cat Bowls
As you can imagine, slow-feed cat bowls or cat food dishes can come in various sizes and shapes. A potential buyer must know the popular variations before starting their search:
Dry Food Slow Feeders
Any slow feeder can feed a cat dry food, but they're specific dry cat food options. These bowls are also known as cat food mazes.
It's a cute nickname that comes from them distributing their meal in small portions of food between the ridges. These options can do wonders for a cat who loves its dry food a bit too much.
Wet Food Slow Feeders
Most slower feeder bowls don't come with raised edges, making them a bad fit for wet food. But some will have raised edges or a hollow base.
These options are more suitable for wet cat food, hence the name wet food slow feeders. They also work for anyone looking to slow feed their cat kibble and canned food.
Indoor Hunting Cat Feeders
Indoor hunting cat feeders are a bit more involved than our previous types. These options are designed to mimic how your cat would hunt in its natural habitat.
You'll find them in various shapes, but they all have the same goal. These bowls are looking to tap into your cat's hunting brain and provide physical stimulation when they're eating.
Interactive Puzzle Slow Feeders
Our last type functions to assist slow eating while providing a fun playing experience. You can expect these bowls to be filled with treats to encourage play.
More importantly, these bowls are self-rewarding games that offer your feline friend incentive. It also reduces their anxiety and boredom to create a more relaxed environment.
Are Slow Feeders Good for Weight Loss?
Slow feeders are geared primarily to slowing down your cat's consumption. But most aren't specifically designed to help cats lose weight.
However, there's some good news about this aspect. Slow feeders often will provide cats with a full feeling sooner than when devouring their food.
So they end up eating less food when using a slow feeder. But there's one thing these bowls can't account for, which is portion control.
Owners who don't control their cat's food portions within the slow feeder won't make them lose weight. So it ends up being a tool for weight loss rather than the entire solution.
Why Do Cats Vomit From Eating Too Fast?
Cat vomit is a horrible thing for owners to deal with as it's insanely gross. But what's the reason for them vomiting when eating too fast?
Well, it comes down to cats being quadrupeds (four-legged rather than two-legged). It causes a cat's esophagus to be horizontal rather than vertical.
As a result, food will slap their lower esophageal sphincter and cause vomiting. It often occurs several minutes after the food is consumed rather than right away.
How to Choose the Best Slow Feeder Cat Bowl
Since you now have a handle on what these bowls offer, it's time to look at how to find a suitable one.
These discussions will highlight essential features that need consideration when choosing a slow feed cat bowl:
Wet or Dry Cat Food
One of the primary considerations will be your preferred type of food. As I mentioned earlier, bowls with raised edges are much more suitable for wet food.
But they can also be usable for serving dry food. However, slow feeder bowls without raised edges are only suitable for dry food, such as kibbles.
Design
Each bowl's design will play a massive role in your final decision. For instance, buyers need to ensure their selected option has soft ridges that are safe.
I'd also suggest looking at the distance between these ridges. You don't want them to be too narrow or wide, so the slow feed bowl works.
So take a look at other customers' reviews to understand each option's performance. These resources will tell you everything needed to decide about its effectiveness.
Construction Material
A slow feeder bowl's construction material will be an essential consideration. It needs to be non-toxic, BPA-free, and food-grade material or the slow feed bowl might not be safe.
Furthermore, owners with aggressive cats should avoid bowls made from rubber, plastic, or silicone. They could chew and ingest the material and cause digestion issues.
These owners should stick with steel and ceramic bowls. Both materials will easily stand up to your cat's chewing.
Another thing to consider is the material's durability and longevity. Steel options tend to last a lot longer than the others as ceramic and plastic wear down easier.
Price and Brand
Your last consideration will be each model's price and manufacturing brand. I'd advise constructing a realistic budget around what you consider necessary features.
For instance, a cat owner looking for a steel slow feed cat bowl or automatic cat food feeders will need a higher budget. It's accounting for these little details that allow a budget to be helpful during the search.
As for the manufacturing brand, other customers should help with this area. You could also stick with the ones mentioned in our product reviews as each one has a stellar reputation.
Slow Feeder Cat Bowls FAQs
Do slow feeder bowls work for cats?
If used properly, slow feeder bowls should slow down a cat's eating. They're specifically designed to make it "more difficult for the cat to get to their cat food."
Should a cat's food bowl be elevated?
It comes down to your cat's preference. But they could need it if they have specific health issues and health conditions, "such as megaesophagus or a musculoskeletal disorder." 
Will a slow feeder stop my cat from throwing up?
A slow feeder bowl will help the situation, but the problem might be "overfeeding."
Final Word
I hope our discussions about slow feeder bowls made your decision easier. But if you have any additional questions, let me know in our comment section. Thanks for reading!
Our recommendation would be to buy Lorde's Slow Feeder Cat Bowls. Every aspect of these bowls should more than meet a cat owner's expectations.
What are your favorite slow feeder cat bowls? Let us know in the comments below!
Resources:
Last update on 2023-09-21 / Affiliate links / Images from Amazon Product Advertising API