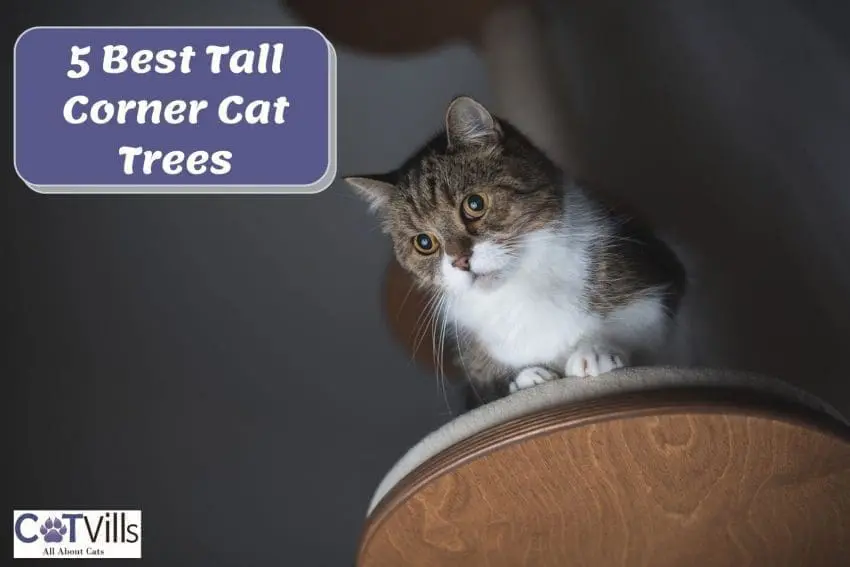 Looking for a tall corner cat tree that doesn't take up the entire room?
No problem, we've got your back!
Check out our favorite options below, starting with a quick peek!
Then, keep reading for in-depth reviews of each one.
Don't forget to check our review on the Best Cat Tree Under 100 too!
5 Tall Corner Cat Trees at a Glance
FYI, this post contains affiliate links. We earn a commission if you make a purchase at no extra cost to you.
Check this comparison table for a quick guide on tall cat trees. Read the review for further details.
5 Best Tall Corner Cat Trees with detailed review
The best tall corner cat trees are those that don't take up a ton of space yet still offer plenty of climbing & lounging opportunities for your kitty. Here are our picks!
HausProjekt's Floor to Ceiling Cat Tree is one of the largest, most stable options available for cat owners.
Its stability comes from its griping ceiling attachment and wall brackets, which provide it with outstanding adaptability.
You can even adjust its height between 94 inches to 113 inches.
The sisal scratching posts will allow your cat to get rid of its pent-up energy, as well.
Physical Attributes
Four scratching posts (three made from sisal rope)
Light beige coloring
Three platforms (17″ x 9″)
Griping ceiling attachment and wall bracket
Made top-tier sisal, wood, and faux fur
Features two hanging cat toys
Quantitative Measurements
Adjustable height: 94" – 113"
| Benefits | Drawbacks |
| --- | --- |
| Simple to assemble | Hanging toys aren't overly durable |
| Durable construction | Platforms are a bit small |
| Appealing design  | |
| Easy to move and adaptable | |
| Comfortable surface material | |
| Superior stability | |
more Benefits
These incredible benefits make this tall corner cat tree our winner.
Its convenience level and superior stability alone ensure it's almost an unbeatable cat tree.
But you also have to note the durability provided by this product. There's no reason to believe its high-quality wood construction won't last several years. 
Its adjustable height makes it much more adaptable than our other choices, as well.
You can build the cat tree based on your home's particular measurements. As a result, it's a much more user-friendly experience than you might expect. 
You won't have to worry about it being an eyesore, either. Its attractive, compact design will mesh into almost any home's decor.
Drawbacks
Buyers will need to know about the issues with this tree's hanging toys, though.
These toys aren't the most durable, which means you'll have to replace them at some point. 
Some larger cats might find the platforms a bit small, too. But it's not small enough where they can't use them comfortably. 
Multiple buyers mentioned their larger cats still loved these platforms.
The comfortable surface material offers enough where it doesn't become a huge issue.
How it Compare to Others and Why
You aren't going to find many large cat trees with this much stability.
The manufacturer did an excellent job with its ceiling attachment and wall bracket additions.
Both of these ensure the tree will remain stable and wobble-free when used. 
How the Product Evolved
This product's spring-loaded construction is what makes it different from almost any cat tree.
It's an ingenious addition as this provides an adjustable height radius, which other products don't offer.
Expert Tips
It's recommended to "put a shelf next to the tree to help access each level."
READ MORE: Best Weatherproof Cat Tree

There isn't a single, more unique option available than MillyFitcat's Corner Cat Tree.
Its spiral staircase design is a marvelous sight to behold when compared to other options. 
But don't overlook its comfortable top resting area or excellent stability. 
These traits will make sure your cat can rest safely and comfortably. 
Physical Attributes
Handmade
Spiral tower design
18 steps
Heavy-duty wood construction
Cat-faced cushion attached to top-level
Heavy-weighted base fixed with a tripod
Quantitative Measurements
| Benefits | Drawbacks |
| --- | --- |
| Maximum stability | Most expensive option  |
| Super comfortable, top resting area | |
| Eco-friendly materials | |
| Creative design | |
| Excellent exercise incentive  | |
| Free shipping | |
How it Compare to Others and Why
The creative spiral tower design is its main selling point.
It makes this product an exciting addition to any home while being incredibly fun for your cat. Honestly, you won't find another cat tree quite like this one. 
How the Product Evolved
MillyFitCat felt, "there a lot of creativity in the cat furniture market." It led them to create a fun, exciting cat tower, which any owner and cat will enjoy. 
Expert Tips
If your cat isn't using it right away, try placing treats on the steps as an incentive.

ALSO CHECK: Cat Tower for Ragdolls
Cat owners looking to bring a style into their home need to consider Cat's Choice Supreme Cat Tree. 
It allows you to choose from seven different color schemes, which makes it very adaptable. 
You won't have any issues finding one that matches your cat's personality. 
The 5-level design with numerous perches won't hurt its appeal, either. 
Physical Attributes
Handcrafted in the USA
Five levels
Constructed from wood, plush carpet, and sisal rope
Two carpeted scratching posts
Includes a tunnel, two circular beds, a hammock
Double thick base
Quantitative Measurements
20″ x 24″ x 69″
Seven color choices: Beige, Brown, Blue, Gray, Green Pink/White Contrast Purple/White Contrast
Additional sisal rope scratching posts available as an add-on
How it Compare to Others and Why
The number of color choices and perches make this a top-tier cat tree.
It provides the cat tree with a bit more versatility and cat-friendliness than you expect. Plus, it functions well as a multi-cat structure. 
How the Product Evolved
Cat's Choice noticed some cats were aggressively attacking the carpeted posts.
This issue led them to offer an all-sisal option for a few extra dollars. It's a crucial addition as it makes the posts much tougher and durable.
Expert Tips
Check Latest Price



Cat's Choice Deluxe Cat Play Loft** — $129.99

Cat's Choice Deluxe Cat Play Loft – 110103 – Cat Gyms – Our Deluxe Play Loft is an excellent multi-level cat tower for a multi-cat household! The hammock shaped perch on the first level provides an excellen
The CozyCatFurniture Multilevel Corner Cat Tree is our most flashy, feature-filled option. 
Your cat will be living in a world of luxury with its sisal scratching posts, cat condos, and cushioned top-level beds.
Cat owners will also love it for the vast number of choices. 
You'll have no problem finding a variation that fits right into your home without an issue.
Physical Attributes
Ten sisal scratching posts
Plush covering material
Two cat condos
Assembly tools included
Two ladders
Three cushioned top-level beds
Quantitative Measurements
Four height options: 73″, 74″, 79″, and 82″
Two color choices: Beige and Brown
How it Compare to Others and Why
It has more to offer with its features than these other corner cat trees. Your cat will never get bored by how well-equipped this tree is for serving as a cat tower. 
| Benefits | Drawbacks |
| --- | --- |
| Comfortable, well-cushioned construction | Expensive |
| Easy to clean | Vague instructions  |
| Various perches and resting areas | |
| Elegant design | |
| Durable | |
| Multiple levels | |
How the Product Evolved
CozyCatFurniture has been making excellent cat trees and towers for a long time.
This product hasn't evolved but instead still displays its excellence. It's a solid, well-put-together cat tree any feline will love.
Expert Tips
The manufacturer states it's only for small to medium-sized cats.
No products found.
If you want a compact corner cat tree, PetFusion's Ultimate Cat Tower is a perfect fit. 
The wall-mounted construction ensures you can tuck into a room's corner with ease. 
Your cat will then love its two wood perches with comfortable cushion pads.
It'll soon become their favorite place within your home.
Physical Attributes
Two sisal scratching posts
Features zinc drywall anchors
Two perches with cushion pads
Wall-mounted construction
Made from high-quality wood
Quantitative Measurements
24″ x 21″ x 77″
Espresso coloring
| Benefits | Drawbacks |
| --- | --- |
| Compact design to save space | Shipping issues |
| Easy to assemble | Large sections between platforms  |
| No drilling required | |
| Large, durable sisal scratching posts | |
| 1-year warranty | |
| Suitable for all ages | |
How it Compare to Others and Why
This cat tree's compactness makes a massive difference. It'll ensure this tree isn't such a blemish like most other options available.
You can instead keep it tucked away in a corner and let your cat enjoy it without taking over an entire room. 
How the Product Evolved
PetFusion has been trying to make an alternative to other cat trees that  "which clutter your living space and prevent your cat from climbing."
This cat tree more than fulfills its intended goal.
Expert Tips
You might want to attach carpet onto the platforms, as one customer notes that "the wood finish is really smooth."
Sale
PetFusion Ultimate Cat Climbing Tower & Activity Tree. (24 x 20.8 x 76.8 inches (lwh) Tall Sisal Scratching Posts, Modern Wall Mounted cat Furniture, Espresso Finish). 1 Year Manufacturer Warranty
INTERACTIVE DESIGN TO IMPROVE YOUR CAT'S WELLNESS: (I) For cats who love to climb & perch up high. (II) Great stimulation for young kittens & older cats. No age discrimination. (III) Stretch, scratch, jump, climb, perch, lounge & play
MODERN CAT FURNITURE: (I) Compared to the over-engineered cat trees which clutter your living space and actually limit your cat from climbing. That's what some cats believe curtains are now for : )
SAFETY FIRST EASY WALL MOUNTED ASSEMBLY: (I) Securely attaches to the wall providing a safe environment for your children and cat(s). (II) Includes zinc drywall anchors that can be attached to your wall with a hammer & screwdriver and also easily removed with just a screwdriver. No drilling required unless you prefer to anchor into studs or have plaster walls. (III) Estimate 15-20-minute total assembly time
PEACE OF MIND: (I) Premium E0 grade MDF passes formaldehyde safety regulations. (II) Product also passes stricter European REACH standards
YOU SHOULD NOW: (I) 24 x 20. 8 x 76. 8 inches (lwh). (II) Replacement posts available
Tall Corner Cat Trees FAQs
Conclusion
I hope these discussions made your choice of a tall cat tree more effortless.
Please don't hesitate to let me know how your search went in the comment section. Thanks for reading!
Our Top Pick
As I mentioned earlier, the best choice here is HausProjekt Floor to Ceiling Cat Tree.
The adjustable height and stability are too much to match for any other available option.  

Which is your favorite tall corner cat tree? Please share with us below!
Ben Robers
My name is Ben Roberts, and I absolutely love animals. So, naturally, I love writing about them too! As far as my animals, I have a Pit-bull, a Beagle-lab mix, a Chihuahua, and one old cat. Each one of them provides me with a new adventure every day. And the best part is they're all best friends. Well, except the cat when he gets a little annoyed. Learn more about Benhere
FIND HIM ON: FACEBOOK AND TWITTER.
Read his latest ARTICLES
Last update on 2022-11-16 / Affiliate links / Images from Amazon Product Advertising API