Finding a worthwhile, tall cat scratching post is a difficult task. But there's no need to worry.
I'll make it effortless by showing you my ten favorite options and a detailed buying guide.
You'll soon know everything needed to select a safe, tall cat scratching post.
Let's start with a quick look at our top picks, then keep reading for all the glorious details.
Top Tall Scratching Posts at a Glance
Best Tall Cat Scratching Posts Reviews
1. Winner: Cat's Choice Large Tub Cat Lounger
Cat's Choice Large Tub Cat Lounger is easy to love as a pet owner.
After all, it has a highly durable and stable wood construction.
I'm fully confident in its ability to last several years, even with regular usage.
My confidence only increases with reviews, such as Marie K's, that state "the workmanship and quality is excellent too."
Physical Attributes
Handcrafted in the USA
Crafted from solid wood, unoiled sisal rope, and household grade carpet
Square sisal wrapped post
Circular top perch
Arrives fully assembled with helpful instructions
Two color choices (brown or beige)
Measurements
Benefits
Easy setup
Durable, stable wood construction
Comfortable top perch
Perfect for scratching with endless amounts of sisal rope
Customizable added features (contact seller)
One of the more overlooked aspects of this option is its easy setup. Most cat scratching posts are often unnecessarily complicated, but this one keeps the assembly process simple.
I was also more than pleased with its stable and durable wood construction. I'm often overly cautious about what my cats play on, but this one wouldn't cause me any stress.
More importantly, I'd have difficulty getting my cats off this product's top perch. It provides an excellent resting area while high enough for bird or dog watching.
Another highlight is the vast amount of sisal rope wrapped around this scratching post. It should even be more than capable of meeting the scratching needs of multiple cats.
If these weren't enough, buyers could contact the seller about customized features. It's another way to ensure your cat ends up loving it.
Drawbacks
Slow shipping (14 to 28 days)
A higher-priced option
The only downsides with this option are its slow shipping and high price. But these issues are easy to overlook with a quality product such as this cat scratching post.
How it Compare to Others
Its longevity alone makes it an ideal cat scratching post. But I also have to mention how suitable it's for meeting the scratching needs of multiple cats.
For instance, it's wrapped in 150 feet of unoiled sisal rope. My cats would have a field day with this scratching post.
2. Most Stable Option: SmartCat Ultimate Scratching Post
SmartCat Ultimate Scratching Post
DURABLE SISAL: A durable sisal fiber design ensures the SmartCat...
TALL AND STRONG: The sturdy design of the scratching tower allows...
GOODBYE CLAW MARKS: Satisfy your indoor cat's natural urge to...
Stability is a must-have in any worthwhile tall scratching post.
SmartCat's Pioneer Pet Ultimate Scratching Post has it in spades with its construction.
Its wide 16″ x 16″ base won't have any issues dealing with even the most rambunctious cats.
I doubt even my most energetic cat will tip or wobble it.
Physical Attributes
Vertical scratching post
Constructed from woven sisal fabric
Wide 16 x 16 base
Beige color tone
Two screws included for assembly
Measurements
16 x 16 x 35 inches
35.2 Ounces
Benefits
Durable, stable construction
Wide base eliminates wobbly or toppling
Lightweight design
Easy to assemble
Affordable price
Drawbacks
Packaging issues, as an Amazon customer, HS, reported that there's "arrived cracked."
No rubber feet for the base
How it Compare to Others
Aside from its top-tier stability, I also find its lightweight design appealing. I wouldn't have trouble moving from room to room whenever my cat needs a new play area.
The assembly being effortless doesn't hurt matters, either. Multiple customers made it a point to praise the process within their reviews.
3. Best Bargain Buy: Dimaka Cat Scratching Post
Dimaka Cat Scratching Post
[Standard Full Stretch Post] - 34 inches / 86 cm Height, design for...
[Natural and Eco-Friendly] Scratching Post Tree is made with thick...
[Fun Fact] Plush Ball gives extra attraction to cat, lead to full...
Bargains should not feature designs like Dimaka's Ultimate Cat Scratching Post.
But this option manages to find a balance between quality and affordability.
More importantly, cats adore its natural fibrous sisal rope and plush ball.
Physical Attributes
Constructed from a thick cardboard tube
Wrapped with natural fibrous sisal
One plush ball
Five color options (beige, blue, dark brown, gray, and light brown)
All assembly tools included
Measurements
Benefits
A more affordable choice
Promotes claw health with strong scratching rope
Lightweight design and easy to move
Multiple color options for better home decor meshing
Easy to assemble and disassemble
Drawbacks
An Amazon reviewer, Anakonda, said leaves "white strands around the house."
How it Compare to Others
Finding another high-quality option for a low cost will be very difficult within this marketplace. It's a perfect fit for anyone who considers themselves a bargain like myself.
The strong scratching rope needs some praise, as well. It'll be a formidable foe for any cat while keeping its nails in good shape.
4. Best for Large Cats: MidWest Homes for Pets Cat Scratching Post
Sale
MidWest Homes for Pets Cat Scratching Post
Sturdy cat scratching post/cat furniture | Cat post measures 19L x 19W...
Extremely durable, strong & thick cat scratching post | Great for...
Cat scratching post features extra durable, thick & tough natural...
Maine Coon owners would be crazy not to consider MidWest's Cat Furniture Scratching Post.
It's ideally suited for large cats with its enormous base and strong natural sisal rope post.
This large option isn't too shabby when it comes to height, either, coming in at 41 inches.
Putting all these attributes together makes it a large cat's dream.
Physical Attributes
Sleek, minimal construction
Wrapped in natural sisal rope
Large base covered with ultra-soft brown faux fur
Brown/tan fur color
All assembly tools included
Measurements
Benefits
Modern-styled design
Tough, durable sisal rope
Ideal for large cats
Oversized base for stability
Easy to wipe base clean
Simple assembly
Drawbacks
Faux fur breaks down easily
How it Compare to Others
The large base and tough sisal rope post do provide an edge. But its 41-inch is what sets it over the edge for larger breeds.
This scratching post won't have any trouble with the ruckus play of a Maine Coon. Instead, it'll stand tall and look good while keeping your cat's scratching at bay.
5. Most Adaptable Option: Kitty City Cat Scratching Post
Sale
Kitty City Cat Scratching Post
Attractive and neutrally toned to fit any decor.
Perfect, stable Width and extra-tall Height designed for cats
Overall Size: 17. 7"(L) x 17. 7"(W) x 32"(H)
The Kitty City Woven Sisal Scratching Post will adapt well into almost any home.
For instance, its neutral-toned color scheme doesn't stick or cause a scene.
Buyers can expect this option to do its job without any hassles.
It can even hold multiple cats with its 40-pound limit.
Physical Attributes
Utilizes woven sisal fabric
Wooden base platform
Fitted with a top perch
Jingle ball toy
Fleece cover top
Neutrally toned coloring
Measurements
Benefits
Adaptable design with neutrally coloring
Cozy top resting area
Straightforward assembly with included screws
Holds cats up to 40 pounds
Beautiful wooden base platform
Drawbacks
Sisal fabric doesn't last as long as other options.
How it Compare to Others
Overall, its adaptability makes it a valuable commodity.
It'll make a long list of cat owners happy by blending into their home decors without much effort.
6. Most Durable Option: SEIOHW Cat Scratching Post
SEIOHW Cat Scratching Post
🎁Choose A Taller Post- 32-inch cat scratching post has the perfect...
🎁Rescue the Furniture- Use durable materials to change the cat's...
🎁Natural Pragmatism- Natural sisal rope and soft plush simulate...
Scratching posts aren't known for being durable, but SEIOHW's Cat Scratching Post is changing the narrative.
Its robust construction consisting of a reinforced base makes it possible.
But it also does an excellent job entertaining cats with its four playing areas.
The product ends up being very useful to have in a pet owner's home.
Physical Attributes
Reinforced base with heavy-duty plates and soft plush covering
Natural sisal rope
Equipped with one top perch
Hanging mouse toy
Two color options (brown or light grey)
Measurements
15.74 x 15.74 x 32.0 inches
8 pounds
Benefits
Robust, long-lasting construction
Prevents wobbling and tipping with reinforced base
Simple design adapts easily into homes
Offers four play areas (sisal rope, mouse toy, perch, and plush covered base)
Supports all ages of cats
Drawbacks
Complex assembly with one Amazon reviewer, Latiger, describing it as the "hardest part."
How it Compare to Others
Aside from its durability, this scratching post keeps things simple and playful. It'll do wonders for keeping a cat from attacking its owner's furniture.
I mean, the interactive mouse toy alone would keep my cat busy for hours.
7. Cutest Option: PetnPurr Handmade Cactus Cat Scratching Post
PetnPurr's Handmade Cactus Cat Scratching Post stands out with its cute cactus design.
But don't think this adorable scratching post isn't high-quality in other areas.
After all, it has a durable wood base and is wrapped from top-to-bottom with sisal rope.
It's more than ready to handle any cat's scratching needs.
Physical Attributes
Handcrafted
Cactus design
Wood platform base
Utilizes carpet-grade sisal rope
Two decorative flowers
Measurements
Benefits
Adorable cactus design
Top to bottom sisal rope
No tipping or wobbling with a stable base platform
5-minute or less assembly
Suitable for cats of all ages
Ideal for vertical stretching, scratching and climbing
Drawbacks
Flowers come off easily
A more costly option
How it Compare to Others
It's hard to beat a product that combines an adorable design with quality performance.
This cat scratcher embodies those two attributes and earns its place as one of the best.
As a result, it's not surprising to see this option is among the more expensive available scratching posts.
8. Best Wall-Mounted Option: Odoland Cat Scratching Post
Odoland Cat Scratching Post
♥PRODUCT DETILS: This cat scratching post has an extra-large size -...
♥EASY TO INSTALL: This scratching post can be adapted to any wall or...
♥HIGH QUALITY&STURDY& SAFE: It is made of strong synthetic solid...
Our final option, Odoland's Wall-Mounted Cat Scratching Post, is a bit different from the others.
It attaches to a wall within a household to offer extra security while saving space.
These qualities make it a versatile choice capable of fitting into almost any area.
Physical Attributes
Wall-mounted design
Made from solid synthetic wood
Hand wrapped with natural jute rope
Two resting shelves
Cat wand charmer toy included
Measurements
Benefits
Saves interior space with wall mounting
Versatile design adapts into many spaces
Equipped with two comfy resting shelves
Fair price
Uses Eco-friendly, non-toxic materials
Drawbacks
One Amazon reviewer, Shaunzie, stated the shelf was "too small" for large cats.
How it Compare to Others
Space-saving designs are always a winning attribute for pet owners. Buyers also have to love its two comfy resting shelves.
I only wish these shelves were a bit bigger, so large cats could comfortably fit onto them. Unfortunately, this issue could make it a hard sell for larger breed owners.
9. Best for Cat Snoozing: GeoPetCo Casper Jumbo Cat Scratching Post
GeoPetCo Casper Jumbo Cat Scratching Post does an excellent job at making their product enticing.
I can't imagine my cat turning down the opportunity to lay on its cozy cuddle beds.
But its comfort and scratching convenience are only the tips of this product's iceberg.
As one customer on Etsy put it, this tree isn't "only perfect for scratching, but also climbing!"
Physical Attributes
Handmade
Covered with natural sisal matting
Made from natural baltic birch
Two large snuggle beds (machine washable)
Velcro attachments for beds
Extra-thick, wide base post
Measurements
Benefits
Stable, stylish construction
Comfortable resting areas for multiple cats
Easy to clean
Perfect for scratching and climbing
Blends into most home decors
Extra secure with attachment onto walls
Drawbacks
How it Compare to Others
Everything about this scratching post was made with care by the Etsy seller. It won't have issues being a stable and fun resting area for any cat.
Moreover, I can't say enough about how easy it'll blend into most home decors. Other scratching posts often stick out like a sore thumb.
10. Best for Reluctant Cats: FelixKatnipPosts Cat Scratching Post
Reluctant cats will meet their match with FelixKatnipPosts's Natural Sisal Cat Scratching Post.
It's infused with organic catnip to get even the shyest cats out of their shell.
These cats will benefit from its "really tight," strong sisal rope.
It also has a highly durable design to prevent it from tipping and scaring them.
Physical Attributes
Handmade
Post consists of natural sisal rope
Wide base with a maple wood finish
Made in the USA
Infused with organic catnip
Measurements
Benefits
Entices reluctant cats with catnip
Highly durable
Classic design with beautiful wood base
Tightly wrapped, strong sisal rope
No tipping or wobbling
Drawbacks
Slow shipping (3 to 4 weeks)
How it Compare to Others
This product's catnip aspect is a unique and valuable asset. But its classic design with the maple wood base finish stands out, as well.
In other words, this product isn't something that'll need hiding in my home. I wouldn't be surprised if a guest or two even asked where I got it.
How Do You Pick the Best Tall Cat Scratching Post?
Buying a tall scratching post isn't as simple as picking one on Amazon at random. You'll need an understanding of several crucial buying aspects:
Materials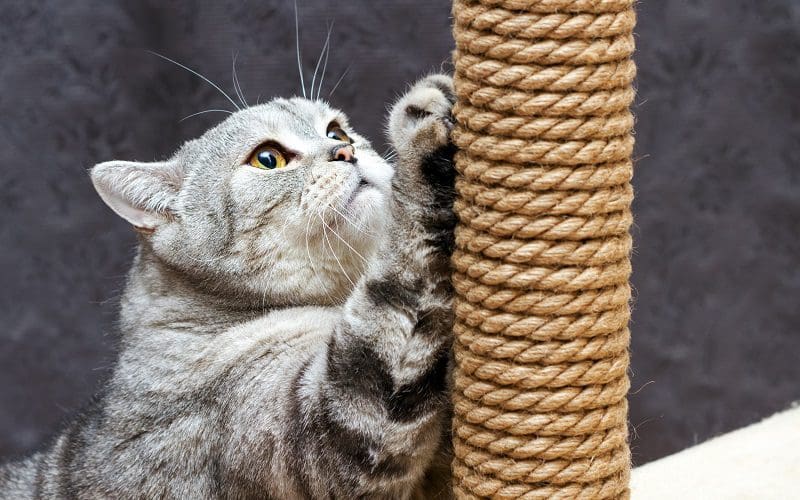 In most cases, sisal fabric and sisal rope will be the best materials for scratching posts. Sisal fabric is a favorite choice as it's strong and shreds under a cat's claws.
The shredding aspect is essential because it'll help curb a cat's destructive scratching. Plus, it feels great and provides them with comfort.
However, this fabric isn't perfect, as there's one downside to it. Sisal fabric has a habit of sagging after a couple of months, which affects its long-term durability.
Meanwhile, sisal rope is much more durable and long-lasting. It'll end up saving buyers a lot of money and cleanup compared to sisal fabric.
But sisal rope isn't as enjoyable to use for cats. Cats often prefer the fabric because sisal rope doesn't offer the smooth shredding motion.
If neither works, other notable materials are used in these scratching posts.
A cardboard scratcher can work as a short-term option. Your cat will love it and rip the post apart very quickly, so their durability is an issue.
But I'd stay away from scratching posts made from carpeting. Cats love them, but it'll make them think it's okay to scratch carpet, something we want to avoid.
Scratching Post Stability
Tall cat scratching posts usually consist of a free-standing post connected to a baseboard. As you can imagine, the base needs to become stronger as its post gets taller.
So it's essential to research each option's construction and consider its stability. After all, a wobbly scratching post will scare and potentially injure your cat.
I'd suggest only buying options with a wide, solid, and durable baseboard. It wouldn't hurt for the post to have non-skid feet to prevent sliding issues.
Additional Features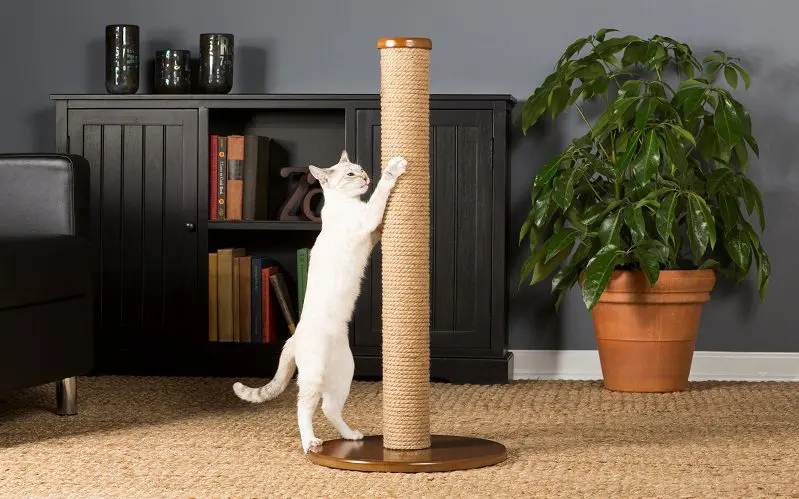 Sadly, some cats won't take to the scratching post right away. So an easy way of avoiding issues is buying one with enticing features.
These accessories and some catnip can do wonders for enticing a reluctant cat. It sure helped with mine as I sprinkled a little catnip, and the post became his favorite area.
Most cats will give into using the post because they love scratching anything. After all, "scratching is a normal, instinctive cat behavior."
Common features include hanging plush toys, condos, perches, and hammocks. They have proven to help a cat get comfortable with scratching posts.
Of course, these features will increase the price significantly. But they can make a world of difference for any picky cat.
FAQs
How tall should a scratching post be
Scratching posts need to be at least 32 inches tall. This height will be enough to stretch their bodies while satisfying their scratching habits fully.
Do cats outgrow scratching furniture
Cats won't outgrow scratching furniture unless you offer them alternatives. Your best bet is trying to shift the behavior onto other areas, such as cat trees or scratching posts. 
Final Word
Our guide provided a picture of what's available in the tall cat-scratching post marketplace. You now need to use what you've learned to find one suitable for your cat.
But if you have a question or a comment, don't hesitate to use our comment section. I always love to hear from other cat owners about their experiences buying these products!
My final recommendation would be to buy Cat's Choice Large Tub Cat Lounger. It offers everything someone could want in a scratching post, plus a few other extra incentives.
What is your favorite tall cat scratching post? Please share below!
Resources:
Last update on 2023-09-28 / Affiliate links / Images from Amazon Product Advertising API