Thinking of switching to one of those top entry litter boxes you keep seeing but not sure if it's right for your cat?
No worries, I've got you covered!
Below, I'll give you a clear idea about whether these litter boxes would be a proper fit in your home.
Then, I'll show you some high-quality choices that could meet all your expectations.
Our Top Picks
FYI, this post contains affiliate links. If you make a purchase through these links, we earn a small commission at no extra charge to you.
In a rush and need something right away? Check out our top 5 picks on the table below!
Top Benefit
Designed to prevent tracking
Made with durable, recycled plastic
Automatic scoop-free litter box
Swivel lid for easy cleaning
Excellent at reducing odors
Complete Guide to Top Entry Litter Boxes
Before we dive into the reviews, it's essential to cover some basics about these litter boxes.
The following discussions will offer a more detailed view of whether top entry litter boxes are right for you.
RECOMMENDED ARTICLE: DIY Litter Box Cover Guide
Top Entry Litter Box Pros and Cons
The best place to start is outlining a top entry litter box's pros and cons.
It'll provide a better idea of what these products bring and don't bring into a cat owner's life.
Pros:
Your cat gets a little more privacy when doing bathroom activities

Keeps litter tracking down to a minimum

Helps prevent litter odors from wafting outside their box and around your home

It takes up a little less space than most open cat litter boxes

Makes it difficult for other pets and children to access the box's contents

Guests won't have to see your cat's bathroom waste when visiting
Cons:
Top entry litter boxes only offer a cat one escape route. It makes them feel anxious as cats are the most vulnerable when taking a bathroom visit.

Odor remains within the litter box, which could cause picky cats to stray from using it.

Elderly cats might find it difficult to jump onto a top entry litter box.

Cat litter will take a longer time to dry because of less air circulation coming into the box.

Your cat might end up feeling a bit cramped
How Do Top Entry Litter Boxes Work?
Top entry litter boxes work by employing the simple concept of enclosing your cat's litter.
As a result, these boxes ensure your favorite feline can't kick litter out of them and onto the floor.
You can attribute this outstanding benefit to their enclosed four-sided design.
But what some cat owners might not realize is an ultra-convenient second advantage come from their grate-like shelf.
For instance, cats will need to climb out of these boxes and onto the grate when they're done using the bathroom.
It'll result in the dust and litter that's stuck to their paws returning into the litter box.
These particles will no longer find themselves spread all over your home.
Cat owners will see even better results when combining these boxes with non-dust producing cat litters.
Overall, these litter boxes are an effective way to keep a litter box's contents inside the box rather than all over your home.
It's a simple, cheap solution to a typical cat owner problem.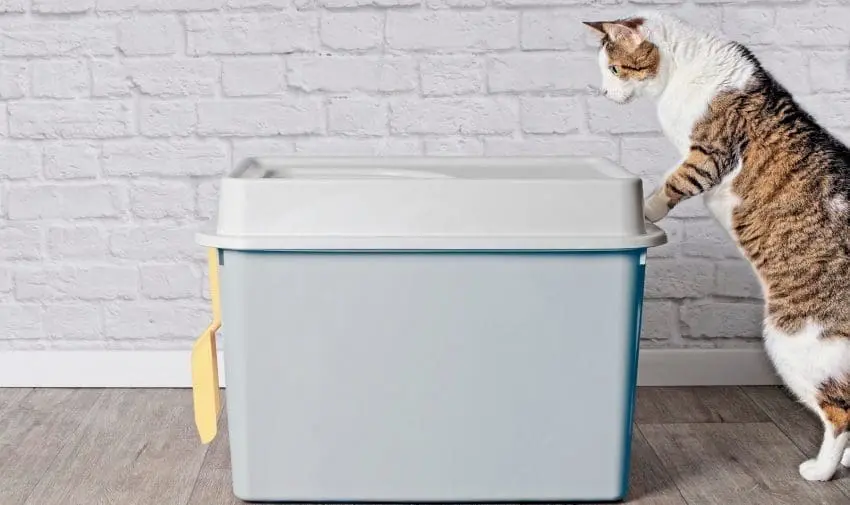 Are Top Entry Litter Boxes Bad for Cats?
I can only see top entry litter boxes being bad for older cats or ones with certain disabilities.
Otherwise, there's no reason to believe their inclusion in your home will bring any adverse side effects to a cat's life.
Some cats might even prefer them over open options because of the extra privacy.
After all, these animals love their solitude and a top entry litter box gives them a safe space to let their guard down.
Where Can I Buy a Top Entry Litter Box
You can buy top entry litter boxes at any place that sells cat-related or pet-related products.
But I'd recommend using either Amazon or Chewy as they tend to have the largest selections and best prices.
Most pet stores will have a higher price than you'd see online. It's just the nature of how the pet product marketplace works at the present moment.
How to Get a Cat to Use a Top Entry Litter Box
Your cat might be a little suspicious of this litter box at first. Here are a few tips on how to get your cat to use this new, exciting top entry litter box:
Put the litter box in the same place as your old one. It'll make it easier for them to understand what this new contraption's purpose is in their lives.

Show then their new litter box. Give them some time to sniff and inspect it on their own time. It's never a good idea to force it because this action could scare them into not using it.

Don't switch litters when setting up the new box. It'll help give the box a sense of familiarity for them.

Take the box's lid off until they grasp how to use a box with larger sides. This action should help them get more comfortable with using it.

Remove your cat's old litter box completely. Giving them a second box to choose from could make them avoid the new one.
What to Look for in a Top Entry Cat Litter Box
If you've decided a top entry cat litter is a good fit, you'll need to know how to find a suitable one.
I'm going to cover several crucial factors that'll break down what makes up a high-quality top entry litter box for older cats.
Size
A top entry litter box's size is one of its most essential qualities.
You're going to want a model that doesn't make your cat feel cramped and uncomfortable when using it.
I'd recommend getting one of the largest options, which will give them plenty of space for their bathroom activities.
You want it to provide them with enough room to kick, dig, turn around, and squat.
As a result, pet owners should measure their cat from nose to tail.
You'll then need to find a top entry litter box capable of meeting or exceeding those measurements.
Height
Not surprisingly, top entry options will be taller than your traditional litter boxes.
Some of them will be considerably higher than others, though, which makes height a vital consideration during your search.
Owners who have smaller, older, or disabled cats will need to determine whether they can jump high enough for each option.
Meanwhile, cats with spraying or kicking litter issues would benefit from a taller top entry litter box.
The higher sides of these models will help hinder them from doing any damage outside of it.
It'll keep the litter and waste where it belongs, which is inside the box.
Design Quality
As with any product, durability plays a massive role in the decision-making process.
Your chosen top entry litter box needs to consist of high-quality materials that can withstand regular usage.
I'd suggest looking at options made from heavy-duty BPA-free plastic.
These litter boxes usually hold up well and don't have any issues meeting a cat owner's expectations.
Reading other peoples' reviews of these products will help determine what options are durable, as well.
Nothing makes customers angrier than a product being broken or unusable sooner than expected.
Ease of Cleaning
A high-quality top entry litter box will make cleaning it an easy, hassle-free process.
Some options will even be compatible with liners that remove all the difficulty of dumping out a litter box's contents.
In these cases, everything gets collected inside the liner, and owners will just need to dump it. But other top entry litter boxes will basically be open-top models with a unique lid.
Cat owners should choose the one that makes cleaning it easiest for them.
In my situation, this action would mean going with a top entry litter box, which has liner compatibility.
Style
Certain top entry litter boxes can improve the look of a room. It's a good idea to consider what design or style would fit best into where you intend on placing it.
It's worth noting that some of these litter boxes have a rather cute design, as well. It doesn't need to be an eyesore like you'd expect with an open-top option.
The color scheme is another notable consideration concerning a litter box's style.
For instance, I'm always going to prefer options with darker tones as they mesh better inside my home's interior.
The 10 Best Top Entry Litter Boxes
As many of these options are available on both Amazon and Chewy, we've given you both links when applicable. That way you can choose your favorite retailer.
1. IRIS USA Top Entry Cat Litter Box
IRIS USA's Top Entry Cat Litter Box is a low tracking cat litter that does an excellent job keeping litter tracking to a minimum.
This benefit comes from the lid having small holes, removing litter and dust particles from your cat's paws.
It's a genius addition to stop disgusting used litter from finding its way onto your floor.
Pros:
Equipped with small holes on the lid to prevent tracking

It comes with an included scoop

Easy and comfortable access

Rounded shape for easier cleaning

Four color options: Black/White, Gray/White/
Cons:
It doesn't come with handles for easy lifting

Some issues with lid not fitting properly on defective models.
Final Verdict:
Its effective prevention of litter tracking is only one of its many benefits.
Buyers will love how easy this box is to clean with its rounded shape and included scoop.
I was also impressed with the variety of color options, as the Black/White one would be a perfect fit.
However, I do wish it came with some handles to make it easier to lift.
Also, on Chewy, some customers complain that the lid doesn't fit properly.
As most reviews are positive, that seems to be an issue of a defective product versus a standard problem.
IRIS USA Top Entry Cat Litter Box with Cat Litter Scoop
TOP ENTRY: Litter box features a large top entrance to for easy entry and exit
FILTERED SNAP ON LID: Small holes on the lid of the large cat litter box help to remove cat litter from the cat's paws
HIGH SIDES: Kitty litter box features high sides to contain spraying and prevent litter on the floor
LITTER SCOOP INCLUDED: Cat litter scoop is included and conveniently hangs on the side of the covered litter box for storage
EASY TO CLEAN: Rounded kitten litter box with lid with high polish finish makes cleaning easy

2. Petmate Top Entry Litter Pan
If your cat's known for kicking litter outside their box, Petmate Top Entry Litter Pan should nip this issue in the bud.
The product's well-constructed tall design makes it almost impossible for a cat to get litter outside it.
You also have to love it being compatible with liners, making cleaning it a lot easier.
Pros:
It consists of durable, recycled plastic

Proven to be effective against kicking and spraying

Grated top lid for tracking prevention purposes

Compatible with Petmate Top Entry Litter Pan Liners.

Built-in hook for the scoop
Cons:
Not a great choice for larger breeds

Indented handle makes it tricky to find the right litter box liners.
Final Verdict:
Overall, its effectiveness against kicking and its liner compatibility make this option a must consider.
I didn't even mention its built-in scoop hook, grated top lid, or durable plastic material.
There are clearly many aspects to love about this top entry litter box.
But I do have to mention larger breeds like Maine Coons might not be ideal for this option.
Make sure to measure your cat before putting money down on it.
Sale
Petmate Top Entry Litter Cat Litter Box With Filter Lid To Clean Paws
TOP ENTRY LITTER BOX: This enclosed kitty litter box features high walls for cats' privacy. The wide, top entry design easily accommodates larger cats & has a grated surface to collect litter from cats' paws each time they exit. Non-slip textured lid with openings
LITTER-FREE FLOOR: The tall litter box allows cats to dig & cover waste without spilling litter onto the floor. The grated top collects litter from paws as cats exit the pan, allowing litter to fall into the pan below. Includes a hook to hang your cat litter scoop, SCOOP NOT INCLUDED.
PET CLEAN UP: Swiftly clean up after your dog or cat while at home or on walks with a variety of waste management products. From waste bags, rakes, pans, trainings pads to poop scoopers, litter boxes & litter, we've got you & your pet covered.
PETMATE: For over 50 years, we at Petmate are passionate about our dogs, cats & furry friends in general. Starting with the very first dog kennel, we've produced plenty of eco-friendly products that pets will love.
JUST FOR PETS: Petmate makes a variety of pet products for dogs, cats, chickens & other small furry friends! Check out our brands such as Aspen Pet, Arm & Hammer, Booda, Chuckit!, Jackson Galaxy & more!

3. PetSafe Self Cleaning Top Entry Cat Litter Box
The PetSafe's Self Cleaning Top Entry Cat Litter Box might be our most technologically advanced option.
For instance, it's has a health counter to keep you up-to-date about your cat's bathroom visits.
It'll ensure you know how many times they went per day, making it easier to keep an eye on their health.
You'll benefit from its self-cleaning ability, which removes the need to refill it for weeks at a time, as well.
Pros:
Easy cleanup

Includes a bag of low-tracking odor control crystal litter

Grated top lid for prevention of litter tracking

Self cleans and removes the need for daily or even week scooping.

Equipped with safety sensors and a health counter for ultimate convenience.
Cons:
Expensive

Complaints that it stops working after just a few months.
Final Verdict:
I don't think there's a single notable feature missing from this outstanding product.
PetSafe did a fantastic job making a genuinely practical top entry litter box that every cat owner would adore.
As a result, the litter box's expensive price tag shouldn't be overly shocking.
Customers will have to spend a small fortune on this product to be in their lives.
There are a handful of complains that it stopped working after a few months, but that seems to be the exception rather than the norm.
PetSafe ScoopFree Top-Entry Ultra Self-Cleaning Cat Litter Box – Automatic with Disposable Tray
AUTOMATICALLY REMOVES WASTE: No scooping, cleaning or refilling your cat's litter box for weeks
UNBEATABLE ODOR CONTROL: Crystal litter removes smell by absorbing urine and dehydrating solid waste
DUST FREE: Low-tracking crystals are 99% dust free and don't stick to your cat's paws; a hooded cover helps keep kitty litter inside the box
LESS MESS: The top-entry hood has a large, grated surface to help eliminate most litter tracking; the plastic tray lining protects against leaking
EASY CLEANUP: Simply remove the tray and throw it away; each tray includes a lid for quick disposal
MONITOR YOUR CAT'S HEALTH: The health counter and motion sensors keep track of how many times your furry feline uses the box
FOR USE WITH CRYSTAL LITTER ONLY: This automatic litter box only works with crystal litter and won't work with clay or clumping cat litter
U.S.-BASED CUSTOMER CARE: Our pet product experts are here to help you and your pet and are available by phone, email or chat if you have any questions

4. Modkat Top Entry Litter Box
One of the most visually appealing options would be Modkat's Top Entry Litter Box.
It features a very modern design that isn't a constant ugly eyesore inside your home.
The product's effectiveness against tracking and inclusion of a reusable liner isn't anything to overlook, either.
Pros:
Swivel lid for easy cleaning

Modern design

It comes with a reusable liner and scoop

Three color options

It offers both front and top entries
Cons:
Some customers complained about shipping issues

Expensive
Final Verdict:
Modkat went out of their way to build a litter box capable of meeting all my needs.
It's easy to clean, comes in three stylish colors, offers two access points, and includes a liner/scoop with purchase. I can't ask for much else from a top entry litter box.
Although, seeing other customers experiencing shipping concerns was disheartening.
But these issues seemed to be problems with the mail service rather than Modkat.
Modkat Litter Box, Top-Entry, Includes Scoop and Reusable Liner - Gray
PREVENTS LITTER TRACKING: The patented design of the Modkat top-entry litter box nearly eliminates litter tracking. The locking lid acts as a walk-off mat that keeps litter in the box and off of your floors.
SWIVEL LID = EASY CLEANING: Simply swivel and scoop. Any litter left on the lid will drop neatly inside when the lid is opened.
REUSABLE LINER: The Modkat Reusable Liners are tailored to fit neatly inside the Modkat Litter Box. They are rip-resistant and easy to clean. Liners can last up to 3 months.
LOOKS GREAT IN YOUR HOME: The award-winning, modern design looks great and complements any room.
ALL-IN-ONE SOLUTION: Comes with everything you need; a full height seamless base to prevent leaks, an easy open swivel lid, large hanging litter scoop, and a reusable tarp liner for effortless litter removal.
5. Clevercat Top Entry Litter Box
Cat owners who are tired of finding litter all over their floors need to invest in Clevercat's Top Entry Litter Box.
It's proven to eliminate 99% of litter tracking and prevents other problematic issues like spills.
Dogs even face difficulty when attempting to get inside this litter box.
Pros:
Excellent at reducing odors

Design built to prevent spills

Eliminates 99% of all tracking

It keeps your dogs out

Compatible with liners
Cons:
Not a great fit for larger breeds
Final Verdict:
It's an intriguing option because of its ability to solve a host of common issues like spills, the litter tracking, and wafting odors.
I was genuinely thrilled to see it's compatible with liners, as well, considering I use them all the time.
Large breed owners might have to look elsewhere, though.
This Clevercat model wasn't meant to hold up the Maine Coons within our cat community.
Clevercat Top Entry Litterbox
Clever top entry design that cats love
Eliminates tracking and is virtually dog-proof
Reduces litterbox odor
9" diameter hole in lid for easy entry

6. So Phresh Top Entry Litter Box
Buyers will absolutely adore So Phresh's Top Entry Litter Box tilting lid feature.
Its inclusion makes sure the user doesn't need to remove it when cleaning out their litter box.
The built-in tracking mat, lightweight design, and affordable price tag are other solid inclusions.
Pros:
Equipped with tilting lid for simple, easy cleaning

Built-in tracking mat to keep cat paws clean

Affordable price

Easy to remove the lid

Lightweight design for exception portability
Cons:
Boring design

Not large enough for big breeds
Final Verdict:
Everything about this litter box screams being a simple, effective option.
There's nothing too flashy about this product's design, but it gets the job done with ease.
I just wish the design was a little less boring. But this issue shouldn't stop anyone from seriously considering the litter box if it needs your other requirements.
7. Sfozstra Top Entry Cat Litter Box
Sfozstra's option provides ample space for your cat's bathroom activities.
Your favorite cat shouldn't have issues turning around, digging, or squatting within this option.
Owners will love it too, with its odor-fighting abilities, easy cleaning process, and two access doors.
Pros:
Two access doors: top entry and front

A comfortable amount of room inside the litter box

Equipped with an included scoop and rounded design for easy cleaning

Proven to be effective at containing spraying and tracking

Keeps odor inside it without issue
Cons:
Some customers complained about the included scoop being a bit flimsy.
Final Verdict:
The spacious interior area makes this option a favorite among cats. It gives them a real sense of privacy and when taking those daily bathroom trips.
But some cat owners did express issues with one aspect of this litter box. The included scoop was a little flimsy, which made it a little less practical than expected.
Sfozstra Cat Litter Box, Cat Litter Pan with Cat Litter Scoop (Jumbo)
Large Top entryway for easy entry and exit, ample room inside for cats to use the cat litter box comfortably.
Rounded shape edges and included litter scoop for convenient cleaning, Top opening: 9" x 8.86", Entire Dimensions: 16.1"L x 20.5"W x 15.35"H, Door opening: 8.27" x 7.48"
This kitty litter box is the perfect way to prevent litter scatter and contain spraying.
Cat litter pan allowing privacy for your cats while keeping litter hidden from view.
Small holes on the lid to help remove litter particles from the cat's paws, keeping floors litter free.
8. Frisco Top Entry Cat Litter Box
The Frisco Top Entry Cat Litter Box is a formidable option for others to match concerning its user-friendliness.
Owners will benefit from its durable recycled plastic design, non-slip lid, and built-in handles for easy moving.
More importantly, each of these features come at an affordable price.
Pros:
Made from high-quality BPA-free recycled plastic

Spacious interior for superb comfort quality

Non-slip lid surface

Affordable price

Built-in handles for easy maneuvering
Cons:
Prone to tipping with larger cats
Final Verdict:
Owners aren't the only ones to benefit from having this litter box in their lives.
Your cat will enjoy how much space lies within this product's interior, creating a comfortable bathroom experience.
But larger breed owners could encounter issues with the litter box tipping over.
If you have a cat over 12 pounds, you might be better off going with another top entry litter box.

9. Kitangle Top Entry Cat Litter Box
If you have a bigger cat, Kitangle's Top Entry Cat Litter Box would be a smart buying choice.
This option features a 13.5-inch top entry that shouldn't have trouble fitting even some of the largest cats.
Its rugged, durable construction will ensure the box holds up well while your cat's in there, as well.
Pros:
Appealing modern corner edge design

13.5-inch top entry capable of fitting larger breeds

Easy to remove the lid

Three color options: Black, Gray, and White

Rugged, durable construction
Cons:
Expensive

Relatively new brand on Amazon, so no reviews
Final Verdict:
You have to love the elegant corner edge design offered by this product.
It'll make sure the product meshes into any room and can provide its high-quality performance.
As you might expect, the main flaw this product does have is its costly price tag.
You'll put a rather large dent into your bank account when bringing this top entry litter box into a home.
That coupled with the lack of reviews on Amazon make it a risk…but one that could pay off for small spaces.
Kitangle Modern Cat Litter Box, Top Entry (Black)
High Sided Design with Versatile Color Palette
Seamless Interior with No Connecting Parts for Better Odor Control
Helps with Litter Tracking
Great for Multi-pet homes (helps keep dogs out)
Scoopable Litter Recommended
10. Tbrand Foldable Top Entry Litter Box
Our final option, Tbrand Foldable Top Entry Litter Box, offers an appealing unique foldable design.
It gives the product a lot more portability and storability than other options available.
You can also benefit from its Eco-friendly materials, two-door construction, and pull-out bottom basin.
Pros:
Perfect for any cat up to 10 pounds

Two-door design

Made with Eco-friendly materials

Pull-out bottom basin to prevent messes

A self-closing front door keeps odors within the box
Cons:
The bottom pan could benefit from being deeper
Final Verdict:
Any cat owner with a feline under 10 pounds should already have this option in their buying carts.
It's a perfect option for a smaller cat who gets a little wild in their litter boxes.
However, there were a couple of concerns about the bottom basin being less deep than expected.
It's not a huge deal, but it does limit the amount of litter that can be put into by a significant margin.
MUYEE Foldable Cat Litter Box, Kitty Litter Box with Lid, Top Entry Litter Box with Cat Litter Scoop for Pet Cat Reduce Litter Tracking(Gray)
✿ ONE-WAY ACCESS: The ingenious design of front entry&top exit, cats can't come out from the front door, prevents litter scattering effectively.The self-closing front door reduces the odor emission in the house and keep the air fresh.(Notes: if you don't mind bringing out cat litter, you can remove transparent door)
✿ EASY-CLEANING DRAWER DESIGN: The pull-out drawer design of the covered litter box facilitates the replacement of cat litter with minimal mess. Equipped with the matching cat litter scooper, it provides easy access for scooping and cleaning.
✿MESS FREE&ODOR FREE: The enclosed kitty litter box is with 10mm sand filter holes on the top, which helps cats remove litter particles from its paws during jumping. It keeps your cat from getting litter everywhere. So our messy litter problem has been fixed!
✿LARGE SPACE&FOLDABLE: The large cat litter box with lid provides plenty of space for kitty within 15 LB to dig and do her business comfortably(Size:16.14in x 20in x 15in). The foldable design is not only convenient for storage and installation, but also ideal for travelling.
✿CUSTOMER GUARANTEE :We are always aiming at providing a 100% satisfaction experience for litter boxes customers. If products don't meet your expectations, please feel free to contact with us at any time, we'll solve it for you with 24h.
Final Recommendation
My final recommendation would have to be buying PetSafe's Self Cleaning Top Entry Cat Litter Box.
Its price tag might be expensive, but it makes your life much easier as a cat owner.
If you have any more questions about these top entry litter boxes, let me know in our comment section.
Ben Robers
My name is Ben Roberts, and I absolutely love animals. So, naturally, I love writing about them too! As far as my animals, I have a Pit-bull, a Beagle-lab mix, a Chihuahua, and one old cat. Each one of them provides me with a new adventure every day. And the best part is they're all best friends. Well, except the cat when he gets a little annoyed. Learn more about Benhere
FIND HIM ON: FACEBOOK AND TWITTER.
Read his latest ARTICLES
Last update on 2022-08-09 / Affiliate links / Images from Amazon Product Advertising API