Are you having trouble finding the best escape-proof cat harnesses?
Cats are famous escape artists, so, naturally, you want to ensure your kitty doesn't make a run for it while leash-walking.
Fortunately, we're here with our top 11 most secure cat harness reviews to narrow down your choices.
Let's start with a quick look at our top picks, then keep reading for all the glorious details.
Cat Harness Top Picks at a Glance
11 Best Cat Harnesses
A walk around the neighborhood sounds like an excellent way to satisfy your cat's curiosity, burn off some energy, and make your indoor cat happy.
But as specialists from RSPCA explain, "Most cats like to be in control –  therefore, new environments can cause stress and agitation."
In other words, your cat might panic and dash to the nearest hideout. That's why picking the right escape-proof harness for cats is essential for keeping your feline safe.
And since you're bound to be overwhelmed by all the variety on the market, here are our top 11 best cat harness reviews.
#1 Winner: rabbitgoo Cat Harness
rabbitgoo Cat Harness
Cat Harness with Leash, Fits Average Cats: Size measuring:Neck Girth:...
Comfortable Outdoor Harness: This real comfy cat harness will snugly...
Escape Proof Cat Harness: This adjustable kitty harness features 4...
Rabbitgoo has one of the best cat harnesses, perfect for cat parents who are new to leash-walking and escape-artist felines.
Features
Rabbitgoo's cat harness is made of comfortable and breathable mesh material to protect your cat's skin and keep your kitty cool during your outdoor adventure.
The design boasts adjustable straps and safety buckles for a snug fit so that your kitty won't be able to slip the fabric. The reflexive strips are also handy for seeing your cat in the dark.
The harness distributes leash pressure well to avoid choking your cat or hurting your feline friend's shoulders. And you've got a sturdy D-ring for leash attachment.
Size XS (neck girth – 8.5″ to 11″/ chest girth 13.5″ to 16″)
Size S (neck girth 11″ to 13.7″/ chest girth 18″ to 20″)
59″ leash
Benefits
Rabbitgoo's product is available in plenty of colors to suit anyone's taste.
Made from strong polyester and nylon
The fabric is so light that your cat will barely feel it on its back.
Great for cats that hate being restrained, so it's perfect for daily use.
Highly positive customer reviews.
Drawbacks
Not as easy to put on
Not the best choice for large cat breeds 
How It Compares to Others
One of the most comfortable harnesses
Quick-release buckles, which are great in case of accidents
How the Product Evolved
Improved security features, compared to other Rabbitgoo cat vests and leashes.
Tips
Don't machine wash. Instead, clean with a damp cloth or wash by hand.
You should be able to fit one finger between the harness and your cat's body to ensure your feline can't escape.
#2 Best Durable: Kitty Holster Cat Harness
Kitty Holster has amazing cat harnesses that work and prevent your cats from escaping when something spooks them.
Features
Made from breathable material to avoid overheating and keep your cat comfortable even in hot weather
Metal D-ring on the back to attach a leash and distribute leash pressure evenly to avoid neck injuries
Fuzzy Velcro fasteners keep it secure.
Available in different colors
Four sizes – from XS to XL (Neck girth 5″-15″/ Chest girth 10″ – 23″)
Benefits
100% cotton material makes it comfortable.
Great for sensitive cats since the lining is undyed and doesn't contain any chemicals that could irritate your pet's fur
One of the easiest inescapable cat harnesses to apply
Great for a kitten or an adult cat and machine washable
Drawbacks
It doesn't come with a leash
Big cats might be strong enough to break free from the Velcro
How It Compares to Others
It covers more of your cat's body than other models
Available in plenty of fashionable colors
Fur-friendly Velcro fasteners instead of plastic buckles
How the Product Evolved
Kitty Holster is dedicated to producing the best escape-proof cat harnesses, and it's always looking for ways to improve its design.
Their cat harness is also available as a high-visibility safety vest.
Tips
Introduce the harness slowly and give your cat plenty of time to get used to it before you take them outside.
#3 Best Adjustable: pangdi Cat Harness
pangdi Cat Harness
ESCAPE PROOF CAT HARNESS WITH LEASH-We have adopted a double measure...
EASY TO PUT ON AND TAKE OFF-The cat vest is a jacket style design,you...
DURABLE BUT SOFT MATERIAL WITH REFLECTIVE-The kitty harness is made of...
If you're looking for the best escape-proof cat harnesses, Pangdi won't disappoint you with their stylish models.
Features
Very soft polyester material with gentle edges
Reflective strips, which are great for black cat breeds since you can see your kitty in the dark
Velcro AND buckle closures
5 colors
Sizes – S, M, and L (neck 7″-10″/ chest – 10″ -17″)
59″ leash
Benefits
Gentle material prevents skin from pulling
Jacket-style harness, which applies gentle pressure on your cat's body and reduces risks of neck injury
This kitty harness is easy to put on/remove, even on struggling cats
Double security features using Velcro and buckles to ensure cats can't escape.
Drawbacks
Too bulky for some cat owners
Too padded for hot weather
How It Compares to Others
Dual-adjustment and security features
Two D-ring instead of one, which gives you more control options
Cute colors
How the Product Evolved
No information about upgrades, but we'd like to see an adjustable harness made from lighter material.
Tips
Try the harness indoors to ensure your cat can't get out of it.
#4 Best Custom-Made: Surfer Cat Mav Cat Harness
These H-style harnesses for cats are an excellent choice for pet owners who want a high-quality product made from durable material.
Features
Handmade from lightweight materials for minimum contact with your cat's body for maximum comfort
H-style
Available in 12 colors
Suitable for cats with a chest girth up to 16."
Benefits
Very secure without restricting your kitty's movements
Quality material, which your cat won't be able to damage with claws or teeth
You can request customization if you contact the seller
Drawbacks
Not the cheapest option
It doesn't come with a leash
How It Compares to Others
Less bulky than other types of cat harnesses
Available in plenty of fashionable colors to suit a wide range of people
Great customers' reviews when it comes to its escape-proof features
How the Product Evolved
Improved color options and available in limited collections
Tips
Contact the seller if you have a large cat breed and request a custom-sized harness.
#5 Best for Comfort: GAUTERF Cat Harness
GAUTERF Cat Harness
❤ Cat Harness and Leash. Made with a soft breathable air mesh....
❤ Step in Small Dog Harness. Soft Mesh Harness also very light...
❤ No Choke Small and Medium Dogs Harness. Easy to Wear and...
This comfortable cat harness is a great choice for all-year-round walks and cats with sensitive skin.
Features
Made from light, breathable material, so your cat won't be too hot or cold
Adjustable plastic buckles and a Velcro block for a snug and secure fit
3M reflective strips for visibility and two heavy-duty D-rings for leash attachment
12 available colors
Size from XXS to XL (chest size from 6″ to 20″)
47″ leash
| Benefits | Drawbacks |
| --- | --- |
| Breathable air mesh design | The sizing chart is off according to customers |
| Step-in design, which allows you to put the vest on/off without breaking a sweat | Not very easy to adjust around the neck and chest |
| Machine-washable | |
| Available in a wide range of sizes, so it's perfect for large and small cat breeds | |
How It Compares to Others
One of the easiest vests to put on an unwilling cat
Shorter leash than other sets we've reviewed
How the Product Evolved
Available in a model with a longer leash and extended Velcro
Tips
Machine wash or hand wash with cold water.
It's also a great choice for ferrets, rabbits, and other small pets.
#6 Best Budget-Friendly: SCIROKKO Cat Harness
Sale
SCIROKKO Cat Harness
🌙SIZE: Neck girth 7-12", chest girth 10"-18", leash 59"x 0.4",...
🌟EYE-CATCHING LOOK: Put the beautiful sight outlined above the...
🌙GLOW IN DARK: Luminous design is best way for you to find your...
SCIROKKO has one of the best escape-proof harnesses for cats, perfect for pet owners on a tight budget.
Features
A long leash with a revolving hook and a comfortable handle for comfort and convenience
H-style
Made from polyester
Quick-release buckle for safety and security
Four colors available
Suitable for cats with neck size of 7″ to 12″
59″ leash
Benefits
Glows in the dark, so it's perfect for walking your cat at night or early in the morning
Adorable golden bell decoration
Made from durable material to ensure your pet can't break or damage it with teeth and claws
Drawbacks
Plastic clip closure, which can get loose if the cat applies enough force
How It Compares to Others
Luminous
Simple but escape-proof design
Longer leash than other models
How the Product Evolved
Improved H-style harness design
Tips
SCIROKKO also has excellent fancy cat collars.
#7 Best For a Snug Fit: Yizhi Miaow Cat Harness
Yizhi Miaow Cat Harness
Why choose Yizhi Miaow cat harness? Because cats are built differently...
The cat harness and leash set is escape proof with durable, strong...
This adjustable cat harness will fit your cat properly, it's a good...
If you're looking for a well-fitting harness, you should try Yizhi Miaow's product with its unique Magic Tape closure.
Features
Comfortable and durable canvas material to withstand repeated use
Stylish design with an adjustable Magic tape for a snug fit
11 colors
Five sizes from XS to XL (neck size from 6″ to 10.5″/ chest size – 8″ to 18″)
47″ leash
Benefits
You get a training leash and guidelines to help your leash-train your feline
Great for small and large cats since you can adjust the fit quickly with the Magic tape
Vest-style and easy to put on
Drawbacks
No snap buckles
Size chart runs small, according to customers
How It Compares to Others
Affordable price
Suitable for a wide range of cats, unlike other brands
Cute plaid and polka dot designs
How the Product Evolved
No information about improvements, but we'd like to see some reflective material for better visibility.
Tips
Be careful not to tighten the vest too much when you put it on.
#8 Best Lightweight: PetSafe Cat Harness
Sale
PetSafe Cat Harness
OUTDOOR FUN: Improve your indoor cat's health and happiness with walks...
COMFORTABLE CONTROL: Designed specifically for kitties, the harness...
ADJUSTABLE FIT: Two adjustment points allow you to custom fit the...
PetSafe has the best cat harness no escape for crafty felines that don't tolerate heavy material on their bodies.
Features
Very light and made from durable Nylon fabric to ensure your kitty's comfort and safety
Two adjustment points for a tight fit without restriction your cat's movements
H-style
Six colors
Sizes – S, M, and L (chest girth measurement from  9″ to 18″)
0.3 pounds of weight
4-foot bungee leash
Benefits
Bungee leash to give your cat more freedom to explore when walking outside and prevent tugging
You get a lifetime limited warranty
Great customers' reviews
Six colors
Drawbacks
Some customers report that the leash gets dirty quickly
Not the best choice for huge cats
How It Compares to Others
Lightweight material
Easier to wear and adjust than other brands
How the Product Evolved
A new fashionable version available with glitter.
Tips
You can contact the manufacturer if you're unsure which size is the right one for your kitty.
#9 Best for Kittens: Dooradar Cat Harness
Dooradar Cat Harness
Size Reference - XS (Neck Girth: 8.5" -11", Chest Girth: 13.5" -...
Super Soft & Breathable Material - Made of lightweight, soft,...
Bright Reflective Strip & Sturdy D-rings - Reflective strip makes cat...
Outdoor walks are a great way to provide mental stimulation and burn off kitten's excess energy.
Features
Made from breathable Nylon webbing material with cushioning and non-stick fur lining to ensure your kitty's comfort
Reflective strip for visibility in the dark and heavy-duty D-ring to attach a leash
Buckle and strap closure
Size XS and S (neck girth – 8.5″ to13.7″/ chest girth -13.5″ to 20″)
59″ leash
Benefits
Great for growing kittens, since its neck and chest adjustable
Very secure and escape-proof thanks to its adjustable straps, quick-release buckles, and durable leash
Eight colors
Drawbacks
Size runs small
Not very easy to put on or remove
How It Compares to Others
Suitable for all-weather condition thanks to the padded but breathable material
Fully adjustable
How the Product Evolved
Two adjustable buckles and quick-release buckles instead of one
Tips
Start leash-training your kitten as soon as possible for the best results.
Check the size chart and opt for the smaller model if your kitten is between sizes.
#10 Best for All-Weather Conditions: Voyager Cat Harness
Voyager Cat Harness
Fits Small to Medium Pets: Whether your pet is a small or medium...
Premium All-Purpose Dog Lead – Voyager 5' dog leashes are designed...
ALL WEATHER AIR MESH: Made a soft, breathable air mesh, this fully...
Best Pet Supplies is another brand, which offers inescapable cat harnesses suitable for all-year-round use.
Features
Breathable air mesh to keep your feline friend comfortable in hot weather
Fully adjustable with four straps, three buckles, and a unique rounded neckline for a snug fit
Pull-on closure
20 colors
Sizes from 3XS to XL (neck size – 9″ – 17″/ chest size – 9″ – 36″)
Best for cats up to 15 pounds
Benefits
Air mesh panel
Well-padded to keep your cat warm in winter
Step-in style for easy application and adjustments
Very positive reviews, praising its design and efficacy
Drawbacks
It doesn't come with a leash
The size chart is off
How It Compares to Others
Three buckles and four straps for maximum security
Available in more colors and size options than other brands
How the Product Evolved
Added adjustment points for maximum comfort and security
Tips
Check your cat's body after removing the cat harness to ensure it doesn't rub or irritate the skin.
#11 Best Stylish: Supet Cat Harness
Sale
Supet Cat Harness
【Fashion &Quality Cat Harness】 Tired of the stereotyped and plain...
【Escape Proof Cat Leash Set】 Customized according to cat's body...
【Larger Adjustment Range】 Different from the traditional kitty...
If you're looking for the best cat harness, you won't be disappointed by this stylish escape-proof cat vest.
Features
Unique 5-point adjustment system for a secure and snug fit
Made from durable and breathable neoprene for maximum comfort
5 slide clips
7 colors
Sizes S and M (neck size 7.3″- 13.4″)
5ft leash
Benefits
Washable
Reflective strips for visibility
Very comfortable for your cat
Drawbacks
Not the best choice for large cats
How It Compares to Others
A unique combination of 2 quick-release buckets and 5 adjustable straps
Fashionable colors
How the Product Evolved
Improve adjustment points for extra security
Tips
Measure your cat around the neck, chest, and back to get the correct size.
How To Choose The Best Inescapable Cat Harness That Works
Let's talk about what features you should consider when shopping for the bests escape-proof cat harnesses.
Type of Harness
Cat harnesses can be vest-style, H-style, or Figure 8.
In general, vest and H-style ones are better because they're easy to put on and don't stress your cat too much. 
Fit
Always check the manufacturer's instructions to ensure the harness is a good fit for your cat and won't be too tight or too loose.
Otherwise, your cat might get hurt and refuse to learn to walk on a leash.
Adjustability
Choose a harness that you can fully adjust to ensure you can secure it snugly. The more adjustment points you have, the better the fit.
Material
Pick light and padded material, which doesn't make noises to bother your cat. It shouldn't be too thin, or the cat will shred it with claws and teeth.
Weight
Cats don't tolerate heavy things on their back, so opt for a lightweight harness that won't bother your cat too much.
FAQs
How Do I Stop My Cat From Escaping the Harness?
You have to select the correct size harness and tighten it well to ensure your cat can't slip through the straps.
The type of harness also matters, with vest-style ones being better for escape artists because they cover most of the body. 
What Makes a Cat Harness Escape-Proof?
Most cat harnesses on the market are labeled "escape-proof" because they've got adjustable straps, buckles, or magic tape to keep the cat secure.
However, cats can rotate their bodies up to 180 degrees, which allows them to slip from inescapable cat harnesses, such as a cat grooming harness. 
Can Cats Wear Harnesses All the Time?
No, cats shouldn't wear a harness all the time. Instead, put the harness on for a couple of hours every day utile your cat gets used to the feeling.
Final Word
Leash-walking can be an excellent way to make your indoor cat happy and provide them with mental and physical stimulation.
However, you should introduce the leash and harness slowly and make sure your cat has a positive experience with them before you try leash walking outside.
And keep in mind that some cats simply don't tolerate harnesses and will turn into a liquid and escape no matter what. But other highly trainable cat breeds enjoy the experience. 
All these cat harnesses are perfect for taking your indoor cat on an outdoor adventure. But one stands among the rest.
We highly recommend rabbitgoo Cat Harness and Leash for Walking because it's light, snug, and comfortable. It's made from breathable material and has reflective strips for visibility.
What do you think about these 11 best escape-proof cat harnesses? Which one is your favorite? Share your opinion in the comment section.
Resources: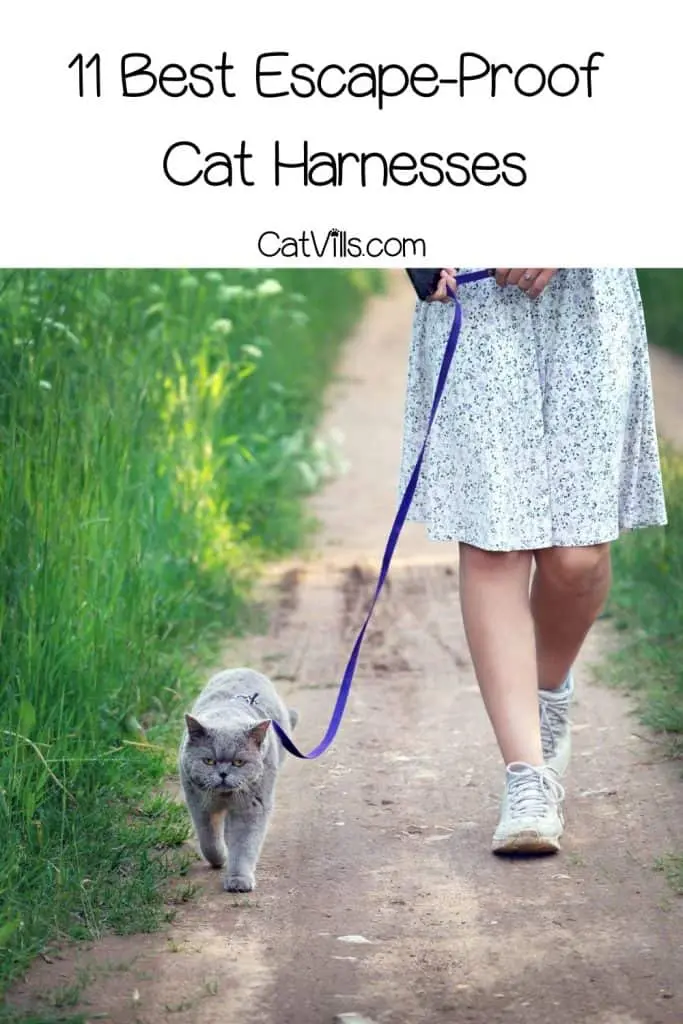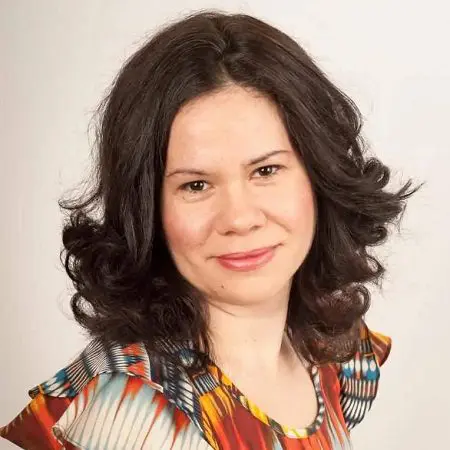 Olfa T
Olfa knows how to get things done and has a keen business sense that others admire. She's always on the go, coming up with new ideas! Her ability to anticipate the needs of her readers and deliver information that they want is what makes CatVills such a success. She loves cuddling her cat Picaciu. He is her inspiration.
Last update on 2023-09-21 / Affiliate links / Images from Amazon Product Advertising API