Finding the best trees for large cats is a bit trickier than grabbing a tree for your petite kitty.
Most cat trees are designed for the average-sized kitty (8-11 pounds), not for your "large & in charge" Maine Coon or Savannah cat!
Not only are these kitties more likely to tip over a tall structure, they also can't really fit in the standard cat cave or on the perches that come attached to the tree.
Don't worry, your big kitty can still enjoy climbing a cat tree, you just need to choose the right one!
Let's talk about what to look for in a tree, then I'll share with you my top 5 picks!
➜ Shopping for a litter box for your cat? Read this guide to find the best litter box for maine coon cat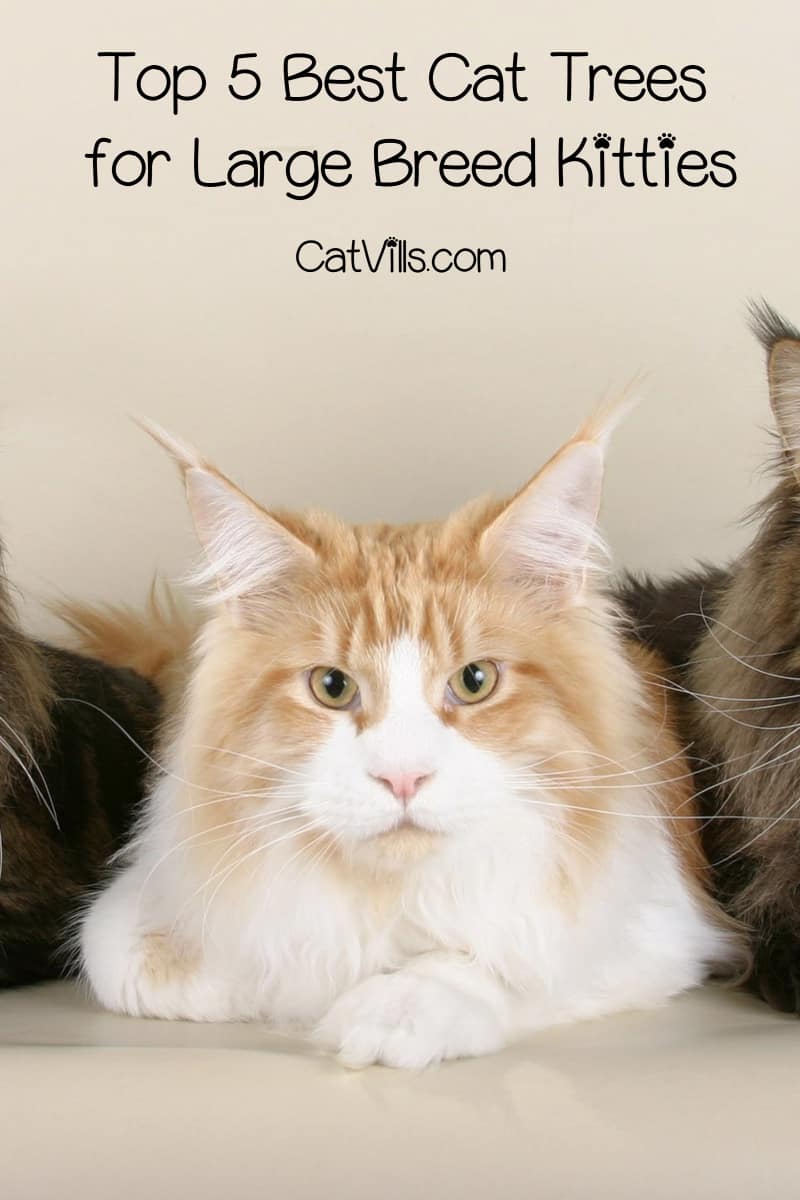 How to choose the best cat trees for large cats
Choosing the right cat tree for your big kitty requires a little research and planning, but it's worth it to give them something they'll truly enjoy.
1. Weight limit
Most cat trees are designed to hold much more weight than even the largest cat (mostly to accommodate multiple kitties).
Still, you want to check the weight limits on things like the perches and other sitting surfaces.
A good rule of thumb: get something that can accommodate your cat's highest potential weight, plus a couple of "just in case" pounds.
For example, a Maine Coon can weigh up to 18 pounds, so go with a cat tree that can handle a 20lb cat.
2. Size of perches and caves
It's not just the weight limit that you need to consider, it's the overall size of perches and cat caves, too.
I have a cat tree designed for the average-sized cat right now. There is NO way a Maine Coon would fit in the little condos.
It's a tight squeeze even for my Alex, who is a relatively thin cat, but he's quite "long." See that condo below? He can't really fit.
3. Size of the base
You want a cat tree that won't tip, and the size of the base has a lot to do with that.
Actually, you need to consider base size compared to overall height, but I couldn't even begin to give you a formula for that! Math and I don't mix.
You don't need calculus to find the best tree, though. Just look for a wide base that doesn't let the whole structure "jiggle" when your cat jumps on and off.
4. Stimulating design
Large kitties like Maine Coons, Bengals, & Savannahs all have something in common: they're incredibly smart and relatively active.
You want a tree that gives them plenty of opportunities to flex their leaping muscles (they all love to climb and jump), but also gives them a nice spot to curl up.
Trees with toys attached (or spaces to attach them) are beneficial. Even just a simple hanging rope can be a stimulating cat toy!
5. Easy to clean
Depending on the breed, your large cat may shed a lot (like the Maine Coon) or very little (like the Bengal).
Even if you have a low-shedder, remember that a large cat means larger fur balls floating around!
You'll want something that's easy to clean. Carpeted trees are nice because you can just vacuum them off.
Now that you know what to look for in the best cat trees for large breeds of cats, let's check out my top 5 picks.
Best Cat Trees for Large Cats
This post contains affiliate links. If you make a purchase through these links, we earn a small commission at no extra charge to you.
USE THIS TABLE FOR A QUICK QUIDE

| TREE | OUR RATING | BUY IT |
| --- | --- | --- |
| | 🐱🐱🐱🐱 | |
| | 🐱🐱🐱 | |
| | 🐱🐱🐱 | |
| | 🐱🐱🐱 | |
| | 🐱🐱🐱🐱 | |
1. Top Pick for Best Cat Tree for Large Breeds
The SONGMICS 68.5″ tree is my top pick for the best heavy duty cat tree for big kitties.
With anti-tip features and roomy napping spots, even your Maine Coon will love it!
Features:
Stability: strengthened with battens at the bottom and comes with anti-toppling fittings
Large, room cat cave complete with a little window!
Luxury top perch with raised edge
Large "basket-style" nap spot that's deep enough for your ginormous kitty
This isn't just my top pick for large cats, it's also one of the best cat trees for multiple cats!
Be sure to check out our SONGMICS cat tree reviews for more info and other great condo/tree combos by them!
2.Simple perch-style tree for large cats
If you just want a very simple post & perch style tree, this one by Cat Tree King is a good option.
It's rated to hold up to 88lbs, so it will definitely hold your Maine Coon!
Features
Simple design makes it easy to assemble
Poles covered with sisal rope from top to bottom, making it double as a scratching post
Plush on the top and bottom mean no exposed wood at all
Large cat bed at the top measures 25″ with a 4″ thick plush removable pillow
Even though the design is very simple, this tree does have all of the features I look for in one for a large cat.
The wide base provides stability, the attached rope stimulates, and the bed offers a super cozy napping spot.
3.Super Plush Cat Tree for Multiple Cats
The Cat Tree King tree above is really only made for one cat. If you have more than one big kitty, you'll want this Corner Cat XXL tree.
Every part of this tree was specifically made with big cats in mind.
Features:
All of the poles are covered with sisal rope from top to bottom. It's also glued directly to the poles.

Top to bottom plush, so unfinished wood doesn't peek through (making it as beautiful as it is sturdy)
Highest-quality super sturdy plush that is glued to the panel so your cat can't rip it off.
Two roomy perches and a large top-level bed
I love everything about this cat tree! It looks so cozy, doesn't it? Cat Tree King is a big name in the Netherlands. FYI, European countries have strict pet-product standards.
4. The Best Large Platform Cat Tree
When you're buying a good tree for big kitties, you want one with roomy platforms. It doesn't get much roomier than the Vidagoods 71" Big Fat Cat Tree!
This one is actually designed for big cats!
Features
24″x 22″ base board for maximum stability
Highest standard of particleboard available

Super roomy top perch that's big enough for the largest cat

Thick 3.5″ posts add stability to the whole structure
The only downside that I can see: that hammock under the second platform doesn't really seem large enough for a big cat.
That's okay, though. My cats rarely even use the hammock on their tree. In fact, I took it off after my dog ran off with it (yep, she stole their hammock).
5. Most Unique Cat Tree for Large Cats
The Go Pet Club F2093 isn't just a great budget-friendly option, it's also one of the most unique trees on this list thanks to the dual tones and the "vines."
Features
Brown and black dual tone carpeting with "vines" mimics a natural tree
Natural sisal rope on multiple poles for scratching
Faux fur material is super soft on your kitty's feet
Three perches and a room cat cave
I have a Go Pet Club cat tree, and I have to say that it's help up very well to major abuse.
I've tripped and fell right into it and it didn't budge or break. The sisal rope has seen better days, and my dog ate the hammock (told you), but it's still standing!
I would usually say something like "there are many great cat trees for large cats out there, these are just my top picks," but that's not really the case.
Cat trees large enough for a Maine Coon aren't nearly as common as, say, a space-saving cat tree or a tree for kittens.
While these are far from the only options, you'll have to look a little harder to find any better than the ones I've chosen.
If you do decide to look elsewhere, just remember my tips for helping you choose the best cat trees for Maine Coons and other big kitties.
Do you have any other picks for the best cat trees for large cats? Share below!