Last updated on September 14th, 2023 at 02:33 am
If you're looking for the best floor to ceiling cat trees, I've got you covered!
Today, we'll take a look at different options that range from space-savers to "wow, that's a big tree!"
Basically, a little something for everyone (yep, even those of you with really large cats!).
Let's check them out!
TOP Floor to Ceiling Cat Trees AT A GLANCE
17 Best Floor to Ceiling Cat Trees
Most of our picks for the best floor-to-ceiling cat trees are fantastic for small homes, thanks to their thin profile.
When you're short on room, you need to take advantage of every square inch, including unused "air space."
That said, we included a few ginormous structures for those who want to create the ultimate kitty playroom.
#1 Winner: PEQULTI Floor-to-Ceiling Cat Tree
PEQULTI's cat tower is one of the best floor-to-ceiling cat trees, thanks to its adjustable height design and multiple perches and playing areas. Moreover, it's spacious enough.
Features & Measurements
Grey or beige
Nine scratching posts
Pom-pom toys
A private cat condo, a plush hammock, and a cradle
Dimensions – 92.9~101.6' 'x18.9'' x 18.9''
Weight – 42.77 pounds
Benefits
The height-adjustable design allows you to tailor the tree to your cat's needs and your available space (max height of 101.6″).
The multiple perches are perfect for cats that like climbing or observing the world from up high.
Several sleeping areas make this cat tower perfect for multiple felines and provide each kitty with enough space to explore and nap.
Soft plush ensures your cat's comfort.
A fan-shaped tree base and anti-topping strap for extra stability and sturdiness, so your cat won't be afraid to jump or climb.
Sisal rope posts keep cats away from your furniture, while the toys engage your cats' hunting instincts.
Easy to assemble and user-friendly instructions
This multi-level cat tree comes in neutral colors, a great match for any home interior.
Free replacement parts for the first year (except the fur ball)
Drawbacks
The basket and hammock are too small for a large cat breed
Not the best choice for large cats, such as Maine Coon or Ragdoll
How Does It Compare to Others
You can adjust the height
Plenty of space for cats to play and exercise
More platforms and napping areas than other models in the same price category
Expert Tips & Testimonials
You can switch the positions of the baskets and the top board to fit your available space.
The majority of cat parents say that PEQUILTI is the best floor-to-ceiling cat tree they've ever used, and they love its compact design and sturdy structure.
#2 Best Budget-Friendly: Cat Craft Floor to Ceiling Cat Tree
The Cat Craft 3-tiered tree is fairly basic, but sometimes that's all you need. And it's an excellent option that should fit just about any home and budget.
Features & Measurements
Carpet-wrapped cat perches
A cozy condo
Hanging toys
Dimensions – 19.29″ x 19.29″ x 89.76″
Weight – 26 pounds
Benefits
Great for kittens and smaller cats.
Easy to put together.
Soft and smooth carpet that's more tightly woven than most brands
Fits ceilings up to 9 feet.
Earth-tone neutral colors fit any room decor.
Rotate the levels to any configuration you want.
Drawbacks
A bit wobbly since it uses tension
Won't fit XL kitties
Not all that durable (basically, worth what you pay for it)
How Does It Compare to Others
More affordable than other floor-to-ceiling cat trees but not as stable as luxurious models
You can position the cat perches in any direction for a better fit.
Expert Tips & Testimonials
Place this floor-to-ceiling cat tree in the corner for extra stability.
While it's not much to look at in terms of features, it has fairly good reviews among users. Plus, the price is right for those who don't need something designed to last an eternity.
And as one video reviewer said, cats quickly start using the floor-to-ceiling cat tree and love the carpeted texture.
#3 Best for Kittens: Catry Floor to Ceiling Cat Tree
This wooden cat tree condo will be an excellent choice if you want more vertical space for your kitten.
Features & Measurements
A cat condo and a perching platform
A scratch post
Overall dimensions 16″ x 14″ x 30″
Benefits
Affordable
Minimalistic design, so it doesn't take much space
Has a post with sisal rope for scratching
Cozy condo, perfect for small kittens
Plenty of space for kittens to play
Scratching surface
Drawbacks
Not the best option for multi-cat households
Too small for large cats
How Does It Compare to Others
It's only 30 inches tall, so it's one of the shortest cat trees on our lists.
It doesn't have multiple levels or hanging ball toys as other models
How It's Evolved Over Time
Sleeker and more elegant design compared to the first generation.
Expert Tips & Testimonials
Specialists recommend, "To avoid painful falls, wait until a kitten is at least 4 months old before introducing them to your tallest jungle gym."
One reviewer said that even adult cats like Catry cat tree scratch post and love the comfortable condo and the cozy perch.
Customer reviewers are also highly positive, saying that picky cats quickly fall in love with this piece of cat furniture.
#4 Best Eco-Friendly: S-Lifeeling Floor to Ceiling Cat Tree
The S-Lifeeling cat tower looks kind of basic as well, but it has some notable features that make it stand out from other similar trees.
Features & Measurements
Sturdy base with three carpeted perches
Eco-friendly board material
Dimensions – 10.6″ x 17″ x 113″
Weight – 22 pounds
Benefits
Made with eco-friendly materials.
Sturdy and heavier base board for added stability.
Two color options (including a really fun blue)
Easy to assemble
Fits ceilings up to 10′ tall
Drawbacks
Not really a lounger so much as a climbing tree
Some large cats may not fit on it
While it fits tall ceilings, the pole is actually too long for shorter ones!
How Does It Compare to Others
Unlike other models, it doesn't come with a sisal rope for sharpening claws
One of the tallest models on our list
Expert Tips & Testimonials
You can purchase sisal rope and cover the posts. And according to studies, cats love the sisal rope's texture, so they're more likely to use this floor-to-ceiling cat tree.
While the levels are too narrow for a cat to sit and have a snooze on, reviewers with "fat fluffy cats" say it's fine for them to climb.
I like it because it fits higher ceilings…and it comes in blue!
#5 Best for Active Cats: Catforest Floor to Ceiling Cat Tree
Catforest has the ideal solution for pet parents that want something affordable to enrich their feline companion's environment.
Features & Measurements
Double-thickened base
Four perches
Sisal Rope
Base measures 15″ x 15″, while the perches are 16″ x 16″
107. 5 inches in height
Benefits
It's wrapped in sisal rope to satisfy the cats' natural desire to sharpen their claws, so your kitty will be less interested in your furniture.
A great choice for large cat breeds or multiple pets since this multi-level cat tower can withstand up to 33 pounds.
An excellent choice for cats that love heights and climbing
Easy to assemble without any ceiling drilling necessary
Space-saving and compact design, perfect for cat owners with limited space.
Drawbacks
It doesn't come with any comfy napping spots
Need frequent tightening
How Does It Compare to Others
Available in several ceiling heights to fit different homes
Relatively affordable and stable compared to other models
More levels than other similar products
Expert Tips & Testimonials
Check the ceiling height carefully because purchasing the wrong height can affect the stability of the product, according to the manufacturer.
You can purchase a transparent cat hammock or a perch bed if you want your cat to have a napping spot.
9 out of 10 cat owners are impressed with Catforest cat tower's design. They highly recommend it because it provides a lot of vertical space for cats without taking up much floor space.
One video reviewer said, this floor-to-ceiling cat tower is relatively easy to assemble, and it won't take you much time to put it together.
#6 Best for All Ages: PetFusion Floor to Ceiling Cat Tree
While PetFusion Ultimate Cat Tower doesn't reach up to the ceiling, it's one of the tallest cat trees, and its amazing features are worth considering.
Features & Measurements
Premium-grade MDF
Scratching poles
Two perch platforms
Dimensions – 24″ x 20.8″ x 76.8″
Benefits
Sturdy construction with comfortable platforms for playing or napping
Several scratch posts with natural sisal rope to keep your cats entertained
Suitable for adults and kittens
Replacement sisal-covered scratching posts are available.
Drawbacks
Not the best choice for more than two cats
You may need to attach it to the wall
How Does It Compare to Others
A bit more complicated to assemble than other tall cat trees on our lists
It's not the tallest ceiling tree
Expert Tips & Testimonials
Don't add any additional platforms or baskets because the extra weight can affect the stability of this cat tree tower.
Most cat parents like this modern cat tree and say it's one of the best climbing posts for cats. They love its sturdiness, and the majority of cats are happy with the stability.
#7 Best Modern: Downtown Pet Supply Floor to Ceiling Cat Tree
Want something that looks like a tree branch you'd find in the jungle? Check out the Downtown Pet Supply's Tall Cat Activity Tree.
Features & Measurements
4-level cat activity tree
Soft, green leaves
Sisal rope
Overall dimensions – 14″ x 8″ x 97″
Benefits
Looks and feels kind of like a real tree trunk
Four perches covered with soft grass-like material.
The entire post is wrapped in sisal to encourage cats to claw it and not your sofa.
A layer of carpeting under the sisal keeps it looking good even when the rope comes off.
Stretches from 93-97.5″ inches tall.
Secures to ceiling with a spring-powered mechanism.
Very small floor footprint (14×8″)
Super affordable!
Easy to swap out worn sections if you buy a second one.
Drawbacks
The "leaves" can fall off easily
Base isn't really weighted enough
Not big enough for large cats
How Does It Compare to Others
Mimics a real tree trunk to attract cats and encourage them to climb
Good vantage points, as other models, but it lacks comfortable sleeping surfaces.
Expert Tips & Testimonials
Kittens often gnaw on everything they see when teething, so you should keep them away from the fake leaves to prevent ingestion.
Here's a neat little fact- one reviewer bought a second one because the first one wore out in some spots. She discovered that she could make a "super post" because the pieces all fit together.
So, if you have extremely high ceilings, buy two (it's affordable enough!) and combine them. Just save whatever you don't use to replace worn spots on the parts you do!
#8 Best for Highly Energetic Cats: Go Pet Club Floor to Ceiling Cat Tree
The name says it all – this Go Pet Club tree is HUGE!
Definitely not a space-saver cat tree, but a fantastic option for a cat-centric home with plenty of room.
Features & Measurements
Made from compressed wood, faux fur, and sisal rope
Three cat condos, three baskets, and two ropes
Ladders
Overall dimensions – 50″ x 16″ x 92″-106″
Benefits
Go Pet Club has a stellar reputation for making great cat trees.
Sisal-wrapped poles for scratching.
Plush, cozy carpeting covers the whole thing (aside from the poles)
Includes 3 cat condos and 3 lounging baskets.
Condos are big enough for larger cats.
Fits ceilings up to 106′ high
Customizable (you can leave off the ladders to give cats more room and take the baskets out of the equation)
Easy to assemble
Drawbacks
Falls just 2 inches short of fitting a 9′ ceiling.
Baskets are too small for large cats
With the ladders, it's a bit too narrow for large kitties as well
How Does It Compare to Others
More sleeping and perching levels than other models
High-quality tree
Available in several colors
More spacious than other cat tree towers on the list
Expert Tips & Testimonials
You can leave the baskets off if your cats don't like them or you want to save some space.
If you want a large cat tree that anchors to the ceiling, you really never can go wrong with Go Pet Club.
My tree by them (a different model) lasted three years before we took it down because we needed the space.
It took a major licking and kept on ticking, as that old watch commercial says! I'm definitely going to buy another from them in the future.
Cats love the Go Club Huge Cat Tower and use it without any conflicts.
#9 Best Wall Tree: CATASTROPHICREATIONS CAT MOD CLIMB TRACK
The CatastrophiCreations cat mod climb track doesn't fit on your floor or hook into your ceiling. So, why is it on this list?
Well, basically, the entire structure is totally modular, so you could easily start it at floor level and stretch it all the way up to your ceiling!
Features & Measurements
Wall-mounted cat shelves
Scratching post
Overall dimensions – 56″ x 11″ x 69″
Benefits
Handcrafted using premium materials.
Includes a sisal-wrapped pole for scratching, a large lounging hammock/bridge, and a smaller lounging hammock.
Wall mounted, so you don't have to worry about your ceiling being too low or too high.
Works with all other CatastrophiCreations sets and individual pieces.
Fabric is removable and washable.
Comes in three color options for the stained wood pieces (although some cost more than others)
Drawbacks
Pricey
Has to be wall-mounted, so you need to know where your studs are.
Directions are hard to follow.
Smaller hammock isn't big enough for a large breed cat
How Does It Compare to Others
More expensive than some multi-level cat activity centers on our lists
It doesn't take any floor space, unlike other cat playhouses
It comes in a variety of colors
How It Has Evolved
Improved design, compared to previous cat furniture from CatastrophicCreations
Expert Tips & Testimonials
The manufacturer recommends this cat wall track for plaster walls since they haven't tested how well such walls will bear the weight.
If you want something that can easily go from floor to ceiling without needing to attach to either, this is the best choice.
Yes, it's expensive, especially if you add on additional pieces, but it's worth it. And cats love it!
#10 Best Movable: PawHut Floor to Ceiling Cat Tree
Another unique find, this one by PawHut is easily customized and fairly portable, making it a cinch to relocate from room to room.
Features & Measurements
Four perches
A hammock
Overall dimensions – 30.25″ x 12″ x 89″ ~ 114.75″
Benefits
Floor-to-ceiling tension to keep the tower stable
Four movable perches – put them on any level you want
A large comfy hammock for lounging
Spring-loaded brackets mean you don't have to screw it into your ceiling.
Soft plush perches
Drawbacks
Expensive, considering it lacks the options other models have
Perches are too narrow for large cats
Can't buy additional pieces, so not good for two cats who both want a hammock
How Does It Compare to Others
Not the most stylish design
It can be moved around
No sisal rope, but plenty of space to hang cat toys
Expert Tips & Testimonials
Kari Whitman, an interior designer, advises, "Put your cat tree against the wall, but near a window. Cats like to have something solid behind them—it makes them feel safe."
While I like the overall idea of this one, I feel like it's best for a single-cat house.
If they sold additional perches and hammocks, though, it would definitely be among my top 5 picks for the best floor-to-ceiling cat trees.
Cat parents also say this adjustable cat tree is a hit among their felines and that it's one of the easiest cat towers to maintain.
#11 Best for Low Ceilings: TRIXIE Pet Products Floor to Ceiling Cat Tree
The Trixie Zaragoza is another fantastic choice for those who want something more than just a pole and some perches.
Features & Measurements
Soft plush surface
A cat condo and a cat hammock
A plush play tunnel
Sisal rope
Overall dimensions – 26.75″ x 22″ x 102.25″
Benefits
Great for low ceilings, since it adjusts from 87-102″
Wrapped in sisal and plush
Fleece-lined condo has two entry ways.
Wrapped in soft plush and natural sisal
Ladder has sisal rungs
Also includes a plush tunnel and a hammock
Very durable design
Drawbacks
Too short for higher ceilings. Max height is 8.5″
Directions are challenging
Tunnel is too small for most cats
How Does It Compare to Others
Similar features to other multi-level commercial trees but has a smaller footprint and built-in sisal scratching posts.
One of the shortest 4-tier cat trees on our list
Expert Tips & Testimonials
If you have high or cathedral ceilings, put the cat tree in a corner or against a bookshelf to keep it stable.
This one is great if you love the idea of the Go Pet Club tree above but need something just a smidge smaller.
It has fantastic reviews, and everyone just raves about how it's sturdier than expected.
#12 Best for Playful Cats: Yaheetech Floor to Ceiling Cat Tree
The Yaheetech is a last-minute entry because the tree I planned to put here went out of stock overnight and it doesn't say when it'll be back.
It's a beautiful option that's quite similar to many of the other trees above but worthy of its own mention.
Features & Measurements
Engineered wood
Three covered condos and three cat baskets
Sisal-covered scratching posts
Overall dimensions – 27.36″ x 24.02″ x 93.5″ – 103.35″
Benefits
The stylish grey color fits well with the best modern cat furniture and decors.
Fits ceilings up to 108″
No drilling, just secure it with the telescopic rod
Made of durable compressed wood.
Wrapped in non-woven materials (prevents unraveling)
Comes with a sisal rope that you can place where ever you want.
Easy to assemble within minutes.
Budget-friendly
Drawbacks
Only holds up to about a 15lb cat
Secured with a suction cup, so it may not work on all ceiling materials.
Carpet isn't all that durable.
How Does It Compare to Others
Similar to other multi-tier floor-to-ceiling trees but it has a reinforced base for extra stability. It's also more spacious than other models.
Expert Tips & Testimonials
The manufacturer recommends leaving the tree in a well-ventilated area after opening the package to eliminate any lingering smells.
While there are some complaints that the carpeting isn't the most durable, for the price I wouldn't expect it to last years.
I like that you can decide where to put the sisal. Since it's not glued on, it's also easy to remove and replace. Yaheetech's products aren't that complicated to assemble.
#13 Best Luxurious: Milo Modern Cat Tree
Do you want to spoil your cat rotten? Then Milo Moder Cat Tower is an excellent option.
Features & Measurements
Made from birch plywood
Crystal cat hammock
A scratching post, a ramp, and two perch platforms
Overall dimensions – 53" x 15" x 62"
Benefits
Durable construction, which will last for years
Suitable for cats of all ages and sizes
Easy to maintain
Hours of fun, thanks to the carpet-fibered scratching posts and platforms
Drawbacks
Expensive
Requires 30 minutes of assembly
How Does It Compare to Others
One of the most expensive tall carpet cat trees on our list
Unique design
Expert Tips & Testimonials
You can replace the scratch posts and pads if your cat manages to wear them down.
One customer said cats enjoy Milo's crystal cat hammock and can't get enough of it. Customer reviews are also highly positive, calling it one of the best cat activity trees.
#14 Best for Large Cats: EcoPaws Ceiling Cat Tree
EcoPaws has a great handmade claiming tower for cats with multiple platforms, perfect for active indoor cats.
Features & Measurements
Made from natural wood
Natural/beige color
Five styles available
Overall height is between 78 inches and 114″ with a column diameter of 5 inches and a base plate of 17″ x 17″
Benefits
Available in a wide range of styles, and you can request a custom height to match your ceilings.
Handmade from solid wood
Multiple platforms and perches, suitable for up to three cats
Natural sisal rope to attract cats
Suitable for heavy cats
Drawbacks
Expensive
Shipping costs extra
Sparse assembly instructions
How Does It Compare to Others
One of the tallest floor-to-ceiling cat trees on our list
Height customization available
Expert Tips & Testimonials
The different styles offer different sleeping options, so consider your cat's preferences when you order.
Cat parents are satisfied with Ecopaws' products and say that the climbing tower floor-to-ceiling is much more stable than expected. They also note that the seller is quick to answer questions.
#15 Best Handmade: CATSCOZYSPACE FLOOR-TO-CEILING CAT TREE
The CatsCozySpace tree is a beautiful handmade option that's almost completely customizable.
Features & Measurements
Six platforms
A sisal rope post
9 feet tall with a circular base, measuring 19.7."
Benefits
Free shipping worldwide
Handmade
Made with solid natural wood and sisal
Eco-friendly
Non-toxic
Six spots for cats to use
Customize the pads with felt, wool, or other materials
Large enough for most breeds and customizable to other sizes
Drawbacks
Sells out fast
Expensive
Takes 2-3 weeks before it ships
Ships from Poland, so it takes a while to arrive
How Does It Compare to Others
It's handmade and offers more finish color options than other models
Uses natural sheep pelts
Expert Tips & Testimonials
Check CatsCozySpace's shop for more cat tree models.
Since nearly everything about this tree can be customized, it's a truly unique option that's designed to be perfect for your kitty in every way.
Customer reviews say they love this unique floor-to-ceiling cat tree, and it's a perfect fit for their active kitties. They also praise the workmanship and the material's quality.
#16 Best Minimalistic: HAMMONDVILLE FLOOR TO CEILING CAT TREE
Let's head over to Wayfair for this beautiful 90″ Tucker Murphy cat tree. Not only is it stylish, but it fits pretty much all breeds except for the largest of the MCs.
Features & Measurements
Manufactured wood
Three perches
Scratch post
Grey color
Overall dimensions – 19″ x 19″ x 90″ (108″ with the extension)
42 pounds of weight
Benefits
3-tier carpet tree
Durable piece to satisfy cats climbing, perching, and scratching needs
Looks stylish in your home
Fits ceilings from 7'4″ up to 9 feet.
Great for single or multiple cat homes.
Three different perch heights for hours of fun.
For kittens and adult cats up to 20 pounds.
Easy to assemble
Drawbacks
Does not fit vaulted/cathedral ceilings.
Hacksaw needed to cut PVC pipe extension tubes
Not large enough for a large Maine Coon cat
A tad pricey
How Does It Compare to Others
The scratch post is covered in fabric instead of sisal rope.
You can adjust the height
Expert Tips & Testimonials
You can find the installation and assembly documents on the manufacturer's website or check the expert assembly offer.
Most cat parents like Hammondville's multi-level cat tree, saying that it's sturdy enough to withstand a small army of cats and doesn't take too much space around the house.
#17 Best Heavy-Duty: Frisco Floor-to-Ceiling Cat Tower
If you're looking for something heavy-duty to withstand your energetic cat's shenanigans, Frisco has an excellent adjustable floor-to-ceiling cat tower.
Features & Measurements
Made from engineered wood
Two platforms and one comfy bed
Sisal rope scratch post
Overall dimensions – 23.62″ x 23.62″ x 88″
Benefits
Very stable and sturdy since it uses a tension rod to secure the tree to the ceiling
Sisal rope scratch posts to prevent cats from damaging home furniture
Plush perch for napping and two platforms for playing
Adjustable height
Drawbacks
Not suitable for vaulted ceilings
Some problems with the tension rod
How Does It Compare to Others
Fewer levels and sleeping areas but larger platforms than other models
Expert Tips & Testimonials
Follow the assembly instructions and don't switch the position of the cat bed and the platforms.
Cat owners love Frisco's adjustable cat tower and say it's purr-fect for large cats and one of the best floor-to-ceiling cat trees for enthusiastic climbers.
Final Word
My favorite out of all of these floor-to-ceiling cat trees has to be the one from PEQULTI. Their floor-to-ceiling cat tree is perfect for multiple cats and has built-in toys! And it's just beautiful, isn't it?
I also love the Go Pet Club one for homes with a bit more space. It has everything my three cats could ever want and then some.
Your turn! What are your picks for the best floor-to-ceiling cat trees? Tell me below!
Resources: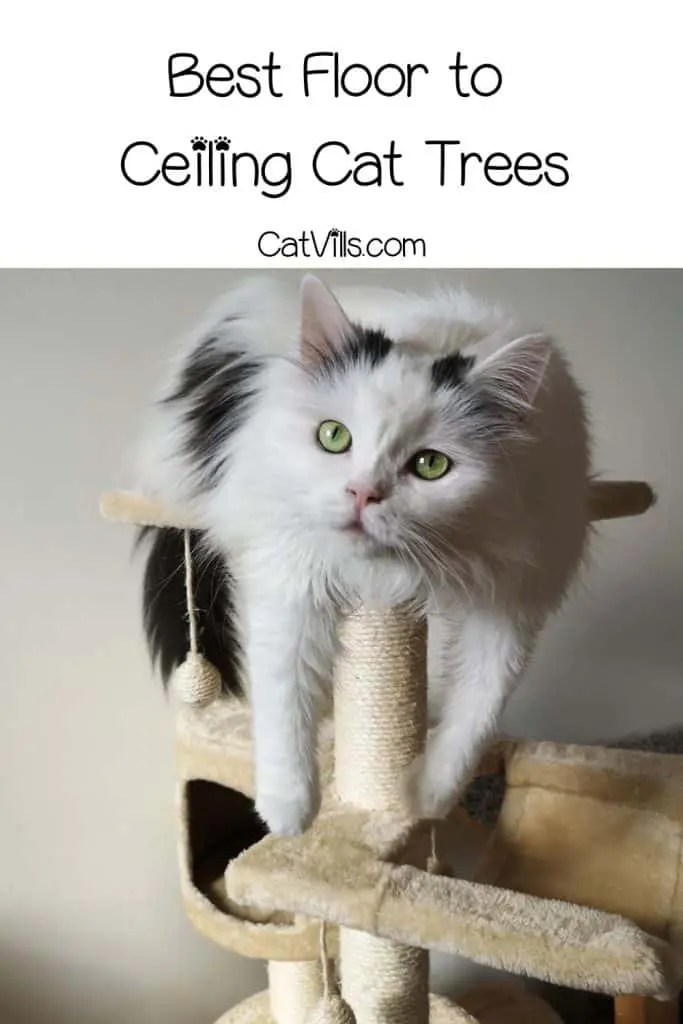 Last update on 2023-11-28 / Affiliate links / Images from Amazon Product Advertising API