Whether you just got a new azure-eyed Siamese or a Ragdoll, chances are you will be looking for blue eyed cat names.
We have plenty for both male and female kitties!
From famous blue eyed celebs to gorgeous words in other languages to synonyms and shades for blue, we took inspiration from all over for these ideas!
Let's start with some great names for our sweet boys, shall we?
Blue Eyed Cat Names for Males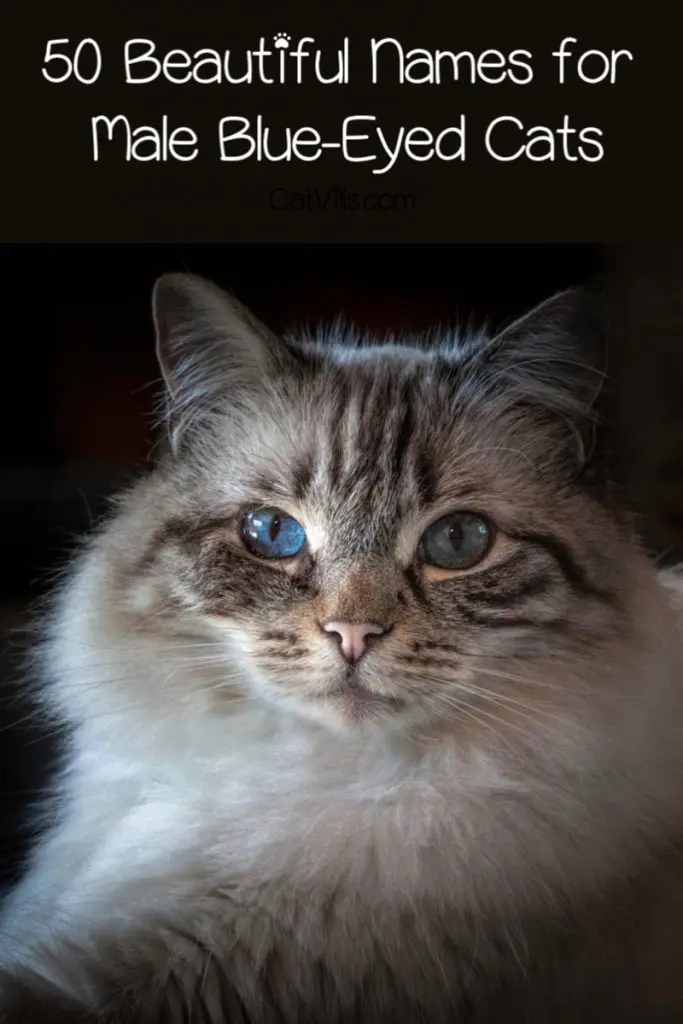 Albastru – Romanian for blue.
Aster – the flowers come in numerous shades of blue.
Bahari – Swahili for ocean.
Badda – Somali for ocean.
Biru – Malay for blue.
Blue – I get it, some cats may be too beautiful and in case of stunning blue eyes, you don't need a pompous name.
Blueberry – or what better name to remind you of those cute, blue eyes?
Boo – the name that allows everything, it's your precious blue eyed kitty.
Buluu– Chichewa for blue.
Caelum – Latin for sky.
Chase – after Chase Crawford of The Covenant
Cobalt – a deep shade of blue
Colton – if you have a black cat with incredible blue eyes, this is the perfect name!
Cooper – after Bradley Cooper, of A Star Is Born and other films.
Cyan – this shade makes a great blue eyed cat name for males or females!
Dodger – it's another shade of blue.
Everest – majestic, glorious and pure. Just like you pure white cat with blue eyes.
Felton – after Tom Felton, best known as Malfoy in Harry Potter.
Gaius – the popular Roman name, giving you a reason to 'rejoice'.
Ghost – like a mystery, sometimes you can only see his eyes in the dark.
Glacier – oh, the ice-blue that gives you shivers. Can you think of anything this intense?
Harris – after Neil Patrick Harris, of course!
Hemel – Dutch for sky.
Heron – like Blue Heron.
Ian – after the gorgeous Ian Somerhalder from The Vampire Diaries.
Ice – simply, for the deepest blue eyes you've ever seen.
Iceman – because he's cool, and his eyes tell the complete story.
Jake – after Gyllenhaal.
Jay – like Blue Jay.
Jude – after Jude Law.
Kailan – the English name, referring to purity. The purity of the blue eyes in this situation.
Leto – Jared Leto is another famous celeb with blue eyes.
Logan – after Logan Lerman from The Perks of Being a Wallflower.
Macaw – the colorful birds come in brilliant shades of blue.
Modry – Czech for blue.
Midnight
Neel – it's a shade of blue, referring to the blue sky.
Niall – Niall Horan of Blockers has gorgeous blue eyes.
Okean – It means ocean in Bosnian.
Okeley – in Hebrew, it means 'blue sapphire'.
Owen – after blue-eyed actor Owen Wilson.
Polar – polar bears don't always have blue eyes, but the ones who do are truly spectacular. Just like your cat!
Radcliffe – after Daniel Radcliffe (who played Harry Potter), of course!
Renner – after Jeremy Renner, of Avengers.
River – the river blue is one of the calmest colors you can ask for.
Royal – there is this dark shade of blue and we know it can be the perfect name!
Sky – or choose something to remind you of the summer blue sky.
Snowy – he's white, he has the most beautiful eyes and you can see how pure he is.
Teku – means ocean in Hausa.
Zaffre – a unique shade of blue.
And we never forget the ladies.
Whether they are. Birman or Himalayan, the blue eyes can not be ignored in any circumstances.
Blue Eyed Cat Names for Females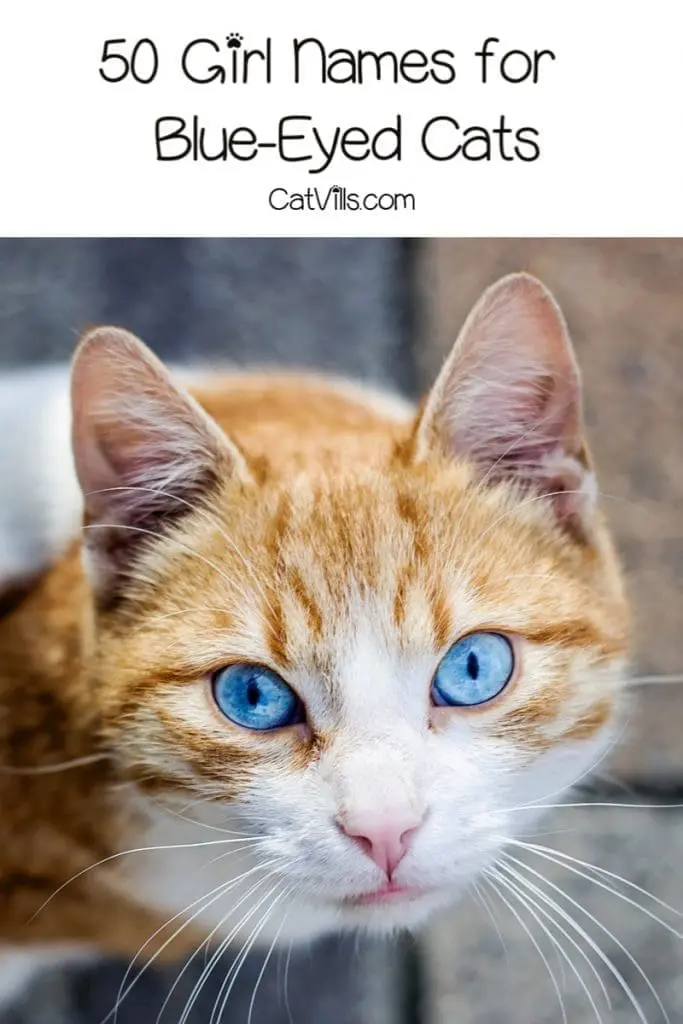 Agate – a blue gemstone.
Agatha – the name is for the one who is good-hearted.
Alexis – after Alexis Bledel of Gilmore Girls.
Alice – there's a shade called Alice blue.
AnnaSophia – after AnnaSophia Robb of Bridge to Terabithia
Anemone – if you can manage this tongue twister, it's a beautiful name!
Angel – does she have the face of an angel? Of course. There's no doubt about that!
Azul – Portuguese for blue.
Bluestar – she is the star of your life and those eyes can't be denied!
Bondi – for Bondi blue.
Bonnie – after Bonnie Wright, who played Ginny in Harry Potter.
Centaurea – a blue flower.
Delphi – after the Delphinium, a gorgeous blue flower.
Dory – It's also a great Disney cat name! The forgetful fish is a Regal Blue Tang.
Gem – because she really is your little, perfect gem!
Glory – coming from Latin, it means 'worship' because those eyes need to be worshipped.
Hansa – the name is meant for the one that brings happiness. Sounds familiar?
Hyacinth – the word hyacinthum means "blue"in Latin.
Ice – blue as ice, beauty like never before!
Indigo – probably one of the most beautiful colors in the world!
Iris – a lovely shade of blue.
Isa – this is a Norvegian name and it refers to 'ice'.
Isra – for any free and playful kitten out there. The blue eyes are a bonus!
Jasmine – the pure flower, for a beautiful white cat with stunning blue eyes.
Krystall – can you see the brilliance in her eyes?
Lauren – after Lauren Graham of Gilmore Girls & Parenthood.
Lazuli – Lapis Lazuli is a stunning shade of blue.
Lilly – have you ever seen a blue lily? They are gorgeous indeed!
Maya – after the shade Maya blue.
Meg – after the adorable blue-eyed Meg Ryan.
Modra – Slovak for blue.
Misty – for a very cool, mystical blue-eyed cat.
Moon – as in Blue moon, of course.
Orchid – blue orchids are a rare find, just like your kitty!
Ozean – German for ocean.
Pansy – a blue flower.
Precious – she is your precious furball and no one can tell you otherwise!
Robin – did you know robin's eggs are blue?
Snow – after actress Brittany Snow of Pitch Perfect.
Quebec – the flag is blue, making it a great Canadian blue eyed cat name.
Renne – stands for a new beginning. A beautiful new beginning!
Skye – the feminine version for Sky.
Sini – coming from the Finnish Sininen, it means blue and it sounds fantastic!
Starling – like the bird, Blue Starling.
Sunti – this name refers to the bringer of peace and calmness.
Star – for Starflower, a blue flower.
Tanza – short for tanzanite, a blue gem.
Tida – if you feel like your furball is your daughter, this is the name for her!
Veronica – after the Veronica flower!
Violet – I know, some variations of blue can look violet and here is a name for that!
Wrap-Up
Now you have it! A list of the perfect names for your blue eyed cat.
Selecting the perfect name for your blue eyed cat is an exciting endeavor that allows you to showcase their unique features and personality.
Doesn't matter what her color is or if she's a pure breed or not!
All that matters is that you shower her with unconditional love and choose one of these blue eyed cat names!
What are your favorite blue eyed cat names? Share below!
Resources: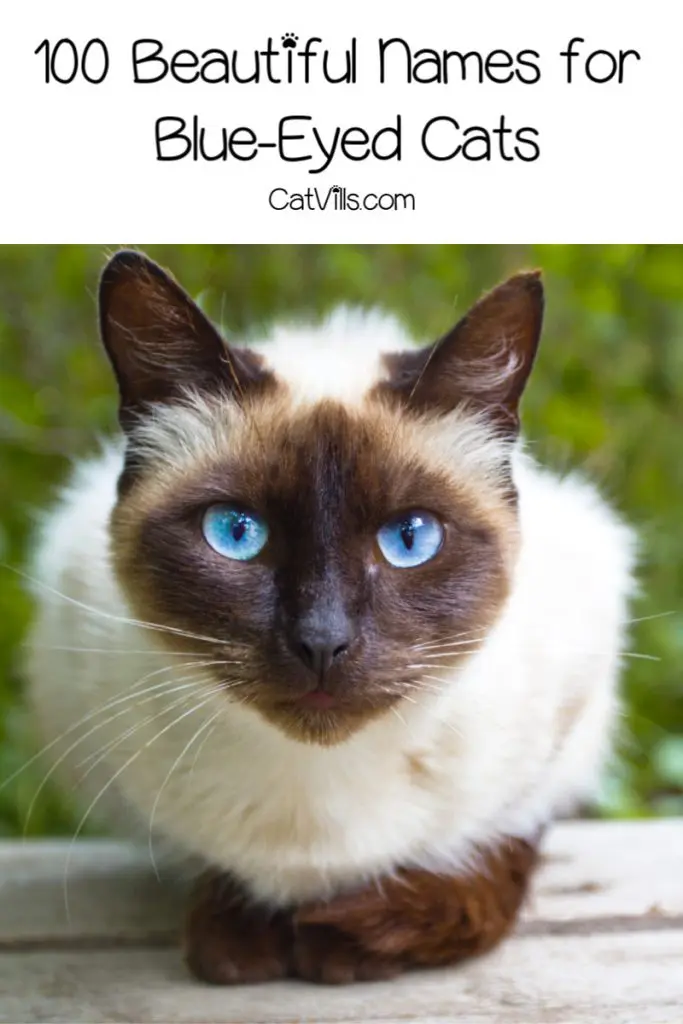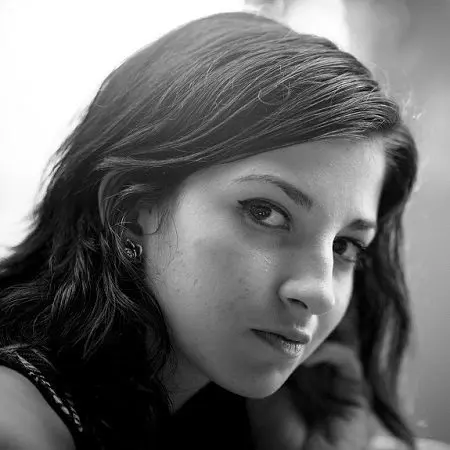 Andreea Juganaru
Andreea is a very passionate content creator and her purpose is to provide you with the most interesting articles, while constantly discovering new facts. She's been freelance writing for the past five years and has created numerous articles and educational materials while managing her own business.