Last updated on May 29th, 2023 at 04:47 am
If you're looking for some cool alternatives to cat trees, grab a seat!
As a cat owner, you know the love-hate relationship with cat trees. You love them because they keep your cat entertained, happy, and away from your furniture.
At the same time, you hate cat trees because they take up space and aren't exactly nice to look at!
If you are into modern living and modern decor, you'll be happy to know that there are plenty of cat tree alternatives! Gone are the days of a cat tower covered in carpet ruining your home's decor.
Here are 10 cool alternatives to cat trees that are worth considering!
Alternatives To Cat Trees
When it comes to choosing cool alternatives to cat trees, you have two options.
Think outside the tree and repurpose another piece of furniture for your cats. Let's call this "alternatives to cat trees."
Stick with furniture that's actually made for cats (basically, still a cat tree), but choose one that looks insanely cool! I call this one "alternative cat trees," because like alternative, they're still trees… just a little more punk rock!
Personally, I like option two just because I'm just not that crafty. Plus, I know it's made specifically for cats, so it's safe. Don't worry, I'll show you some that will make you think "wow, that's a cat tree?"
I've also used option 1 plenty of times, usually because my cats decide they love a bookshelf or other piece of furniture, so it becomes theirs!
Let's check out some great ideas from both options!
If you use this special link you'll get $50 discount on this amazing Cat's Choice cat tree!
Whether you want a totally carpet free cat tree or something with a modern twist, you'll find just what you're looking for below!
1. Bookshelf cat tower
Cube shelving is a modern way to display items on your walls.
The shelving can also be used as a cat tree replacement!
Making your own bookshelf cat towers is easy!
Just decide on a layout, then stack the cubes (make sure you get interlocking cubes or some other sort that will stay together)!
Be sure to avoid putting fragile items in the cubes! Otherwise, you risk having them knocked off.
You can also use wooden crates, like in the tutorial below.
2. Standard bookshelves
Similarly to cube shelves, standard bookshelves can also double as a cat tree!
You can build these bookshelves with a few pieces of plywood and drywall anchors!
Consider using half of the shelving for books and keep the other section empty for your cat.
3. Corner shelves
No one uses the corner of their rooms! If you have an empty corner, corner shelves are ideal for replacing a cat tree.
These shelves give your cat a place to play without ruining the theme of your room!
The best part? You can go simple with a single corner shelf or get super fancy (I LOVE the one above).
4. Old wooden ladder cat tree
Most ladders in today's world are made of metal, but if you can get your hands on a wooden ladder, you have an awesome cat tree alternative!
A wooden ladder gives your cat a place to climb and a place to sleep!
To complete the look, you'll want to add something soft for your cat to sleep on after a day of playing!
5. Create your own!
If you have a creative side, you can easily create a cat tree that fits your home perfectly.
While I'm in awe of the DIY cat tree in the video below, don't worry, you don't have to be that talented to put together a simpler tree.
Just grab some wood and get to work!
Need more guidance? Search "DIY cat tree plans" on your favorite search engine!
Modern Alternatives to Carpeted Cat Trees
These next alternatives are still technically cat trees at heart, but they look more like conversation pieces or sculptures.
I'm going to be honest with you, these options are a bit pricier than the alternatives to cat trees above.
Still, if you have the budget for them, you have to admit they are pretty neat!


This gorgeous cat staircase looks absolutely nothing like a cat tree, but it's still full of fun places for kitty to lounge.
While it's just perfect for a single cat, I love that it's ideal for a multiple-cat family.
It features stainless steel support to keep it sturdy, and birch wood steps for kitty to climb.
The jute wrapping is an optional feature, so if you feel like it makes it look too cat-tree-like, just skip it!
If you love the overall idea of this one, but not so much the style, perhaps one of these Top 10 Best Floor to Ceiling Cat Trees will be more your thing!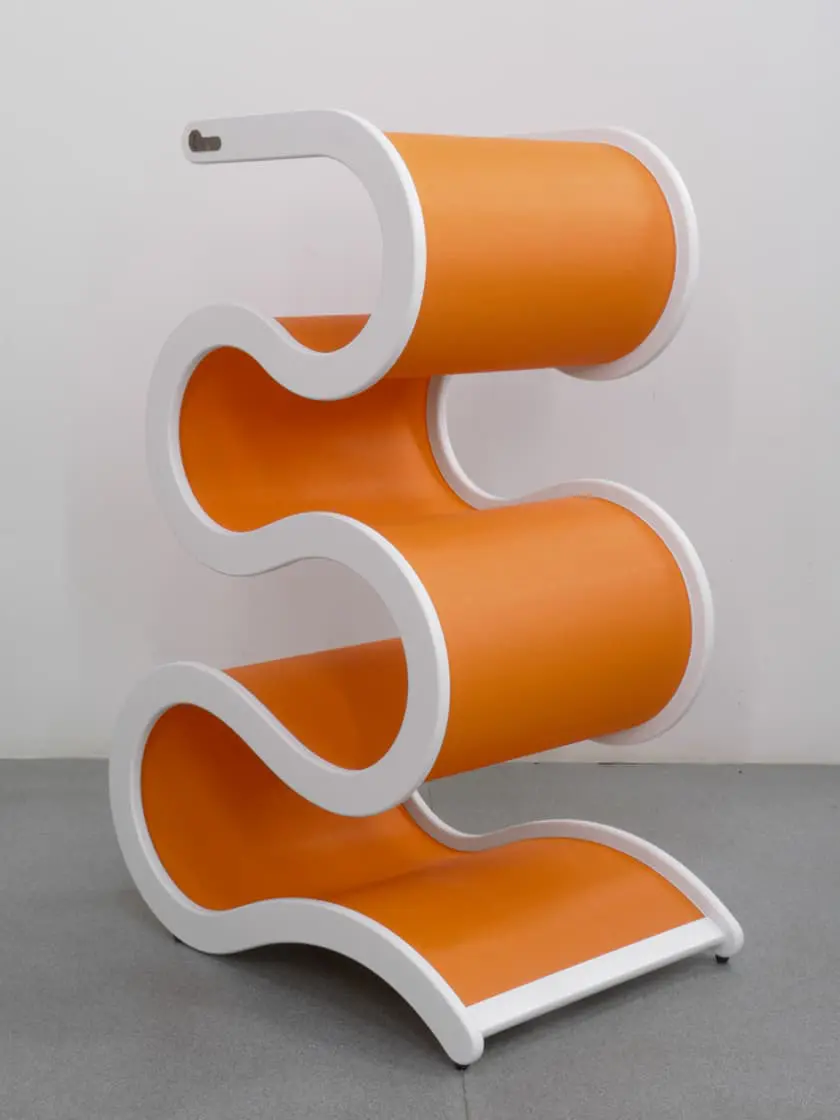 Did you know that there are tons of great modern cat trees out there that don't look like carpeted monstrosities?
This one is my favorite! The Curvynest cat tree is such a beautiful alternative that looks more like a sculpture than kitty furniture!
If you don't love the orange, it also comes in a lime green color as well as a natural wood color.
The contours are designed to perfectly fit your cat's body.
Not your thing? Perhaps one of these other 10 modern cat trees will fit your needs!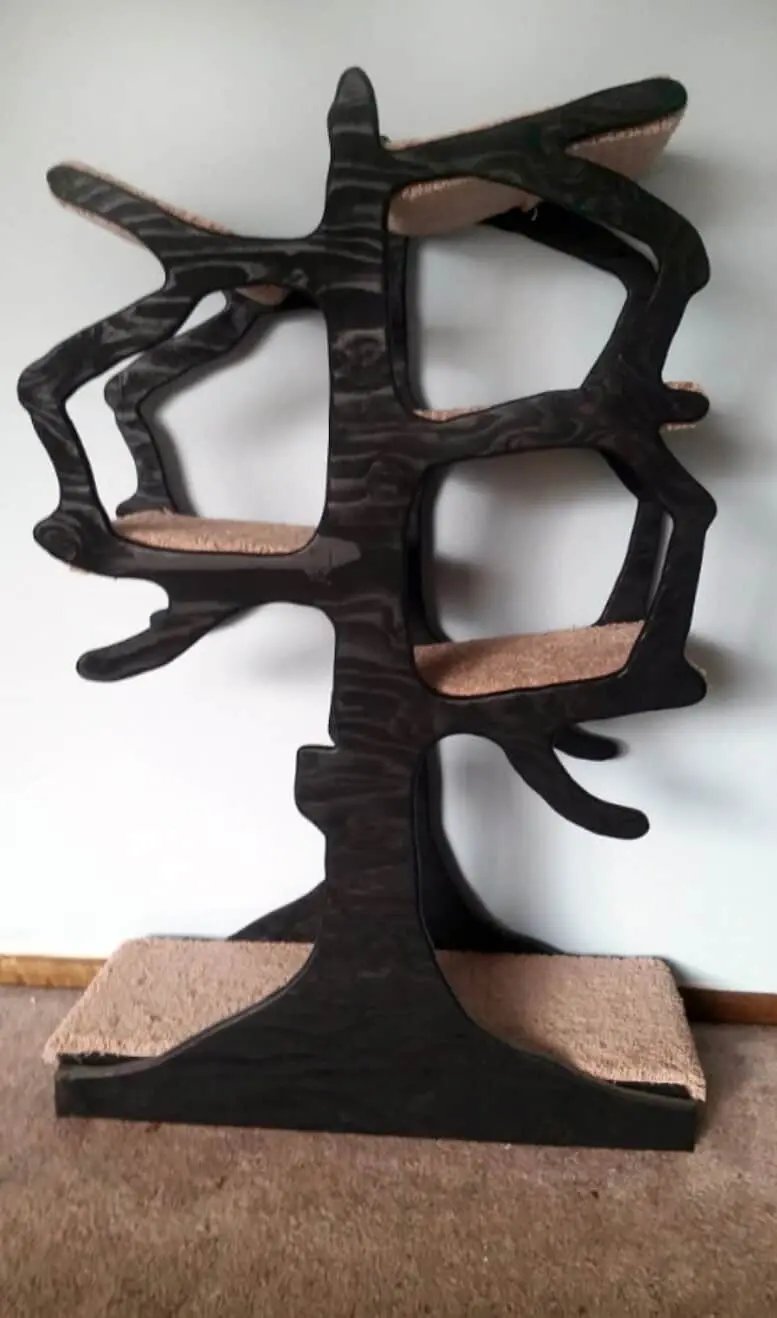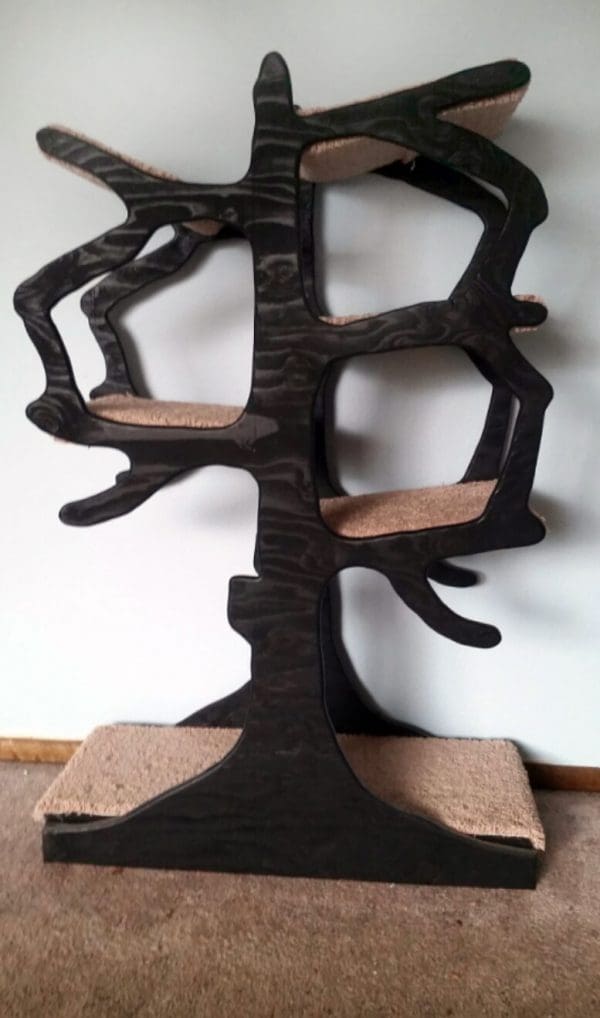 A cat tree made from real wood- versus particle board- makes an amazing alternative for two reasons.
First- it just looks more like a piece of quality furniture versus something that you bought specifically for your cat.
Second- when your kitty gets bored with it, you can strip the carpeting (most come with removable mats/carpet) and use it as a bookshelf!
I love the idea of supporting artisans with this handmade tree above!
Choose between two different colors (brown and black), and five different sizes.
It's made in the USA and does require some assembly, but all of the trees on this list do, so that's not an issue.
If you imagine it without the carpeting, you can easily see how it can become a cute bookcase for a kids' room.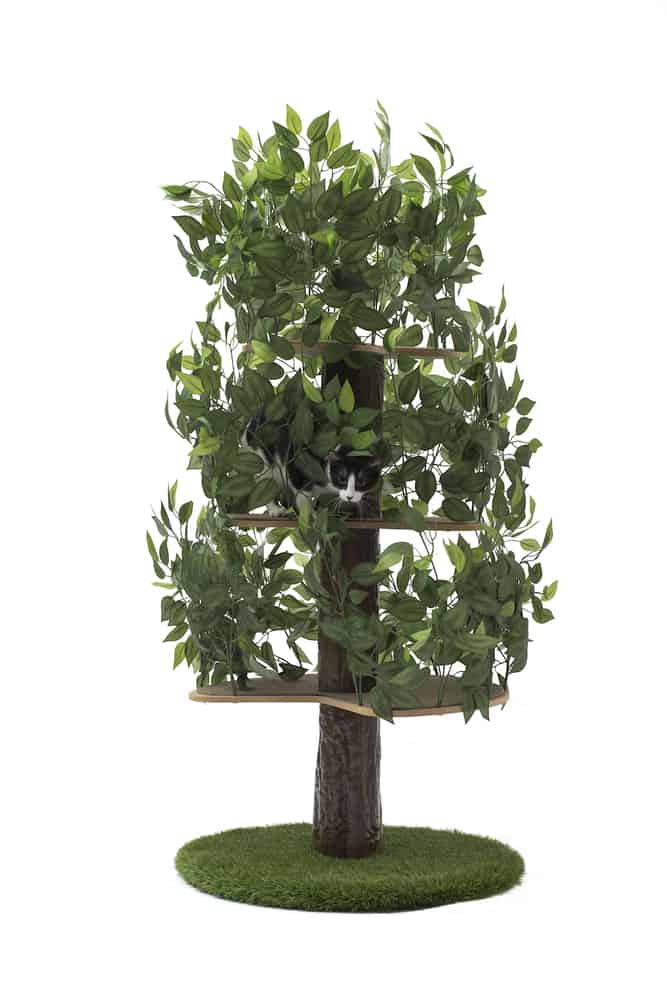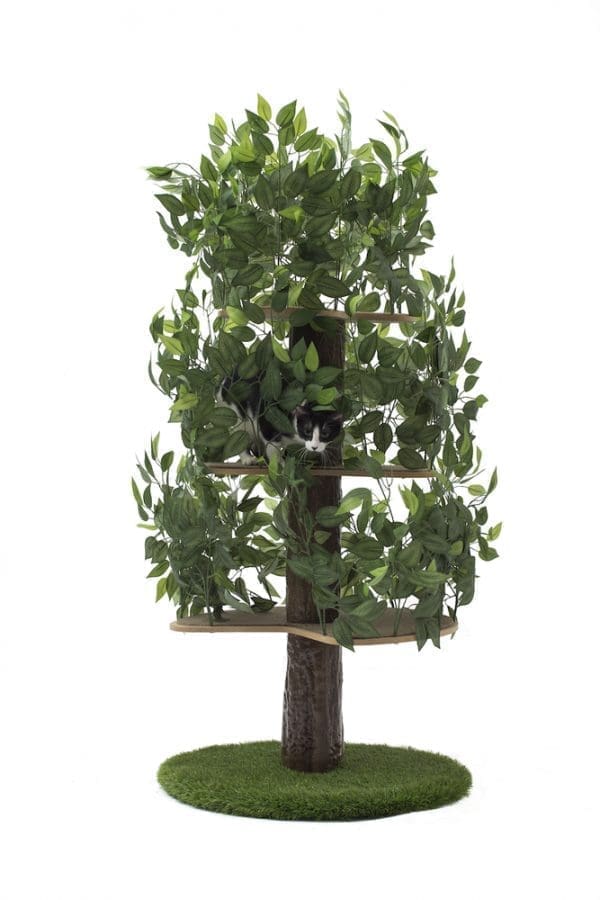 If you want a really cool conversation piece, get a cat tree that is literally a tree!
Well, made to look like a real tree, anyway. Bonus: it doesn't shed its leaves all over your house!
I love it because the shelves are tucked away behind the faux foliage.
Cats love it because it gives them that feeling of security that comes from being hidden.
Prefer something else? Check out these other cat trees that look like real trees!
Oooh, or you can go with a cat tree that looks like a cactus (it fits great with Southwester decor).
10. Wall-mounted cat trees
If you don't have space on your floor, but don't want to go the total DIY route like in the options above, these wall mounted cat perches are a great option!
I personally love CatastrophiCreations cat trees– like the one pictured here- but they're far from the only option.
You can also create entire Climbing Walls for Cats with a little creativity!
With these cool alternatives to cat trees (and alternative cat trees), you'll find the perfect piece to complement your home decor.
Final Recommendation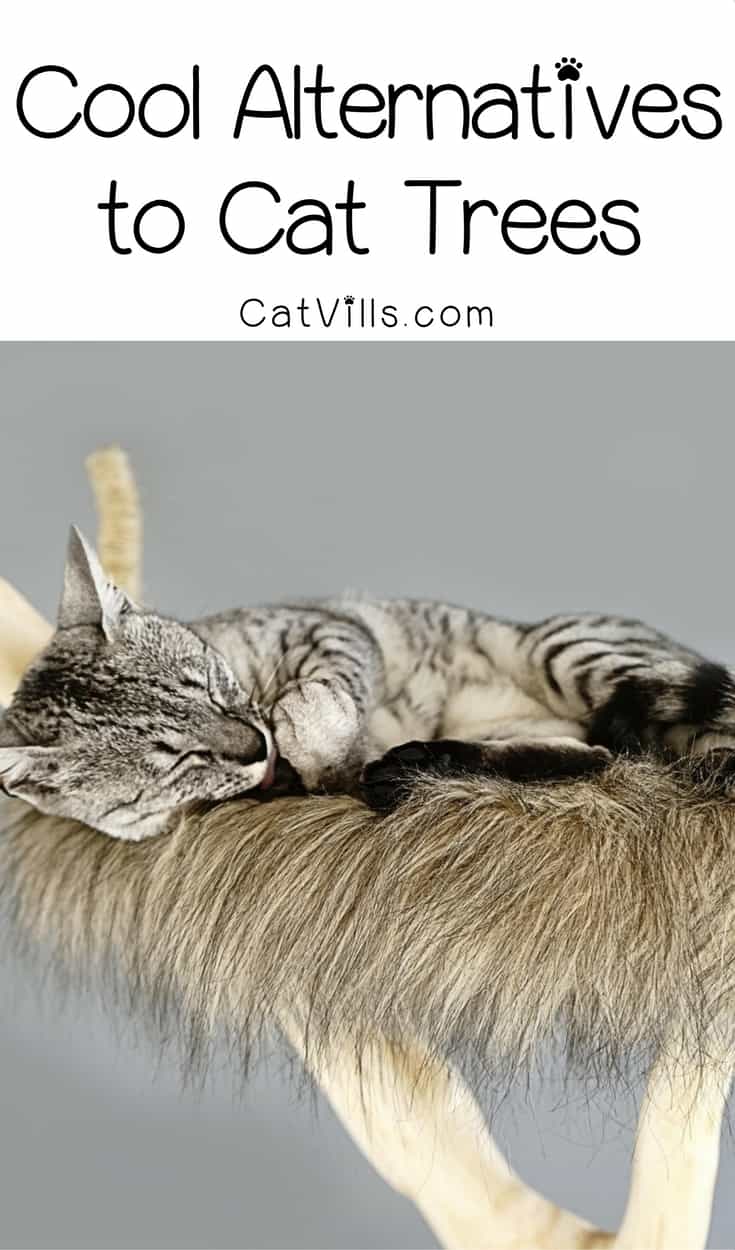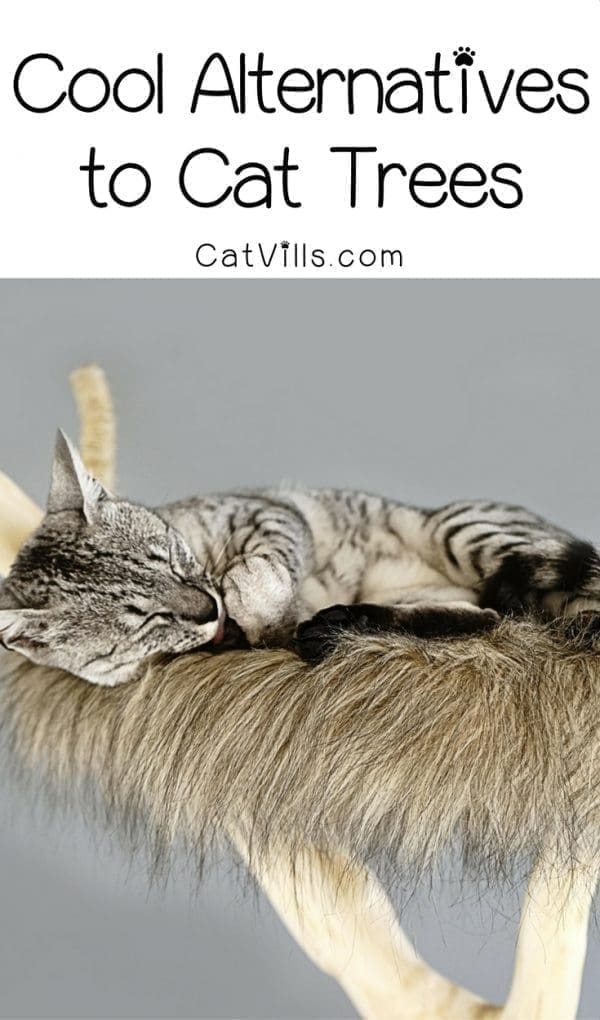 Do you own a cat tree alternative? Would you use any of the ones on our list? Let's talk about it!
Check our web story about alternatives to cat trees
Last update on 2023-11-28 / Affiliate links / Images from Amazon Product Advertising API