Last updated on November 28th, 2023 at 09:25 pm
If you're looking for homemade tuna cat treats, here is an easy recipe for a sensitive stomach. You'll love our tuna bites!
With only four ingredients and a few steps, they're super simple and not terribly time-consuming.
Read on to find out how to make them, then find out why they're so great for a sensitive cat's tummy!
Tuna Bites: Homemade Tuna Cat Treats Recipe For Sensitive Stomach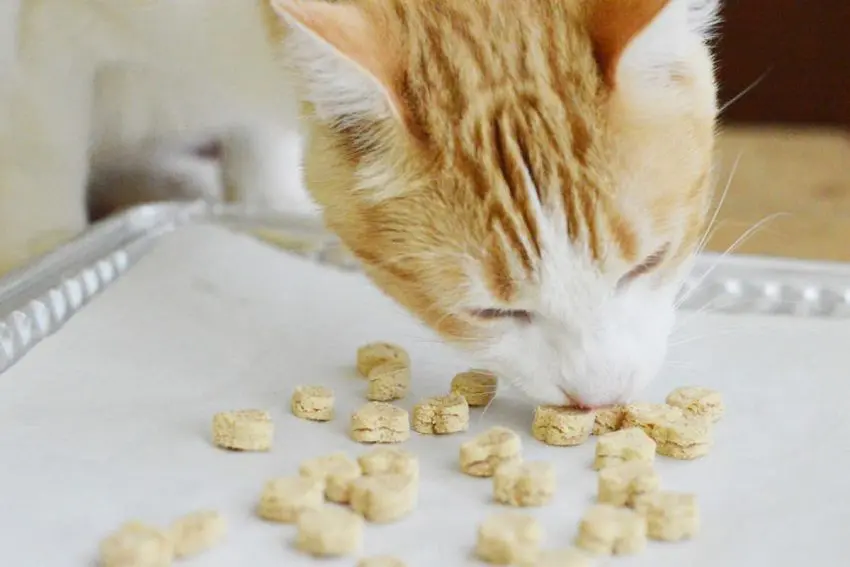 Before we get to the recipe, I just want to quickly remind you that you should always talk to your vet about your cat's tummy issues before trying to treat them at home.
While the ingredients in this homemade cat treat recipe are pretty gentle on a sensitive stomach, every kitty is different.
If your cat is on a special diet (a diabetic cat diet, for example), it's even more important to talk to your vet first.
Ingredients
1 Can of Tuna in Oil, undrained
¾ Cup Coconut Flour
½ Cup Whole Wheat Flour
1 Egg
I cannot stress enough how important it is to choose a mercury-free tuna, even if it is a few cents more expensive.
It's better to spend a few cents more now than hundreds of dollars on vet bills later!
Directions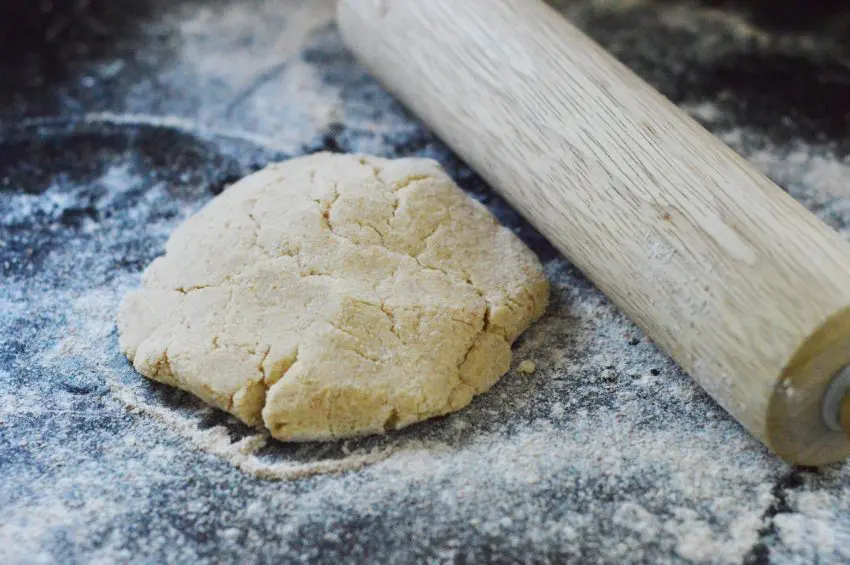 In a food processor, combine the tuna and eggs and blend well.
In a bowl, combine the flour and tuna mixture. Mix well.
Switch to using your hands and knead the dough. This dough will be soft and only be able to hold together in smaller balls. For this reason, I folded the dough in half and made two separate balls before rolling them out.
Sprinkle wheat flour on a flat surface and easily flatten out the dough with your hand, then gingerly use a rolling pin to flatten out the dough to about ¼ inch thick. Roll the dough in small, short rolling motions instead of longer, harder rolling motions, as you would a pie crust.
Line a baking sheet with parchment paper and cut out dough with ¾ of an inch to an inch cookie cutters. Place treats on the sheet.
Heat the oven to 330 degrees Fahrenheit and bake for about 15 minutes, or until hard.
Note: This dough will want to fall apart more easily due to the coconut flour. However, the coconut flour is a great element for the cat's fur and overall health. If the dough is too dry, add up to ⅓ cup of water.
What Makes This a Good Homemade Tuna Cat Treat Recipe For a Sensitive Stomach?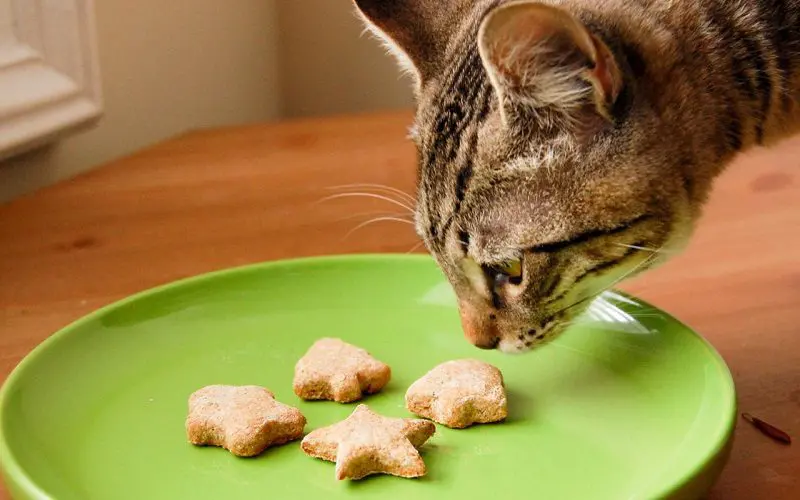 While the best homemade cat food recipe for a sensitive stomach depends on what's causing the kitty's tummy problems, this one checks quite a few boxes.
Limited Ingredients
First, it's a limited ingredient recipe, and that's always better than the alternative.
While both me and my cats love quite a few high-quality store-bought treats, when my cat is constipated (which happens frequently, unfortunately), less is definitely more!
The treats that she eats when she's not having issues become totally off-limits. The problem?
She throws things at me when she doesn't get her morning treats! I kid you not! So, a limited-ingredient treat like this one is a good compromise.
Coconut flour is nutritious
Coconut flour is gluten-free, and while Kitty is unlikely to have celiac disease, it can happen.
More importantly, though, it's grain-free and low-carb, two things that a cat with diabetes needs in a treat recipe.
In fact, you could eliminate the wheat flour entirely and just use coconut flour.
It'll be harder to work with, but it's a good alternative for diabetic cats. Just check with your vet first.
Eggs are a kitty superfood
As Chewy explains, eggs are one of the best superfoods for cats (as long as they're cooked).
They're not only a good source of protein; they're also easy to digest, which makes them perfect for a sensitive stomach.
What about the tuna?
The tuna? Well, while it's full of great nutrients that the kitty needs when she's feeling under the weather, its purpose may be to make the treat tasty!
Cats can't resist tuna! While you shouldn't feed them human tuna too often (apparently they can become "tuna junkies," and yes, that's a term vets use), it's great for an occasional treat.
If your cat can't tolerate tuna, though, you can swap it out with canned chicken.
What Else Can I Feed a Cat With a Sensitive Stomach?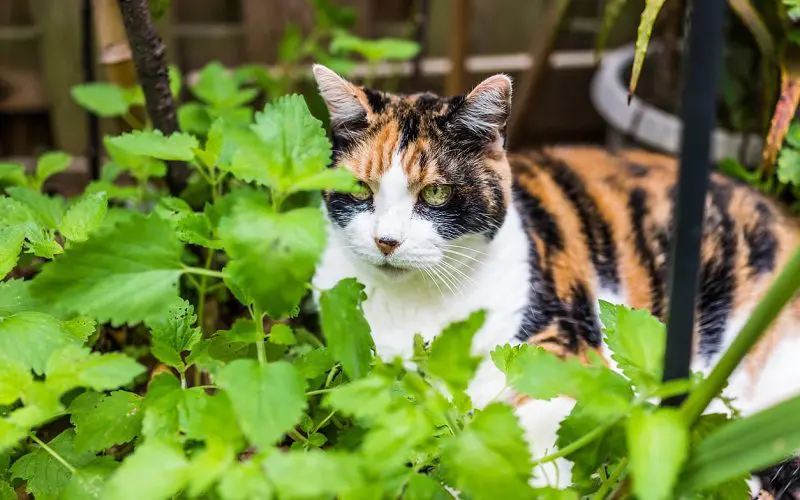 Once again, I have to remind you to ask your vet for tips on what to feed a cat with a sensitive stomach, especially since the right foods depend quite a bit on the cause of the discomfort.
That said, there are a few human foods that may be easier for a sick kitty to hold down.
They include:
Lean meats, like cooked or boiled chicken
Catnip (straight from the plant, if possible, and yes, it's human food)
Banana (just a tiny bit as a treat)
Rice (try mixing it with the chicken)
Scrambled eggs
Aside from catnip (which just helps with digestion), these foods can help get some nutrients into the kitty when she's feeling sick.
Just remember that they don't make up a healthy diet on their own. In other words, they shouldn't be your cat's sole source of nutrition.
Wrap-Up
As a cat mom to a kitty with chronic tummy issues, I can tell you that when your cat is refusing to eat, you'll do almost anything to get something into her stomach.
In my case, since we put her vet-prescribed laxative on her food, I'd serve her dinner on a gold platter if I thought she'd be more likely to eat it!
Remember, your vet is your best friend when you're dealing with a cat with stomach issues!
These treats will entice her to eat, but they should only be given if she's been cleared to eat solid foods.
Do you have any other favorite homemade cat treat recipes for a sensitive stomach? Share below!
Resources: