Welcome to a world where cat trees are not just furniture but also havens of adventure and comfort for your feline friends.
Let's explore unique cat trees with special features like ramps and beds, designed to provide your cats with endless fun and relaxation.
Whether you have a playful kitten or a senior cat in need of extra comfort, these cat trees are designed to cater to their unique needs.
Join us as we dive into the world of innovative cat tree designs and discover the perfect addition to your cat's kingdom.
Best Cat Trees With Hammock
Buy a tree that's actually big enough for your cat, think about stability, and look for sisal poles for those claws.
When you buy one with a hammock, though, there are a couple of extra safety-centric guidelines to consider.
Make sure the hammock supports your cat: Don't get a teeny hammock made for a kitten for your Maine Coon!
Check how the hammock attaches: It either needs to bolt into the tree very securely or have attachments that break away if your cat gets twisted.
Look at the material: Is it likely to fray and fall apart, or is it nice and sturdy?
In short, we either want something that will actually stay put and hold our cats or easily break away in case of an emergency.
1. Winner: Hey-brother Large Multi-Level Cat Tree
If you need a traditional cat tree that can handle a large breed, the Hey-bro (interesting name, huh?) is a good option.
While this one doesn't have swinging hammocks, it does have two fabulously plush nest-like hammocks that cats will love.
Features and Pros
The overall size is 21.7″L x 21.7″W x 63.8″H, so it's not a total beast but still big enough for cats to really get a workout.
Includes two cozy hammocks that are securely attached to the poles.
Sisal wraps the poles from top to bottom, giving Kitty plenty of places to sharpen those claws.
Caves are large enough for bigger cats, like the Savannah.
It comes with anti-toppling devices for added security.
Perches are covered in super-thick plush fabric for the ultimate napping spot.
Cons
While the hammocks are great overall, they do wobble a bit, which may freak out some cats.
The jump from the base to the first level is a bit steep for kittens, munchkin cats, or seniors with joint problems.
The dangling toy could be a safety hazard since it doesn't break away.
Recommendation
I love that everything on this large-breed cat tree is actually big enough for large kitties. While I don't adore the toy, it's easy enough to just snip off.
I wouldn't recommend it for seniors or teeny kitties, just because that first level is so far off the ground.
Yes, it comes with a ladder, but honestly, my cats have never used the ladder on their tree in the 2+ years I've had it.
Bottom line: it's a good buy for average to large breeds who are still in their agile years.
2. Runner-Up: FEANDREA Climbing Tree for Cats
FEANDREA is another brand that we've talked about before. Along with Go Pet Club, they're among our favorite budget-friendly brands.
Unfortunately, the latter doesn't really make good cat trees with hammocks, which is why they're not on this list.
Features and Pros
Overall size: 36.2″L x 35.4″W x 68.5″H
It comes with two hammocks: a traditional one and a nest-style one.
The traditional hammock attaches fairly securely, but the nest is my favorite.
Condos are roomy enough for most cat breeds.
Includes a removable cat bowl that's great for feeding kitty up high away from dogs and toddlers.
The base is strengthened with battens (as in "batten down the hatches!").
It comes with anti-toppling devices for even more stability.
FEANDREA is all about customer service, and we will go above and beyond to make sure you're happy with your purchase.
Cons
Sisal only covers the midsection of the poles. I prefer top-to-bottom coverage.
Again, the dangly toy doesn't break away, so it could become a hazard.
The house is only solid on the top and base. The sides are just fabric.
Recommendation
I love the added safety features that help keep this from tipping over. The toy is easily removed, so it's not a huge deal.
It's room enough for most cats without costing a small fortune, so that alone makes it a great picture for Maine Coon owners.
My only major issue is the sisal wrapping, or rather lack of it, on the top and bottom of the poles.
If that bothers you, maybe you could add extra rope so it covers the entire pole.
Best Cat Trees With Ramp
Ramps are a key, common cat tree feature for a simple reason: your cat will get older and won't have the athletic ability to reach those higher perches without them.
Buying a tree with a ramp now helps ensure your cat can still enjoy it as they age.
Given that cat trees aren't the cheapest things in the world, it just makes sense to think ahead when buying one.
These ramps are useful for owners with a cat who has a physical disability as well.
1. Winner: Go Pet Club Extra Large Cat Tree
The Go Pet Club Cat Tree with Ramp comes with everything a cat owner could want from these products.
It features several platforms, perches, hanging toys, and sisal posts for scratching within its 72-inch construction.
Each of these features is also super accessible, as a ramp runs from top to bottom.
It's easy to see how much my cat would love everything about it with his highly active personality.
Pros
72-inches tall
Made from durable compressed wood
It comes with toy mice and sisal posts.
Perfect fit for large cats
Seven different color options
Easy-to-use ramp through the entire structure
Cons
Assembly can be time-consuming.
A string toy doesn't break away, so it could be dangerous.
Recommendation
Finding a more well-equipped cat tree would be a challenge in this marketplace.
It even offers seven different color options to ensure it can easily mesh into any home's interior.
But the assembly process has gained a reputation for being overly time-consuming.
That said, it's totally worth the effort, as this is a fantastic tree once assembled.
Just consider snipping off the string toy, as it can be a hazard if your kitty gets caught up in it.
2. Runner-Up: BestPet Tall Cat Tree
Cat owners looking for a massive option should consider BestPet's Multi-Level Cat Playpen.
Its 72-inch construction only takes a short time to install correctly, with some customers reporting as little as 30 minutes.
Once it's set up, your cat will find its incredible list of features extremely enjoyable.
It offers various sleeping spots, two easy-to-use ramps, and excellent cozy surface material.
Pros
72 inches tall, so it's roomy enough for multiple cats.
Very soft and cozy fabric
Lightweight yet also super stable
Easy to put together
It comes in three colors.
Includes two ramps
Cons
The fabric could be thicker.
Not the most durable, according to some complaints.
Recommendation
With plenty of room for multiple cats and three color options, including a gorgeous sky blue, this is definitely a fantastic buy.
The included ramps, platforms, and condos can make a cat's life much more joyful. However, some customers did mention the fabric was a bit thinner than expected.
This issue made scratching for their cats a little more challenging than with other available cat trees. One customer did complain that the whole tree fell apart within months.
However, as most reviews are fairly glowing, I imagine that was the result of a manufacturer defect rather than a norm.
Best Cat Trees With Bed
A delightful variety of cat trees is designed to provide your furry friend with not just a place to perch but a cozy spot to rest their paws.
These cat trees are more than just pieces of furniture; they're personalized havens for your cat to curl up, nap, and dream.
Discover how these innovative designs combine functionality with style, offering your cat a perfect blend of relaxation and play.
1. Winner: Cat Tree King Large Cat Tree
Let's start with something that's big enough for all cats!
Super plush and supersized is totally the name of the game with Cat Tree King.
This baby is big, yes, but that means it's roomy enough for all your feline friends.
Features and Pros
Every single pole is covered from top to bottom with sisal rope.
Sisal is glued right onto the poles, so it won't come off.
All parts of the poles are made with super-strong materials, so the tree lasts a long time.
The entire thing is carefully covered so that you never have to look at naked wood.
Includes two large hammocks as well as the plush top bed.
The pillow is removable (attached with Velcro), so you can take it off if you need to.
Very strong and sturdy base.
Cons
The light color can get dirty pretty easily.
It's not really a space-saving cat tree.
Kind of pricey.
At 143 pounds, it's quite heavy.
Recommendation
We love the Cat Tree King's trees, but you definitely need to have a good amount of space for this baby.
It's a bit pricey, but definitely not the most expensive on this list and well worth the cost.
2. Runner-Up: Amazon Basics Cat Tree
The AmazonBasics cat tree looks incredibly simple and, let's be honest, a bit boring, but the bed is actually pretty awesome.
Features and Pros
Relatively budget-friendly
Extra-plush bed for a cozy nap spot
Neutral colors go great with any decor.
Natural jute fiber scratching posts
Durable, built to last longer than a few months
Cons
Not the most attractive on this list.
Fairly simple, no bells and whistles
Not big enough for Maine Coon cats
Recommendation
Honestly, there's not a whole lot to say about this one. It's pretty much what you see is what you get.
It's fantastic for those who have very, very little space (and a fairly little cat!) but still want something comfy.
Best Wicker Cat Trees
True wicker furniture is made out of woven natural materials like willow, bamboo, strong grasses, and even ropes made with natural fibers.
Some companies even use cheaper synthetic materials, like vinyl, especially for items that are used outdoors. As far as why you'd want it for cat furniture, a few reasons include:
Durability: it can withstand the test of time.
Aesthetics: It looks beautiful in your home.
Eco-friendliness: most wicker is made from sustainable natural materials.
Easy to clean: just dust it off or vacuum it.
We love it because it fits into just about any home decor theme. Now that we understand it a bit better, let's check out our favorite wicker cat trees.
1. Winner: PetPals Hand-Made Cat Tree
PetPals has a fantastic reputation for creating high-quality products, so don't be surprised to see them show up more than once on this list.
Their hand-made wicker cat tree is beautiful, practical, and durable. Let's take a look!
Features and Pros
It is made with fleece and paper rope, so it will last a long time.
Beautiful and natural colors fit in great with your decor.
Large enough for most cats (up to 25 lbs) or two smaller cats who love to cuddle.
All tools are included for assembly.
The bottom cushion is removable.
Rope-wrapped poles encourage Kitty to scratch the tree instead of your furniture.
Cons
Not quite large enough for the upper end of the Maine Coon weight range.
Dangling toys don't break away, so they could pose a hazard.
The top cushion doesn't come off.
A bit pricey
Recommendation
While it's a bit pricey for a two-tiered small cat tree, it really is quite beautiful.
I'd definitely recommend it for those who are short on space.
2. Runner-Up: MidWest Homes Cat Tree
The MidWest is among the most highly rated wicker cat trees on the Amazon, and it's easy to see why.
Features and Pros
Strong woven rattan throughout the multi-level tree.
Included a perch bed and a cubby.
At 18L x 17.6W x 31.5H inches, it's big enough for most kitties.
Sisal-wrapped supports offer Kitty a place to sharpen those claws.
Easy to assemble, it comes with tools.
Pillows are removable and washable.
Covered by a 1-year guarantee.
Cons
The Dangle Toy doesn't break away.
While large enough for most, it is still not quite big enough for a 25-lb Maine Coon.
The scratching post is in an awkward spot and too small.
It is expensive for what it is.
Recommendation
Considering it has over a thousand reviews and a 4.5-star rating, it seems like you can't go wrong with this one as long as your cat isn't too heavy.
We don't like the position of the scratching post, but other than that, it's beautiful!
Best Carpet-Free Cat Trees
If you have allergies, the benefits of carpet-free cat trees are pretty obvious. Less carpeting means fewer places for dirt, dust, and dander to gather!
However, allergies aren't the only reason to avoid a rug-covered cat gym. Other benefits include:
More attractive design: some even look like modern art!
More durable materials: many are made of real wood.
Less mess: no shredded pieces of carpet all over your house!
Dual-purpose: most can be used as shelves once your cat loses interest in them.
We had a carpeted cat tree for a long time. While it held up pretty well overall, it did get pretty raggedy-looking towards the end.
1. Winner: PAWZ Road Multi-Level Cat Tree
The PAWZ 48 Cat Tower is a great budget-friendly place to start on your carpet-free cat tree adventure.
Rather than using rugs to create a cozy perch for kitties, it uses removable faux fur mats. Let's look at the features and pros, then the cons.
Features and Pros
Stylish modern design with neutral colors
Space saver tree stands at 48″ high and only takes up 19×15″ of floor space.
Super heavy, durable double-layer base to add stability.
4″ diameter posts for extra support.
Posts are fully wrapped in sisal to encourage scratching.
Four platforms make it room enough for multiple cats.
Made with CARB-certified, safe, and non-toxic natural particle boards.
Cons
Not real wood
Claims a one-year warranty, but if damage occurs after 2 months, you have to pay for shipping for the replacement part.
A bit wobbly if you don't secure it to a wall.
Not big enough for large cat breeds
Recommendation
This is a great choice for those with small cats and a small budget.
I like that the faux fur mats are totally removable. If you want a tree totally sans fabric, just take them off.
2. Runner-UP: ecoFLEX Cat Tree
While many of the other options on this list are likely eco-friendly, the New Age pet Kitty Klimber is the only one that really comes right out and claims to be so.
Features and Pros
Made of a non-toxic recycled plastic-wood polymer composite called Eco FLEX.
The material won't warp, crack, or split.
It comes with two cozy removable mats and one scratch pad.
Includes anti-tipping wall mount hardware
Easy to assemble; no tools are needed.
Easy to clean; just wipe down.
1 Year Manufacturer's Warranty
Cons
Platforms are far apart, making it challenging for senior cats.
Very unsteady unless you secure it to the wall.
Only roomy enough for cats up to about 15 lbs (not big enough for a Maine Coon)
Pricey for what is essentially plastic
Recommendation
I'd recommend this one for small to medium kitties, but only if you can anchor it into your wall.
In other words, if you rent and can't put holes in the wall, you may want to consider something else on our list.
I do like that it's made with eco-friendly materials and is easy to assemble.
Addiitonal Unique Cat Trees
Best Bookshelf Cat Tree: Go Pet Club Huge Cat Tree
Another ready-to-buy model that I like is the Sebastian Modern cat tree.
While three levels are clearly cat-centric (with scratching mats and lounging pads), the others can be used for books or decorations.
Features and Pros
Six levels
Sisal scratching mat on the first level
Carpet on the second and fourth levels
Cubby hole with a hiding place on the second level
Available in black or white
Painted with non-toxic, lead-free paint
Cons
Expensive
Cubby isn't really big enough for large-breed cats.
MDF, not real wood
Recommendation
While this one is somewhat pricey, especially considering it's MDF versus real wood, it does have more of a real wood look to it.
We like that you can use three of the levels for whatever you want (or at least whatever cat-safe thing you want).
Reviewers say it's big enough for the average cat and even for some "big cats." However, they're talking "larger end of domestic house cat" and not "Maine Coon big."
So, we'd recommend it for small to medium cats only.
Best Rustic Cat Tree: FEANDREA Medium Cat Tree
FEANDREA makes a huge line of cat trees, but if this is among their most rustic, It's also perfect for tight spaces, like an apartment.
Features & Pros
Rustic style reminds me of a Wild West saloon!
crafted with dark wood veneer.
Super soft cushions made from faux fur.
Hook-and-loop fasteners on cushions make them easy to take off and clean.
Sisal-wrapped post
Cons
Only big enough for small to medium cats (15 lbs max)
Some complain that it's a pain to assemble.
Recommendation
Andrea appears on most of my cat tree lists for a good reason. They have a great reputation for making quality products.
Sadly, this one is too small for large-breed cats, like the Savannah.
Why Do Cats Need Cat Trees?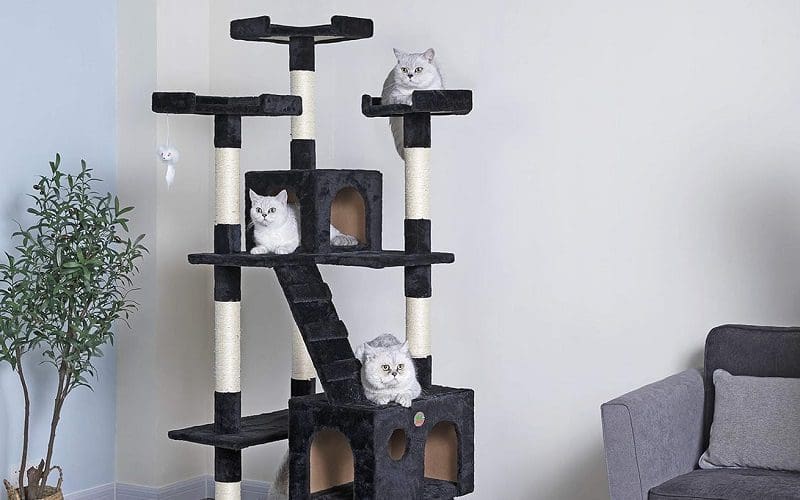 Cat trees can help improve your cat's life in several different ways. Let's look at a few to provide a better idea of what you can expect from these products:
Exercise
Cat trees are an excellent source of exercise for every cat. It allows them to climb, rub, jump, and do other physically stimulating activities all over.
In fact, their multi-level construction will encourage a cat to jump up and down while using these trees. This level of exercise should help keep their muscles in pristine shape.
Cat trees are also usually filled with toys and covered in caverns or holes to give off a maze-like design. As a result, it should keep your cat's curiosity and interest for a long time.
It Gives Them The Opportunity To Scratch
As every cat owner knows, these animals love scratching furniture and other items around their homes.
It's a behavior that's impossible to control because it's part of their instincts.
Many cat owners attempt to save their furniture by redirecting this behavior to acceptable areas.
Cat trees represent an easy way to limit the damage placed upon your couches, chairs, and other furniture pieces.
These products hold up well against excessive scratching because they're built for it. The majority of them have carpeting that can withstand damage from cat claws.
You'll also notice many cat trees will feature special areas containing a rope or sisal within their designs.
These additions are beneficial when trying to redirect a cat's claws away from your living room furniture.
Excellent Sleeping Spot
Cats are known for liking heights a lot more than other pets because they offer a better vantage point for hunting.
Higher locations are also seen as safe places for a cat's sleeping sessions.
After all, these higher places ensure that cats don't have to sleep near the ground, where more giant predators often roam.
Cat trees usually have comfortable top levels that offer them these safe, elevated sleeping spots.
Some owners find it useful to add bedding on these top levels as well. It makes the spot a little more enticing for a cat to explore and sleep.
Things to Consider Before Buying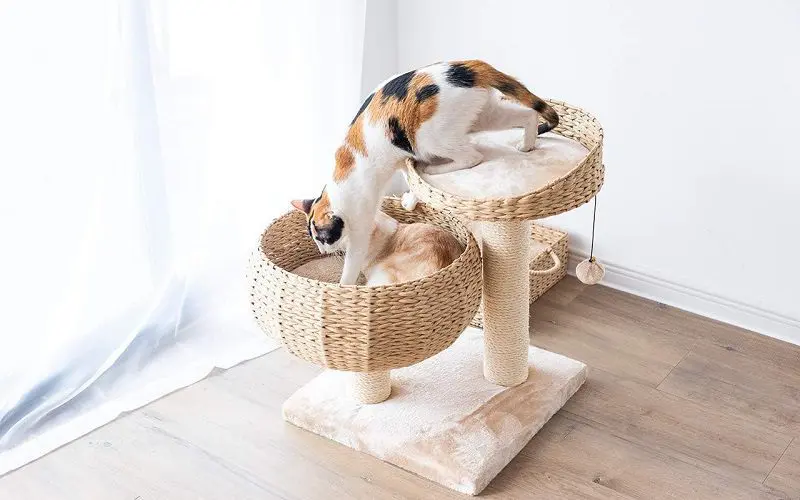 Safety
Your first and most important consideration is product safety.
Cat owners will need to make sure their chosen tree isn't a danger to their cats, themselves, or anyone else.
Buyers should tackle this issue by looking for a cat tree with a stable and secure reputation. Relying on customer reviews to help determine this aspect wouldn't be a bad idea.
In most cases, the best cat trees with ramps will feature wood or other durable frames and heavy-duty equipment.
These elements allow them to withstand whatever presents itself as a potential problem.
Cat owners should make sure the tree's parts are secured with many bolts or other stabilizing equipment.
It'll help prevent them from coming loose over time.
Stability
High-quality cat trees will excel when it comes to stability.
In other words, these products will be stable enough that even the most rambunctious cat can't tip them over.
Look for options with a broader base to help counter any tipping issues.
This aspect should do wonders in stopping any nightmarish or dangerous situation from occurring.
Size
Choosing the right size cat tree with ramps is a significant factor during this process.
You need to make sure there's enough room for the selected cat tree before bringing it into your home.
Otherwise, this entire buying process will soon become a massive waste of time. Buyers should also factor in their cats' personalities and traits when choosing the ideal size.
If you have a younger, energetic cat, I don't see any reason why a tall option wouldn't be a good fit.
But owners of declawed or elderly cats that suffer from balancing issues would do better with a shorter option.
Weight
Many pet owners tend to have the bad habit of assuming their cat's weight when choosing a unique cat tree.
But you'd be much better off weighing your cat before starting your search.
You can then use this information to find a cat tree that is more than capable of holding its weight.
I'm always going to recommend choosing options with a load capacity above your cat's actual weight.
It'll allow a little wiggle room for a growing cat.
If you don't provide this extra buffer zone, your cat could be hanging out on the tree a couple of months later, and it will tip right over.
Easy to Access
Some cat trees feature challenging ramps, which defeats their entire purpose.
For instance, you might see a cat tree with an entrance ramp featuring a steep incline that could be problematic for a senior cat.
Do yourself a favor and stick with more accessible options. It'll help the cats who need assistance using these trees more than you might initially imagine.
Wrap-Up
These unique cat trees with special features like ramps and beds offer more than just a place for your feline friend to perch.
They create a world of adventure, comfort, and entertainment tailored to your cat's unique needs.
By investing in one of these innovative cat trees, you're not only enhancing your cat's environment but also strengthening the bond between you and your furry companion.
Whether it's climbing, napping, or simply observing from a cozy spot, these cat trees are a delightful addition to any cat owner's home.
Resources:
Last update on 2023-11-29 / Affiliate links / Images from Amazon Product Advertising API