Cat litter corner boxes come in super handy when you're short on space.
Thanks to their triangular shape, they can easily fit into tight spaces in a bathroom or laundry room.
Below, we'll take a look at my top 7 picks, along with complete reviews (or as complete as one can get when talking about a kitty potty).
First, though, let's talk about what I look for in a really stellar litter box.
FYI, this post contains affiliate links. If you make a purchase through these links, we earn a small commission at no extra charge to you.
Use the table below to quickly see my top 5 picks. Then read on for the full list, along with complete reviews.
Cat Corner Litter Box Top Picks at a Glance
Don't have time? Here is a quick comparison of our favorites!
Top Benefit
Resists odors and stains. 
High sides keep litter contained
Roomy enough for large-breed cats
Patented sifter technology
Unique shape makes it easy to clean
7 of the Best Cat Litter Corner Boxes
One note- as you read through the pros, imagine that each and everyone says "space-saving design fits into corners."
I figure that's a given, since this entire post is about corner litter boxes, so I won't repeat it over and over. 😀
The Van Ness Corner Enclosed Cat Pan is a fantastic place to start our list, as it's highly rated and super affordable.
benefits & Drawbacks of Van Ness Corner Enclosed Cat Pan
Benefits
Drawbacks
Enclosed box helps control odors and gives kitty privacy
Customers complain that it's a bit "flimsy"
Polished finish resists odor buildup and stains.
Sides may be too high for senior cats and kittens.
Easy to clean
Takes more litter to fill, again due to the high sides
Reduces litter scatter, thanks to the extra-high sides
Includes

replaceable Zeolite air filter for added odor control.
Recommendation
While the high sides are a major pro when it comes to keeping litter contained, they're also the cause of the two biggest cons.
Customers complain that it takes a lot more litter to fill the box. Honestly, you don't need to fill it to the top, so you can easily get around this issue.
However, those high sides are a bit challenging for older cats as well as kittens, and there's really no getting around that.
Beyond those issues, some did say it's "flimsy," but I'm not really sure what they expect for a $20 litter box.
The overwhelming majority of the 500+ reviewers love it, with 67% giving it a 5-star rating.
That along with the fantastic odor-control features makes me very comfortable with recommending it.
Sale
The IRIS Open Top Cat Litter Box with Litter Scoop is a great budget-friendly option, as long as you're okay with a totally open litter box.
benefits AND DRAWBACKS OF IRIS Open Top Cat Litter Box with Litter Scoop
Benefits
Drawbacks
At

20.75″L x 16.25″W x 7.50″H, it's roomy enough for most cats.

While IRIS offers a lidded option, they're currently only available through 3rd-party sellers.
Sides are curved for easier cleaning.
Entry is fairly low, so cats can still manage to kick litter outside the box.
High sides help keep litter and spray contained.
Not big enough for large cats.
Comes with a scoop.
Lidded option (but see cons)
Recommendation
This one has a 4.5-star rating with over 3,100 reviews, so it's definitely a hit with other cat parents.
However, many of those reviews cover the other models in the same listing, which definitely makes things a little more confusing.
Overall, though, it seems to be a very highly-rated box.
Just looking at it, I don't think it would be big enough for a Maine Coon or any of the other larger cat breeds, though, and reviewers tend to agree.
If you have a smaller cat, I'd definitely give it a try, especially given the low price point.
At under $10 (by a penny, but it counts!), it's definitely one of the most affordable options.
The PetSafe ScoopFree Automatic Self-Cleaning Litter Box is a perfect solution for those who want to do less work.
This model automatically cleans itself after each use, so you don't have to worry about scooping out your kitty's waste or taking her back outside!
benefits AND DRAWBACKS OF PetSafe ScoopFREE
| Benefits | Drawbacks |
| --- | --- |
| PetSafe ScoopF | Crystal litter gets tracked everywhere |
| Has odor control | Expensive |
| The Low-tracking crystals are 99% dust-free therefore no more mess on the floors. | |
| Easy to clean | |
| Has leak protection as the disposable trays have a plastic lining. | |
| Has safety sensors | |
Recommendation
This one earned a total of 4.3 stars from just under 100 users.
So, it's not quite as popular as some of the other cat litter corner boxes we're discussing here, but still a great choice.
As far as other customer reviews go, some say it works great with pine litter while others completely disagree.
Again, though, I don't think it's big enough for large-breed kitties. That's a shame because it's such a neat concept.
Sale
While the Litter Genie Cat Litter Box isn't what you'd expect from a corner litter box as far as its shape goes, it's actually among the best options of all. Let's see why.
Features and benefits OF LITTER GENIE CAT LITTER BOX
| Benefits | Drawbacks |
| --- | --- |
| The flexible plastic and unique shape make it easy to place anywhere in your home. | Sides are too high for seniors and kittens. |
| Handles are actually integrated into the base, so they won't losen. | Plastic isn't the most durable. |
| Easy to carry. | Not as "soft" as it looks in pictures. |
| High walls keep litter in the box, where it belongs. | |
| Unique shape makes it easy to clean, | |
| Affordable | |
Recommendation
Almost 3,000 customers gave this one a combined total of 4.5 stars, so that should tell you something.
I love that it's so easy to clean, thanks to the integrated carrying handles and unique shape.
While some complain that it cracked after just a couple of months, I still think that it's a good value for the money.
Also, one reviewer mentioned that it's not as "soft" as it looks in the pictures. It's more of hard plastic.
Even with the few complaints, I still feel like this is a good pick if you want something that's easy to carry around and clean out.
As far as larger breeds go, it should be fine for most big cats (one customer said her cats weigh 16 lbs and had no issues), but could be a tight squeeze for 20+ lb kitties.
The IRIS Top Entry Cat Litter Box is another unique option that doesn't look like a corner litter box at first glance.
If you have high-spraying pets, though, it's definitely the best box on this list! Let's see why.
benefits & Drawbacks of Iris top entry cat litter box
| Benefits | Drawbacks |
| --- | --- |
| One of the best boxes for high-peeing kitties, thanks to its high sides all around. | Entry isn't wide enough for rotund kitties. |
| Top entry keeps your dog from snagging gross snacks! | Not a good pick for seniors or kittens. |
| The lid is perforated to help knock litter off your cat's feet. | Some cats completely rebel against the top entry system. |
| Easy to scoop, no bending in front of the box. | |
| Comes in 6 colors/styles | |
Recommendation
Aside from the obvious issue for senior cats and tiny kittens, there's one other major con we need to discuss.
Some cats just plain won't use it, especially if they've spent their entire furry existence peeing in a front-entry box.
I don't think you'll find a better choice for high-peeing males, though!
Plus, over 9,000 pet parents can't be wrong, can they? It scores 5 stars with a whopping 77% of them!
READ MORE: Ragdoll Cat Litter Box Problems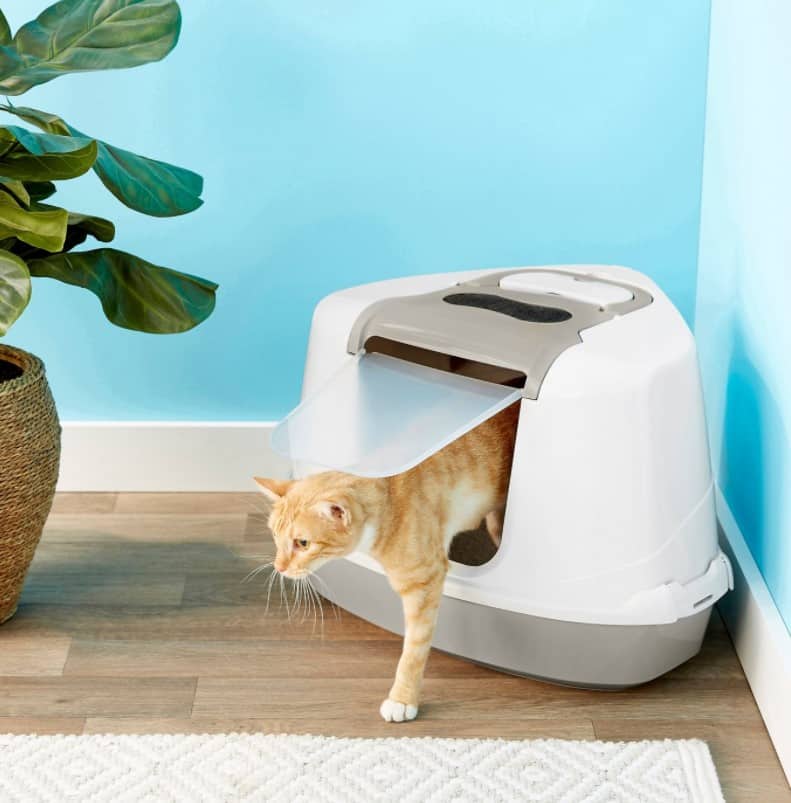 This one is a Chewy exclusive since Frisco is their brand. It's one of my favorite options of all, though. Let's see why.
benefits & Drawbacks of Frisco Flip Top Hooded Corner Cat Litter Box
| Benefits | Drawbacks |
| --- | --- |
| Enclosed design to prevent litter from spilling out | Only roomy enough for petite cats |
| Flip top is easy to open, makes cleaning a breeze | Plastic isn't the most durable. |
| Comes with a disposable charcoal filter to help deal with odors caused by build-up of bacteria | |
| Detachable hood. | |
| Made of BPA-free, durable, recyclable plastic. | |
Recommendation
I've always had great luck with Frisco products, so this one is worth a try IF you have a small cat.
There are a few complaints that it's not even roomy enough for a 10lb kitty.
However, I think it's the perfect option for kittens or any of the smallest cat breeds.
The price is fair, and I like that Frisco focuses on using BPA-free materials.

This is definitely my favorite of the batch for those of you with large-breed kitties!
For some reason, this one is only sold through 3rd-part sellers on Amazon. Chewy, on the other hand, sells it directly through their store.
benefits & Drawbacks of NATURE'S MIRACLE
| Benefits | Drawbacks |
| --- | --- |
| Hooded litter box cover keeps litter inside. | It is on the larger side, so you'll need a good chunk of corner space for it. |
| Replaceable charcoal filter included. | Not great for high-peeing kitties |
| Antimicrobial coating. The Antimicrobial product protection inhibits odor. | |
| Non-stick surface reducing litter caking | |
| Easy cleanup | |
| Large enough for most cats. | |
| Doesn't need liners | |
Recommendation
The thing that makes it a top pick for me is also the thing that the most negative reviewers complained about.
It's one of the few boxes that's large enough for Maine Coons and what not, but that also means it takes up more "real estate" in your home.
The design still allows you to tuck it away into a corner, though.
Some also complain that it's not ideal for high-peeing kitties, but honestly, that's common with most boxes.
If you do have a male cat, you may want to check out our list of litter box with high sides.
I've included the link for Amazon below the Chewy button, but I do feel like you take a bit of a risk buying through 3rd-party sellers. Make sure you pick one that has stellar ratings.
READ MORE: Cat Litter Hacks You Should Try
What makes these the BEST corner cat litter boxes?
While searching for good litter boxes isn't nearly as hard as looking for really spectacular cat trees, I do keep a few things in mind as I research.
Let's quickly go over them, then we'll dive into my top picks.
Is it safe for your cat?
First and foremost, it MUST be safe. That means no sharp edges (which is especially important in a corner cat litter box).
It also means that the lid and/or entrance won't collapse on your kitty or otherwise cause them harm.
Is it a good value?
I don't expect a cheap plastic litter box to last decades. Heck, I don't even expect it to last years (although I've had some that did).
However, I do expect it to last long enough to make it worth the money!
I ask myself, "How much would I spend if I bought just this litter box over and over?"
A $10 box is hardly worth the money if I have to replace it monthly, after all.
Is it easy to clean?
Pretty self-explanatory, right? You'll spend a good chunk of your life scooping your cat's litter box, so it better be easy to clean!
FAQs
Are corner litter trays good?
Yes, cat litter trays are good especially if you don't have a lot of space.
Where should you not put a litter box?
Cats like quite places so its best to place a litter box somewhere quite and not loud like next to a washing machine.
Final Recommendation
Each of these cat litter corner boxes offers something different, so it's hard to just say "grab THIS one" or "get THAT one."
My "top pick" all the way at the top is the one that I'd buy because my cats are in the larger size.
However, I've used or would use all of the options mentioned, so it really depends on your needs!
Sale
What are your top picks for the best cat litter corner boxes? Share below!
Last update on 2023-09-21 / Affiliate links / Images from Amazon Product Advertising API