Spending the holidays alone with just you and your cat?
It's hard to be away from loved ones this time of year, but you can still make it feel special!
Read on for tips to have a memorable holiday with your favorite feline friend. 
You may also like: 10 Fabulous Christmas Sweatshirts for Cat Lovers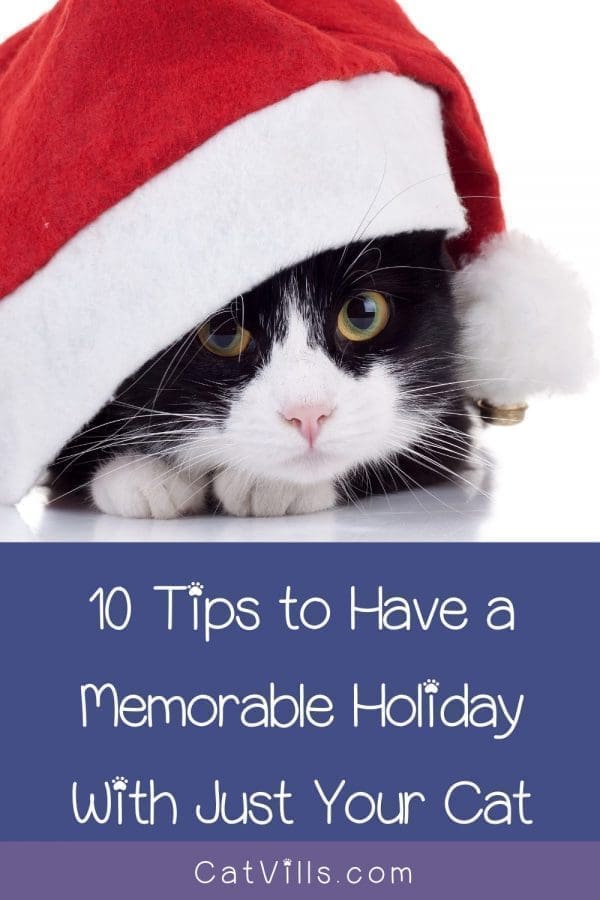 10 Tips to Have a Memorable Holiday If It Just You and Your Cat 
Holidays in 2020 and probably 2021 will be a bit different from what we are used to with the lockdown and traveling limitations.
Can you imagine a Thanksgiving without family drama?
I think we will all miss Aunt Sally's judgments. I know I will.
But now, it's just my cat and me.
And after throwing myself a pity-party, I finally decided to make my holiday worthwhile regardless of the situation.
So, I started researching the best ideas on how to celebrate holidays with my cat, and I'm ready to share what I found with you.
Without further ado, let's get started.
1.Include Cool Cat Food in the Menu
Holidays are a time to share food over some laughter. And who says that this can't happen because it's just the two of you?
You only need to include everyone's best food on the menu (and that includes your cat).
You can check out some yummy cat recipes for holidays and fix something special.
For Thanksgiving, I'll be cooking some special food for my cat and bake her some cookies.
But for the Christmas holidays, I'll just ensure the food we cook is healthy for our cat.
2. Play Dress Up with Your Cat
Imagine how cute your cat will look with a Christmas hat? Well, he may not enjoy wearing it for long, but you'll love that photo forever.
So, as you start your holiday shopping spree, pick up a few things for your cat too.
Besides, your cat will enjoy snuggling with you as you shop online.
3. Binge-Watch Netflix Movies Together
Cat cuddle session our great. But with our tight deadlines, we rarely get time to pet them, so it's time to make it up for them.
While in many cases you'd be in the middle of the world during holidays, this time nature has listened to your cat's prayers, and you're all hers.
Host a movie night and cuddle with your cat.
This is special because you're engaged during holidays in most cases, and you hardly get enough time to spend time with your kitty.
4. Buy a Cat Christmas Tree
Nothing boosts the festive spirit like a Christmas tree.
And now more than ever, you need every small hack you can get to encourage the festive mood to kick in.
I had given up on the Christmas tree for a long time because my cat either ate the tree or attempted to eat the ornaments.
But this year, I'll do it differently. Besides getting a cat-friendly Christmas, I'll also have a cat tree. I'll be decorating it with cute cat toys.
5. Ensure Your Cat is Safe
Even with a few family members, holidays come with many activities, and it's important to ensure none of them hurts the cat.
This is especially important for new cat parents because it can be easy to forget how cheeky cats can be.
Here are some of the ways to ensure your cat is safe during the holidays:
Buy a Christmas cat tree. Here are my favorite cat-friendly Christmas tree ideas.
Be cautious with candles. Cats are attracted to warm surfaces, but they might get a little close to the candles and end up burnt.
Keep an eye on your cat's diet. There are many foods during the holidays, and it's easy to overfeed your cat with all sorts of food. But not only human food is safe for cats. To prevent your cat from stomach upset, ensure you feed them with the right food.
6. Donate to a Shelter in Your Cat's Name
Unfortunately, not every kitty is lucky to have parents who are thinking of ways to make their holidays great.
Donate money, treats, or food to one of your favorite animal shelters in your cat's name.
This way, your cat gets to share her goodies with her tribe.
7. A Spa Day Followed by a Cozy Nap
This is not a usual holiday, so you're allowed to add some fun stuff to your list this year.
Take time and watch some YouTube videos on how a cat spa day should be like and organize one for your cat.
Also, shop for a warm, cozy blanket as a gift to ensure they have a fantastic nap.
This will compensate for all the unsettled nights during holidays when they were family members.
8. Take Your Cat for a Drive
When was the last time you took your cat out for a drive?
If you're like me, with homeschooling kids and laundry, it's been a while.
Make the holidays special for your cat, especially if they're mostly indoors, by driving them around to see the holiday decorations.
9. Invite their Pet Friends Over
If you've been in the neighborhood for a while, your cat has probably made some friends.
For me, my cat's friend is called Kia, and he lights up whenever he sees her.
Plan a playdate for your cat with her best friend.
Buy them their favorite treats and toys and watch them have the time of their life.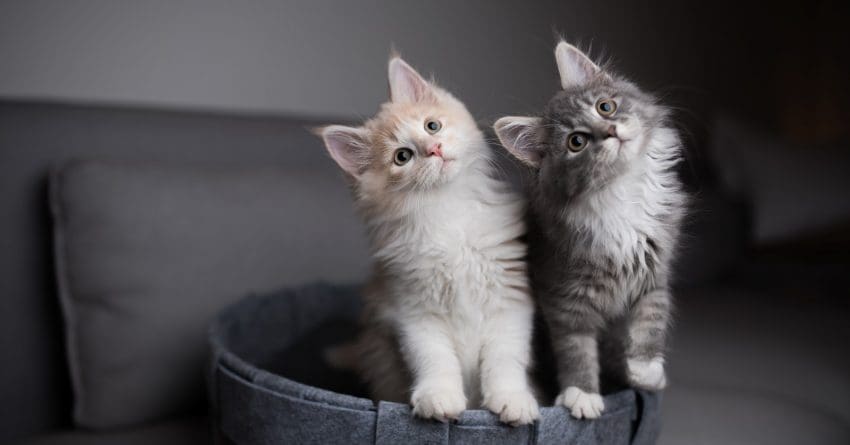 10. Give Kitty a Gift!
Holidays are marked by the exchange of gifts.
And felines love gifts too. You just need to know the best one for them.
Before you get your cat any gift or wrap it, think about their safety first. You could get them a ball or small mouse toys.
Need more ideas? Check out these awesome Christmas gifts for your cat!
Final Thoughts 
With the pandemic, it feels like the 2020 holidays have been canceled.
It won't be possible to go on holiday or meet up with friends and family.
But even if the only family you can access right now is your cat, you can still make it a memorable holiday.
What are your plans for a memorable holiday this year with just you and your cat? Share below! Let's share some holiday love.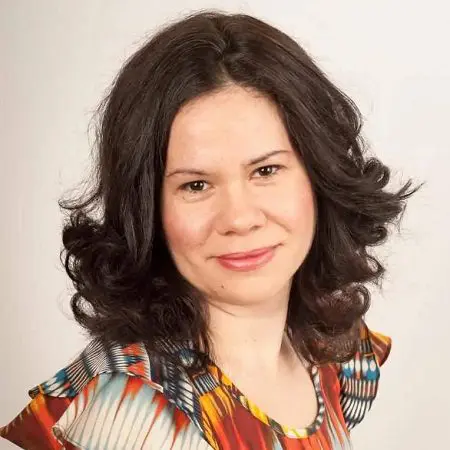 Olfa T
Olfa knows how to get things done and has a keen business sense that others admire. She's always on the go, coming up with new ideas! Her ability to anticipate the needs of her readers and deliver information that they want is what makes CatVills such a success. She loves cuddling her cat Picaciu. He is her inspiration.