If you're looking for some of the most amazing space cat names ever, stick around!
From the brightest star to the farthest planet to the first rockets in the space race, I searched the galaxy to find the perfect cute choice for you!
I split it between males and females, but many of these names are unisex, so make sure you read both lists!
READ MORE: Crazy Cat Names
Let's dive in, starting with a look at our top 20 favorites!
| Male Names | Female Names |
| --- | --- |
| Aegir | Adrastea |
| Ceres  | Andromeda  |
| Cosmo | Callisto  |
| Equinox  | Cassiopeia  |
| Hadar | Celeste  |
| Hubble  | Desdemona |
| Jupiter | Estrella  |
| Kerberos | Gravity  |
| Leo | Halimede |
| Luke | Juno |
| Pegasus  | Luna  |
| Phoenix | Naiad |
| Pluto  | Nebula  |
| Prometheus | Ophelia |
| Rocket | Rana |
| Sol | Skylark  |
| Titan | Stardust  |
| Triton  | Thalassa |
| Umbriel | Venus  |
| Ymir | Zeta  |
100 Space Cat Names For Males
Whether you're looking for nerdy cat names inspired by the everything we've learned about space so far or mystical cat names inspired by astrology, you'll love these picks for males!
Aegir
Akash 
Alathfar
Alcor
Anser
Apollo 
Arche
Asp
Asteroid 
Astro 
Atlas 
Axiom 
Betelgeuse
Boomer
Bootes
Caliban
Castor
Centaurus
Ceres 
Cetus
Chort
Cluster 
Corvus 
Cosmo
Cupid
Deimos
Delta
Draco
Dorado
Equinox 
Erriapo
Falcon 
Ferdinand
Fenrir
Fornacis
Francisco
Furud
Grote
Hadar
Han (Han Solo)
Harlow 
Heze
Hubble 
Io
Janus
Jet
Jupiter
Kerberos
Kore
Kraz
Lenith 
Leo
Luke
Marfik
Mars
Mercury 
Metis
Meteor
Neso
Neptune
Neutron 
Oort
Orion 
Pan 
Pegasus 
Perseus
Phase 
Phoenix
Pluto 
Pollux
Prometheus
Prospero
Proteus
Puck
Quasar 
Rigel 
Rocket
Rover 
Sao
Saturn
Seren
Shuttle 
Sirius 
Skoll
Sol
Solo 
Spock 
Sputnik
Surtur
Taygete
Tarvos
Titan
Titus
Trinculo
Triton 
Twilight 
Umbriel
UFO
Virgo
Ymir
From this list for boys, I really love Phoenix for a rescue cat that has proverbially risen from the ashes and gotten a new lease on life!
If you want to go with a famous American astronomer name, though, Grote (after Grote Reber) is a clever choice!
Sol is a good name for an orange cat, since it's another word for "sun," while Betelgeuse (also called the Morning Star) is a fun choice all around. I just love saying it, don't you?   
If you're looking for advice on how to care for your new cat, book an appointment with one of Vetster's veterinary professionals today! They're here to help, day or night.
CHECK: Clever Names for Female Calico Cats
100 Space Cat Names For Females
For the girls, I again looked to the stars (literally) to find plenty of amazing options. These include constellations, planets, moons, and other space objects.
I also mixed in a few awesome names inspired by space movies, so take a look!
Adara
Adrastea
Alya
Amidala 
Ananke
Andromeda 
Antares
Aquila
Ariel 
Aster
Astra
Astrobee 
Athena
Aurora
Belinda 
Bellatrix
Bianca
Callisto 
Calypso
Capella
Carme
Carina
Cassiopeia 
Celeste 
Ceres 
Chara
Columba
Comet 
Corona
Cordelia
Cressida
Cyllene
Danica 
Daphnis
Dara 
Desdemona
Despina
Eclipse 
Electra
Elara
Estrella 
Euporie
Flare 
Galaxy 
Gamma
Gravity 
Halimede
Haley 
Helene
Hegemone
Himalia 
Ikrya
Juno
Kitalpha
Kuma
Kalyke
Kari
Leia 
Leda
Luna 
Lyra
Mab
Maia
Makemake
Marsha 
Meissa
Merope
Mimas
Miram
Naiad
Nasa 
Narvi
Nebula 
Norma
Noya
Ophelia
Orbit 
Orthosie
Padme
Pandora
Phoebe 
Rana
Rhea 
Sabik
Selene 
Serenity 
Sky 
Skylark 
Sora
Star 
Stardust 
Stella
Supernova
Thalassa
Terra 
Umbra
Ursa 
Vela
Venus 
Zeta 
ALSO CHECK: Cartoon Cat Names Female
From the female space cat names, I really love Nebula! Maybe because I'm a Guardians of the Galaxy fan.
Phoebe is a lovely choice, too, especially if you loved Charmed! If you're looking for black cat names inspired by outer space, I like Umbra and Eclipse. 
READ MORE: Star Wars Girl Names For Cats
Check out this video for a quick recap:
Conclusion
While you won't find many cats in space just yet, one day that could all change.
With new technology coming out every day, it could only be a matter of time before we're heading off to new planets with our feline friends in tow.
In the meantime, though, these space cat names are as close to as out-of-this-world as our kitties will get.
I hope you found one that you love!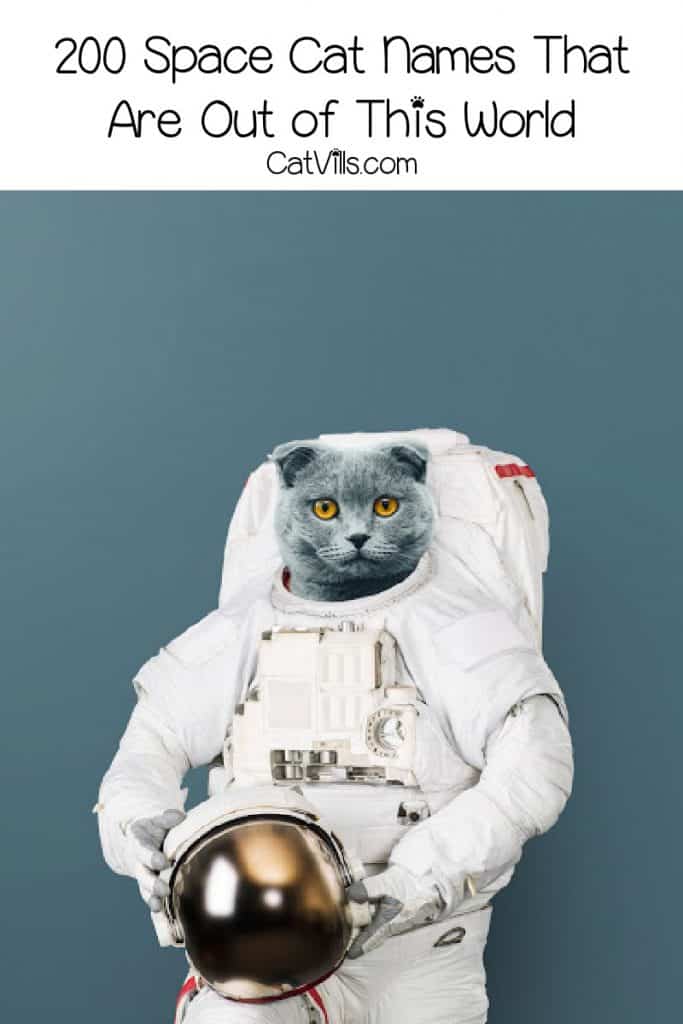 What are your favorite space cat names? Share below!
Andreea Juganaru
Andreea is a very passionate content creator and her purpose is to provide you with the most interesting articles, while constantly discovering new facts. She's been freelance writing for the past five years and has created numerous articles and educational materials while managing her own business.
FIND HER ON: FACEBOOK.
Read her latest articles.
Learn more about Andrea here