Looking for a few cool cat names?
Well, we've got 260 of them for you!
Now that you have a new kitten, the fun part begins!
No, not the endless play sessions and snuggly purrs, but finding the perfect name.
If you're stuck for a moniker check out these cool cat names, we've got black cat names, names from anime, elegant, majestic, and even space-related cat names.
Plus, we've found the top 50 quirkiest cat names you've ever heard.
We have a name to suit every feline fancy, so you don't have to resort to, "Kitty" – it's so passe…
Related: Taylor Swift's cat's names
260 Cool Cat Names
This post contains affiliate links. If you make a purchase through these links, we earn a small commission at no extra charge to you.
Black Cat Names
Despite the myths surrounding them, black cats are NOT bad luck, so find your beautiful fur baby a name that reflects her true nature.
Here are some of the top black cat names.
Ebony

Cinder

Coal

Thunder

Graphite

Onyx

Stormy (or Storm)

Shade

Smokey

Ember
RELATED: 12 Gypsy Cat Names That We Love
If you want to embrace the "spooky" side of your ebony feline, check out these black cat names.
Goth

Midnight

Elvira

Phantom

Raven

Wizard

Hocus Pocus (could be used for siblings)

Magic

Mystery
Lastly, if you want some cool cat names that mean "black" in another language, we've got those, too.
Nero (Italian)

Preto (Portuguese)

Noir (French)

Schwarz (German)

Zwart (Dutch)

Kuro (Japanese)

Krishna (dark, black in Sanskrit/Indian)
Anime Cat Names
Are you a fan of the Japanese-style film and television programs known as "anime?"
Then perhaps you'll want to reflect that love in your kitten's name?
Check out these anime cat names!
Happy (Fairy Tail)

Carla (Fairy Tail)

Chi (Chi's Sweet Home)
Madara (Natsume's Book of Friends)
Sakamoto (Nichijou)
Jiji (Kiki's Delivery Service)

Jibanyan (YouKai Watch)

Luna (Sailor Moon)

Artemis (Sailor Moon)

Kuro (Blue Exorcist)
Tama (Sazae-San)
Kamineko (Azumanga Daioh)
Arthur (Code Geass)
Poyo (Poyopoyo Kansatsu Nikki)
Buyo (Inuyasha)
Kuroneko-sama (Trigun)
Takkun (FLCL)
Elegant Cat Names
Some cats have that look of elegance to them, so give them a name that reflects that image – at least until they start licking their bottoms in front of company…
RELATED:194 Italian food names for cats (Male & Female)
Female Elegant Cat Names
Aspen

Ambrosia

Diana

Eloise

Bella (Isabella)

Fifi

Emerald

Chantilly

Ivory

Jade

Gracie

Ivy

Hera

Zeda

Valentine

Violet

Symphony

Sage

Opal
Male Elegant Cat Names
Alfred

Chandler

Carter

Bernard

Broderick

Bond

Cobalt

Alton

Admiral

Britton

Atlas

Princeton

Redmond

Paxton

Kennedy

Hartford

Franklin

Romeo

Jacques
RELATED: 100 Latin names for cats
Designer Cat Names
Do you like all things designer? Give your feline friend a name that reflects your own personal style with one of these "designer" cat names.
Gabbana
Armani
Chanel

Betsy

Barney

Valentino

Chloe

Christian

Gucci

Coco

Dior

Dolce

Kors

Juicy

Louie

Marc

McQueen

Oscar

Prada

Pucci

Stella

Yves

Versace

Tory

Vera
 RELATED: 100 Chinese Cat Names For Male and Female
Cat Names Inspired By Glamor
Cats are all about being cool. What's more laid back than having a "galmorous" name?
Check out these monikers for your "Cool Kitty." 
Mercedes

Jag

Tesla

Turismo

Lexus

Maserati

Hamlet

Godfrey

Rockwell

Picasso

Renoir

Othello

Francois

Archibald

Amethyst

Diamond

Jewel

Ruby

Opal

Sapphire

Isadora
Want more? Get 100 more luxury cat names for posh kitties
Majestic Cat Names
Some felines look majestic like they should be sitting on a throne all of their own. Here are majestic cat names that will have your feline thinking she/he belongs in a palace
Adhira (restless in Sanskrit/Indian)

Daiki (great glory in Japanese)

Dae-jung (great and vast in Korean)

Adita (first root in Sanskrit/Indian)

Ari (lion in Hebrew)

Myeong (bright and clear in Korean)

Achilles (warrior in Greek)

Amara (everlasting in Italian)

Amorita (little loved in Latin)

Alessandro (defender of mankind in Italian)

Ambrossio (divine in Spanish)

Anatoly (sunrise in Russian)

Arun (sun in Burmese)

Bala (strength in Sanskrit/Indian)

Bao (precious treasure in Chinese)

Fairuz (turquoise in Arabic)

Haneul (heaving, sky in Korean)

Bacio (kiss in Italian

Demetria (Goddess of harvest and fertility in Greek)

Dirk (famous ruler in German)

Ekaterina (pure in Russian)

Farfalle (butterfly in Italian)

Hans (gift from God in German)

Ivana (God is gracious in Czech)

Javiera (owner of the house in Spanish)

Lilja (lily in Finnish)

Indra (God of rain and thunder in Sanskrit/Indian)

Kameko (superior child in Japanese)

Kali (black in Hindu)

Ahmad (commendable in Arabic)

Akemi (beauty in Japanese)

Priya (love in Sanskrit/Indian)

Rangsey (seven colors in Cambodian)

Ruwa (beauty in Arabic)

Saki (cape in Japanese)

Suki – beloved in Japanese

Akira (bright in Japanese)

Karima (generous and noble in Arabic)

Mukhtar (chosen in Arabic)

Maia (goddess of spring in Greek)

Ora (gold in Spanish)

Renaldo (ruler in Spanish)

Thalia (blooming in Greek)

Vladimir (renowned prince in Russian)

Annipe (daughter of the Nile in Egyptian)

Azizi (precious in Egyptian)

Kamilah (perfect in Egyptian)
Related: 100 Delightful desert names for cats
Zodiac Cat Names
What's your cat's sign? If you want to make naming your cat a tad easier, look to his birth date. Here are the twelve Zodiac signs that could be used as cat names.
Aries (March 21st – April 19th)

Libra (September 23rd – October 22nd)

Scorpio (October 23rd – November 21st)

Taurus (April 20th – May 20th)

Gemini (May 21st – June 20th)

Sagittarius (November 22nd – December 21st)

Cancer (June 21st to July 22nd)

Capricorn (December 22nd – January 19th)

Leo (July 23rd – August 22nd)

Aquarius (January 20th to February 18th)

Virgo (August 23rd to September 22nd)

Pisces (February 19th to March 20th)
Check: 100 MEANINGFUL 3-LEGGED CAT NAMES
Space-Related Cat Names
Love outer space? Check out these lunar-related "spacey" names that may work for your best feline friend.
Chantrea (moon in Cambodian)

Svetlana (star in Russian)

Cosmo

Astro

Sirius

Nova

Luna

Archer

Nova

Orion

Eclipse

Comet

Jupiter

Neptune

Pluto

Galileo

Orbit

Jet

Kepler

Oberon

Umbra

Hubble
Quirky Cat Names
Do you want a quirky name for your feline friend that will make your friends say "huh?" Check out these unconventional, but cute Kitty names.
Snuggles Butt

Le Lee

Sir Hog

Count Flufferton

Sasha Biggiepotamus

Katy Purry

Walter Croncat

Joey Banana Pants

Airbubble McMuffin

Felix Thunder Paws

Hamburger Patty

Nuttykitty

Angus T Brackencrack

Senor Meow

Sassy Brat Kat

Waffle Dots

Purrscilla

Ajax General

Autobahn

Bacon Bite

Beaudacious Maximus

Belly Button

BC Wompum Stompum

Boodles Of Oodles

Bobo Prince Of Edinburg

Cactus Cooler

Bogey The Ebony Ace

Creme Bowling Ball

Brutus Pancakes

Energizer Bunny

Eskimo Pie

Chief Tator Tot

Fava Bean

Feisty Squeaker

FL Martha Washington

Felix Thunder Paws

Froot Loops

Knuckle Head

Fuzzy Wuzzy

Kung Fu Seabolt

General Ginger Beefy

Lambchops

Honest Bob

Macaroni Al Dente

Jazz Purr

Mindy Fluffer Nutter

Munchkin-Dunkin

Lil Big Foot

Little Funky Monkey

Tru-Purr
Almost anything will pass as a cat name today, so choose one that reflects either your own personality and tastes or the special quality you see in your new kitten.
And if none of that works, you can always resort back to "Kitty."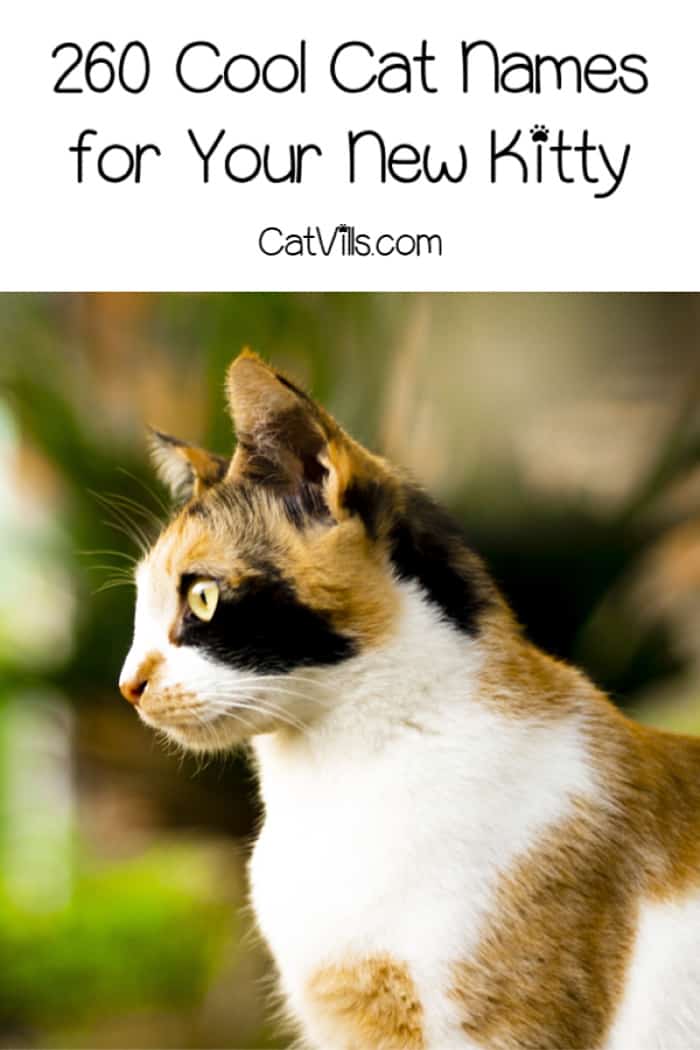 Did you find the perfect name for your cat among our list? What are some of your favorite cool cat names? Let us know in the comments section. We'd love to hear from you!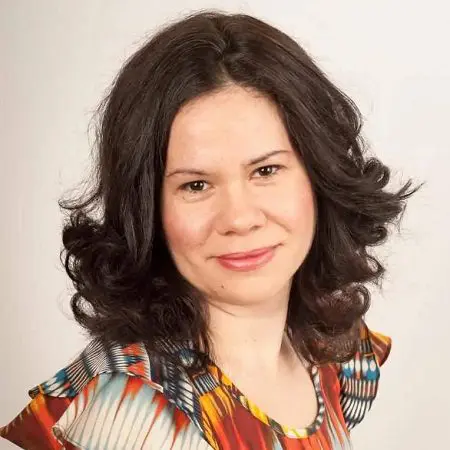 Olfa T
Olfa knows how to get things done and has a keen business sense that others admire. She's always on the go, coming up with new ideas! Her ability to anticipate the needs of her readers and deliver information that they want is what makes CatVills such a success. She loves cuddling her cat Picaciu. He is her inspiration.