If you're looking for some clever calico cat names, you're going to adore the ideas on this list!
Some of the names are inspired by their unique coloring, while others come from famous cats throughout history.
Before we get into these calico cat names, I think it's important to remind you that "calico" is not a breed. Instead, it refers to their tricolor fur pattern.
As you read through the list, you may find yourself wondering why it's missing male calico cat names.
That's because there are very, very, very few male calicos! In fact, only 1 in 3,000 is born male. The pattern only appears in males with two X and one Y chromosomes, making it a rare genetic mutation.
Don't worry, while most of these ideas are geared towards females, I'm including some great unisex names, so if you do have a rare male calico cat, you'll find something special for him here, too!
40 Calico Cat names Based On Food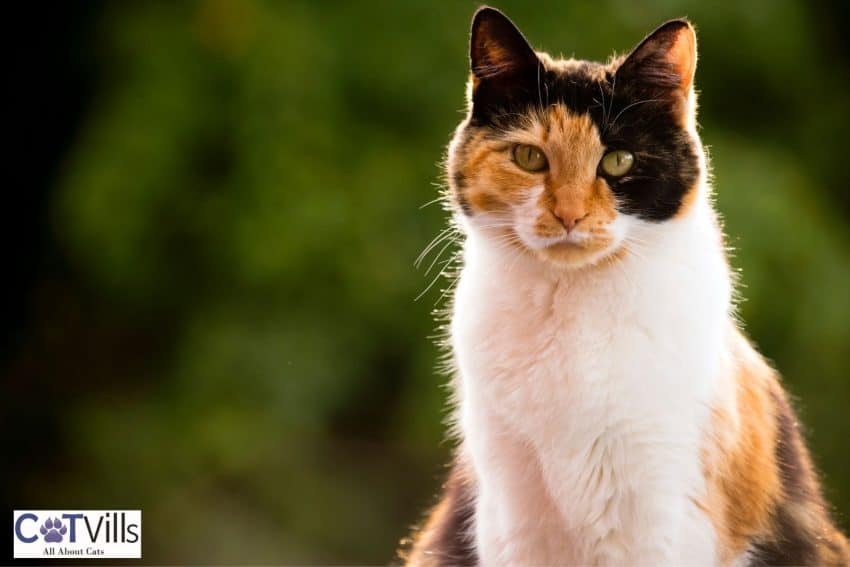 If you love coming up with food names for cats, you'll adore these ideas below! I've also included some adorable ideas inspired by tasty beverages, too!
Tiramisu
Amaretto
Cheeto
Macchiato
Affogato (while the word means "drowned" in Italian, it's also the name of an amazing dessert in which vanilla gelato is "drowned" by a shot of espresso)
Butterscotch
Caramello (does anyone remember these yummy candy bars?)
Reese (after Reese's Cups or, perhaps more appropriately, Reese's Pieces).
Persimmon
Sundae
Cayenne
Annato (most natural orange food colorings come from this)
Achiote (the tree that Annato comes from)
Snickers
Nutmeg
Curry
Dalandan
Honey
Brandy
Chestnut
Clementine
Parika
Cinnamon
Orange Pekoe (inspired by the tea)
Clove
Cassia (inspired by the scientific name for Cinnamon)
Turmeric
Apricot
Gooseberry
Chanterelle (a type of mushroom known for its earthy color)
Toffee
Whiskey
Kahlua
Espresso
Kamora (a chocolate liquer)
Nocello
Nocino
Jim Beam
Biscuit
Biscotti
Out of these food names for Calico cats, I'd personally go with Tiramisu or Macchiato, although Affogato is a rather unique name!
30 Calico Cat Names Based ON color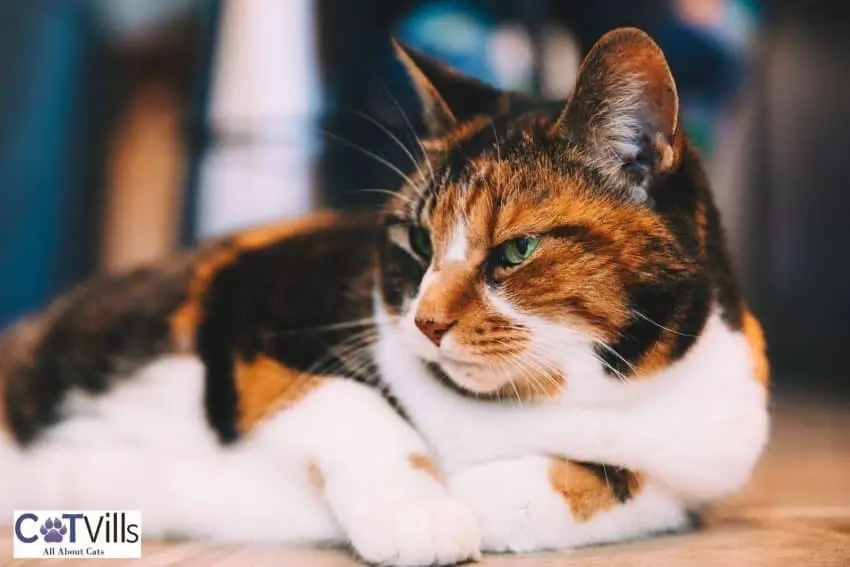 Your Calico cat's fur is a great source of naming inspiration! With rich butterscotch, ginger, orange, and chocolate shades, there are just so many great ways you can go here.
Autumn
Sunset
Dawn
Aurora (another word for dawn)
Harvest (great name for a Calico born in the fall!)
Marble
Arizona (the colors remind me of the Grand Canyon)
Zhangye (check out pictures of the striped mountain in China and you'll see why!
Amber
Hickory
Maize
Iris (look up "bearded iris" and you'll see why)
Portokall (orange in Albanian)
Aranciu
Narančasta
Oranssi
Jesen (autumn in Bosnian)
Syksy (means "autumn" in Finnish)
Acorn
Oszi
Vuli (Swahili for "autumn")
Amber Kiss
Pansy (some, like the Angel Amber Kiss, have very calico-like colors)
Arisaema
Sikoki (from sikokianum)
Dahlia
Hibiscus (like the triopical Hibiscus)
Velutina (after the Cattleya velutina)
Mum
Carolina (for the Carolina Allspice)
While Autumn is the obvious choice, especially for cats adopted near Halloween, given the Calico cats typically have colors associated with fall leaves, I really love Aurora or Arizona.
10 Cute Calico Cat Names Meaning "Triple" or "Three"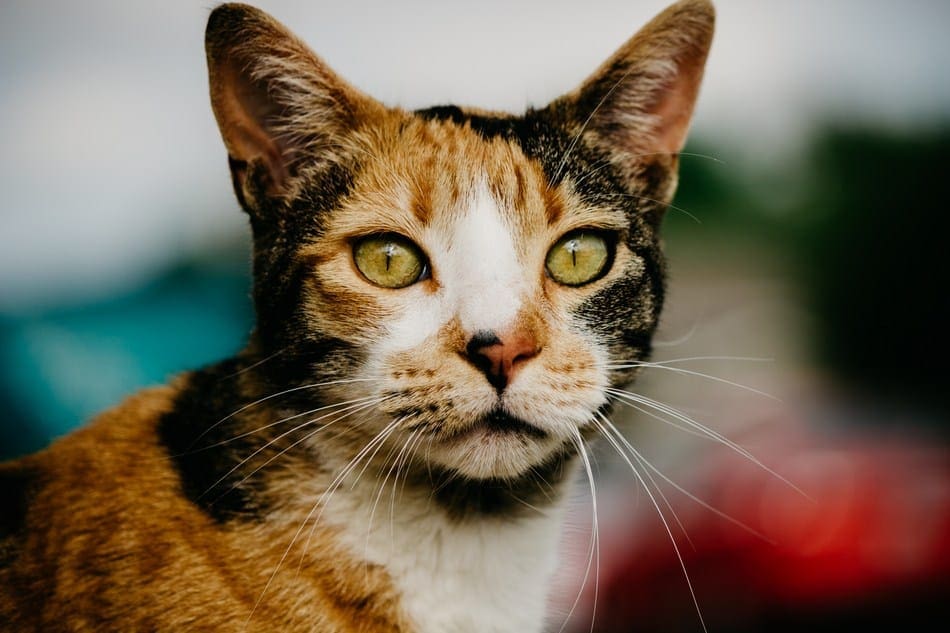 Since Callie cats are tricolored, I thought it would be fun to include some names inspired by the word "three" or "triple." Check them out!
Troika
Trefoil
Triniity
Terzetto
Trifecta
Trojini ("triple" in Slovenian)
Telo ("triple" in Malagasy)
Kolme (Finnish for "three")
Tiga (means "three" in both Malay and Indonesian)
Meteta ("triple" in Yoruba)
Of these names, I'm loving Kolme or Trojini the most. My son is Finnish on his father's side, so I know he'd love that name, too.
31 Calico Cats Names From Egypt
As you know, cats were worshiped in Ancient Egypt, and the Calico cat is not only said to have originated from there, but was also among the most revered of the kitty kingdom.
Honor their heritage with these great Egyptian names for Calico cats!
Akila
Anat
Abanoub
Abrax
Ahmad
Amr
Aten
Bithiah
Berenike
Bahiti
Bastet
Chione
Eshe
Hanbal
Heba
Horus
Imi
Isis
Jabari
Jomana
Karim
Kissa
Kiya
Kleopatra
Kosey
Mandisa
Mariam
Masika
Nefertiti
Panya
Zaliki
Here, Bastet is the obvious choice, since it's the name of the catlike goddess. However, I've never been one to go with the obvious choice. I really love either Akila or Bahiti!
30 Calico Cat Names From Japan
If you've ever seen those Lucky Cat statues (also called "money cats") in Japanese windows, you know that the Calico is considered good luck in Japan.
Why not draw from that for inspiration with these Japanese Calico cat names for your new kitten?
After all, you must have the good fortune to have such a wonderful feline friend come into your life, right?
Cho
Daido
Daiki
Denji
Eiji
Eito
Emiko
Ena
Fumiko
Genkei
Giichi
Goku
Habiki
Hachi
Haia
Hana
Haru
Haruko
Hiro
Izumi
Jin
Jiro
Juro
Kaede
Kagami
Kaida
Katsumi
Miku
Riko
Sakura
I lived in Japan for two years, so I love pretty much all of these names. I actually have a few of the Lucky Cat statues from the 100 yen store (like a dollar store, but infinitely cooler).
Mine looks a lot like the one below. Kind of makes me wish I bought more stuff at the 100Y store, I could have made a fortune now that Kawaii and anime stuff is taking the United States by storm!
10 Famous Calico Cat Names
If you prefer to take your inspiration from Calico cats throughout history, literature, or theater, read on for a few of my favorite famous Calico cat names!
Bombalurina from the musical "Cats"
Jemima (also from Cats)
Rainbow
Copycat (Rainbow's clone)
Inga (a famous mouser from the Mount Washington Observatory)
Pudge (one of the most famous cats on Instagram)
Nyanya
Tama (full name Honorable Eternal Stationmaster Tama, which is a bit of a mouthful!)
Sherman (a rare male Calico!)
London
I would totally name a pair of Calicos Rainbow and Copycat! Adorable, right?
Although I do love the idea of giving a cat a "full and official" name as Tama has. Hey, it's a clever way to fit in a bunch of names when you can't pick just one!
50 Calico Cat Names For Girls
Of course, you don't have to go with something that sounds like a cat name for your calico.
You could just as easily get inspired by any of the popular traditional, or even unique girls' names as well!
Angel
Gwendolyn
Isbeth
Annabells
Avery
Charlotta
Sophie
Amy
Izzy
Maia
Madeline
Buffy
Margo
Misty
Eve
Cammie
Gia
Abbie
Chloe
Elsa
Sophia
Evangeline
Mila
Eleanora
Maddie
Leighla
Olivia
Penny
Piper
Prue
Paige
Aria
Graciella
Willow
Paisley
Natalie
Hazel
Zoey
Riley
Victoria
Lily
Magicka
Marnette
Millie
Cordelia
Josette
Hope
Tracy
Trista
Isolde
The point is, you don't have to just stick to names that come directly from your calico's tri-colored fur. Literally, anything goes when naming your cat!
For years, all of our cats were named after TV witches. We had Piper, Prue, Sabrina, Tabatha, and Willow! We broke tradition with Zoe because I ran out of witch names that I liked.
My son named our cat Alex the Fuzz after himself (what a copycat, right?), using his middle name for inspiration.
Conclusion
If you asked me to pick just one of these cat names to be my favorite, I'd have a really hard time answering you.
I really love any of the food names, I think they're adorable!
What are your favorite Calico cat names? Share below!