If you're looking for meaningful Native American cat names to honor your heritage, you'll want to stick around.
Native American culture is often steeped in rich history and mystique. We personally love learning more about the different tribes and their history.
Allow us to provide those who feel the same way with a list of amazing and majestic Native American cat names that will really intrigue you.
Knowing the reason behind our choices and learning how the name came to be will be an interesting adventure!
Below, we'll look at 50 beautiful ideas, with 25 each for male and female kitties. Take a look, then tell us which one is your favorite!
Native American Cat Names For Males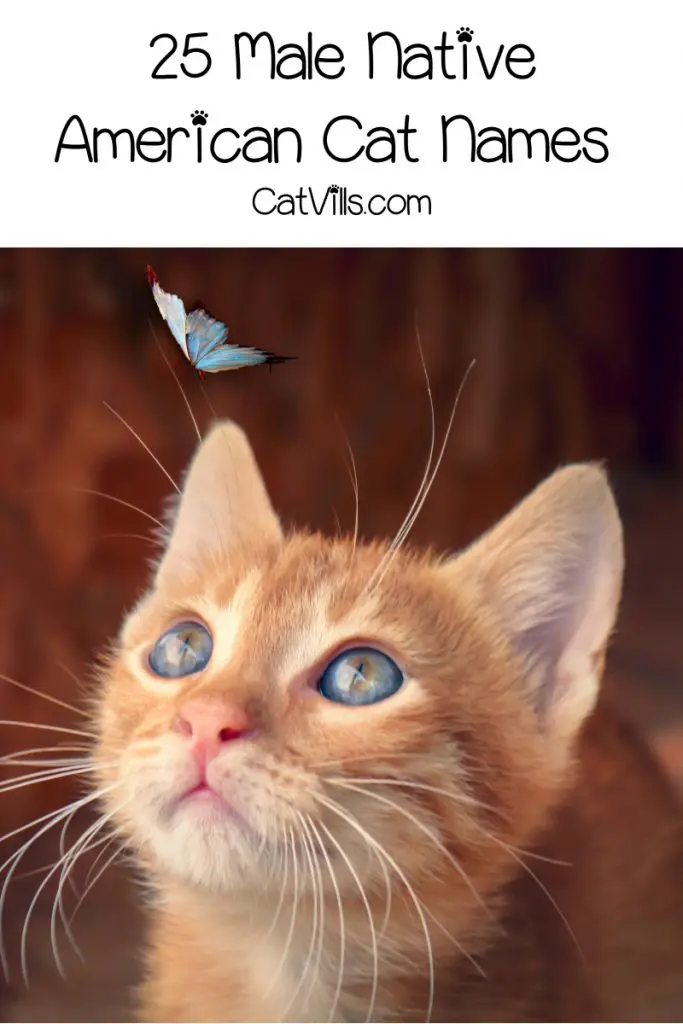 Allohak – Powerful one. While cats aren't known for their brawn in movies, they are sure known for their powerful minds.
Ashkii – Literally meaning boy, for your male kitten.
Ciqala – Little one. Kittens are little ones until they grow up!
Dichali – We like this one because some cats are very vocal. Name your cat this if he is one who speaks a lot.
Helaku – Full of fire and light, Helaku means full of sun.
Hinto – For the Russian Blues with blue hair.
Kitchi – Cats can be skittish, but this one will be brave.
Kuruk – Have you ever seen a cat so fluffy he resembles a bear?
Kohana – It may sound like a girl's name, but it's meant for boys. Kohana means "swift".
Mosi – Quite literally means cat.
Nodin – Wind. Some cats are so fast they whizz by like the wind.
Takoda – For the friendly cat who is everyone's friend.
Shilah – Not Shiloh, but Shilah, which means "brother".
Sakima – King. Cats often stroll around as if they are the king of the household.
Skah – For the white cats.
Tocho – A mountain lion. For the more feral indoor cats.
Wapi – For the lucky charm that is your new kitten.
Azeban – He is a god who takes the form of a raccoon. He's sweet and mischievous too which is fitting for a lot of kittens.
Nanook – Is a master of all bears from Inuit mythology.
Wakanda – You might recognize this name from the fictional country Black Panther rules in Marvel comics, but it's actually the name of a creator god.
Odakota – Friend. Which is what your cat is to you first and foremost.
Sike – Cats can be lazy and sit at home all the time just lazing about. This is where this name comes in.
KoKo – Meaning "night", for the black cats.
Qaletaqa – Guardian of the people. Your cat may not be a guard dog, but he can still protect you.
Onawa – Since they are nocturnal animals, we bet your cat is always wide awake.
Who knew Wakanda was actually from Native Americans? Let's take a look at what female names we have in store for you.
Native American Cat Names For Females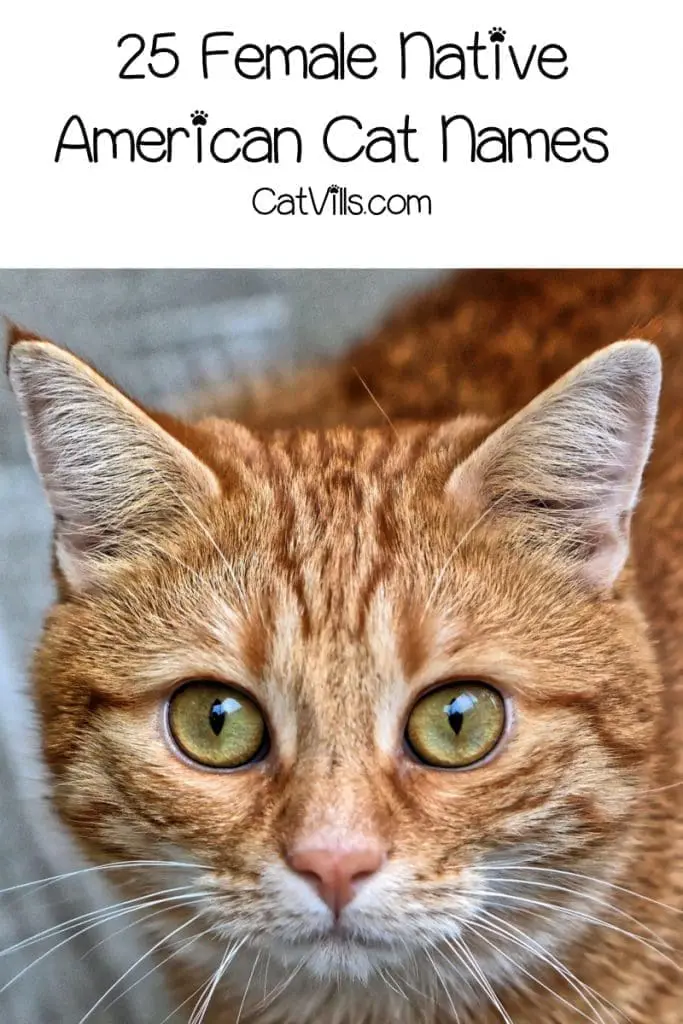 Aponi – Butterfly. A cat's eyes can possess the same beauty as a butterfly.
Ayana – Blossom. What a beautiful name.
Catori – Spirit. Your cat may possess a lot of spirit and love.
Chaska – Star. We try to include one that means star in a lot of our lists because our pets are the star of our life!
Kachina – Another name that means spirit.
Eyota – Your cat will grow up to be great.
Huyana – Meaning falling rain. How beautiful are these names?
Kanti – Name your cat this if she likes to meow.
Magena – Meaning "moon", for cats who have an air of mystery.
Shadi – Meaning older sister. If you are planning on getting a second cat, this is a good option.
Sihu – For cats who possess the beauty of a flower.
Tala – Wolf. Yes, the lupin is a far cry from a cat, but the name is pretty.
Tallulah – This is also a human name, it means "running water".
Tama – Thunder. if your cat has this name, maybe she won't be so afraid of storms.
Winona – Winona Ryder's first name actually means "first daughter".
Yoki – Rain
Luyu – It has a bit of a Chinese ring to it, meaning "wild dove".
Kai – Willow. Great for cats who have a soft and billowy tail.
Evaki – A Native American goddess of the night. This is very fitting because it's exactly what a cat is like.
Kipitaki – She was a hero of the Blackfoot tribe.
Menilly – A moon goddess.
Pinga – She is a Native American goddess of the hunt.
Cheyenne – A Native American tribe.
Kaya – An elder sister. Again, great if you plan on getting another cat.
Meli – Meaning "honey", one as sweet as your cat.
The Native American names for female cats have such beautiful sounds. They are also largely connected to nature, which is an added bonus.
On the male side, Shilah, Kohana and Onawa really spoke to us. On the girls' side, we loved every single one it was so hard to choose just a few favorites.
Wrap-Up
Drawing inspiration from the diverse indigenous languages and traditions, we have the opportunity to give our cats unique and beautiful names.
By doing so, we can pay homage to the rich heritage and deep spiritual connection that Native Americans have with nature.
Whether you opt for a name inspired by the natural world, ancestral legends, or symbolic representations, each choice serves as a powerful reminder of the profound bond between humans and animals.
Which are your favorite Native American cat names? Let us know in the comments below!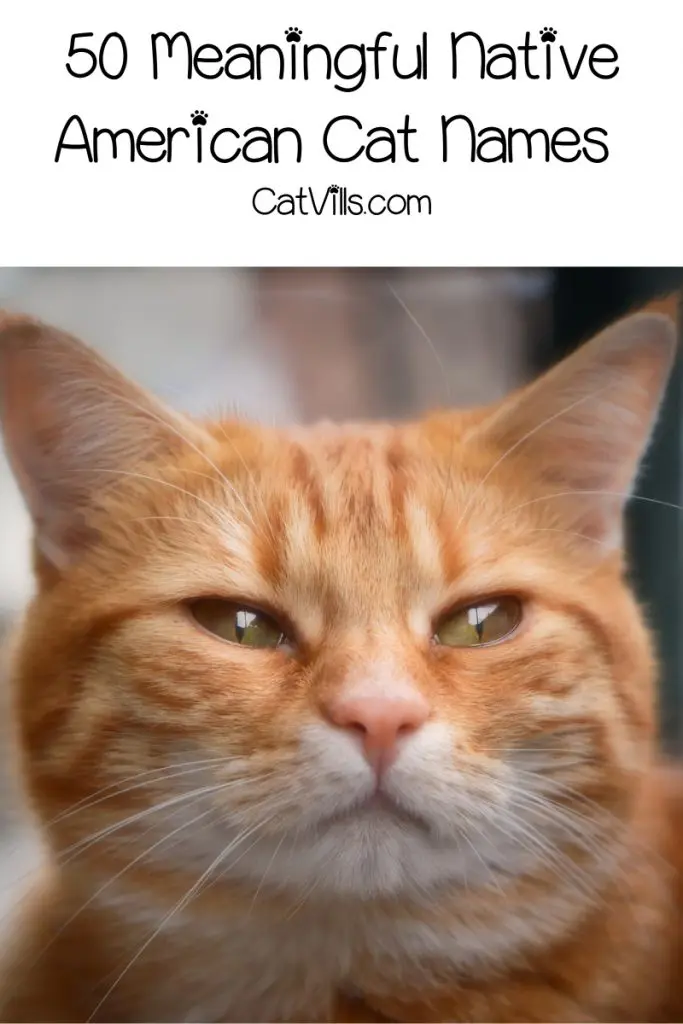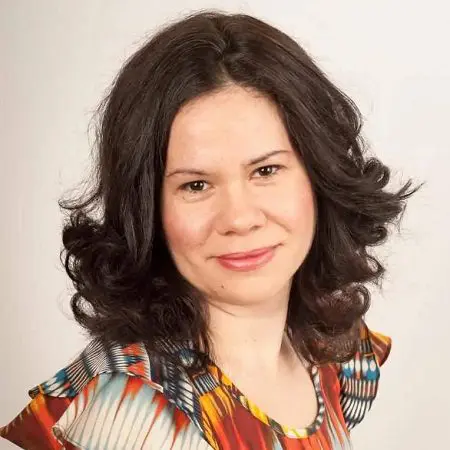 Olfa T
Olfa knows how to get things done and has a keen business sense that others admire. She's always on the go, coming up with new ideas! Her ability to anticipate the needs of her readers and deliver information that they want is what makes CatVills such a success. She loves cuddling her cat Picaciu. He is her inspiration.