Coming up with the perfect name for your new kitty is never an easy feat.
Sure, you could go with popular cat names like Muffin or Fluffy, but we like to be a little more unique.
For example, for years, all of our cats were named after TV witches!
When we finally ran out of witches cat names, we had to move on to other sources.
Whether you've exhausted all your other themed options or really just love cat names from movies, we bet you'll find your kitty's perfect moniker below!
Cat Names From Movies For Males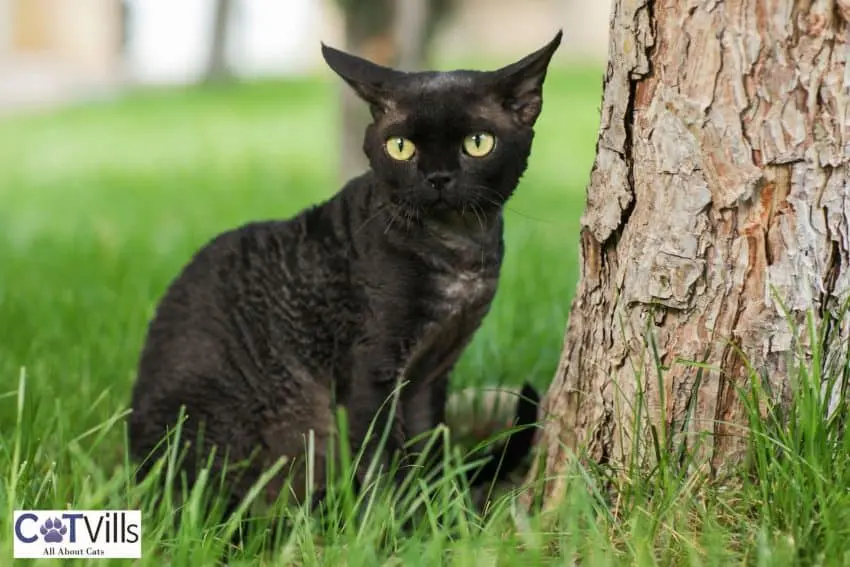 Below you'll find 10 each of male and female cat names from movies! Enjoy!
Azreal – name of Gargamel's cantankerous sidekick in the movie The Smurfs, which is based on the popular children's cartoon from the 80s. Great name for a would-be mouser who just can't quite master the task!
Beerus – has origin from Dragon Ball Z: Battle of Gods. He's a purple cat loosely based on Egyptian mythology, also the god of destruction, so you might want to think twice about this one!
Cheshire – cat from Alice in Wonderland is a mysterious kitty full of oddball wisdom who may or may not be on Alice's side.
Figaro – a character from 1940 animated, fantasy, musical movie Pinocchio. He is a Tuxedo cat and the pet of Geppetto. Figaro likes drinking milk, eating fish and hates dogs, taking baths.
Garfield – started out as a comic strip, but over the years he's had his own TV shows and movies. Beware, though, this name comes with a love for lasagna and a penchant for laziness!
Jake – this kitty name comes from the 1978 flick The Cat from Outer Space! It's a great choice if you're looking for a more traditional name.
Mr. Bigglesworth – is the sidekick of Dr. Evil! He's a Sphynx cat, one of the few cat breeds that don't shed. Most people assume that they are completely hairless, but they do have a fine layer of fuzz.
Mr. Whiskers – is a character from the 2012 animated, stop-motion, comedy, fantasy, horror movie Frankenweenie. He is a white Persian cat with psychic premonitions and the pet of Weird Girl. He has a loud personality and hates dogs.
Oliver – is a character from the 1988 animated, comedy, drama, musical movie Oliver & Company. He is an orange Tabby cat who was previously orphaned, before he was adopted by Jenny Foxworth. He likes his doggie pals and dislikes being alone.
Snowbell – is a character from the 1999 computer-animated, live-action, family movie Stuart Little and its sequels. He is a white Persian cat, who lives with the Little family. He likes eating, playing, sleeping and dislikes dogs.
Cat Names From Movies For Females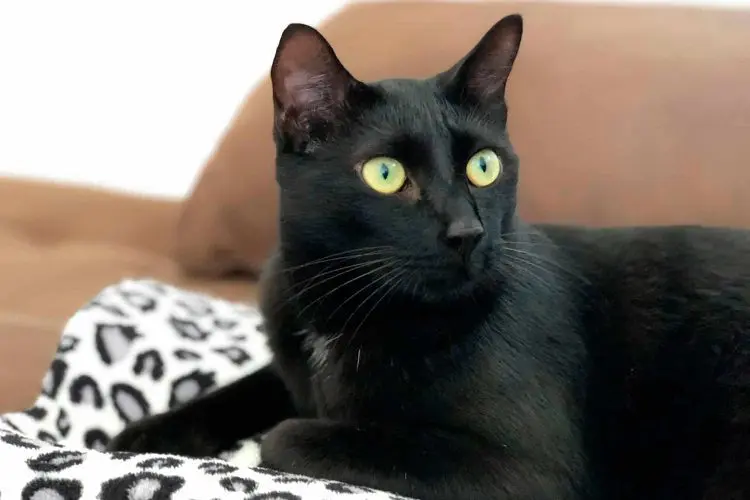 Buttercup – is the name of Primrose's cat in The Hunger Games, and definitely a kitty on its 9th life by the end of the series! She has some pretty heart-wrenching scenes with both Katniss and Prim.
Chloe – a character from the 2016 computer-animated, comedy movie The Secret Life of Pets. She is a blue Tabby cat with a sarcastic attitude. Chloe loves food, sleeping and dislikes moving.
Duchess – is a character from the 1970 animated, comedy, romantic, musical movie The Aristocats. She is a white Turkish Angora cat, pet of Madame Adelaide Bonfamille and mom to Berlioz, Marie and Toulouse. She loves dancing, music and hates the milkman.
Felicia – is a character from the 1986 animated, comedy, mystery movie The Great Mouse Detective. She is the spoiled pet of Professor Ratigan. She loves to eat and dislikes traitors.
Katniss – so Katniss Everdeen is definitely not a feline, but I just couldn't resist adding this one to the list! I mean, you have to admit that The Hunger Games main character also makes the perfect kitty name!
Kitty Galore – aka Former M.E.O.W.S. agent Ivana Clawyu, is the antagonist in Cats & Dogs: The Revenge of Kitty Galore. She lost her hair after falling into a vat of hair removal gel on a mission at a cosmetic factory.
Mittens – is a character from the 2008 computer-animated, adventure, comedy movie Bolt. She is a Tuxedo cat with a New York accent. She likes food, liberty, yarn balls and hates being abandoned and being hungry.
Sassy – is a character from the 1993 adventure, comedy movie Homeward Bound: The Incredible Journey and its sequel. She is a Himalayan cat and the pet of Hope Burnford. She loves being funny, peacefulness and dislikes mean dogs, water.
Sweety – is a white cat from the movie The Fifth Element. She lived with Korben Dallas in his New York City apartment. This is a great name for sci-fi fans!
Yzma – is from Disney's The Emperor's New Groove. While she starts off in the movie as a human, she's transformed into an adorable white kitten when she accidentally steps on a magic potion.
Cat Names From Movies For Black Males
Alfred – he is not just a butler, but he is the most important person in Bruce Wayne's life!
Bagheera – the Jungle Book features one of the most iconic felines of all time.
Baloo – the friendliest pal someone can ever ask for!
Boo – Ghost cat's sidekick in Funky Phantom.
Binx – from Hocus Pocus, he's a boy trapped in a cat's body!
Felix – this is probably the most famous cat of all times, known by everyone!
Lucifer – and of course, you know Tremaine's' cat, from the Cinderella movie.
Neo – as part of The Matrix, this one really is as impressive as he can be!
Salem – We can't forget the wise-cracking black cat from Sabrina the Teenage Witch!
Scat Cat – from The Aristocats!
Snape – Harry Potter comes with some very interesting names too!
Snowball – and of course, we can't leave the Simpsons cat aside!
Sylvester – of course, we can't miss the magnificent Looney Tunes character.
Thackery – Binx the Cat's first name in Hocus Pocus also makes a good one!
Vader – probably the most memorable movie character of all time!
Yoda – the Star Wars universe brings us a great Halloween name for any black cat!
Zazzles – if The Big Bang Theory tells you something, then you probably remember Sheldon's cat!
Zorro – everyone knows who he is, and he is ready to save the day!
All of these are very special movie names for your black cat, be them from movies, TV series or just iconic characters throughout the time.
Cat Names From Movies For Black Females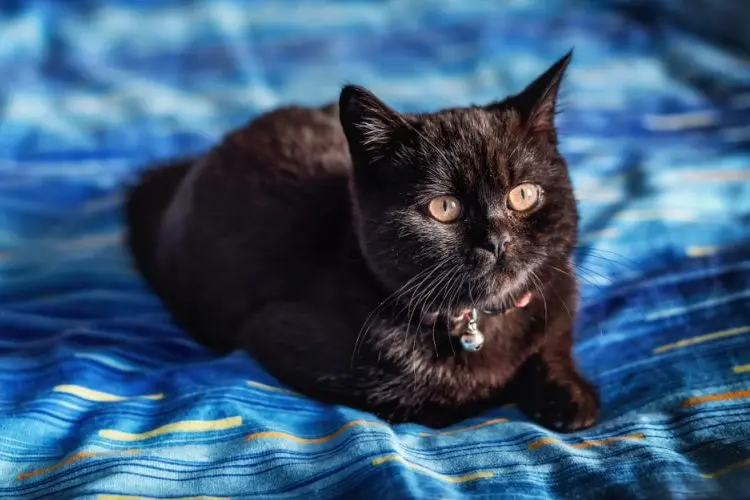 Belle – probably the most elegant Disney princess.
Bluestar – one of the famous cat warriors!
Choupette – the most famous cat, belonging to Karl Lagerfeld.
Coraline – While the black cat in the movie is nameless, this still makes a great name.
Diana – from Sailor Moon.
Hecate – Catwoman's pet cat.
Katerina Kittycat – While not a black cat, Daniel Tiger's pal still has a great name!
Luna – she is the most famous Sailor Moon cat!
Marilyn – of course, everyone knows the famous Monroe and it is an amazing name!
Mavis – everybody loves Thomas, and we can happily remember the beautiful Mavis!
Mirage – a catlike creature from Aladdin.
Nala – one of the iconic Lion King characters, for a fearless cat!
Pandora – the legendary Brandy Bunch cat!
Pixel – also known as The Cat Who Walks Through Walls.
Selina – also known as Catwoman, the famous Batman character.
Trinity – she is one of the most memorable characters of all time, appearing in The Matrix.
Ursula – the well-known character from the Little Mermaid.
Whether you want to give your precious cat a very powerful name, or you just want to bring up some of the Disney magic, there are many names to choose from.
Wrap-Up
These are just a few of my favorite cat names from movies!
If you want to keep the theme going beyond one cat, you have plenty of options!
It's hard to choose a favorite, but I kind of love Yzma for a girl, and Azreal for a boy (even if he is kind of a bad kitty!).
How about you? What are your favorite cat names from movies? Share below!