If you're in love with the 5th letter of the alphabet, wait until you check out our list of cat names that start with E!
We turned to history, fiction, and even funny name generators to create the ultimate list.
So many renowned and famous people possess first and last names that start with E, Queen Elizabeth, Dwight Eisenhower, Albert Einstein, Engelbert Humperdinck, and the list goes on.
A lot of prominent figures in history stand out with an "E" name, so why shouldn't your kitty cat?
We bet some more names are buzzing around your head now as you try to name more famous people, but hold that thought and read through what we have in store for you!
Check out 50 ideas each for boy and girl kittens!
Cat Names That Start with E For Males
Einstein – Since we already brought it up, we had to include it. Name a very smart kitty after the genius.
E.T. – Sometimes you just don't get what your cat is thinking, it's like he's from another world. It doesn't help that his eyes glow in the dark.
Eagle – They kill mice as eagles do, sometimes with even more precision.
Earl – For the noble cats.
Eckard
Ebony – I bet you were expecting this one, for all the black cat owners out there.
Edgar – After Edgar Allen Poe
Echo – If your cat talks back to you like an echo.
Elson
Ecstacy – if your kitty cat makes you feel so happy!
Edge – If your cat always jumps sky high when he's on edge.
Edo – A Japanese dynasty.
Evan
Eli
Eeyore – Winnie the Pooh's friend. The lazy sad donkey.
Eggs
Eiffel – If you have a French breed.
Elf – For he really small munchkins or the Scottish Folds with the cute ears.
Ewan
Elmo – Fuzzy ginger cats suit this name.
Elton – If your cat (or you) loves his songs.
Elvis – His dance is just like a cat standing up.
Emerald – For cats with beautiful green eyes.
Enchilada – Mmm yummy.
Energizer – Not so much the energizer bunny, but the kitty!
Energy – Sometimes little animals will have just too much of it.
Ewok – Who here loves Star Wars?
Earthquake – We hope your cat isn't big enough to cause one of these.
Eminem – The rapper, but maybe for the chocolates as well.
Everett
Encore – If your cat always comes back for more.
Elliot
Edward – This may seem like a plain name, but it's for the sparkly vampire.
Envy – if your cat doesn't like you showing anyone else affection.
Eisenhower – Since we named this guy already.
Expresso – For the dark brown kitty cats.
Elite – Your cat is better than the rest.
Evil – Quite negative but could be so cute if your cat is sweet as can be.
Ector – A Disney-inspired cat name, it's from The Sword in the Stone.
Elon – After Elon Musk, of course.
Ezra
Elche – A city in Spain
Elbasan – city in Albania
Ebbett – After Ebbett's Peak, a mountain in California.
Elijah
Erik – A great Viking name!
Enzo – Fans of The Vampire Diaries will know this one!
Emory – It's a mountain in Texas.
Easton
Etienne – It's French for Steven!
E names were quite easy for us this time around. We managed to slip in some of our favorite celebrities and characters. Can you guess which ones?
Let's take a look at the little girl names we have in store for you.
Cat Names That Start with E For Females
Emerald – It works well for boys and girls.
Ella – Like Cinderella
Elysia – A female form of Elysium, a paradise.
Ember – For dark or ginger cats, or ones that have amber eyes.
Ebony – It works well for girls too!
Emily – For Emily Carr, Emily Blunt, Emily Dickinson and the list goes on.
Evonne – An alternate spelling for Yvonne.
Eden – Like the garden.
Elizabeth – For the Queen of the Commonwealth Realms, Elizabeth Taylor, Elizabeth Hurley, etc.
Emma – For Emma Watson, Emma Stone, and Emma Roberts.
Eclipse – It works well for the third installment of the Twilight series, but also for black cats.
Empress
Erinna – a poetic name for Ireland.
Enchantress – A Marvel supervillainess but also for cats with enchanting beauty.
Eavan – It means "fair" and "beautiful" in Irish.
Eggnog – Food is always easy, as we always say.
Exotic – Great for Bengal cats.
Elegant – If this is what you want your cat to be.
Esmeralda – The kind-hearted beauty in the Hunchback of Notre Dame.
Elisha – A pretty name for a pretty kitty!
Euphoria – The feeling having a cat gives you.
Eve – The mother of all females.
Elsa – The Princess of all things frozen.
Eclair – Yummy food but also cute for dark and cream colored cats.
Elektra – A character in Marvel comics.
Ellen – For Ellen Page, Ellen Degeneres, etc.
Elvira – Mistress of the Dark.
Eva – For Eva Mendes, Eva Longoria, and Eva Green.
Eritrea – A country found on the Horn of Africa.
Egypt – If you have a hairless cat that looks like a Sphinx.
Estelle – Meaning star, for the star of your life.
Etoile – French for star.
Evonne – Yvonne but with an E.
Emmeline – We thought it sounds nice.
Eureka – If training goes well and your cat gives you lots of eureka moments!
Essie – It's Latin for "star"
Everest – If conquering your kitty is comparable to conquering the world's most grueling and fiercest mountain.
Evangeline – For Evangeline Lilly, but it also means good news! Just like getting a new kitten.
Elnora
Ermintrude – An opera-singing cow from the 1970s kid show The Magic Roundabout.
Elastigirl – For your super flexible kitty (from The Incredibles)
Eleven – Either after the number or the character from Stranger Things.
Edith
Esther – If you want a Biblical name for your cat, this is a good pick.
Effie – For Hunger Games fans.
Ecaterina – Means "innocent," and it has "cat" right in it!
Edolie – Teutonic for "good humor"
Eithne – Female equivalent of Aidan in Gaelic.
Eibhlhin – Means "light" in Irish.
Elyta – Means "winged."
Wrap-Up
Our favorite names on the female list have to do with regality like Empress, Elegant, Exotic, and Elizabeth.
Do you have an answer for our favorite character(s) and famous people on the lists? Tell us which ones were your favorite.
Did we miss any crucial cat names that start with e? Let us know in the comments below!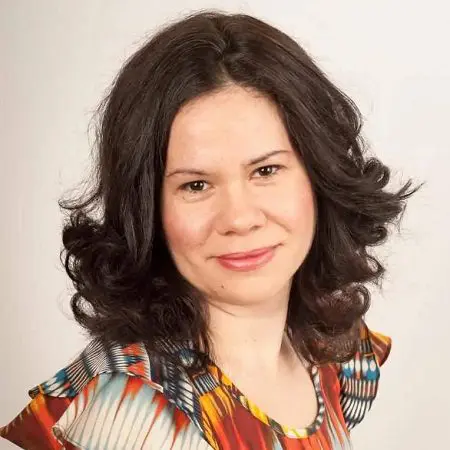 Olfa T
Olfa knows how to get things done and has a keen business sense that others admire. She's always on the go, coming up with new ideas! Her ability to anticipate the needs of her readers and deliver information that they want is what makes CatVills such a success. She loves cuddling her cat Picaciu. He is her inspiration.