Alright, all you nerdy name fangirls and fanboys, get ready for some of the best nerdy cat names around!
We've chosen some of the most fabulous ideas for kitten boys and girls from the beautiful world of fandom. This list indeed contains a purr-fect nerdy cat name.
Everyone has a passion, be it for comics, books, movies, or video games. Here is a list of nerdy cat names you can choose from if you want your cat to be part of the fandom!
Take a look and find the perfect moniker for your geeky kitty! We'll start with nerdy cat names for females, as they're underappreciated in the geek world.
Nerdy Cat Names for Females
Alex – she is the female character in Minecraft. The name is perfect for a Tabby.
Art3mis – fans of Ready Player One know that 3 isn't a typo and is part of a popular programming language.
Cortana – HALO's character never impresses, which would be an excellent name for a grey cat!
Daisy – if your kid loves the Disney universe, he may choose this name for his new cat.
Kitana – the mighty fighter from the Mortal Kombat series.
Luna – is one of the characters in DOTA II, riding a giant tiger. Also, a great Harry Potter cat name!
Padme – Star Wars movies queen, if your cat has a very royal look.
Peach – and if you also get a male cat and call him Mario, you will have the most fantastic cat duo!
Quinn – everyone knows Harley Quinn, as she is one of the most iconic personas in the DC world.
Siri – of course, the Apple iPhone AI, and have a blast whenever you call your cat!
Sonya – is probably the most excellent Mortal Combat character.
Sylvannas – the Horde ruler from the World of Warcraft game.
Xena – the warrior princess, is known for her strong will.
Yuna – is one of the essential characters in the Final Fantasy series.
Zelda – the princess, Link's partner, and a wonderful character.
Daphne – A genus of shrubs.
Jasmine – Shrubs and vines in an olive family.
Kestrel – Branch of zoology in science.
Lisa – The first personal computer with a graphical interface, made by Steve Jobs.
Ona – Ocean wave.
River – Flowing water; used by hydrologists.
Tana – Longest river in Kenya.
Auri – Soft wind; The Wise Man's Fear by Patrick Rothfuss.
Iris – Rainbow.
Mabel – Lovable.
Beatrice – Happiness or blessed.
Florence – Flourishing.
Imogen – Maiden; Shakesperean printers are misspelling the Celtic name Innogen.
Matilda – Battle-mighty; from the film Matilda.
Elsie – Pledged to God.
Ada – Noble.
Margot – Pearl.
Amidala – Beautiful Flower; Queen of Naboo.
Amilyn – Powerful and complete.
Beru – Bell.
Carasynthia – Friend; fighter from Mandalorian.
Fennec – Fox.
Cersei – is a beautiful and straightforward name meaning bird.
Jyn – God is gracious; from the film Rogue One.
Leia – Child of Heaven.
Lyra – Lyre,the ancient instrument.
Maz – Inner strength; the Force Awakens.
Padme – Lotus.
Qi'ra – Orare.
Rose – Beauty; Rebel Alliance.
Elsa – God is my oath; Frozen.
Leila – Night; Princess Leia, Star Wars.
Mulan – Wood orchid.
Tionne – Princess.
Allara – Sunlight.
Belle – the beautiful princess from Beauty and the Beast.
Athena – the well knows Greek goddess, for a brave cat.
Catwoman – because we just had to!
Shmi – Goddess of wealth and purity.
Gwendoline – Blessed.
Felicity – Happiness.
Kiera – Dark-haired one.
Laura – Laurel tree.
Pernilla – Rock.
Emmeline – Work.
Frances – Freeman.
Marigold – Golden flower.
Venus – Goddess of love and beauty.
Allie – Nobility; Clone Wars.
Asajj – Clone Wars.
Ashka – Without sorrow; Clone Wars.
Jainia – God is gracious; Legend series.
Mari – From the sea.
Nomi – My delight.
Electra – for fans of Greek mythology.
Phoebe – Bright; Star Wars Story.
Ayo – Joy; Black Panther.
Sabine – From Sabine Tribe; Sar Wars Rebels.
Braith – Black and white; Elder Scrolls Skyrim.
Dione – Mother of Aphrodite.
Drasna – Pokemon trainer and member of the Kalos Elite Four.
Echo – Daredevil comics.
Egeria – Popular Black tree.
Epione – Wonder Woman in DC universe.
Fleur – Flower.
Henrietta – Ruler of the home.
Herminia – Greek god Hermes, the messenger of the gods.
Irene – Peace; Irene Joliot-Curie and her husband were awarded the Nobel Prize in Chemistry in 1935.
Kaylee – Firefly.
Kara – DC comics, Kara Zor-El is Supergirl.
Keiko – Blessed; Star Trek: The Next Generation.
Khalessi – Mother of Dragons Game of Thrones.
Leela – Sport.
Natasha – Born on Christmas Day; Black Widow's real name.
Peggy – Pearl; Agents of S.H.I.E.L.D
Persephone – Bringer of destruction; Zeus daughter.
Primrose – Hunger Games.
Ruby – Gemstone.
Rowena – Fame joy; Harry Potter reference
Sonya – Mortal Kombat Series.
Sora – Stargate Atlantis series.
Tona – In Warhammer 40K universe.
Veronica – Truth; Archie Comics lead.
Harley (Quinn) – Hare'sMeadow; Batman series.
Ivy – DC character, Poison Ivy.
Nyssa – Woman; Batman series.
Oracle – Prophecy; DC Comics.
Vixen – Female fox; DC heroine.
Zatanna – DC universe.
Avery – Elf king.
Blair – Battlefield.
Emery – Work ruler.
Willow– Whedon fans know why we chose this one!
Morgan – Great circle.
Rigel – Star.
Sagan – Carl Sagan is a popular American astronomer.
Dot – Gift of God.
Java – Island.
Luminara – Child of Stars; Jedi master in Star Wars.
Mara – Joy, strength, and eternally beautiful in Star Wars.
Pixel – Picture cell or element.
Widget – Placeholder for an unnamed or unspecified thing.
Maya – Good mother.
Brea – Hill; noble.
Hermoine – Well-born; Harry Potter character.
Mystique – X-men series.
Katniss – Aquatic plant; Hunger Games trilogy.
Nala – Successful; Avatar series.
Ravenclaw – Hogwart house in Harry Potter series.
Astrid – Divinely beautiful; Asitrd Farnsworth in Fringe.
Daenerys – Game of Thrones icon.
Lara Croft – Shining; Tomb Raider.
Aayla – Light or born of knowledge; Star Wars.
Eve – she is Wall. E's partner in the movie with the same name.
Galadriel – is the most powerful witch in the Lord of The Rings movies so it may be an excellent name for a very imposing cat.
Storm – can be a fantastic cat for a white cat, and the X-Men universe inspires it.
Meowth – Famous cat in Pokemon.
Moriarty – Navigator; Sherlock Holmes.
Morningstar – the devil in the show Lucifer.
Irene – Peace; Irene Joliot-Curie and her husband were awarded the Nobel Prize in Chemistry in 1935.
Vera – Faith; Vera Rubin is a famous astronomer and scientist.
Asteroid – Star-like.
Aurora – Dawn.
Atlas – Support; US rockets.
Cosmos – Universe.
Crescent – Growing.
Galaxy – Large system of stars.
Nebula – Mist.
Eclipse – Gift of the Moon.
Pheonix – Dark red; minor constellation.
Sirius – Glowing; the brightest star in the sky.
Solsctice – Position of The Sun.
Umbra – Shadow.
Grace Hopper – This was a revolutionary name given to a computer scientist and means goodness and a musician. This sounds like the perfect white cat name.
Andromeda – Spiral galaxy 2.5 million years away from Earth.
Ares – NASA spacecraft and a Greek god.
Tyco – Last naked-eye astronomers.
It's great if you want your passion for combining with your daily life.
By choosing a tremendous nerdy cat name, you will be more than happy to introduce your friends to your new family member.
Nerdy Cat Names for Males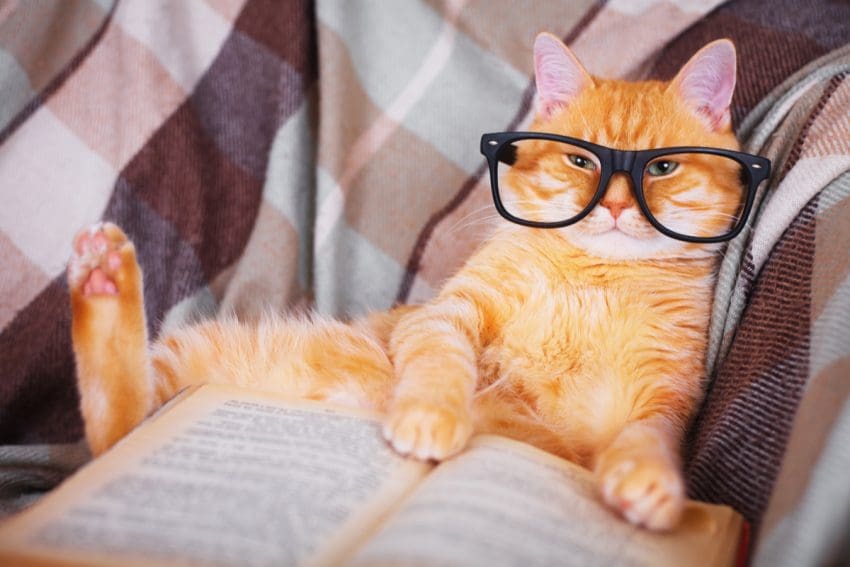 These are great nerdy cat names for males.
Arthas – also known as the Lich King, is one of the most imposing characters in the gaming world.
Azeroth – the big world contained all the World of Warcraft action because your cat is your world!
Bowser – also known as Mario's enemy, kept kidnapping princess Peach. The name is perfect for a mischievous cat.
Link – always prepared to save his queen, can be an excellent name for a very perseverent cat.
Steve – he is Minecraft's main playable character and the most demanding guy in the world!
Sherlock – Bright-haired.
Kong – Bright; Donkey Kong game.
Kratos – Strength; God of War play.
Link – Left-handed; Legend of Zelda game.
Mario – Mars; from the game series Super Mario.
Sonic – Sonic the Hedgehog.
Drake – Dragon or snake.
Tyrion – Rock.
Silvano – Greek god of trees.
Terrence – Smooth.
Ferdinand – Bold voyager.
Humphrey – Peaceful warrior.
Killian – Church or war strife.
Albus – White.
Anakin – Warrior.
Marius – Warlike.
Prometheus – Means forethought from a god of fire.
Joker – probably the most crucial person in the DC universe, in intense competition with Batman.
Sabertooth – Linked to the villain in Marvel's X-Men comics.
Clark – Superman's cover.
Wolverine – X-Men Comics.
Solo – another great name from Marvel comics, Star Wars universe, for an independent companion.
Stark – Four words – I am Iron Cat!
Aslan – and we all remember the mighty lion leading the world of Narnia.
Buzz – from the Toy Story world, he travels 'to the infinity and beyond to have fun!
Dexter – is your cat experiencing all over the house? So was Dexter, making this a great and nerdy cat name.
Gordon – is the most iconic character in the Half-Life series!
Illidan – is the amazing demon-hunter because some superstitions say cats can see ghosts!
Jax – Mortal Kombat's character; and surface cat fighter!
Mushu – the most adorable dragon and Mulan's best friend.
Neville – Potterverse's most underrated supporting character.
Robin – Shining or bright.
Nyota – Star; Star-Trek.
Castiel – Shield of God.
Gallifrey – Planet in Doctor Who.
Jughead – Archie comics or Riverdale.
Sansa – Charm; Game of Thrones.
Sheldon – from The Big Bang Theory, Sheldon is probably the most intelligent character in a sitcom.
Sherlock – the intelligent detective, ready to catch all the culprits, just like your cat is prepared to see all the mice.
Baelish – inspired by Game of Thrones.
Bran – the gifted Stark kid from Game of Thrones.
Darth – Dark; from Star Wars.
Gandalf – Wizard; Lord of the Rings.
Gollum – Lord of the Rings character.
Kirk – Church; Star Trek series.
Thor – for the mightiest cat of all!
Thrall – the mighty Horde ruler from the World of Warcraft series.
Xavier – Leader of the X-Men.
Yoda – everyone knows Yoda and his adorable ears. He may even look like the cat you just adopted.
Clarence – Bright; was the name of the nerdy guardian angel in "It's a Wonderful Life."
Albus – White; Albus Dumbledore of Hogwarts.
Klaus – Victory of People; A Series of Unfortunate Events series.
Lord Tubbington – From Glee.
Pi – the mathematical constant.
Beta – almost ready software.
Apple – For any Steve Job's lovers.
Data – Numerical information stored.
Gates – Dweller; Short for Bill Gates.
Sega – Japanese video game developer.
Sputnik – Earth's first artificial satellite.
Raj – With a simple meaning of a rule, or king.
Luke – Light giving.
Ezekiel – God will strengthen.
Rey – Service of a King.
Poe – Is a literary reference for our nerd culture.
Howard – Known as a guardian who is brave, strong, and with great spirit.
Mac – Simply means son.
Neo – New.
Gizmo – Playful One.
Finn – One who is a creamy head.
Kirby – Dark son.
Leonard – Brave or strong.
Challa – Chalice; one who has wisdom.
Curie – Stablehand.
Buffy – Promise of God.
Austin – Magnificent.
Bennett – Blessed.
Chester – Fortress.
James – Supplanter.
Lucas – Bright.
Maxon – The greatest.
Diego – Teaching or supplanter.
Emilio – Excellent.
Christian – Follower of Christ.
Damon – Gentle.
Justin – Righteous.
Pax – Peace.
Valerio – Healthy and strong.
Vince – Conquer.
Thackeray – A place with thatching.
Oliver – Olive tree.
Rey – King.
Atticus – Belonging to Attica.
Bijou – Jewel.
Buran – Snowstorm.
Byron – Barn for cows.
Dewey – Beloved.
Ernest – Serious.
Eugene – Noble.
Fabiano – Bean.
Herman – Warrior.
Leopold – Brave people.
Magnus – Greatest.
Milton – Mill town.
Mars – Name of Roman God of War.
Montgomery – Manpower.
Raoul – Wolf counsel.
Sage – Wise and knowing.
Chandler – Candlemaker.
Clyde – Scottish river name.
Constantine – Steadfastness.
Finnick – Marshland farm.
Geordi – Farmer.
Hank – Ruler of home.
Dax – Leader.
Dash – To sprint.
Emmett – Universal.
Harvey – Blazing.
Hedwig – Fighter.
Hudson – Mind or spirit.
Kenobi – Sword, and belt.
Kent – High or coastal land.
Jones – Loan's son.
Liam – Protector.
Logan – Descendant of the warrior.
Luthor – Army people.
Theo – God.
Wesley – A field in the west.
Alyx – Defender.
Calvin – Bald.
Ganon – A son of the fair-haired one.
Grimm – Fierce.
Jules – Youthful.
Linus – Flax colored
Marius – Warlike.
Zack – The Lord recalled; laughter,
Felix – Happy; lucky.
Oscar – Friend of deer.
Nero – was a strong Roman Emperor.
Goku – Aware of emptiness.
Wrap-Up
One of these nerdy cat names is a good choice for you and your cat.
I know it's difficult to choose the right one, but you have the time to decide, and these are some excellent names.
What are your favorite nerdy cat names? Share below!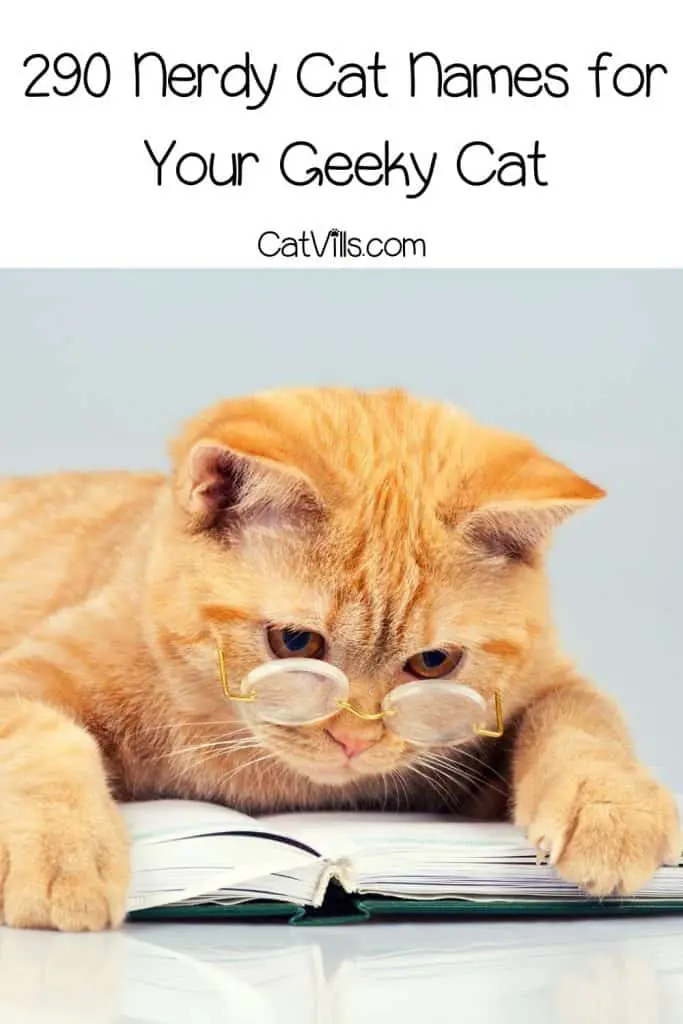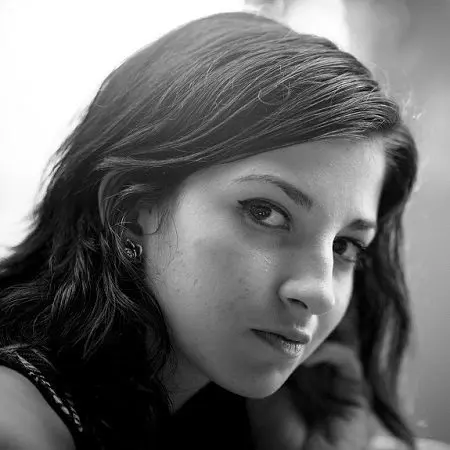 Andreea Juganaru
Andreea is a very passionate content creator and her purpose is to provide you with the most interesting articles, while constantly discovering new facts. She's been freelance writing for the past five years and has created numerous articles and educational materials while managing her own business.