Looking for white cat names that are as brilliant as your new kitty?
We've got you covered!
Below, you'll find more than 100 fantastic ideas that are just perfect for your wanna-be snow leopard!
Let's start with our top ten favorites, then we'll look at the best ideas for males and females.
Got a midnight-colored kitty, too? You may also love these beautiful black cat names!
Our Top 10 Favorite White Cat Names
It was hard to choose just ten white cats names that we love, but we did it!
You'll notice two of our favorite Harry Potter cat names also made this list.
They're in good company with one of the most iconic Disney Princesses and the world's friendliest ghost.
Angel
Luna
Ms. Kitty/Mr. Kitty
Casper
Blondie
Fang
Snow White – The Disney princess
Simone – After Audrey Hepburn's white cat
Dumbledore
Neve – French for "snow"
Did you know that there's no such thing as a white cat breed?
Just about any breed can end up with an all-white coat if it has a certain dominant gene (the W gene, as it's appropriately called).
I thought that was an interesting tidbit to share with you! Now, let's take a look at our favorite white cat names for males, shall we?
White Cat Names for Males
We took inspiration from all over the world!
For example, you'll find beautiful ideas inspired by "white, "snow," "ice," and even "sugar" in other languages.
We looked up to the brightest stars and down to the frozen continent at the base of the planet. I think you'll love what we came up with!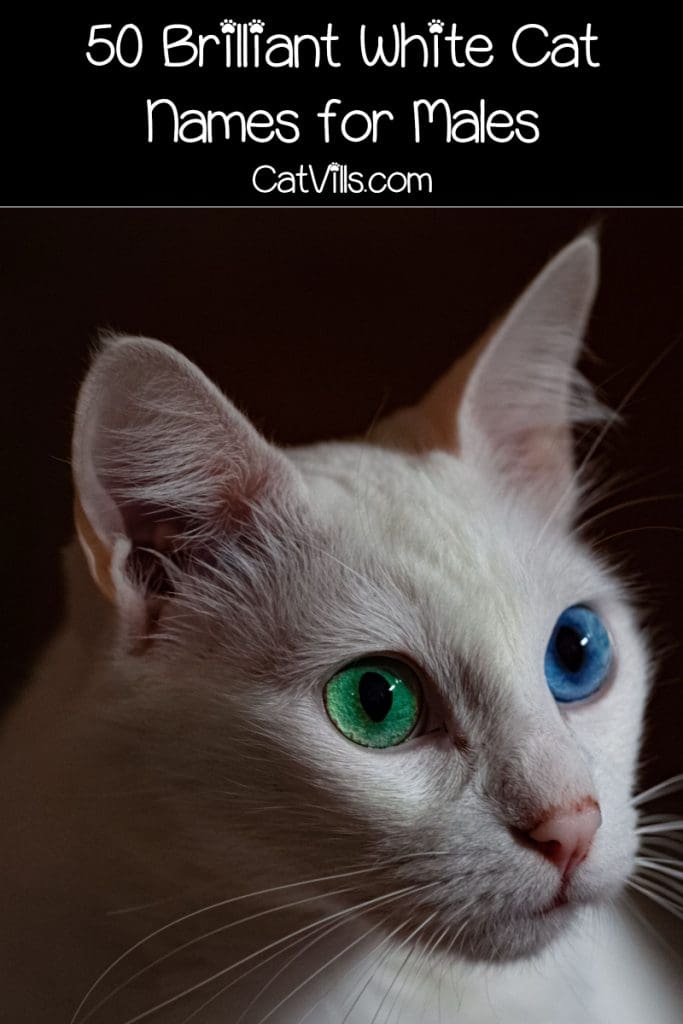 Akull– "ice" in Albanian
Alabaster
Altair– a bright star
Arctos
Argo
Ashburn– after a snowy town in Mass.
Azukre– Basque for "sugar"
Aiken– Antartica glacier
Anuchin– another glacier
Baltas
Bear – A giant white cat, as in "polar bear"
Beaufort – a volcanic mountain in Antarctica
Beyaz
Beowulf
Bianco
Bily– Czech for "white"
Blanco
Boda– a mountain in Antarctica
Bones
Branco– Portuguese for white
Burgess– snowy town in Wyoming
Brighton– after the Utah ski resort
Casper – The friendly ghost
Chardon– Ohio's snowiest town
Cosmo– after the white cosmo flower
Cooke– a snowy city in Montana
Dale– after the glacier
Domino
Downy
Drake– as in Drake's Passage in Antarctica
Dumbledore – The white-haired wizard from the Harry Potter series
Emmett – A white-haired scientist in the film "Back To The Future"
Ermine
Eustis– snowiest place in Maine
Fang
Fari
Foam
Forel-a Kenyan glacier
Funfun– Means "white" in Yoruba
Geal
Gelo– Portuguese for "ice"
Glint
Herbie – The talking Volkswagen (also known as The Love Bug)
Heim-a Kenyan glacier
Ice Cube
Jack Frost
Kartopu – Turkish for "snow"
Kraph– a Kenyan glacier
Knight
Muz– Uzbek for "ice"
Nimbus
Noel
Nuuk – town in Greenland, which as you know is actually ice-covered!
Orion– like the star, which is white in the sky
Oryx– an Arabian antelope that is almost all white
Ptarmigan– a tongue-twisting name inspired by the Willow Ptarmigan bird
River – think of the foamy white rapids
Rumi
Salji– Malay for "snow"
Sands
Santa Claws
Schnee– German for "snow"
Shiro – Japanese word for "white"
Siberia
Snowball
Sykur – Icelandic for "sugar"
Talcum
Tern- as in the White Tern bird
Taos– A famous ski valley in NM
Timberline– a snowy lodge in Oregon
Waiss
Valkoinen
Yinyin– means "ice" in Yoruba
Yuki – Japanese for "snow"
Zuri– means "white" in Basque
I shared my personal favorites above, but I do have a few others that I feel deserve an extra "shout out" here!
Personally, I really like the idea of going with a name that's not so obvious. If you love "Snow," why not consider going with Salji instead?
A few of these can be unisex but we've also rounded up some great ideas for female kitties. Take a look!
White Cat Names for Females
Again, we traveled around the globe for these ideas, borrowing from other languages as well as cities & towns in snow-covered lands.
Alaska
Albina
Alice– Antartica glacier
Alta– one of the snowiest places in the US, in Utah
Alyeska – snowy city in Alaska
Alstroemeria– a white flower
Angel
Anemone– Unless you can actually say it, call her Ani or Monee for short!
Aomori – snowiest city in the world, located in Northern Japan
Arktika – How they say "arctic" in Estonia
Artemis – Greek goddess of the moon
Atka– a glacier in Antartica
Bachkim– combo of bach kim, Vietnamese for white gold
Balimyna– A combination of Bali Myna, a white bird from Indonesia.
Bianca
Bijela– Croatian for "white"
Birch – After the white-barked trees
Blanca
Blanche
Blondie
Bubbles
Bunny
Byerly– a mountain in Anarctica
Cauliflower
Carnation
Chamonix – snowiest city in France
Cheyenne– one of the snowiest cities in America
Clara
Coconut
Cottontail
Creamy
Crystal
Daisy
Diamond
Dove
Edina– snowiest place in Missouri
Elsa – From Disney's "Frozen"
Elurra– Basque for "snow"
Fiona
Fluffy
Fotsy– Malagasy for "white"
Geikie– a glacier in Alaska
Glitter
Glossy
Gwyn– Welsh for "white"
Hibiscus
Ivory
Jasmine
January – For the icy cold month or the famous actress
Juneau – Alaska's capital, in the Arctic circle
Kandalaksha– Russian city in the Arctic circle
Kenzie – Scottish for "the fair one"
Kichatna -for the Kichatna Mountains
Kuskulana– Alaskan Glacier
Lily
Lacy
Luna
Marshmallow
Moonflower
Lehloa– Sesotho for "Snow"
Neve – French for "snow"
Octavia
Sandalee – Alaskan glacier
Savvy – Short form of the white wine sauvignon blanc
Shimmer
Shine
Snow White – The Disney princess
Swan
Sugar
Sukari – Swahili for sugar
Tahtsa – as in Tahtsa Lake, the 3rd snowiest place in Canada
Tundra
Urzuria– a combo of urre zuria, Basque for "white gold"
Yenta– an Alaskan glacier
Zahabuyera– zahabu yera means white gold Kinyarwanda
Again, while our top ten favorites are at the beginning of this article, there are some others that I really adore here!
For example, the Daisy is my favorite flower, with its silky white petals!
If you love the idea of white cat names that aren't quite so in-your-face obvious, choose one of the ideas inspired by snowy cities. Aomori is beautiful!
Your turn! Tell us your favorite white cat names for males and females below
Nicole Etolen
Nicole is one of the writers here on CatVills. She's been a cat lover most of her life and-at one point- counted five felines as part of her family. Today, she's proud cat mom to two indoor kitties and caregiver for a slew of ferals.