We've been all around the alphabet and now we've reached cat names starting with S!
If the serpentine letter is your favorite (or your family name begins with it), you'll want to check out this list.
From spooky to sweet, we've come up with 50 ideas each for males and females.
Take a peek!
Cat Names That Start with S For Males
No stress here, just a fantastic list of S names for male cats inspired by everything from popular characters to geographical locations.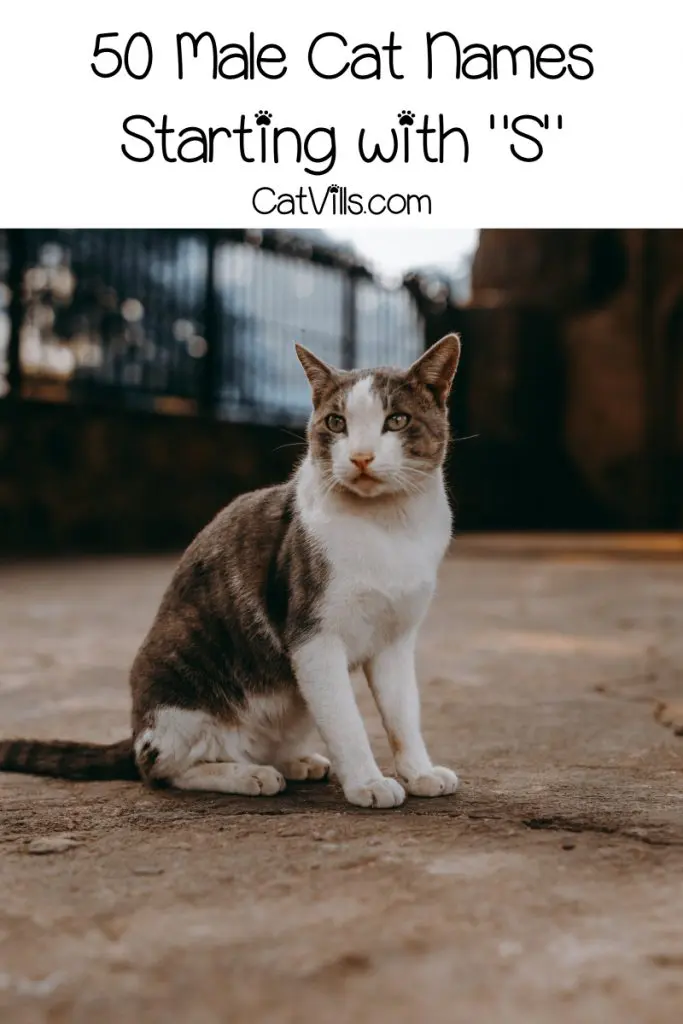 Sabre – As in Sabretooth, a Marvel character, or an alternate spelling for "saber."
Salem – Cats are associated with witches, who are associated with Salem. Also, it's the name of Sabrina's cat.
Sardine – A funny food name for cats!
Sansa – Like Sansa Stark from The Game of Thrones
Santiago
Sarsaparilla
Sauron– While he's not exactly a nice guy, this is a great choice for fans of Tolkien!
Sausage – We find this cute for a cat with more volume.
Sawyer
Sax – As in saxophone.
Scamp – A cute name for a cat that literally likes to scamper around the house.
Scooter – While cats don't really scoot there butts on the ground, this is still a cute idea.
Scout – Just a cute name for a cute little tyke.
Sebastian
Sesame
Severus (or Snape) – From the Harry Potter series.
Shadow – A more unisex name, we find it great for black cats that like to follow you around like a shadow.
Shamrock – Your cat can be your good luck charm!
Shark
Sheriff – He's already the boss, might as well make it official!
Sheldon
Shere Khan – From The Jungle Book
Sherlock – We are a big fan of this name! Lots of cats may possess the intelligence equivalent to Sherlock in the cat world.
Sherwood – Like the fictional forest
Shrimp – A great munchkin cat S name.
Sid – Let's just hope he's not vicious! (Punk rock fans get that pun).
Simba – The brave lion that really came into his own after realizing his uncle wasn't all he seemed to be.
Simpson – If you like the cartoon. They also have a cat whose name we will list in the girl's section. Bonus points if you know the name!
Sinbad – The playful pirate of the Seven Seas. There is even an animated movie about him.
Sinatra – For Frank, and cats who like to meow and make music.
Sirius – While the Harry Potter character is more dog-like than cat, it's still a great name!
Skeet
Sleepy – After the laziest of the 7 dwarves!
Smokey – For the grey cats.
Smudge – This is so adorable. It's extra cute when the cat has patches (smudges) on his body.
Snickers – Sweet and delicious! (Not that your cat is).
Sno-ball – Like the tasty treat!
Socks – The best name for cats who actually have socked feet (different colored feet).
Spooky – You will find your cat anything but, however, giving a cute cat an untraditional name makes him even cuter.
Spunky – Cats are quite spunky, especially when you see them jump and writhe around.
Spyro – For your little dragon
Stan – After the incredible Stan Lee
Stark– As in Tony Stark, aka Iron Man, created by the above!
Stitch
Storm – It's a name mostly reserved for canines, but a black, white or grey cat with stunning eyes can pull it off too.
Strudel – Hungry yet?
Sultan – A name fit for a king (literally).
Sunkist – For the orange and yellow cats that are as bright as the sun.
Sushi – Because cats like fish.
Sven- Just because he's not a reindeer doesn't mean he can't be named after one!
Can you name 3 movie cats with S names? The trick is to only think of male characters.
If you enjoyed our list for little boys, wait till you see what we have in store for you next!
Cat Names That Start with S For Females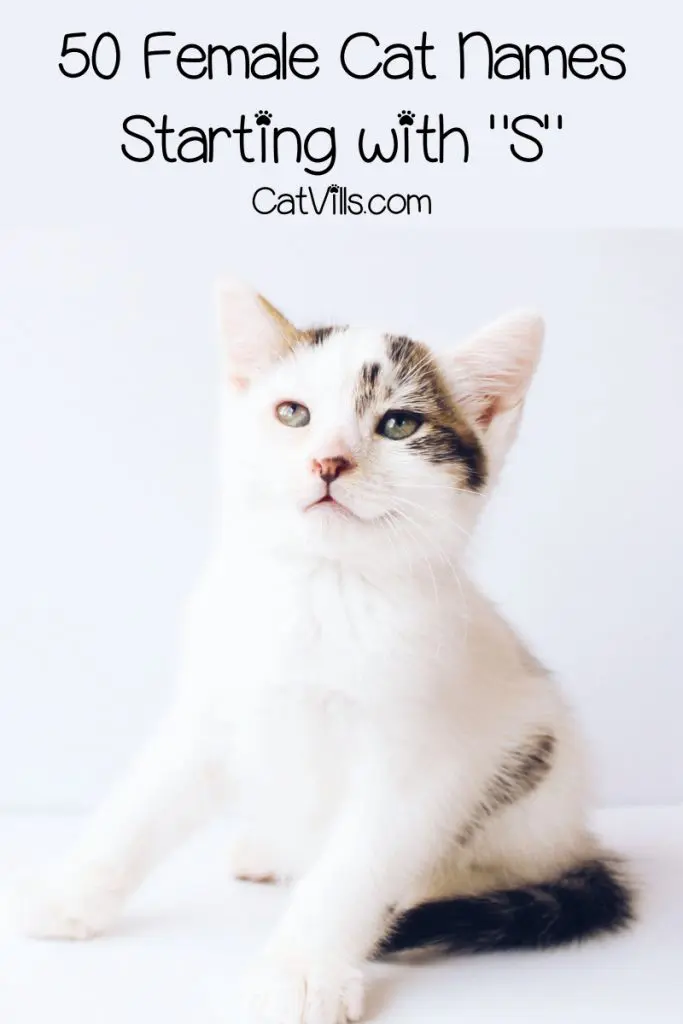 Sabrina – Do we need to mention why? She may be the most famous teenage witch around!
Saffron – Calling all yellow cats!
Sage
Safiya – For your pure and sincere furry little friend.
Sanya – A city in China, and a neat alternate spelling of Sonya.
Saskia – While your cat may not be like a dog and the "protector of mankind", she can be a fierce protector of you.
Sassy – Homeward bound is a very touching movie with an adorable cat named Sassy.
Satara – A city in India.
Savannah – Like the city in Georgia in the US.
Scarlet – For the ginger-furred cats.
Scorpia – A Marvel character. Also a cool name for cats born under Scorpio!
Seattle – The Washington state city makes a neat cat name, don't you think?
Selene – Greek goddess of the moon.
Senna – A vampire in the Twilight series.
Serabi – Nala's mother.
Seraphina – It just sounds like a magical yet witchy name.
Serenity – Cats are very serene and peaceful animals.
Seshat – Egyptian goddess of wisdom.
Shahe– A city in China
Shea – Don't you wish your cat smelled like shea butter?
Shiloh
Shine – Your cat will always shine a light through the storm clouds and brighten up your day!
Shiva – A supervillainess with awesome hand-to-hand combat skills.
Sienna – Great for a deep reddish-brown kitty!
Sierra
Sif – Norse goddess associated with Earth.
Silvanae – Roman nymphs that hang out with the woodland god Silvanus.
Sirona – Celtic healing deity.
Skittles
Sky – For cats with bright clear blue eyes.
S'more
Snowbell – The "evil" cat in Stuart Little that is nothing more than a soft house cat with an even softer spot for the little rodent.
Snowball – Can't have Snowbell without Snowball the cat from the Simpsons!
Soacha – A city in Columbia.
Sophia
Sparkles
Spell – A cat's eyes are so mesmerizing they might just put a spell on you.
Sprinkles
Sugar – For the sweet cats that like to lick you!
Sunny
Sunyani – This city in Ghana makes such a beautiful name!
Suri – It means red rose.
Sweet or Sweetie – Better than sugar.
Snuggles – For the little lap cats who like attention.
Star – For the star that shines brighter than the rest.
Strawberry – If you don't like scarlet.
Summer
Sunflower – The female form of Sunkist.
Sunna – The name for the sun in Norse mythology.
Suzuka – A city in Japan.
Is it just us, or do the female cat names with "S" have much more power and impact than the male ones?
It has to do with our choices only of course. With names like Shiva, Star, Sassy and Senna, I wouldn't mess with these female cats.
Wrap-Up
Which cat names moved you?
For males we like Shadow, Smudge, Salem and Sultan. As for females, it's just so hard to choose!
If we had to pick, we would go with Saskia, Safiya, Senna or Seraphina.
What were your favorite cat names starting with S? Let us know in the comments below!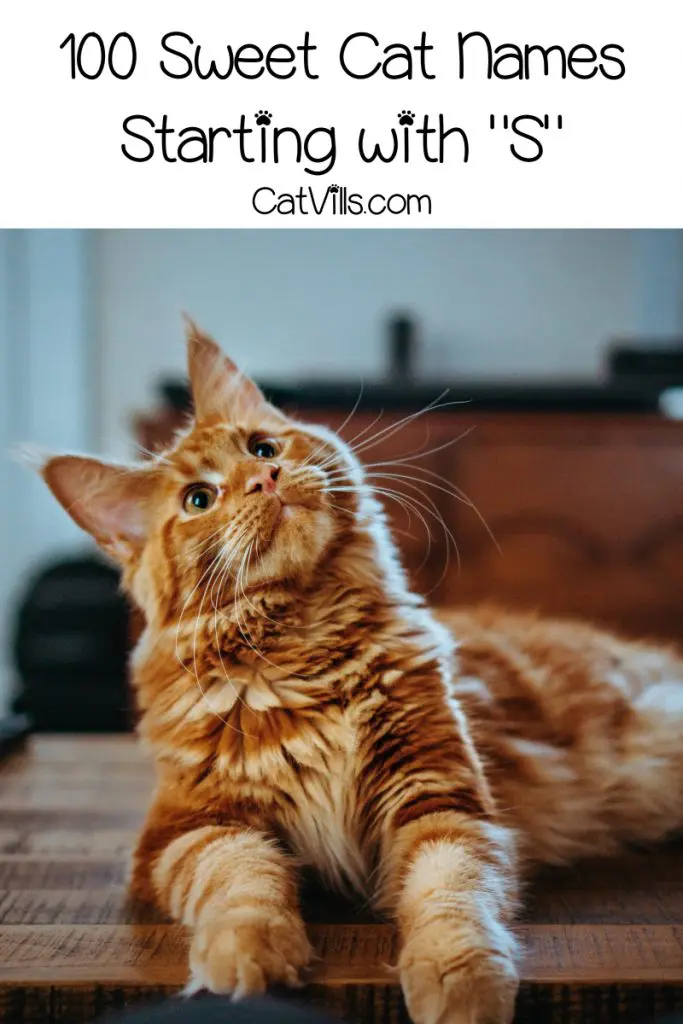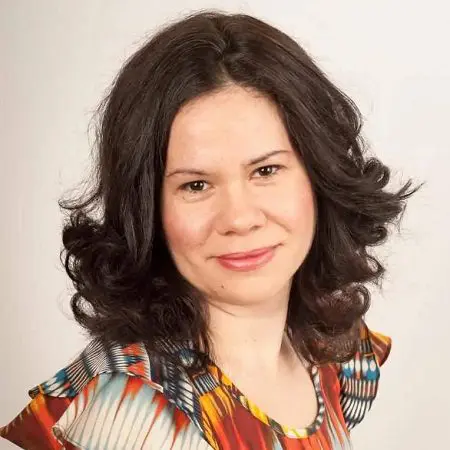 Olfa T
Olfa knows how to get things done and has a keen business sense that others admire. She's always on the go, coming up with new ideas! Her ability to anticipate the needs of her readers and deliver information that they want is what makes CatVills such a success. She loves cuddling her cat Picaciu. He is her inspiration.