Get ready for some endearing cat names that start with C!
Naming a new furry member of your family can be one of the toughest things when you get a kitten.
It needs to be a name that can stick with him or her throughout their lifetime and have some sort of meaning to it.
If you like the letter "C", then we have a treat for you.
Below are some of the best and cutest names we could find beginning with this letter.
Cat Names That Start with C
What words or people come to mind when you think of the letter "C"? For us it's caring, carefree, calm, crying and strangely – cloudly. We can't forget the word "cat" as well!
We took inspiration from all over the world for these ideas! Movie characters, funny food names, even geography! Take a look at what we came up with.
Male Cat Names that Start with C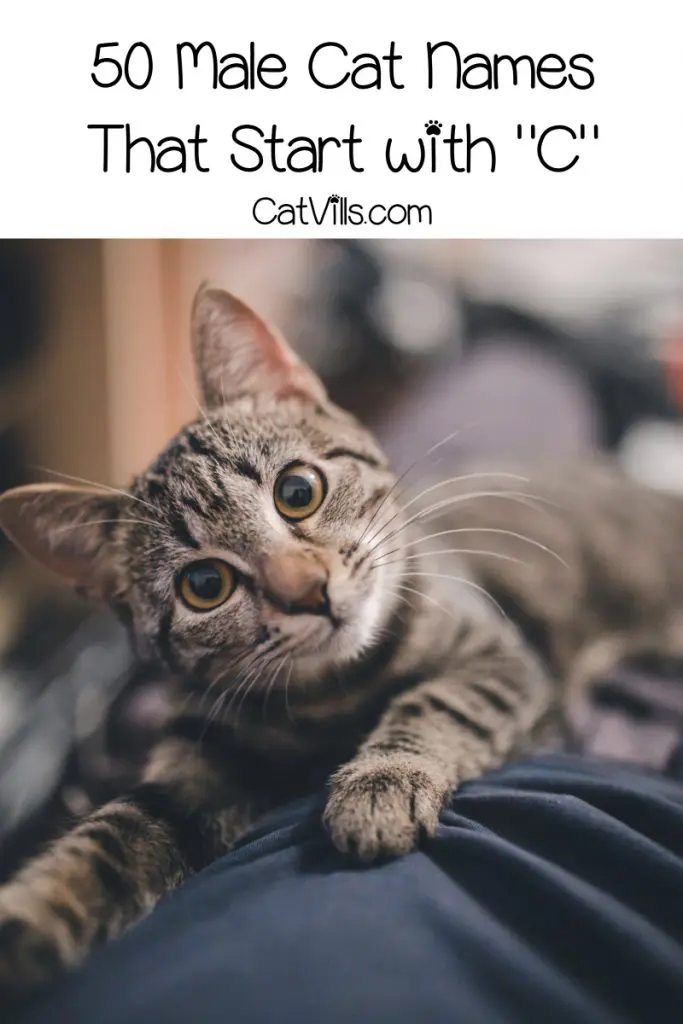 Cabbage Patch
Cabernet – For the wine connoisseurs.
Cable– He's a Marvel character.
Cadbury – Delicious chocolate brand.
Cache– Another Marvel character.
Caduceus
Catfish– It's funny!
Caesar – The ruler of ancient Rome.
Cairo – For the capital of Egypt, where cats are revered.
Calvin
Calzone – If you love cute and funny food names for cats.
Captain – For the commander of the house.
Carrot – Also for the rust-colored cats.
Cash – We could always use more cash, and in turn, you can always use more of your cat.
Casper – Cute for a white cat
Castiel – Believed to be a variant of Cassiel, he might be the angel who presides over Thursdays.
Castor– Like Castor and Pollux.
Catsby – How cute is this? Maybe even add "The Great" before the name as a nod to the famous novel.
Cedric
Chai – A nice ingredient.
Chandler – It's like "chandelier" but not really, a sweet nod to Friends.
Chaos – If you feel like that's all your cat gives you.
Charizard – For Pokemon fans.
Checkers – If your cat has special patterns.
Cheddar – Yummy cheese. Great for cats with a yellowish-orange tinge.
Cheetah – Great for Bengal cats, why not name your little boy after their larger counterpart?
Cheeto– One of the perfect names for calico kittens
Chief
Chester
Chewie – Short for Chewbacca.
Chili – For the cats with an extra bit of spice!
Chip – For some reason, we think cats with a cute marking on his nose would suit this name.
Chowder
Chutney- Another food name
Chubbs – This is adorable for the rounder cats.
Chunky Monkey– Another adorable one for rotund kitties!
Clifford – Sure it's a dog's name, but it's still cute!
Cloud – We put this here because we thought of it in the intro, and it's great for Ragdolls or Persians.
Cobra
Comet – If you are looking for a more celestial name.
Copper – Named for the color of copper.
Cornelius – We always figured some cat with this name would be extra wise.
Cory
Cow – For the black and white piebald cats.
Crow
Cozy – Cats always look so cozy and make you feel cozy too!
Crookshanks – If you like, have read, or seen Harry Potter, you will know this is the name of Hermione's big orange cat.
Crowley – Kind of a creepy name if you find the occult fascinating.
Cuddle – Because that's all you like to do with your feline.
Cypress
We have covered all the bases with these boy names, from physical attributes to names after some classic movies and TV shows, we're sure you were entertained by that list. Now, let us take a look at what we came up with for little girl cats.
Female Cat Names that Start with C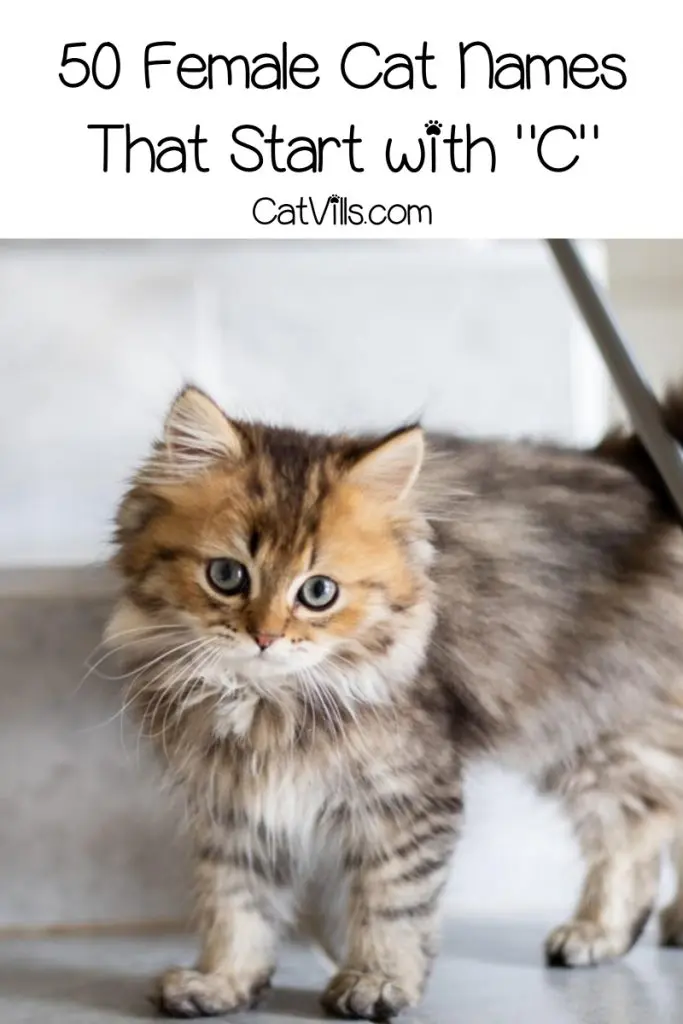 Calla Lily – A beautiful white flower.
Callie – For calico cats.
Cady– For your Mean Girl
Calamari– One of the funnier Japanese food names for female cats.
Calista
Calypso – A Greek nymph.
Candy – The sweetest kittens.
Caramel – A great ingredient you might like in your morning coffee, with a dose of your cat.
Carly
Carmen – For Carmen Sandiego the detective. Your cat can always seem to solve the mystery of how to fit in a box.
Casablanca
Cashmere – The oh so soft and oh so luxurious material used to make sweaters. Not that your cat will be made into a sweater in a Cruella De Vil (which is another C name) situation.
Cassiopeia – A vain queen in Greek mythology who claimed she had unrivaled beauty.
Catalina
Catzilla – If you feel like no other name is as crazy as your cat.
Cayley
Celia
Celestia– Like celestial, perfect for astronomy lovers.
Champagne – For the fancy cats who like to party.
Chandra – Meaning "moonlight"
Chanel – Speaking of Chanel, it also begins with a "C".
Charm – For the cat who is your lucky charm.
Charlotte
Cheesecake
Cherish – Which is what you will do forever with your cat.
Cheshire – The cat in Alice in Wonderland, and we're pretty sure it's the name of a villain in comic books.
Chickadee
Chickpea
Chimera – It's a bit creepy, but could be good for a cat with dual personalities.
Chinook – A warm wind.
Chloe
Chowda or Chowder
Christmas – A joyous season, and even more fitting if that's when you got your cat!
Cinderella – For the kind and gentle cats, not for the evil Lucifer cat who is in the legendary Disney cartoon.
Cinnamon – A cool name if you got your cat in the fall, and she is a deep auburn color.
Circe– A great supernatural Greek name for kitties.
Clarabell– Just because it's a cow's name doesn't mean it's not cute!
Clarissa
Clawdia
Cleopatra – The beautiful Egyptian queen with striking eye makeup.
Clementine
Clover – Your cat can bring you good luck this way!
CoCo – Name for cocoa or for Coco Chanel.
Cordelia- For Buffy & Angel fans!
Coral– Perfect for orange kitties.
Coraline– for Neil Gaiman fans
Comstock – It was one of Angela's cats in The Office
Cookie –  You can add "monster" behind it if you'd like.
Cotton
Cupcake – For the sweet cats that are small in stature.
For girls, it was easy to find names to match their exterior beauty. We even found some really graceful names like Calla Lily and Cashmere. Our very favorite names from each list would be Catsby and Calla Lily.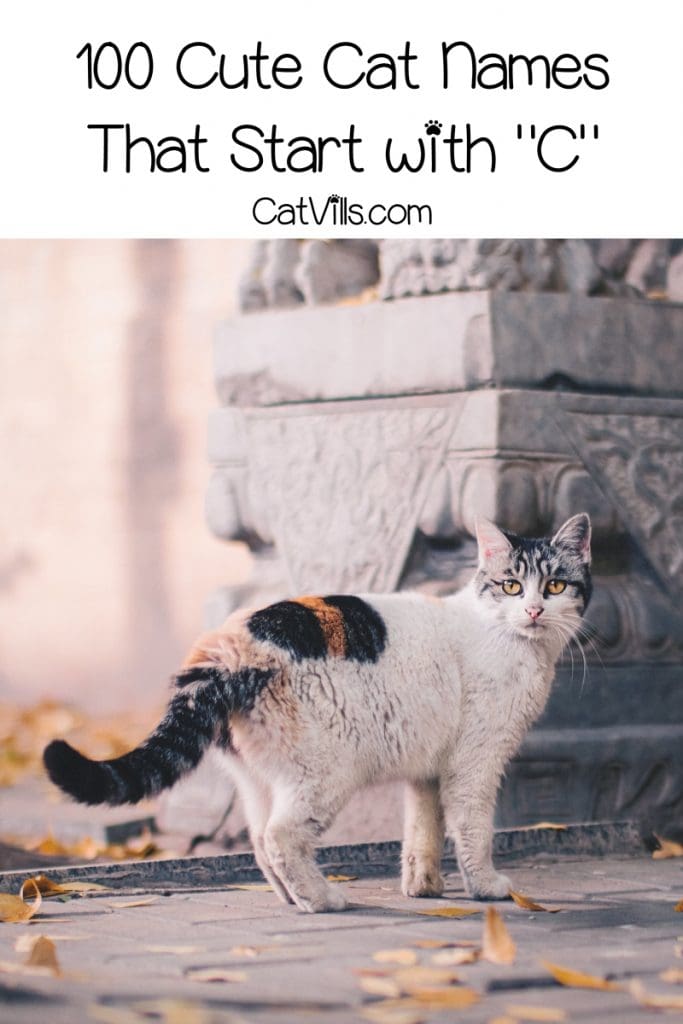 What's yours? Share your thoughts below!