Stay warm in style this fall with our favorite hoodies for cat lovers!
From adorable munchkin catsweatshirts to hilarious quotes for all cat people, you'll love our selection!
The hardest part will be deciding which one to buy first!
Let's check them out and you'll see what I mean.
Don't forget to check our Cat Lovers Gift Shop
Stylish Hoodie for Cat Lovers
This post contains affiliate links. If you make a purchase through these links, we earn a small commission at no extra charge to you.
RELATED: 10 Fabulous Christmas Sweaters For Cat Lovers
1. Warning, May Start Talking About Cats Hoodie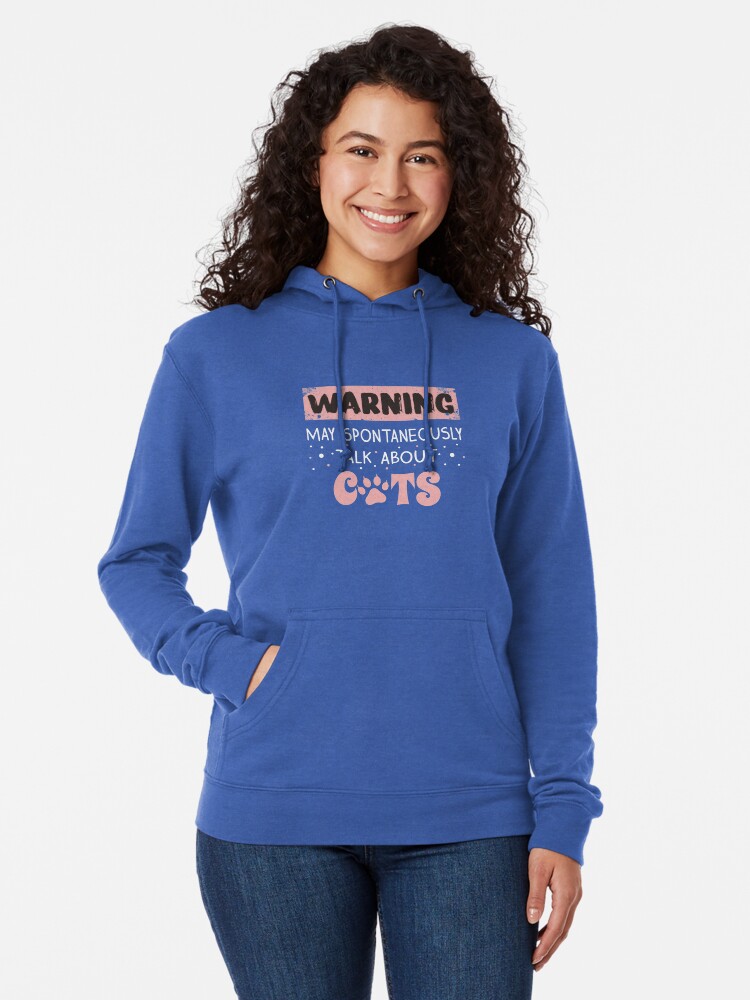 Anyone who knows me is quite aware that at any moment, I could spontaneously burst into a deep (and loooong) conversation about my cats, especially my Fuzz.
Fuzz (who's full "internet superstar" name is Alexander the Fuzz) was a feral cat that we adopted. Unlike most of our neighborhood ferals, Alex wanted to badly to be an inside cat that he followed my son right into the house one day. We just couldn't resist, so we got him a checkup and moved him in.
I am obsessed with him! Don't get me wrong, I love my Zoe and Willow just as much, but there's just something about the Fuzz that makes me wax poetic for hours on end.
See what I mean? A spontaneous eruption into a cat story! If you're anything like me, you definitely need this hoodie!
Another version of our May Spontaneously Start Talking About Cats hoodie, this one has a darling cat graphic on it. I'm torn between which version I like best. Better to just get them both!
Both hoodies come in five different colors, so you could get one in blue and one in, say, black or cream! Brilliant idea, right?
https://redbubbleus.sjv.io/O2Bzn
I absolutely adore munchkin cats. I don't have one myself, but I just love seeing them in other people's pictures. If you have a munchkin, first, you need to show me! Then, you need to proclaim from the rooftops how much how love him (or her)!
Don't you love the colors of this munchkin cat sweatshirt?
4. I Love My Munchkin Black and White Design
Another fabulous shirt for munchkin cat lovers, this one is perfect if you want something a little less flashy. It's simple yet classy! It's also a great shirt for guys who aren't really into the pink design.
n
Honestly, even though I love the others, this is my favorite munchkin cat hoodie of them all. That cat just makes me want to pick her up and love her, and hug her, and squeeze her, and call her George. Okay, so maybe not the squeezing part. That's a little excessive. Definitely the loving and hugging part, though!
Seriously, don't you just want this hoodie in every color? Go for it, I won't judge!
You're a proud cat parent, right? I know I am! Now the whole world will know it, too, with this adorable cat lovers' hoodie!
FYI, all of the Redbubble hoodies are ethically sourced following the World Responsible Apparel Practices Standards, so you can feel good about buying them!
Another great way to let the world know you love your cat (literally!), I adore this sweatshirt because it kind of reminds me of a cat hanging out on a stack of books. Don't ask me why, my mind works in mysterious ways and makes strange connections.
One note about the size (for this and all of the hoodies): while they fit as expected, I suggest going a size or two up so you have some wiggle room. I personally prefer baggy hoodies, especially since I usually end up layering when it's chilly outside.
Talk about stating the obvious, right? Cats most certainly DO rule! In fact, if you ask them, they rule everything. The whole wide world! I mean, after all, they were once worshiped as gods in Ancient Egypt. As the saying goes, cats have never forgotten this.
In our house, the cats definitely reign supreme. We also have two dogs, and if you ask them, the cats get away with a lot more! Trust me, though, Freya and Mocha are far, far, far from neglected. We definitely think of all of our animal companions as part of the family.
Another great gift idea for cat moms who prefer something a little more understated, this one tells the world that you think of your cats as little furbabies.
In case you're wondering, all of the hoodies on this list are made with preshrunk fleece, in a 80% Cotton/20% Polyester combination. I have bought countless things from Redbubble and can attest to the quality. They really go above and beyond to create an amazing product!
This last one is a special treat for anime-loving cat people. I couldn't resist adding it to this collection. Isn't it just the perfect way to combine two of your favorite things?
FYI, Kawaii means "cute" in Japanese. You can see why the cat fits the description, right?
All of these fabulous hoodies for cat lovers are available on other merchandise, too, including everything from shirts & skirts to mugs, device cases, and SO much more.
Tell me which of these hoodies for cat lovers is your favorite? What other designs would you love to see in the future?
Nicole Etolen
Nicole is one of the writers here on CatVills. She's been a cat lover most of her life and-at one point- counted five felines as part of her family. Today, she's proud cat mom to two indoor kitties and caregiver for a slew of ferals.